Want to be a crocheter? You need to know your crochet hooks types. Here's everything you need to know about different crochet hook types.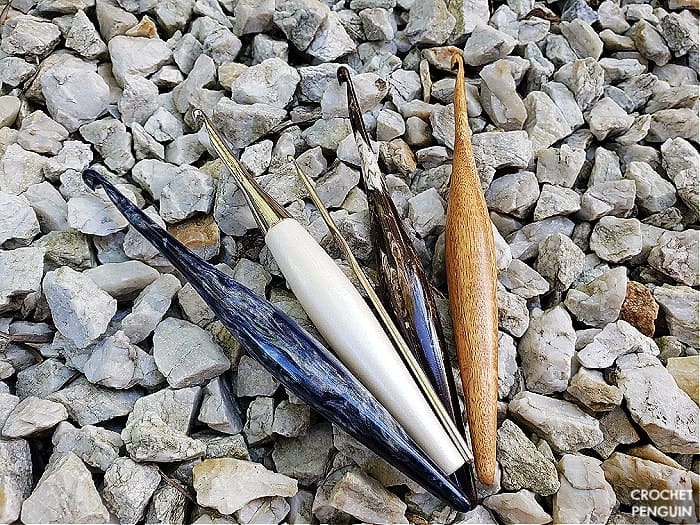 I reviewed, fact checked and updated this post on April 14, 2023.
Table Of Contents
Two Types Of Crochet Hooks
Here are the two main types of hooks for crochet.
Tapered Hooks (Boye Hooks)
It gets its name from the throat being tiny compared to the rest of the hook
The hook heads have a smooth finish and are curved
The narrow shape of the throat keeps the tension tight
Inline (Susan Bates Hooks)
The throat is the same diameter or 'inline' as the rest of the hook.
They're comfortable and easy to use, the right choice for beginner crocheters.
These are the most popular choices
Try both to determine what hook shape is best for you, whether tapered crochet hooks or inline hooks. Tuula Maaria has an excellent video on how to choose a crochet hook.
Different Types Of Crochet Hooks
Circular Crochet Hook
These unique crochet needles are designed for Tunisian crochet in the round. Want more on these? See here.
Double Ended Crochet Hooks
Used for Tunisian crochet or crocheting in the round with two colors. These long tools have two hooks, one at each end. Available in a variety of materials and styles. Would you like to know more? Here's the full article.
Ergonomic Crochet Hooks
This crochet hook is designed for those with wrist pain or stress injuries. They're larger and different from the usual hook style, so keep this in mind. They come in every size of normal models. They can be expensive. Intrigued? Check out my post.
Knook Crochet Hooks
Did you know it's possible to create a crocheted fabric like knitting? The tool is called a knook. They're long and have a small hole drilled in one end. You use this hole to thread a separate piece of cord through to hold the crochet stitches.
Lighted Crochet Hooks
These are almost the same as regular versions, but they light up! The glow is concentrated around the hook end. Want to learn about this? Read more.
Luxury Crochet Hooks
These are almost always handmade, with meticulous attention to detail. Want a bit of luxury in your life? Check out my post. Tulip Etimo Crochet Hooks are a wonderful option.
Novelty Crochet Hooks
For people who want something unique. Some creative makers produce special ones. Add a bit of variety to your crocheting. See here.
Steel Crochet Hooks
These look like to your average version but made of steel and smaller. They're designed for lace crochet and tablecloths or dollies. They can create beautiful, delicate, and intricate stitches. They're easy to grip, and don't slip. Looking for more information? Check it out.
Tunisian Crochet Hooks
Tunisian crochet is a unique type of crochet. A Tunisian crochet hook is also called cro hooks or Afghan crochet hooks. There's three types of Tunisian crochet hooks.
Long versions of normal hooks
A hook at both ends of the stick
A cable connecting two ends, both with a hook
CraftingWithClaudie shares her experience with some different styles of crochet hooks, and what she uses each one for.
Looking for crochet hook sizes and steel crochet hook sizes? See here.
What Are Crochet Hooks Made Of?
Usually aluminum, but they're also made of plastic, bamboo, and steel. More luxury versions are made of wood, clay, glass, and others. Here's a list of the crochet hook styles.
Acrylic Crochet Hooks
They come in bright colors, they're lightweight, affordable, and good for beginners. Want more info? Read my article.
Aluminum Crochet Hooks
The most common type, also known as basic crochet hooks, they're perfect for beginners, they come in a variety of sizes, and they're suited to almost any type of project. If you don't like the feel or look of the aluminum hooks, use bamboo or plastic.) Need more details? Find them here.
Bamboo Crochet Hooks
They're light, bamboo hooks are affordable, smooth, and renewable. Sometimes the whole hook is bamboo, other times, it's only the handle. Interested? Satisfy your curiosity with my guide.
Glass Crochet Hooks
They're handmade, expensive, gorgeous, and not widely available. Unable to believe you can crochet with these? See for yourself.
Gold Crochet Hooks
There are two types: gold plated metal, and gold-colored aluminum. They're expensive, but worth it, and difficult to find. Interested in learning more? It's available in this post.
Metal Crochet Hooks
They're affordable, widely available, and perfect for speed crochet and Amigurumi. Metal hooks are usually made of aluminum. Ready for super fast crocheting? Read my article.
Plastic Crochet Hooks
They're light, hollow, comfortable to hold, useful for extreme crochet or when you're crocheting something bulky, and plastic hooks don't strain the wrists. Kickstart your venture into gigantic projects here.
Polymer Clay Crochet Hooks
They're hooks with a polymer clay handle baked on, so they're ergonomic, comfortable to use, and come in a variety of beautiful colors and patterns. You can make one! Discover the gorgeous options with this guide.
Silver Crochet Hooks
They're smooth, gorgeous, comfortable to use, and often a collector's item. Investigate these unique tools here.
Wooden Crochet Hooks
They're smooth, beautiful, often handmade, and a comfortable alternative to metal. Wood hooks are always warm to the touch. Note: Choose sustainable woods. Find out more about these.
Crochet Hook Anatomy
Knowing the anatomy is essential. Here's a breakdown.
The Handle
This rests in your palm if you have a knife-grip. If you have a pencil grip, it rests against your index finger. Sometimes, the handle is made from the same material as the shaft. In others like Ergonomic hooks, a different material is used.
The Thumb Rest (Not All Have One)
It's the area on the hook where you rest your thumb, hence the name. It's the same size as the shaft or bigger. Models with one are more comfortable, but it's up to your hook preference.
The Shaft
The area between the handle and the head Some stitches require lots of 'loading,' many loops bunched together. These need a long shaft. Check the length and which stitches you do most to make a decision.
The Throat
A tapered hook has a thinner throat. An inline hook has a throat the same width as the shaft.
The Head
The head is three parts, the tip, the groove, and the lip. The tip or the point is right at the end of the hook. They can be rounded or pointy. The easiest to use is semi-blunt or semi-rounded.
If it's too blunt, it's hard to get into stitches. If it's too sharp, it could split your yarn. The groove holds the yarn stitches you're working on. They're either straight or rounded and function better or worse for different people. The shape depends on whether it's inline/bates or tapered/boye.
If it's inline, the head is round but the same size as the shaft. The lip overhangs the shaft. The groove is deep and has a steep incline inwards. If it's tapered, the head is oval-shaped, the lip overhangs from the shaft. The grooves are smaller than inline ones.
What Are The Different Hook Sizes?
For more information on the types by size, like what size hook to use, what a hook gauge is, a handy size chart, how to convert between "mm" and US numbers, and more, visit my post here.
FAQs About The Types Of Crochet Hooks
Why Is The End Of A Crochet Hook Pointed?
It's pointed so you can create stitches easily without splitting the yarn.
Can You Crochet Without A Hook?
Yes, with finger crochet, where you use your fingers instead of a hook.
What Are Crochet Sticks Called?
Crochet hooks, hooks for crochet, crocheting hooks, and crochet needles.
Are There Different Types Of Crochet Hooks?
Yes! Several.
What Type Of Crochet Hooks Are Best To Use?
Use aluminum if you're a beginner. Try wood if you don't like it.
How Many Crochet Hooks Are There?
Many kinds! The amount featured in this post is 21.
Conclusion
Hope you found this helpful information on different crochet hooks useful! Did you learn something? Let me know in the comments.
Pin For Later