Without a crochet hook, there'd be sad, unused yarn! What a waste! I help you choose the best crochet hook and the best crochet set.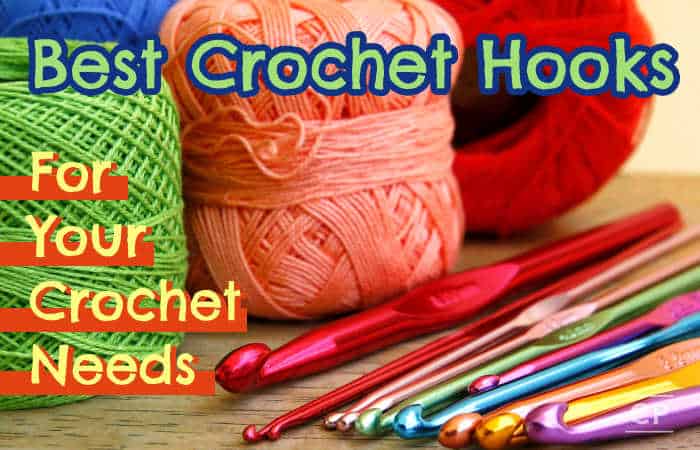 Here's a list of top-rated crochet hooks to buy.
Once you've found something you like, consider buying a complete set.
Here are the best crochet hook sets.
Note: The above links take you to further information, current prices, and customer reviews on Amazon, We Crochet, and Furls Crochet.
Where Can I Buy Crochet Hooks Online?
When venturing into crochet, try before you buy. Have a local yarn store? Ask the lovely store people for help. Go to department stores or large craft stores. Not an option? Buy online at WeCrochet, LoveCrafts, or Etsy. Hobbies need the best tools, they make everything easier.
I reviewed and updated this post on January 16, 2022.
Table Of Contents
18 Best Crochet Hooks To Buy
Here are my picks for the18 top-rated crochet hooks and where to buy them.
Furls Streamline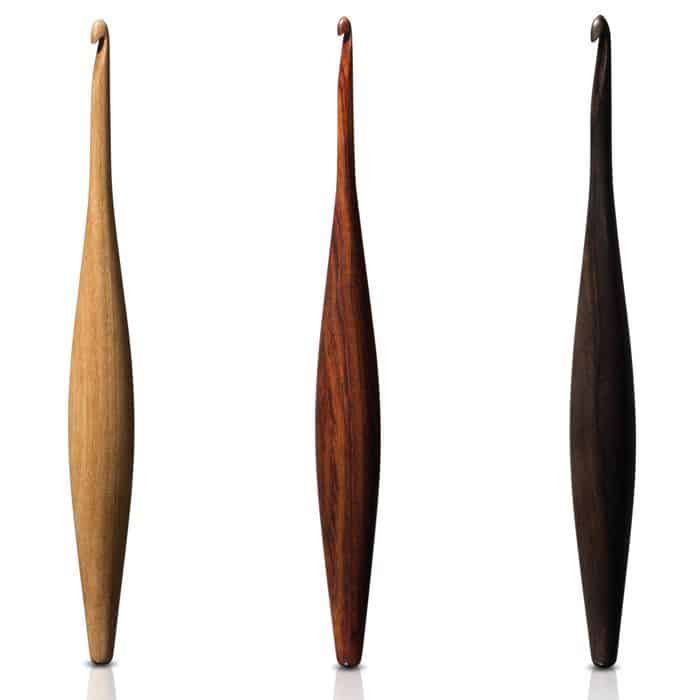 This is a longer Crochet Hook – 7″. The teak wood is lightweight and comfortable. Has a signature teardrop body shape designed to fit into the MCP joint of the human hand. Distributes tension through the hook.
Pros
This crochet hook weighs 1oz
Super lightweight
The larger handle and longer length feels comfortable to work with
Some crocheters found they crochet faster using this hook
Many customer reviews are five stars
Variety of sizes, so you work with any yarn size
Create simple and complicated crochet stitches easily. Even the bullion stitch
Suitable for almost any of the ways you hold a hook
This item is praised for its sturdiness
Suitable for anyone, from the beginner to the expert
Cons
Although one of the more affordable Furls hooks, it's still pricey
After exploring great hooks for crocheting, learn about a beginners crochet kit for adults.
Majestic Crochet Hook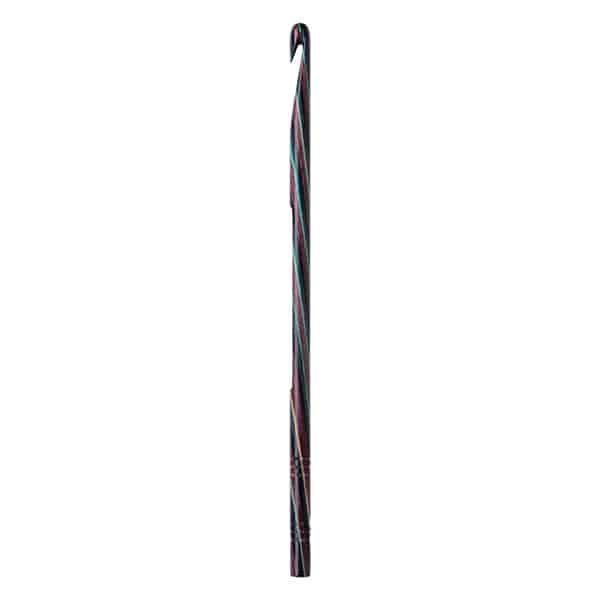 This hook's blue and purple colorway is appealing whenever you're in the mood to crochet.
Making these colorful tools perfect for tackling any crochet project.
An affordable starting point for beginners.
Pros
Comfortable wood hook
Variety of sizes
Warm to the touch
Smooth surface
Pretty color
Cons
Sizes aren't marked; remember to put them back in the packaging.
Look at my guide to the perfect gift for a crocheter – they're great for loved ones.
Furls Odyssey Crochet Hook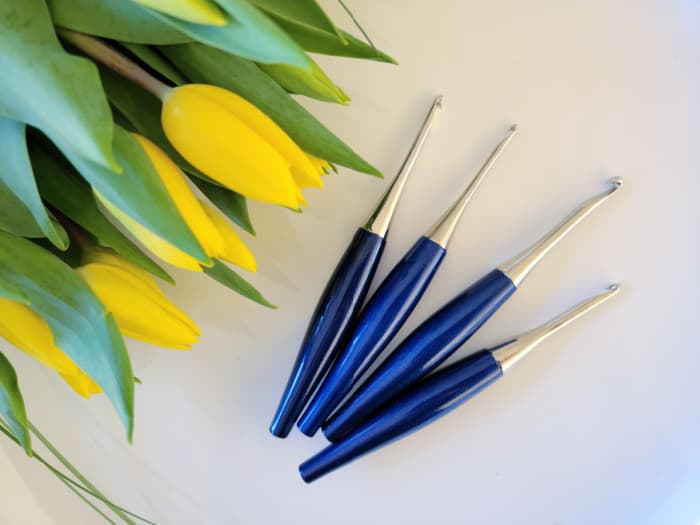 This hook features a nickel-plated pewter tip and an ergonomic hook designed handle. It glides through the project. A smooth finish and feel.
You will be content to crochet for hours with ease.
Pros
Many crocheters adore working with this stylish hook
Ergonomic crochet hooks available in 11 sizes
Great for many crochet projects
Looks beautiful
Easy to use
Many rate this as 5 stars
Cons
More expensive than other hooks
Considerable investment
Ergonomic hooks are heavier because of the weight balance.
If you have nickel allergies, these are not for you
Want information on crochet gadgets? See here.
Addi Comfort Grip Crochet Hook
Addi® Comfort Grip hook, featuring color-coded plastic handles for ease of organization. Perfect for those seeking a comfortable grip.
The head has
Shiny finish
Rounded lip
Rounded groove
Pros
Good for stitches requiring loading as the shaft is long enough to hold them
A soft grip
Cons
No flattened portion/thumb rests
Check Price On Amazon
What is the best sock yarn? Find out in my article.
Pony Aluminum Crochet Hooks
Pony hooks are sturdy. These aluminium hooks (aluminum) come in a range of sizes from 2mm-5mm.
Pros
Good quality aluminum
Affordable
Excellent option for beginners and kids
Smooth surface
Size marked on the shaft
Comfortable thumb rest
Cheap price
Cons
Feels cold
The anodized surface may wear off
Addi Swing
It grips but slides through the stitches. No snagging or splitting the fiber. Each hook is color-coded by size. Printed metric measurement on the handle.
They have a version suitable for lace crochet.
Pros
Lightweight
Fits comfortably in hand.
Silicone handle grip is comfortable
Great for those with arthritis
No matter your grip style, this tool suits all crocheters
Excellent star rating
Soft grip
Addi products come with a lifetime guarantee
Cons
Only metric, not US measurements
Short shaft makes loading stitches more difficult
Good value for money
Check Price On Amazon
Prym Ergonomic Crochet Hook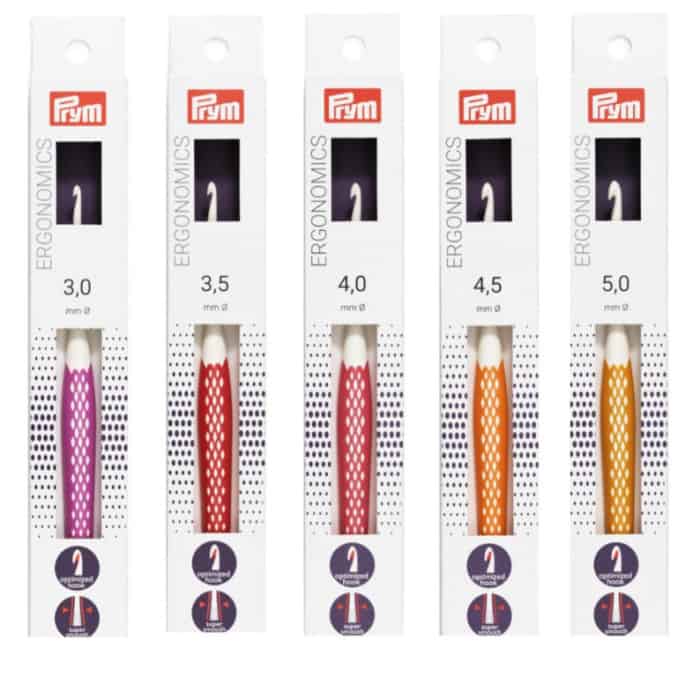 Prym hooks have no defined thumb rests, but this doesn't affect comfort. Great for a crochet pattern that take a lot of time.
They created the first design years ago. They've only gotten better. The ergonomic handle becomes narrower at the end. It's shorter than other hooks.
Colored handles are different for each size.
Pros
Comfortable feel, suitable for people with hand cramps
Lightweight rubber grip handles
Smooth
Great for the knife grip crocheter
Good for almost all weight yarns
Great customer service (Via their contact form, not their email address)
Excellent size hooks for most
Affordable price
Seller ships to many countries including the United Kingdom
Cons
Some don't like the plastic feel
Point and lip are blunt. Annoying if you have a tight tension
The Best Crochet Hook Sets
Here are my top recommendations and choices for the best crochet hooks sets. Shopping and browsing through the different styles and tools are annoying! So I've searched so you get back to crocheting faster.
Boye Crochet Master Steel & Aluminum Crochet Hooks Set
The Boye Crochet Master hook set is perfect for the beginner crocheter.
This set includes
24 crochet hooks
Zippered case to keep them neat and organized.
With this many options, complete any crochet project you want.
Smaller crochet hooks – Steel, great for thread
Larger crochet hooks in this crochet hook set – Aluminum
Pros
Crochet hook set comes in a compact case
Different colors denote different sizes
Tapered head for easy crocheting.
No splitting of the fiber because of the rounded head
To suit almost any crochet style
Cons
Some people get wrist aches when using these hooks for extended periods. (You could try the Boye Ergonomic Crochet Hook)
Check Price On Amazon
Clover Soft Touch Crochet Hook
Hold your hook in a pencil grip? This soft touch hooks set is for you. The heads have a tapered shape, so the hook glides.

Many crocheters love them and the results of using these in their projects.
The ergonomic handles have a flatter shape than most. This set includes 8 lightweight crochet hooks and a Velcro pouch to keep them organized.
The hook heads of this clover crochet hook set have a
Tapered shape
Smooth finish
Pros
Great for people who have problems with their hands or wrist

Many readers recommended these
Soft rubber grip
The thumb rest is in the perfect position.
Gives a great crocheting result
The label for size is clear
Cons
Check Price On Amazon
Mosaic Crochet Hooks Set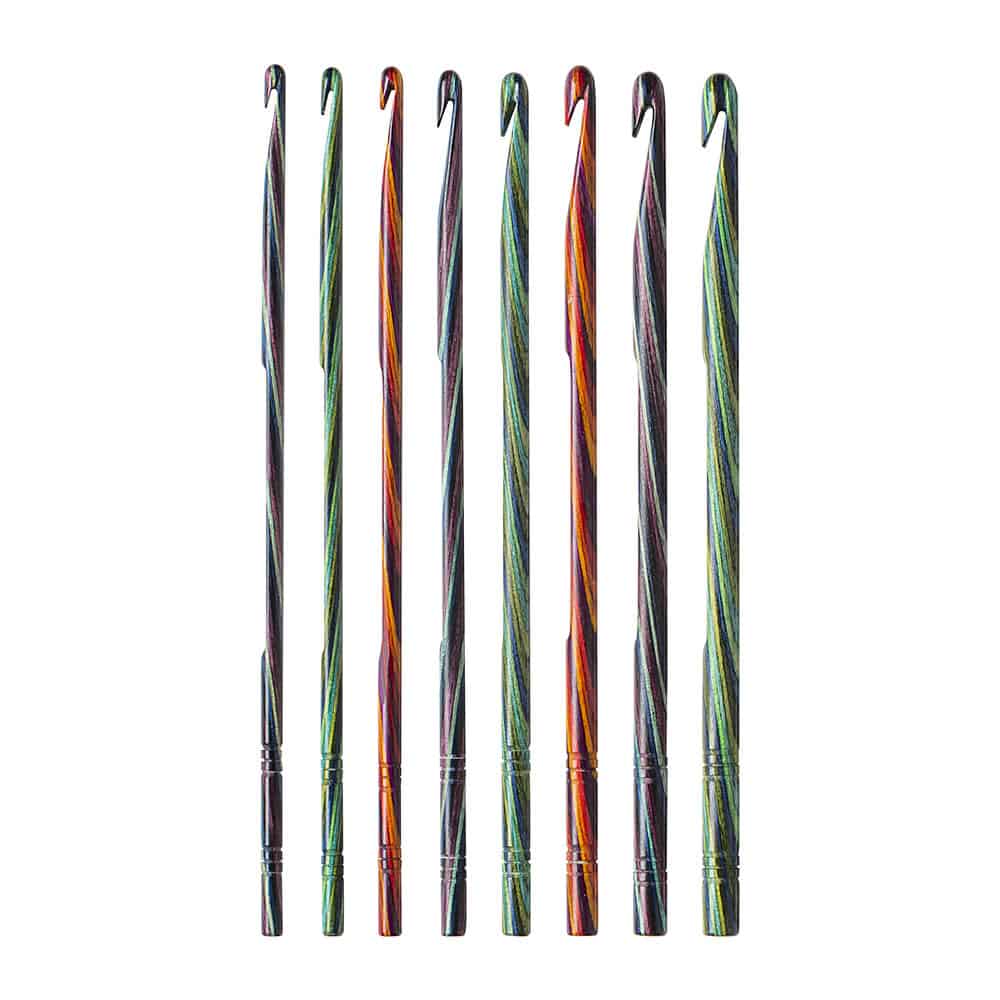 The Mosaic set combines the radiant, Caspian, and majestic for lots of colors. They're high quality because of their sleek design and smooth finish.
Pros
A pleasing array of shades
The wood feels pleasant and warm
Lightweight
Cons
The crochet hook sizes aren't marked on the shaft
It could be hard to use for someone with smaller hands
WooCrafts Crochet Hook Set
The 9-piece Woocrafts crochet hooks set includes 2.0mm – 6.0mm.
Each has a nonslip rubber handle. Be comfortable crocheting for hours. The ergonomic design puts little stress on joints.
WooCrafts offer a lifetime replacement guarantee on their crochet hook sets.
Pros
Includes extras – 9 large-eye Blunt steel sewing needles for sewing in ends, stitch markers, and a bonus pouch (storage box)
The crochet hook handle has colors to denote the sizes. With time, you'll recognize which color is which size.
Cons
Some users reported the dark brown handled hook has the size in black, making it hard to read.
It's cheap, but you get the quality you pay for.
Check Price On Amazon
Susan Bates Silvalume Crochet Hook Set
These inline hooks are made of anodized aluminum to remove imperfections. Heat-treated and polished metal hooks provide a smooth finish.
Metal hooks come in different colors to help you pick out the right one.
Susan Bates has great crochet hook sets, and this is no exception.
Each set contains 6 hooks: 3.75mm – 6.5mm.
Pros
Perfect for budget-conscious individuals
Light to hold
Materials of high quality
Knife hold crocheters will find this useful
Comfortable thumb rest
A great inline hook
Great for beginners
Readers recommend this pack for beginners
Available in many major craft retailers
Cons
Not suitable for crocheters who find aluminum cold
Check Price On Amazon
BCMRUN Multicolor Aluminum Crochet Hooks
Each hook is colored for a different size. Made of aluminum, they're light in your hand, and they're comfortable to use.
This set includes 14 6″ long hooks – 2.0mm – 10mm.
Pros
Rounded, tapered hooks like a Boye hook
Good value for money
Excellent for beginners
Suits many yarn weights
Cons
(A crocheter thought of marking the letter or number size with a Sharpie marker on the hook. Then wrap clear tape over to preserve it. Clever!)
Check Price On Amazon
Giant Bamboo Hooks
For those who enjoy crocheting with wood. These wood hooks are worth a look. These craft and art supplies are made from ashwood.
Three hooks in the set – 15-20-25mm
Pros
Sanded finish slips through the working thread
Grooves hold the yarn loops as you work.
Great for beginners
Feels warm and comfortable in the hand
Cons
Not suitable for thinner yarns
Check Price On Amazon
Clover Amour Crochet Hook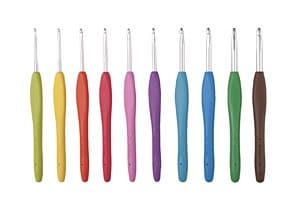 Add some color to your toolkit. Each colored Clover amour crochet hooks soft handle denotes a particular size. The size is engraved, not printed on.
A hook for all occasions and crochet patterns!
Pros
Yarn moves smoothly over the shafts and doesn't split as you stitch
Head and tip of the plastic and aluminum hook are slightly pointed
Thumb rest gives great comfort
Colorful handles
Has the inline hook style
Will suit you regardless of how you grip the hook
A different material for the two parts – a plastic handle and metal shaft
Made of plastic
Comfortable to hold, even when crocheting for long periods
The perfect hook for beginner crocheters
Cons
The aluminum shaft isn't the entire handle length, so the handle's end part is flexible. (This isn't a problem for most.)
Tulip Etimo Crochet Hooks
Those who love pink appreciate Tulip Etimo Rose hooks! The hook is slightly pointed, and the groove is straight. The throat of the hook narrows towards the head.
Set pieces count includes ten hooks: 2.0mm – 6.0mm.
A wonderful addition to your collection of hooks.
Pros
Tulip Etimo Rose brand is the favorites of many crocheters.
Tulip hooks glide through stitches
Handles are comfortable
Reduces wrist motion, reducing wrist pain.
Feels good in the hands
Handles in varying shades of pink
As you create stitches, the yarn glides smoothly
The kit includes a stitch holder and a stitch marker
Suits any grip style
Cons
Stickers are used as labels for sizing

Can squeak with some yarns
High price but you can find them on sale
Check Price On Amazon
Looking for a few more options? Here's a selection of good bets.
What Makes The Best Crochet Hooks
Accessories? Are They Worth It?
Sometimes a set of the best crochet hooks includes a few other items, thus upping the price. Like
Stitch markers
Yarn needles
Thread hook
Row counter
Measuring tape
Embroidery scissors
Decide if you need them, or buy the cheaper set.
Note: Some brands have special offers/deals of free patterns with your purchase.
Did you know that crochet hooks are handy in knitting? They help pick up stitches and can be used for finishing techniques.
Carry Case Or Pack?
If it's a set, this is important! Most carry cases and are plastic, like a vinyl case. Another sort of material, like fabric, is much rarer and more expensive.
You need a simple storage solution on account of keeping everything in neat order.
What Colors?
Buying a set of over one hook? Have a color-coded set because it's easier to select the right size you need.
Most brands offer these. A company would be mad not to!
The best crochet hooks come in many colors, a great way to bring a smile to your face when you crochet.
Different hook sizes can be chosen for different purposes. Larger hooks create a more open fabric and a denser texture is made with smaller sizes.
The Handle?
Let's discuss grips. Popular types are the knife grip and the pencil grip.
Pencil Grip – Hold the hook over the crotch of the thumb
Knife Hold – Hold the hook underneath the palm
Neither is better than the other, and it's different for everyone. You may switch between a knife hold and a pencil hold, or you have a hybrid grip.
The handle is where you'll have your hand, which must be comfortable and suited to the way you hold a hook.
Is The Head The Right Shape?
Examine the head of the product, and have a look at the three parts, the groove, the lip, and the point. The tip is pointed or rounded. The best one is semi-blunt. It's the easiest of all the shapes to use.
The groove is straight or rounded. Rounded is best as it holds yarn easily.
Hooks fall into two different categories – Inline or tapered.
Length?
The length depends on what kind of stitch work and crochet you do and how comfortable they are. The right size is essential.
Shafts do differ in length and for stitches that require more loops to be held, a longer shaft is helpful.
Made From?
Steel, plastic, aluminum, bamboo hooks, wood, and even glass! Different materials suit different yarns. Check the yarn for recommendations.
Non-Slip Handle?
This is important because you don't want to slip and lose your stitches! All the best crochet hooks have this feature.
Fair Return Policy?
Returning a hook seems a silly idea, but it could happen. Ensure the return policy is fair, and read the fine print!
Shipping Prices?
Live in the US? Shipping shouldn't be a problem, but check if shipping rates are reasonable. Live outside the US? Product availability may be limited.
Q&A
What Kind Of Crochet Hooks Are Best For Beginners?
Aluminum. There's a range of sizes, plus they're affordable. Perfect for your first crochet project!
What Are The Most Comfortable Crochet Hooks?
The best ergonomic crochet hooks relieve wrist pain. Also, conditions like tendonitis, arthritis, and carpal tunnel syndrome symptoms. Crochet for longer!
What Type Should You Use?
It depends on the project, the yarn, and the pattern. Most yarns have a recommended hook size.
Does Walmart Have Crochet Hooks?
Yes, they sell crochet hooks. Check your local shop stocks them.
I hope you find the best crochet hook.
If you're a beginner, which looks good? If you've crocheted for a while, what's your favorite hook to use in your crocheting experience, and why? I'd love to hear about your top choice.
Have any questions? Please get in touch in the comments below.