Crochet hooks, the tool instrumental to crochet. Without it, there would be no doing crochet, just masses of sad, unused yarn! Can you imagine the horror?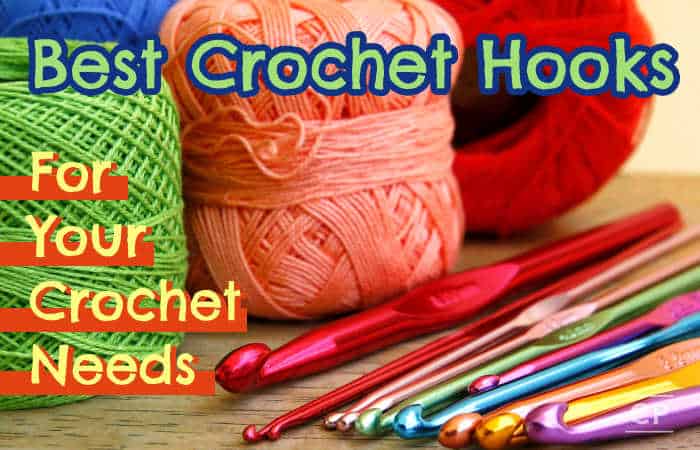 Like any hobby, it's essential to have the right instrument for the task at hand.
Don't worry, though selecting the right tool for the job is hard, this post should help you choose the best crochet hook for you.
For those in a hurry, here's a list of the best crochet hooks and best crochet sets.
Note: Clicking the above links will take you to further information, current prices, and customer reviews on Amazon.
Table Of Contents
The Best Crochet Hooks
Here are my top recommendations and product reviews for the best crocheting hooks, and the best crochet hook sets.
Boye Crochet Master Steel and Aluminum Crochet Hooks Set
The Boye Crochet Master hook set is perfect for the beginner crocheter. This set includes 24 different sized crochet hooks and a zippered case to keep them neat and organized. With this many hook options, you'll be able to complete nearly any crochet project you want. You'll have all the hook sizes you need!
The smaller crochet hooks are made of steel, this is great for crocheting with thread. The larger crochet hooks are made of aluminum and can be used with various types of yarn. The hooks have a tapered head with allow for easy crocheting.
Pros
The set comes within a compact case
Different colors denote different sizes
No splitting of yarn due to the rounded head
Cons
Some people find their wrists ache when using steel or aluminum hooks for extended periods of time.
Click to Learn More / Buy from Amazon
Clover Soft Touch Crochet Hook
If you prefer to hold your hook in a pencil grip, this is the set for you. The ergonomic handles with their flatter design make them comfortable for this way of crocheting.
The heads have a tapered shape and a smooth finish which helps the yarn to effortlessly move over the yarn. Many crocheters love working with these hooks.
The Clover Soft Touch crochet hook set is perfect for the crocheter who holds their hook like they would a pencil. The ergonomic handles have a flatter shape than most making them very comfortable for this style of crocheting. This set includes 8 ultra lightweight crochet hooks and a Velcro pouch to keep them organized.
Clover Soft Touch crochet hooks come highly recommended by crocheters around the world. The hook heads have a tapered shape and a smooth finish to allow the yarn to glide over them with ease.
Pros
Set includes 8 ultra lightweight hooks
Great for people who have problems with their hands or wrist
Cons
Click to Learn More / Buy from Amazon
WooCrafts Crochet Hook Set
This 9-piece crochet hook set includes sizes 2.0mm, 2.5mm, 3.0mm, 3.5mm, 4.0mm, 4.5mm, 5.0mm, 5.5mm, and 6.0mm. Each has a non slip rubber handle feels comfortable in the hand without feeling pain when crocheting for hours.
They can also be used by people suffering from arthritis or carpal tunnel syndrome as the ergonomic design puts little stress on joints, making crocheting easier and more comfortable.
WooCrafts offers a lifetime replacement guarantee for the hooks and needles.
Pros
Includes extras – 9 large-eye Blunt steel needles for sewing in ends, stitch markers and a pouch to put all the items of the set in.
The handles are different colors to denote the different sizes. With time, you will automatically recognise which color is which size.
Cons
Some users reported the dark brown handled hook is imprinted with the size in black making it hard to read.
Click to Learn More / Buy from Amazon
Furls Streamline
This is a longer Crochet Hook measuring 7″ in total length. The tips are pointer which makes it easier to penetrate stitches when crocheting. This is teak wood which is lightweight and comfortable to hold.
Furls Crochet pride themselves on their signature teardrop body shape which was designed to fit into the MCP joint of the human hand while distributing hand tension through the wooden body of the hook.
Pros
This hook only weighs 1oz so it is super lightweight
The larger handle and longer length feels really comfortable to work with
Some crocheters have found they crochet faster using this hook
Cons
Although one of the more affordable hooks Furls makes, it will still be an investment for some.
Click to Learn More / Buy from Amazon
Susan Bates 82409 Red Heart Crystallites Acrylic Crochet Hook Set
These hooks are cheap and cheerful and great for bulky/chunky yarns. Made from translucent colored plastic. Great for beginners to crochet as they are light and with bulky yarn and a large hook you can make good progress in a short time. Good for kids too.
The set includes 4 sizes – Size L11/M13/N15/P16
Pros
Very easy to use, grabs the yarn and pulls through
Comfortable handle
Cons
Some users have found some rough edges but simply filed these back and there were no problems.
Click to Learn More / Buy from Amazon
BCMRUN Multicolor Aluminum Crochet Hooks
This set includes 14 hooks in these metric sizes – 2.0mm/2.5mm/3.0mm/3.5mm/4.0mm/4.5mm/5.0mm/5.5mm/6.0mm/6.5mm/7.0mm/8.0mm/9.0mm/10.0mm. They are 6 inches long.
Each is colored differently to help you to easily identify which color is which size. Of course this memorizing will come with practice and use.
Made of aluminum, they are light in your hand and the thumb rest makes them comfortable to use.
Pros
rounded, tapered hooks like a Boyle hook
Good value for money
Cons
Just on this, a crocheter came up with a brilliant solution to mark the letter or number size with a Sharpie marker on the hook and then wrap clear tape over that to preserve it. Clever!
This will help
2.25 mm = B = 1
2.75 mm = C = 2
3.25 mm = D = 3
3.5 mm = E = 4
3.75 mm = F = 5
4 mm = G = 6
4.5 mm = 7
5 mm = H = 8
5.5 mm = I = 9
6 mm = J = 10
6.5 mm = K = 10 1/2
8 mm = L = 11
9 mm = M/N = 13
10 mm = N/P = 15
15 mm = P/Q
16 mm = Q
19 mm = S
Click to Learn More / Buy from Amazon
Furls Odyssey Crochet Hook
This hook features a nickel plated pewter tip and ergonomic designed black handle. It easily glides through the yarn. A very smooth finish and feel. It will be a considerable investment but many crocheters adore working with this stylish hook. It is heavier than other hooks due to the weight balance.
It is available in 11 different sizes and is great for all sorts of projects.
Pros
Looks beautiful
Easy to use
Cons
More expensive than other hooks
Click to Learn More / Buy from Amazon
Addi Comfort Grip Crochet Hook
Addi® Comfort Grip hook, featuring color-coded plastic handles for ease of organization. Perfect for those seeking a comfortable grip. The head has a shiny finish, a rounded lip, and a rounded groove.
Available in: US A (2mm), B (2.5mm), C (3mm), D (3.25mm), E (3mm), 3.75mm, F (4mm), G (4.5mm), H (5mm), I (5.5mm) and J(6mm).
Pros
Good for stitches that require loading as the shaft is long enough to hold them
Cons
Click to Learn More / Buy from Amazon
Sumit Beachwood Hooks
For those of you who enjoy crocheting with wood. These are worth a look. They are made from ashwood. There are three hooks contained in the set –
15.0mm (US P/Q)
20.0mm (US S)
25.0mm (US U)
The sanded finish helps the hook slip easily through the yarn and the grooves help to hold each loop as you work.
Pros
Great for beginners as bulky yarn projects work up quickly
Feels warm and comfortable in the hand
Cons
Not suitable for thinner yarns
Click to Learn More / Buy from Amazon
London Kaye Hook Set
An unusual design where the handle is twisted but it has created that way for comfort. These are great for big bulky yarns and projects such a hats, scarves and afghans, pet beds and mats.
The set includes:
Small – 9 MM (Green)
Medium – 11.5 MM (Pink)
Large – 20 MM (Blue)
Pros
The lightweight plastic feels comfortable to hold
Easy to crochet with bulky yarns
Doesn't tire out your wrist when using over extended periods of time
Cons
some users found a rough nub on the small hook
yarn does not glide as easily
A Crochet Hook's Anatomy
A crochet hook may seem pretty straightforward. A stick with a hook on end, hence the name. There's a bit more to it than that. Knowing this tool's anatomy will help you get the right one for you.
Before I get into that, first a note on the types of grips, or the way you hold a crochet hook. It's all down to personal preference. There are two main types, the knife grip, and the pencil grip.
With the pencil grip, you hold the hook over the crotch of the thumb, like you would with a pencil.
With the knife grip, you hold the hook underneath the palm, almost like you would a knife.
Neither is better than the other, and what works is different for each person. You may switch between them, or you have a hybrid grip.
The only thing that matters is different crochet hooks will work differently for you depending on your grip.
Now for a breakdown of the parts of a crochet hook.
It's broken down into two main parts, the body and the head.
The body is made up of three main parts, a handle, a shaft, and a throat. Some tools also have a thumb rest.
The head is made up of a point (sometimes known as a tip), a groove, and a lip.
For more information on the anatomy of a crochet hook, visit my guide to everything you need to know about crochet hooks.
Types Of Crochet Hooks
Tapered
This type gets its name from the shape of the throat. It's tiny compared to the rest of the hook. The hook heads have a smooth finish and are curved.
If you have loose tension and need to crochet something a bit tighter, a tapered hook is the perfect thing to help. The narrow shape of the throat helps keep the tension tight.
Inline
The throat of these hooks is the same diameter or 'inline' as the rest of the hook.
They tend to be quite comfortable and easy to use, the right choice for beginner crocheters.
Regardless of what you decide, try both to determine what hook shape is best for you.
Both of these types can come with something called a round grip, designed for people whose crochet hooks roll when they're working.
There's no thumb rest, and the whole hook is the same thickness, from top to bottom.
There's also a rubber grip, which is more like a standard grip, but it has soft rubber to make it easy to use.
Here are some of the different crochet hooks that can be divided into the three above categories. Each made from a diverse variety of materials, each for a different purpose.
Aluminum: These are general purpose, suited to any form of crocheting. An aluminum hook is an excellent choice for beginners because they're a great first hook to start with.
They're also good because they're anti-snag, and the yarn slides easily across the hook. A great variety of sizes available, and they help you maintain a consistent gauge.
Bamboo: Designed to be comfortable and smooth, these are an excellent choice, regardless of skill level. They are crafted from ethical and sustainable material.
A bamboo hook is one of the most affordable. They're also available in a wide range of sizes. They're good for crocheters starting to learn new techniques and stitches.
Ergonomic: With a soft, large handle designed for usability and comfort. Sometimes, the models are interchangeable, and you can attach different sizes of a hook to the handle. They're designed to relieve hand pain.
Knook: It may not look like your normal crochet hook, that's because it isn't! Designed for the unique function of creating crochet, which looks like knitting! It looks like a long crochet hook with a hole in one end, designed to hold many yarn loops at once.
Plastic: These come in all sizes and shapes. They're smooth, light, and cheap. Another great choice for beginners. They're hollow, so they aren't a strain on the hands. Perfect for giant crochet or bulky yarn.
Tunisian: This type of crochet is unique, so it has a special type of hook to do the work. They're also known as cro hooks. They're much longer and are more similar to knitting needles. They allow you to keep the stitches or the working loop on them as you work.
Steel: The smallest of all crochet hooks, they look similar to aluminum hooks, but they're much finer in diameter. This is because they're designed for lacework or crocheting with fine yarn. Also good for threat crochet, as this style needs very small hooks!
Things To Consider In The Best Crochet Hook
Does It Have Accessories, And Are They Worth It?
Sometimes a set of crochet hooks will include additional items, thus upping the price. These could be something such as stitch markers, yarn needles, a thread hook, a row counter, or a measuring tape.
It's important to decide if you need the accessories, or just forgo them and buy the cheaper set without them.
Note: Some of the sellers have special offers where you can get free patterns with your purchase.
Does It Have A Carry Case?
If it's a hook set, this is especially important! You probably don't have a dedicated organizer to keep a bunch of crochet hooks in, so it's an excellent sign if they come in one already.
Most carry cases are made from plastic, like a vinyl case.
What Colours Does It Have, If Any?
This may not seem like a big deal, but it does matter if you're buying a set of more than one hook. It's best to have a color-coded set because it makes it easier to select the right size you need.
Hooks come in all sorts of colors, a great way to bring a smile to your face when you crochet as well.
What About The Handle?
The handle is the place where you'll have your hand, and this must be comfortable! A good way to tell is if it's advertised as an ergonomic handle, usually they will have rubber handles.
They're soft on the hands, so your fingers won't get chafed.
It could be a completely different material from the rest of the crochet hook. Read customer reviews to get a sense, but if you can, try before you buy.
Is The Head The Right Shape For You?
Examine the head of the product, and have a look at the three parts I've mentioned, the groove, the lip, and the point. The tip can be pointed or rounded. The best one is semi-blunt. It's the easiest of all the shapes to use.
The groove is either straight or slightly rounded, and the rounded ones are best because it holds the yarn easily.
The lip is the actual hook part, and the rounded one is better because it's less likely to snag.
What Length Are They?
The length depends on what kind of stitch work and crochet you can do, and how comfortable they are to hold. The right size is essential for a good experience.
What Is It Made From?
Usually, crochet hooks are made from steel, plastic, aluminum, bamboo, wood, and even glass! Different kinds of materials are suited to different yarns, so check the yarn for recommendations.
Is The Handle Non-Slip?
This is important because you don't want to accidentally slip and lose all the stitches and areas you've just created! It would be a waste, so that's why they've developed non-slip handles.
You want to make sure it's comfortable to use! Make sure the hooks you have an eye have this feature.
Is The Return Policy On The Product Fair?
It may seem like the idea of having to return a crochet hook is a silly one, but it could happen. You should probably make sure the return policy is decent and fair, and make sure you read the fine print!
That way, if something does go wrong, you know what to do.
What About Shipping Prices?
If you live in the US, shipping shouldn't be a problem, but still, check if the shipping rates are reasonable. If you live outside the US, or in an international area, be warned product availability may be a bit limited.
Crochet Hooks – Your Questions Answered
What Kind Of Crochet Hooks Are Best For Beginners?
The best crochet hooks for beginners, in terms of material, are metal hooks, specifically aluminum. They're very flexible in the range of sizes they come in, the yarn they can work with. Plus, they're very affordable. Perfect for your first crochet project!
What Are The Most Comfortable Crochet Hooks?
Ergonomic crochet hooks. They are designed to relieve wrist pain and other symptoms of things tendonitis, arthritis, and carpal tunnel syndrome. You should be able to use them for long periods without experiencing pain. For more on these hooks, read my review here.
Are Bamboo Crochet Hooks Better?
In terms of affordability, smoothness, and range of sizes, yes, bamboo hooks are better. They're also very flexible in the range of the projects you can tackle with them.
What Type Of Crochet Hook Should You Use?
It depends on the project you're working on, the yarn you're using, and the pattern you're doing. Most, if not all, yarns have a recommended hook size on the label, so it helps to pay attention to those.
Really small hook sizes are perfect for small, delicate work like making doilies and fine yarn. The largest hook sizes are great for broomstick lace or bulky lace.
In the US, they use a lettering system for crochet hook sizing.
There are many different hook sizes. Here is a helpful list of all of them.
Metric Diameter – US Knitting Needle Number – Corresponding Crochet Hook Size
2.25 mm – 1 – B-1
2.75 mm – 2 – C-2
3.25 mm – 3 – D-3
3.5 mm – 4 – E-4
3.75 mm – 5 – F-5
4 mm – 6 – G-6
4.5 mm – 7 – 7
5 mm – 8 – H-8
5.5 mm – 9 – I-9
6 mm – 10 – J-10
6.5 mm – 10.5 – K-10.5
8 mm – 11 – L-11
9 mm – 13 – M/N-13
10 mm – 15 – N/P-15
12.75 mm – 17 – N/A
15 mm – 19 – P/Q
16 mm – N/A – Q
19 mm – 35 – S
25 mm – 50 – U
What Size Crochet Hook For A Blanket?
The best crochet hook size for a blanket is 5/5.5mm for Sport or DK weight yarn. If you're using something chunkier, like 12 ply yarn, then the best size is 6/6.5mm.
I hope you find this guide useful, and you can find the best crochet hook.
If you're a beginner, which one looks the best to you, and what one are you using at the moment?
If you've been doing crochet for a while, what's your favorite hook to use, and why? Did you have any struggles choosing a crochet hook when you were first starting?
I'd love to hear your thoughts. Something I forgot? Leave a question or comment at the end.