Winding yarn from hanks into easy to use cakes by hand is no easy task. It's time-consuming, hard to do by yourself, and annoying!

Yarn Winders were created to make this job easy.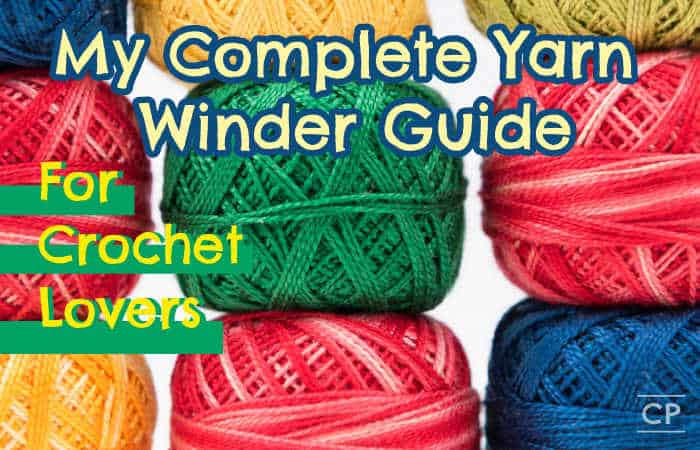 There are many different types, from wooden winders, electrical yarn ball winders, and hand-operated ones.

At A Glance – The 12 Contenders For The Best Yarn Winder Available
Table Of Contents
The Best Yarn Winders
Here, I'll list the best yarn ball winder to suit any budget any measurements needed, and many other considerations. I'll also list the best heavy-duty yarn winder.
Nostepinne Yarn Ball Winder – What Is It?
This is a unique version of ball winder, and about the lowest low-tech version you can find.
The name comes from a Scandinavian word meaning "nest-stick."
The grandfather of the modern yarn winder, it's how the yarn was wound years ago.
How Do You Use A Nostepinne?
First, tie the end of the yarn to the stick, and make sure it's a knot you can easily undo when you've finished. A hitch knot is a great idea. (If it has a groove, tie it there, but if not, tie it to the top or bottom. It doesn't matter which end.
Move the yarn to the middle and begin winding it around. This is to form the base of the yarn ball. As you wind, make sure it's close together, you don't want it too far apart. Keep the yarn with tension.
Now start the ball winding pattern. Take the yarn from the top wrap down to the bottom diagonally while turning the Nostepinne with your other hand. Do it again, but move it from the bottom up to the top.
Repeat the yarn strands pattern until you've nearly finished winding all the yarn.
With this method, you create center pull yarn cakes.
It's by no means fast, but it's very relaxing and calming once you get the hang of it. It's also an interesting way to see how they used to do it in the past by experiencing it yourself. A lovely option if you want something unique.
If you're interested in winders from the past, please take a look at my Antique Yarn Winder post.

Nostepinne Yarn Ball Winder
Here's a lovely Nostepinne, made from rosewood and fine rich wood grains. It's carved to be comfortable to use. It creates center pull cakes. It has grooves to make it easier to grip and a lovely, smooth texture.
Pros
Saves space and very portable
Buffered with varnish against scratches and damage
Cons
May be hard to grip for some people
A slow process
Click to Learn More / Buy from Amazon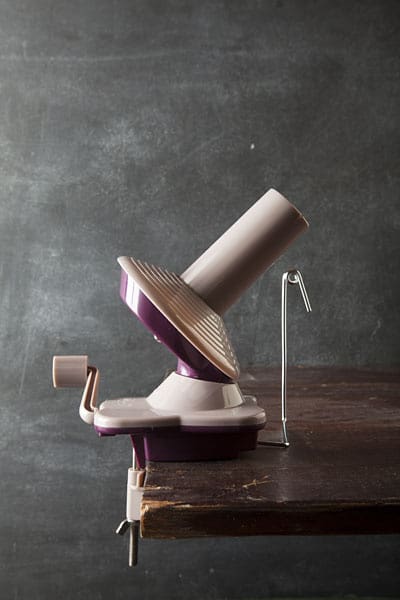 This is one of the most popular yarn winders for those on a budget. It's very easy to use. It makes up to 3.5 oz yarn cakes, which is better suited to lighter yarn weights and thinner fibers, like cotton.
A unique feature of this Knitpicks winder is it pivots in various ways, perfect for people who get pain in their hands/wrists. You can change positions to be more comfortable.
Made of plastic, it is lightweight and perfect for transporting if the need arises. Its small size is great for people with little room in their crafting space. Can handle dozens of winds.
The printed directional arrows right by the handle show you which direction to turn. With this winder, it's clockwise.
Pros
Small and lightweight, it's a perfect portable model. Suited for lighter yarns, it's great for smaller projects or a quick yarn scrap pile clean-up!
If you travel or want to wind yarn on the go, this is an excellent choice.
Clamps to surfaces or a table edge without leaving any marls
Though it's made of plastic, it's sturdy and will last for some time. Some parts are made of metal.
Easy set-up and helpful instructions, great for beginners and very user-friendly
Easy storage in its box
Excellent affordability for those with a smaller budget
Designed with comfort in mind, those with arthritis or tendonitis can still use it with ease.
It has a helpful yarn guide and yarn guide arm.
Manufactured in the United States
Cons
Not as fast as some bigger models, but it's very easy to crank
Nancy's Knit Knacks Heavy Duty Ball Winder
The perfect heavy-duty winder. It can wind up to one pound at a time! That's 16 ounces. Despite the size, it's simple to use and requires little set-up.
It's made of strong, sturdy materials and has a comfortable and ergonomic design.
Made from wonderful maple wood and swiss metal gears, the quality makes it guaranteed to last a lifetime. It's quite the investment, but it's truly worth it! It is a tool you'd be happy to display all the time because it looks so beautiful.
These products are what you'd typically find in your local yarn store as it is a workhorse and is very quiet when in use. Many experts highly recommend this product for when you are winding lots of yarn.
The best yarn winder for heavy use.

People have successfully adapted this model to wind yarn on to cones with a neat trick of a little quilt batting over the spindle section. You then place the cone over the batting, and it fits snuggly, ready for winding.
If you want it motorized, there's more information about it in my post on electric yarn ball winders here.
Pros
Can wind up to 1 lb of yarn at a time, perfect for any project.
Is shipped almost fully assembled, so you don't have to do much to set it up
An excellent design that puts most of the cranking on your arm, in addition to relieving fatigue in your wrists
Smooth and quiet gears
Easy to adjust the position and modify to make it comfortable
Flexible tension and yarn weights
yarn guide is easy to thread
Easy to use
It comes with a one year warranty, and you can add an electric motor if you prefer
Excellent customer ratings
Cons
Sometimes the yarn may get tangled or overspun
Click to Learn More / Buy from Amazon
An excellent yarn winder for ease of use, it's operated by hand and makes yarn cakes of up to 4 ounces. It's versatile, as it can clamp to many different surfaces and furniture.
Made of strong materials and a smooth, even crank system.
This model is the upgraded 4-ounce version, there was a previous version that is still available, but this model would be the preference. The metal crank is virtually unbreakable.
The maximum thickness of table or edge that this can clamp on to is about 1 3/4 inches.
If you want to wind from a swift, a pro tip is to buy the swift that goes with this product in combination. Similar in quality and ease of use.
For those of you who loved your Royal Ball Winder, which is no longer manufactured, this is a good alternative.
Pros
It makes small 4 oz pull balls, perfect for most projects, small and medium-sized.
The clamp has a range of about 13/4 inches. You can clamp it to many different pieces of furniture. E.g., a chair, shelving, or a table.
Excellent quality and strong materials
Easy to crank, smooth, and without kinks.
Great value and very affordable
Cons
Limited in size of yarn it can hold, you may have to cut skeins in two
Click to Learn More / Buy from Amazon
Stanwood Needlecraft Large Metal Yarn/String Ball Winder – 10 Oz
This is the larger of the previous one I just listed. It makes large yarn cakes, with a yarn capacity of up to 10 oz. No need to cut large hanks into multiple piles any more!
A heavy-duty winder, despite that, it's easy to assemble and stores compactly and easily. One of the popular heavy-duty winders, for a good reason. Often being used at Yarn Stores.
It's very versatile in terms of the yarn it can work with, all ranges of weights and yarn, from wool, acrylic, and cotton, to cashmere, merino, and silk. The cakes created are center pull and are wonderfully neat and compact.
They fit perfectly in a yarn bowl.
The base is made from heavy metal, so it can really crank out some serious amount of winding. Bulky yarns are a breeze with this winder.
Look out, messy yarn stash. Prepare to be organized!
Pros
This winder can handle even large skeins up to 10 ounces
Made of sturdy engineered metal, apart from the cogs, made from a nylon material
Designed to last years, and is heavy duty
Little assembly needed, simple to use
Quiet, with a smooth, even crank
The base of the frame has rubber feet to protect areas beneath and prevent slipping
Very positive reviews
An excellent choice if you're going to be doing a lot of yarn winding
Cons
It can be a bit confusing at first, but with time and practice, it becomes easier.
Click to Learn More / Buy from Amazon
Beisaqi Swift Yarn Fiber String Ball Wool Winder Holder Hand Operated
An excellent choice in the factors of portability, weight, and ease of storage. It's designed for balls on the smaller end. Simple to use and a no-fuss model. A metal yarn arm at the bottom of the unit can be extended to keep it steady.
It can handle winding yarns of up to 3 oz easily. Get ready to have your yarn skein all neat and tidy.
Pros
Lightweight and easy to transport, easy to set up too
Very quiet
Table clamp helps to keep it steady
Portable and convenient
Great for beginners
Cons
Instructions would be better if they were simplified
Click to Learn More / Buy from Amazon
Darice Yarn Winder
It's unique in the fact that it comes fully assembled. You don't have to do anything in that regard! You only have to set it up on the surface, and you're ready to go.
Simple to use and hold smaller balls of yarn, so you have to separate larger hanks into smaller amounts to fit them on the winder.
Some users have experienced the yarn falling off the end of this winder as it has a different position for the spindle. You can see in the picture that it is parallel with the table rather than pivoted.
What you need to be mindful of is where you place the yarn when threaded it at the start and also how you keep tension throughout the process.
A very nifty tool is a tension guide ring, which helps to keep the yarn moving through at an even tension in the winding process.
Pros
Easy to turn the handle
Great for smaller amount of yarn, and not too much winder
Comes fully assembled!
Very easy to set up on tables
Storage is a breeze
Cons
The yarn can become wrapped and caught around the spool if you wind too slowly
Click to Learn More / Buy from Amazon
Excellent for using up leftover yarn balls and scrap pieces to make neat cakes. It's lightweight and portable and able to wind up to 4 ounces of yarn. The instructions make the already simple assembly a breeze.
Pros
Great for winding large hanks and skeins and organizing your yarn stash
Large spindle capacity
Winds without needing cones or tubes
Simple setup, instructions, and details are easy to understand
Plenty of space still left on your workbench for crochet or knitting accessories even after it's been set up
Cons
The arm slips once a while, but not enough to be a huge problem
Click to Learn More / Buy from Amazon
A great electric yarn winder that uses 120v a/c electricity. The machine does all the winding of yarn balls, sit back and let it do the work! If you have wrist problems, or joint/muscle/bone fatigue, this is a great choice.
It's easy to read operating manual, shows you how to set it up. Once you've done that, it does the winding for you.
Pros
Winds balls into neat cakes in minutes
There's an instructional video available. Minimal setup required.
Uses 120v a/c power, no batteries required.
Cons
The motor isn't very powerful
Has to be set up in a place where it can be plugged in
I've covered recommendations for alternative electric yarn winder options in another post.
Click to Learn More / Buy from Amazon
This is in between the smaller and heavy-duty versions, as it can wind up to 7 ounces for yarn balls. With its durability, it can handle all sorts of yarns and weights, from lace to bulky.
Set up is a little more complicated than other winders on this list. Still, a screwdriver is included to make it easier.
Pros
Easy Set-up
Great for winding for medium-sized projects
Very durable construction and will last for ages
It has a useful yarn guide arm
Low noise as it winds on the spindle
No need to cut a large skein in half
Cons
You have to wind slowly at the start
Click to Learn More / Buy from Amazon
Windaze Yarn Ball Winder
Able to handle skeins of yarn up to 7oz. So center-pull thread cakes are jumbo-sized and a sheer delight to those of us who love neat and tidy fiber stashes.
The wool winder holder can work on table thickness up to 1.4″.
There are two metal swing arms integrated with the winder, and you can use either one but be careful not to use both at the same time. The second arm is used as a counterbalance.
There's also a plastic shaft that comes with the winder for further convenience.
It can be a little tricky to set up as it does not come with instructions that are very clear. A little help from other reviewers will help get you sorted out.
Pros
The design of the handle is ergonomic construction, for less strain on the wrists
It mounts to any surface with an easy hand turn screw system
Cons
If you go too fast, sometimes the yarn slips underneath and gets tangled around the spool
Click to Learn More / Buy from Amazon
Stauch Jumbo Yarn Winder
A super quiet, effortless machine, this offers smooth, even cranking with minimal effort. It's wonderfully crafted and designed to last a lifetime. It's beautifully designed visually.
You can wind up to one pound of fingering weight yarn and ten ounces of worsted weight yarn. (For thicker weight yarns, the amount is less.) Easy to assemble and disassemble, and parts are easy to replace if necessary.
This style is a considerable investment but so worth it.
Pros
One year guarantee
Made from beautiful hard and premium veneered plywood
Parts are replaceable
Simple to follow manual
Very positive reviews
Manufactured in the United States
Cons
It needs to be cleaned if you use it a lot. But fortunately, doing that isn't hard.
Hand Crafted Yarn Winder
Handcrafted with natural steamed Beechwood.
Dimensions:
Length – 36 cm
Depth – 12 cm
Height – 25 cm
Use of fine quality bearing provides super smooth winding of yarn. Anti-skid rubber pads prevent the winder from sliding and scratching the table.
It weighs 5 lbs, and the yarn guide tower allows for improved consistency & neat center-pull balls. Comes with a table clamp and winds up to 450 grams of fingering weight yarn at a time.
What's The Point Of A Yarn Winder?
What an incredible thing technology is! Long ago, these knitting technologies weren't available but now look.
They're incredibly useful implements, but like many wonderful gadgets out there, they're quite an investment. It's good to take some time to consider the options, their specifications, and their necessity in your life.
Here are some benefits of a winder.
They make it convenient, but it's best to have space where you can have it set up for use, especially if you use it often, without having to disassemble it every time you need the table for something else.
They can make your crochet or knitting performance so much easier! Useful for any crocheter, regardless of skill level
Do you have a lot of scrap yarn lying around? You can use the yarn ball winder to use them up and make them into cakes, ready to use for a project!
You can tidy up unused or partial skeins/hanks of differing weights to keep your yarn stash organized.
If you're using a yarn that changes color, wool winders help you know where it starts and end. It's useful if you want to separate them into cakes of each color.
Most styles create center-pull cakes, one of the best ways to store yarn and crochet from.
What Is A Yarn Winder?
A tool with a pretty self-explanatory name, it's designed for winding yarn. Designed for fibers to be winded into neat cakes that are flat and pull from the center.
The pull thread yarn balls don't roll in all directions and can stay in the one spot when you crochet with them.

Do I Need A Yarn Ball Winder?
You need a yarn ball winder if you buy hanks or skeins if you do a lot of crocheting if you want to keep your yarn stash organized. Think of all the tidy center-pull balls you will create.
Or you have a lot of leftover hands or yarn lying around that needs to be tidied.
Some of our readers have made their own DIY yarn winder. If you're planning to do lots of winding, buying one that is built to last would be the easier option.

How Do You Fix A Yarn Winder?
If your winder is producing yarn cakes that end up crooked, don't stress. Here's how to fix a yarn winder.
Twist the cone-shaped bobbin off the base
Grab a Phillips head screwdriver. Remove the screw from the plate underneath where the bobbin usually is. Remove the plate and put it to the side.
The gears are probably out of alignment, and their teeth aren't fitting together. Ease the larger gear back from the smaller one until they fit, and the teeth mesh together.
Get the plate, and screw it back on.
Put the bobbin back. Done!
What are Yarn Balls and Cakes?
You create yarn cakes (some call them yarn muffins!) with a winder. You create yarn balls by winding by hand.
I'll give a quick comparison of the results of each method of winding — first, hand-winded balls.
Hand-wound balls move in all directions and could pull from anywhere.
Quite slow and can become tedious after long periods
Cumbersome because you need something to hold the hanks, like the backs of two chairs
If you pull straight from the skein, the yarn will inevitably become tangled
You can't inspect the yarn for knots or frayed points easily
The shape of the ball can be uneven
Yarn winder cakes, however –
A cake or yarn muffin pulls from the center and spin around in a neat circle, with flat sides.
The tail or end of the yarn is in the center, hence the name, center-pull cake
One crank of the handle is equivalent to winding by hand 25 times. Different models have different speeds
Keep your unwound yarn in one spot using an accompaniment tool, a yarn swift to hold it in one spot
You can inspect for knots as you wind
The methods are similar, but the yarn winder has some great bonuses. (Apart from being much faster, obviously!)
How To Choose A Yarn Winder
There are many different types and options on the market! It's hard to know what to choose for purchase.
To help you decide, I've compiled a list of questions to keep in mind when considering a yarn winder.

Hand Cranked Or An Electric Yarn Ball Winder?
Electric versions are more expensive and less portable, as they need to be plugged into power. The motor will make noise. But they are designed for winding yarn for you!
Hand-cranked winders are cheaper, can be set up anywhere, but yarn is wound by hand.
Do You Buy Hanks Or Skeins?
If you use hanks, you should probably invest in a winder. It makes it much easier to use. Also, you should get a yarn swift. It keeps the yarn from tangling and threads the yarn to the winder as you crank.
If you buy skeins, you don't need to wind skeins, but it certainly makes it easier!

How Much Are You Willing To Spend?
Consider your budget! There are ones to suit every budget, but be sure you don't overspend.
Generally, if you're willing, the more expensive yarn winders are good value and will last for years. But if you're not willing to commit to such an expense, there are cheaper ones that work well.
Also, remember, depending on where you live and how heavy the yarn ball winder is, shipping such a large item can make it even more expensive.
What Material Do You Prefer? Wood Or Plastic?
Plastic winders usually are cheaper and easier to assemble. They also weigh less.
Wooden yarn winders are more expensive, harder to assemble. Still, they're usually last longer, sturdier, and often come in heavy-duty models. The gears are also usually better protected, preventing your yarn from getting torn if it accidentally slips.

Craft Store Branded Yarn Winders
Major craft stores and retailers have their own yarn winder options. I've reviewed these yarn winders in the following posts.
Manage Tension Yourself Or Have The Machine Do it?
If you hold the yarn while you wind, you get two benefits. These are:
You'll have control and can stop it if necessary, and this prevents tangles.
The cakes are much tighter. More can fit on one cake.
Remember, you don't have to, and it's good to experiment to find what's more comfortable for you.
Some models can control the tension, so you don't have to, but this is rare, and usually on the very expensive models.

What Size Cakes Do You Need/Prefer?
Keep an eye out for the size of the cake the product can create. It's one of the most important specifications, so read carefully.
Yarn winders The cheaper end of the price spectrum usually holds 3.5 – 4 ounces of yarn. The average size is 5-8oz, with some high-quality yarn winders holding 10 oz on the market.
The largest I've seen can hold up to 16 oz! It's one of the most expensive, and it's a heavy-duty ball winder.

Will You Use It For Make Partial or Whole Skeins?
Are you going to wind all the skeins of yarn for one project at once, or do a few and then do more skeins as you go?
If you do the former, you'll probably need 5-8 oz. If the latter, 4 oz will be a good choice.

How Will You Store The Yarn?
Skeins of yarn and hanks are very annoying to store. Even a few hours in a box can create an incredibly tangled mess!
A wool winder can make it much easier to store and keep your yarn stash neat and tidy.
What To Look For In Yarn Ball Winders
Is It Sturdy? – It's quite an investment, so you want something built to last! If you want quality that will last you years, you'll have to be willing to fork out a little more.
Generally, plastic materials don't last as long, but they're alright if well made. The table clamp needs to be very sturdy as well!
Can You Crank It Easily? – Ball winders should be easy to use, smooth, and not hard to pull. Even tension and speed are important for it to maintain. Otherwise, the yarn would pull and catch.
You don't want to feel like the crank is going to fall off any second.
Is It Easy & Simple To Set Up? – No-one wants their time or energy wasted, they want something easy to set up at home, and so you can get down to the business of projects immediately! Small yarn ball winders are a good idea.
Can It Keep Consistent Tension? – You want items that can keep tension uniform, with a little bit of your help. You shouldn't have to keep a constant eye on it to see it doesn't end up super tight or loose!
Are The Gears Protected? – Yarn catching and snagging on gears halfway through winding is nothing short of annoying. It could catch on the gears and break the yarn. You want ball winders with well-protected gears.
Are The Table Clamps Steady? – They're best when they're steady, clamped well and securely without damaging or leaving marks on the surface it's attached to.
Do You Have The Space To Accommodate This Model? – When paired with a swift, yarn winders become quite large, and they can take up a lot of room.
Not everyone has generous workspace areas or an empty area to accommodate such a big setup.
Consider the measurements before buying! If buying a swift, the umbrella ones can be stored folded away, but they still take up room when being used.
How To Set Up Your Yarn Ball Winder
Find a workbench or a space you can use to set up your tools.
Clear the area off, if necessary, so it's empty.
If you worry if it might get marked or damaged by the table clamp, place a cloth on the surface. Ensure there's space for the waiting yarn to sit. The best distance between your yarn winder and wind swift is 12-18 inches.
Clamp each instrument to the table, and tighten the bolts to secure them to the surface, ready for smooth operation.
Steps To Put The Yarn On The Swift
Unwind the hank or skein and remove the ties, so it's a ring of yarn. If you use scissors, be careful not to cut the actual yarn when removing the ties.
Find the two ends, checking they aren't tangled.
Most of the swifts are in the umbrella style. Operating like an umbrella. Push the button at the bottom of the pole upwards. The arms will expand.
Place the ring around the arms.
Adjust as necessary, so the yarn sits securely around the arms of the swift.
Connect The Yarn To The Winder
Find the end that's on the outside. This is the one you need to connect to the winder.
Slip it through the metal yarn guide and the slot at the top of the spindle.
It's now attached.
Steps To Create A Center-Pull Yarn Cake
Begin to crank the handle slowly. The yarn from the hank will begin to spin, creating the center-pull cake.
Use your other hand to guide the yarn between the instruments. It helps you have control over tension.
Increase the speed of winding slightly. Make sure everything is still running smoothly.
You'll have the results of your wonderful cake in no time at all!
Remove The Yarn From The Winder
In one hand, hold the thread with your pincher fingers at the slot at the winder's top part.
Use your other hand to ease the yarn cake off the yarn winder.
Unwind a length of yarn from the ball. Wrap it around the middle a few times and tuck in the end.
Tada! You're done!
How To Use A Yarn Winder With A Yarn Swift
If you mostly use hanks, it's a great idea to use a winder in combination with a swift.
What is a yarn swift? It's a product designed to hold the yarn hank in place while you wind, so it doesn't tangle.
Here are some steps on how to use a yarn winder with a yarn swift.
Prepare your hank or skein for winding. Remove the label and untwist it, and you'll have one long ring of yarn. Check your yarn swift is set up and ready to go. Place it on the swift, and adjust or expand the umbrella as necessary to make sure it's tight around the ring.
Before hooking it up to the winder and winding it, spin it around, take care to examine the balls of yarn for knots the manufacturer placed to stop the yarn from getting tangled. Remove these knots.
Find the end of the thread, and take it to the ball winder, and attach it. Pull the yarn end through the slit at the top of the ball winder. Now you can start the yarn winding process.
Apply a bit of tension if the swift is loose. Otherwise, you can just crank the winder and not worry. When you need to stop winding for a moment, don't let the swift keep spinning by itself. If you let it continue, it will wrap around the wrong way.
Continue winding until there isn't much yarn left. When there's only a bit left, thread the last piece through your fingers as you finish. Slip your newly created cake off, and tada! It's all ready to use.
I hope this helps you! Do you have a yarn winder, or considering buying one? Which one or brands looks the best for you?
Pin Now to Save for Later