Winding yarn from hanks into easy-to-use cakes by hand is time-consuming, hard, and annoying! Yarn Winders make this job easy. Here's my review of the best. There are many types: wooden winders, electrical yarn ball winders, and hand-operated ones. Read the result of my research in these reviews of the best available.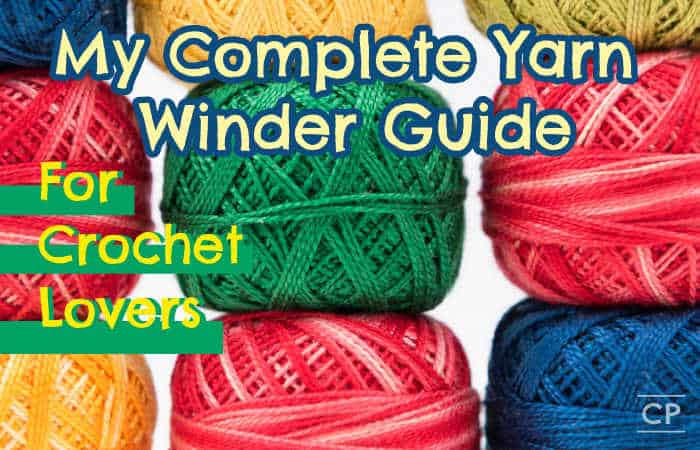 My Quick Recommendations
I reviewed, fact checked and updated this post on April 12, 2023.
Table Of Contents
The Best Yarn Winders
Here, I list the best yarn ball winder brands to suit any budget and the best heavy-duty yarn winder, plus many others.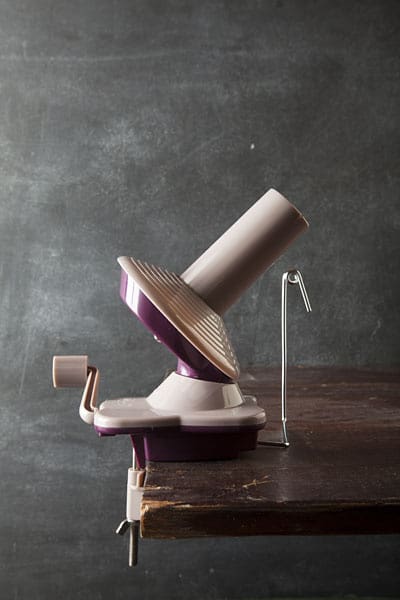 One of the most popular yarn winders when on a budget. The Knit Picks Yarn Winder is easy to use. It makes up to 3.5 oz yarn cakes. (Suited to light yarn weights and thinner fibers.)
Bulky weight yarns can be wound, but the skein may have to be done in two. A unique feature is it pivots and can change positions to be more comfortable. Made of plastic, this device is lightweight and low cost. Its small size is great for those with little room in their crafting space.
The printed directional arrows by the handle show which direction to turn. With this compact yarn winder, it's clockwise. This company also sells tools and notions like stitch markers and a yarn swift that can be teamed with this.
Pros
If you travel or wind yarn on the go, this is excellent

Clamps to surfaces or a table edge without leaving marks
Though it's plastic, it's sturdy and lasts. Some parts are metal
Easy set-up and storage
Great for beginners
Excellent affordability
User friendly and such fun!
This ball yarn winder has a smooth operation
Designed with comfort in mind, suitable for those with arthritis or tendonitis
Has a yarn guide and yarn guide arm
Minimal effort required to crank
Won't take up much space on your craft room table
Manufactured in the United States
Cons
Not as fast as bigger models
Maple Jumbo Winder
This is a quiet, effortless winder. Simple to assemble, it clamps to a table or on your workspace.
It's portable, easy to use with a little practice in the beginning, with a charming appearance. One of the most popular machines on the market.

Suitable for all types of yarn. Know that you can wind the purchase of your more expensive yarns with ease. Maple Wood is on par with Beech wood in terms of durability. It winds approx 1 pound of fingering weight yarn, or ten ounces of worsted weight yarn.
Pros
Easy turn handles reduce wrist strain for crafters
Durable and long-lasting
Smooth winding
Designed and manufactured in the United States
Smooth finish hard maple and premium maple veneered plywood parts
One year guarantee
Straightforward instructions with helpful information
Replaceable parts
Excellent way to inspect your yarn for knots and imperfections
Receives 5 star rating from customers
Lasts for many years
Dimensions suit tabletop use
Instruction video available
Extra stability if clamped to the table
Excellent attention to detail
Cons
Needs cleaning if used frequently
This costs more than other winders, but it's definitely worth the investment
Nostepinne Yarn Ball Winder
Here's a lovely hand-crafted Nostepinne, made from cherry or walnut with refined, rich wood grains. It's less expensive than birch wood. It's carved to be comfortable to use. It creates center pull cakes. It has grooves to make it easier to grip and a smooth texture.
Start with a hitch knot and attach the yarn to the top groove to start winding.You can sometimes mistake this for another tool called a Niddy Noddy.

Nostepinne Yarn Ball Winder – What Is It?
This is a unique ball winder and the lowest low-tech version you can find. It transforms yarn hanks and skeins into center pull yarn cakes, but you do the work yourself. The shapes of balls depend on the winding pattern of the wool. Sometimes it looks more like an egg.
A great choice if you want to wind yarn if you are on the go. The name comes from a Scandinavian word meaning "nest-stick." It's how people winded the yarn years ago. A thing of simplicity. Interested in winders from the past? Look at the info in my Antique Yarn Winder post.
Pros
Saves space
Portable
Creates a compact center pull ball
Buffered with varnish against scratches and damage
Made in the USA
Free shipping to the US
Winder can hold 4oz of yarn
Notches to attach the yarn to begin
Great shopping experience
Cons
Hard to grip for some
Slow process
An excellent yarn winder for ease of use, it's operated by hand and makes yarn cakes of up to 4 ounces. It clamps to many surfaces and furniture. Made of strong materials and a smooth, even hand crank system to wind skeins or hanks. This is the upgraded 4-ounce version.
For those of you who loved your Royal Ball Winder, this is a good alternative.
Pros
Clamp range is about 1 and 3/4″

Excellent quality strong materials
Almost unbreakable metal crank
Easy to crank
Great value for money
Affordable
Multipe reviews with five stars
Transform yarn into neat tidy cakes
Simple to clamp on your work surface
Suitable for winding up to 4 oz of yarn
Cons
May have to cut larger skeins in two, which isn't a big problem
Beisaqi Wool Winder
Check Price on Amazon
Excellent portability, weight, and ease of storage. It's designed for smaller balls. Simple to use. A metal yarn arm at the bottom extends to keep it steady as you hand crank. Winds yarns up to 3 oz hank or skein. Get ready for a tidy yarn skein!
Pros
Lightweight
Easy to transport and set up
Quiet
Convenient
Great for beginners
Winder can make smaller balls of less than 3 oz
Cons
Check Price on Amazon
Excellent for using leftover yarn balls and scrap pieces to make neat cakes. It's lightweight and portable and winds up to 4 ounces of yarn. Reworking skeins into cakes saves you from the tangled mess that sometimes happens when coming to the end of a skein.

The instruction's content makes the simple assembly a breeze.
Pros
Large spindle capacity
Notch on the top of the spool to secure the yarn end
Winds without needing cones or tubes
The table clamp keeps it in place
Leaves plenty of space on your workbench for crochet or knitting accessories
Cons
The arm slips once a while
Check Price on Amazon
Winds up to 7 ounces for yarn balls. With its durability, it handles many yarns and weights, from lace to bulky. Set up is more complicated than other winders. Still, a screwdriver is included to make it easier. Transform a yarn hank loop or yarn skeins into neat center pull balls.
Pros
Easy setup
Great for winding for medium-sized projects
Durable construction
Smooth motion
The frame is sturdy
Has a useful yarn guide arm
Low noise as it winds on the spindle
No need to cut a large skein in half
Cons
Loops & Thread Winder
Check Price on Amazon
It comes fully assembled. Set it up on the surface, and you're ready! The rest is simple to use and holds smaller balls of yarn. Some users experienced the yarn falling off the end as it has a different position for the spindle.
Be mindful of where you place the yarn when threaded and how you keep tension as you hold the ball of yarn you are winding from. A tension guide ring keeps the yarn tension in the winding process. Once you get the hang of it, you'll achieve consistency.
Pros
Easy to turn the handle
Easy to set up on tables
Great for knitters and crocheters
Storage is no trouble
Cons
The yarn gets caught around the spool if you wind too slowly
Separate larger hanks into smaller amounts to fit them on the winder.
Windaze Yarn Ball Winder
This is often unavailable so if you're looking for a small winder, try the Knit Picks Yarn Winder. Handles skeins of yarn up to 7oz. The wool winder holder works on table thickness up to 1.4″.
There are two metal swing arms. Use either one but not both at the same time. The second arm is a counterbalance.
Pros
The design of the handle is ergonomic, for less strain on the wrists
Mounts to any surface with an easy hand turn screw system
Hand operated yarn winder that takes minimal effort
Cons
If you go too fast, sometimes the yarn slips and gets tangled around the spool
You need to use it slowly at first
Tricky to set up
Unclear instructions
A great electric yarn winder using 120v a/c electricity. The machine does the winding of yarn balls. Sit back and let it work! If you have wrist problems, or joint/muscle/bone fatigue, the Boye Electric is great. Its manual shows an example of how to set it up.
This winder isn't often available. People also reported the electric motor using 120v a-c isn't powerful enough. I've covered recommendations for alternative electric yarn winder options. Consider you'll need a power outlet close by to set these up.
Stanwood Needlecraft Large Ball Winder – 10 Oz
This makes large yarn cakes with a yarn capacity of up to 10 oz. No need to cut large hanks into many piles! Despite being heavy-duty, it's easy to assemble and store. Often used at Yarn Stores. It is the best yarn winder as it works with all weights and yarn, from wool, acrylic, cotton, cashmere, merino, and silk. The cakes are center-pull, neat, and compact. They fit in a yarn bowl.
The base is heavy metal, so it cranks out some serious winding. Bulky yarns are a breeze. Look out, messy yarn stash. Prepare to be organized! Note: The clamp is metal, so place a soft cloth on your surface to protect it. Unfortunately it's not always available.
Pros
This winder handles sizable yardage – large skeins up to 10 ounces
Sturdy base of engineered metal steel, apart from the nylon cogs
Designed to last years
Little assembly needed as there are few components
Simple to use
Quiet cogwheels
Smooth, even crank
Base has anti skid rubber pads to protect areas beneath and prevent slipping
Positive customer reviews
Excellent if you do a good deal of yarn winding
Receives excellent customer ratings
Cons
Confusing to use at first, but it becomes easier.
Nancy's Knit Knacks Heavy Duty Ball Winder
I was in touch with Pete Charles from The Oregon Wood Worker. He said the owner of Nancy's Knit Knacks had passed away. The family hoped someone would buy it. So far, no one has.
I recommend one of these ergonomic design winders if you find it second-hand. I hope they reproduce these devices. Join my mailing list, so I can keep you updated.
The perfect heavy-duty winder. It winds up to one pound! (16 ounces.) Despite the size, it's simple to use and requires little setup. Made from wonderful maple wood and swiss gears. It's an investment, but it's a tool anyone would be happy to display because it looks so beautiful.
These products are what you'd find in your local yarn store as it's a workhorse and quiet. Many experts recommend this beauty for when you're winding great quantities of yarn. The best yarn winder for heavy use.
What's The Point Of A Yarn Winder?
It stops you from having to wind from chair backs! Like I'm demonstrating.
Here are other reasons.
They make a boring task convenient and fast
Useful for any crocheter, regardless of skill level
Do you have lots of scrap yarn? Use the yarn ball winder to make them into cakes, ready to use for a project!
Using a yarn winder tidies up unused or partial skeins/hanks of differing weights
If you're using a skein of yarn that changes colors, wool winders show where it starts and ends. It's useful if you want to separate them into cakes of each color
Use a yarn winder to create center-pull cakes, the best yarn form to crochet from. For some center pull makes a world of difference.
These items conserve your energy and save time.
Keeps your stash in order
If you have pain in your wrists or hands, a yarn winder is just what you need.
Some of my readers made a DIY yarn winder. If you're planning to do lots of winding, buy a product built to last. Some people ask, do I need a yarn swift? Yarn Swifts are certainly another handy tool that holds the ounces of yarn and spins freely as the winder winds beautiful yarn cakes. No more having to beg friends, your spouse/husband, and family to hold the yarn for you!
What Is A Yarn Winder?
A tool for winding yarn. They wind fibers into flat, neat cakes that pull from the center. The pull thread yarn balls don't roll and stay in one spot.
How Do You Fix A Winder?
First things first, do the following steps carefully.
Twist the cone-shaped bobbin off the base of the yarn winder.
Remove the screw from the plate underneath the bobbin. Remove the plate and put that bit to the side.
The gears are probably out of alignment, and their teeth aren't fitting together. Ease the larger gear back from the smaller one until they fit and the teeth mesh together.
Get the plate, and screw it back on.
Put the bobbin back. Done! Your yarn winder is good to go.
What Are Yarn Balls And Cakes?
I'll give a quick comparison.
Balls
Hand-wound balls move in all directions and pull from anywhere
Slow and tedious
Cumbersome because you need something to hold the hanks like the back of a chair
If you pull straight from the skein, the yarn becomes tangled
You can't inspect the yarn for knots or frayed points
The shape of the ball can be uneven
Yarn Winder Cakes
A yarn muffin pulls from the center and spins in a neat circle with flat sides.
The tail or end of the yarn is in the center, hence the name center-pull cake
One crank of the handle is winding by hand 25 times. Different models have different speeds
Keep your unwound yarn in one spot using an accompaniment tool, a yarn swift to hold it in one spot. Saves on having to find another person to hold the yarn.
You can inspect for knots as you wind
Depending on the capacity of the winder will determine the number of cakes created
How To Choose A Yarn Winder
Keep the following details in mind when considering a yarn winder. These questions will help you with your decision.
Hand Cranked Or An Electric Yarn Ball Winder?
Electric versions are more expensive and less portable, as they need to be plugged into power. The motor of these yarn winders makes noise. But they wind yarn for you! An electric yarn winder is an outlay but worth it if you wind lots of yarn.
Hand-cranked winders are cheaper, and you can set them up anywhere.
Do You Buy Hanks Or Skeins?
If you use hanks, invest in a winder and yarn swift. It keeps the yarn from tangling and threads the yarn to the winder as you crank. If you buy skeins, you don't need to wind them, but if you prefer cakes, you can.
How Much Will You Spend?
Consider your budget for tools! Stick within your price range. Generally, the more expensive best yarn winders last for years. But there are quality cheaper ones which don't cost a ton of money. Also, shipping is expensive. Prices can vary, so take up the advantage of any sales.
What Material Do You Prefer? Wood Or Plastic?
This is personal preference and taste. Plastic winders are cheaper, easier to assemble, and weigh less. Wooden yarn winders are expensive, harder to assemble. Still, they last longer and are sturdier. The gears are usually better protected. The life of your winder will depend on the care you take with it.
Manage Tension Yourself Or Have The Machine Do it?
If you hold the yarn while you wind, you get two benefits.
You have control and can stop it if necessary, preventing tangles
The cakes are much tighter. More can fit on one cake
Some models have features that can control the tension, but this is rare.
What Size Cakes Do You Need/Prefer?
The cheaper end usually holds 3.5-4 ounces of yarn. The average size is 5-8oz, with some high-quality yarn winders holding 10 oz. The largest I've seen holds up to 16 oz of yarn! Excellent of large blanket patterns requiring lots of wool.
Partial Or Whole Skeins?
Will you wind the skeins of yarn for one project at once, or a few and more as needed? If you do a lot of the former, you need 5-8 oz. If the latter, 4 oz is good.
Craft Store Winders
Major craft stores and retailers have options. I've reviewed these yarn winders in the following posts. They are mainly made of plastics: Michaels, Joann, Walmart, and Hobby Lobby.
Yarn Ball Winders: What To Look For
These considerations are helpful to make your choice:
Is It Sturdy? – If you want quality to last years, you have to fork out more. Generally, plastic materials don't last long.
Can You Crank It Easily? – Ball winders should be easy to use, smooth, and not hard to pull. Even tension and speed are important. Otherwise, the yarn catches. Keep in mind to check if the hole is smooth.
Is It Easy & Simple To Set Up? – You need something easy to set up at home, and so you can crochet immediately!
Can It Keep Consistent Tension? – You shouldn't have to keep a constant eye on it to see it doesn't end up super tight or loose!
Are The Gears Protected? – Yarn catching and snagging on gears is annoying. You want ball winders with well-protected gears, so there are no issues with tangling.
Are The Table Clamps Steady? – They're best when they clamp securely without damaging or leaving marks on the surface.
Do You Have The Space To Accommodate This Model? – When paired in conjunction with a swift, yarn winders take up lots of room. Not everyone can accommodate such a big setup. Consider the measurements before buying!
How To Set Up Your Yarn Ball Winder
Find a workbench in your craftroom or even your kitchen bench, counter top or dining table. Clear the area off.
Place a cloth on the surface. Ensure there's space for the waiting yarn to sit. The best distance between your yarn winder and wind swift is 12-18″.
Clamp each instrument to the table, and tighten the bolts
Steps To Put The Yarn On The Swift
Unwind the hank of yarn or skein and remove the ties, so it's a ring of yarn. If you use scissors, be careful not to cut the actual yarn strands when removing the ties.
Find the two ends, check they aren't tangled. Less chance of hassles later!
Most yarn swifts are the umbrella style. Push the button at the bottom of the pole upwards on the umbrella swift. The arms expand. A good idea is to do this with care.
Some are the amish style. If so, put the yarn around the correct pegs width
Place the ring around the arms.
Adjust as necessary, so the yarn sits around the arms of the swift.
Give the yarn end a little tug to check the swift spins freely
The Way To Connect The Yarn To The Winder
Find the end on the outside.
Slip it through the guide and the slot at the top of the winder bobbin/ spindle.
Steps To Create A Center-Pull Yarn Cake
Start to wind the yarn and crank the handle of the yarn winder slowly. The yarn from the hank rotates, creating the center-pull cake.
Use your other hand to guide the yarn to control the tension. It might take a couple of attempts to get this right.
Increase the winding speed. Ensure everything is running smoothly and the winder and swift are working in combination with each other.
You'll have the results of your wonderful cake in no time at all!
Remove The Yarns From The Winder
After you have finished winding your yarn, follow these steps
Hold the thread with your pincher fingers at the slot at the yarn winders top part.
Use your other hand to ease the yarn cake off the yarn winder.
Unwind a length of yarn from the ball. Wrap the piece of yarn around the middle a few times and tuck in the end.
Tada! You're done!
A great storage tip I found is to place the yarn label inside the center of the cake so you remember what the yarn is.
Conclusion
I hope this review helps you! Anything to make crocheting or knitting easier is at the top of my list. No matter if you're a crocheter and a knitter, these tools are super helpful.
Do you have a yarn winder or considering buying one? Which looks the best for you? Feel free to ask a question in the comments. Of course, your email address is never published when I answer you. I'd love to hear your thoughts.
Pin For Later