Lightweight, smooth, and often very detailed and beautiful, wooden crochet hooks are many crocheters' preferred tools.
Read on for my reviews of the best wooden crochet hooks.
Table Of Contents
Wood Crochet Hooks
We Crochet offer a range of colorful and beautiful hooks.
All the above hooks are available in
E-4 (3.5mm)
G-6 (4.0mm)
7 (4.5mm)
H-8 (5.0mm)
I-9 (5.5mm)
J-10 (6.0mm)
K-10.5 (6.5mm)
(7.0mm)
L-11 (8.0mm)
M/N-13 (9.0mm)
N/P-15 (10.0mm)
12.0mm
These ergonomic Camwood hooks feature the signature Furls teardrop body shape, a pointy tip for better stitch penetration, and a beautifully polished surface.
F (3.75mm), G (4.0mm), G+ (4.5mm), H (5.0mm), I: 5.5mm, J (6.0mm), K (6.5mm), L (7.0mm), M (8.0mm), N (9.0mm), P (10.0mm)
Ebony hooks have a teardrop body shape, a pointy tip, and a smooth surface.
G (4.0mm), G+ (4.5mm), H (5.0mm), I: 5.5mm, J (6.0mm), K (6.5mm), L (7.0mm), M (8.0mm), N (9.0mm), P (10.0mm)
Designed to nestle into the human hand's MCP joint while distributing hand tension through the body of the hook. Each crochet stick has the size engraved into the side, making identification a breeze!
D (3.25mm), E (3.5mm), F (3.75mm), G (4.0mm), G+ (4.5mm), H (5.0mm), I: 5.5mm, J (6.0mm), K (6.5mm), L (7.0mm), M (8.0mm), N (9.0mm), P (10.0mm)
We Crochet Mosaic Regular Crochet Set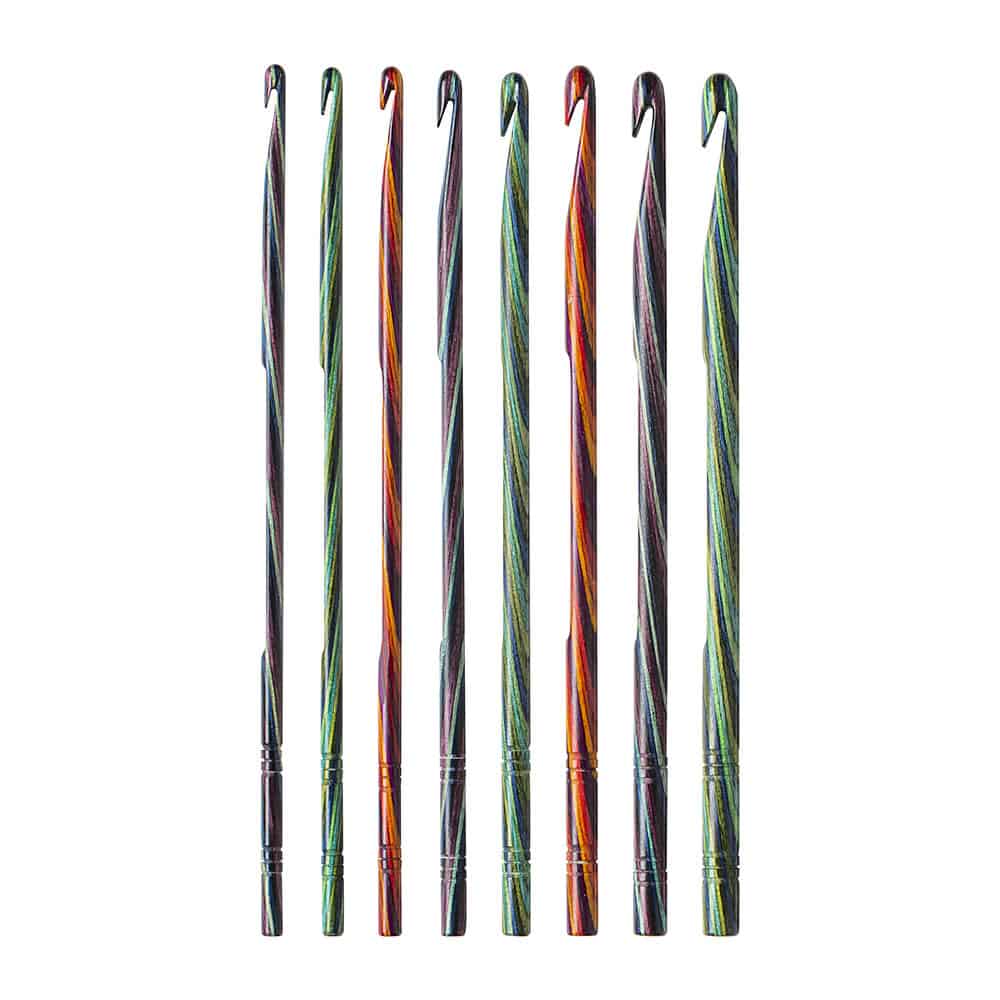 The Mosaic Crochet Hook Set includes Radiant, Caspian, and Majestic hooks. The colors are lovely. The distinct sequence of colors makes it easier to identify each size. The sizes are labeled on the packaging.
Set includes the following Crochet Hooks:
E-4 (3.5mm) Majestic
F-5 (3.75 mm) Caspian
G-6 (4.0 mm) Radiant
7 (4.5 mm) Majestic
H-8 (5.0mm) Caspian
I-9 (5.5 mm) Radiant
J-10 (6.0 mm) Majestic
K-10.5 (6.5 mm) Caspian
Pros
Inline hook
Beautiful colors
Smooth surface
Cons
The hooks don't have the sizes marked on them
We Crochet Radiant Wood Crochet Set
The bright, bold, and warm rays of their newest colorway are an incandescent array of red, orange, yellow, and purple.
Radiant Crochet Hooks have a smooth finish. They're deeply grooved hooks, which allow for precision control over each stitch. Radiant Crochet Hooks are 6″ in length.
Set includes: E-4 (3.5mm), F-5 (3.75mm), G-6 (4.0mm), 7 (4.5mm), H-8 (5.0mm), I-9 (5.5mm), J-10 (6.0mm), and K-10.5 (6.5 mm).
Pros
Inline hooks
Comfortable in the hand
Travel smoothly over the yarn
Suitable for Pencil grip holders
Cons
Some knife hold users found the scoring on the end of the hook rubbed on their palm. They had to switch to the pencil grip.
Set of 12 lightweight wooden hooks. All hooks have their size engraved onto the handle and have indents for your finger and thumb for added comfort.
Made from 100% Bamboo.
Hook Length – 15cm
Metric Sizes: 3mm, 3.5mm, 4mm, 4.5mm, 5mm, 5.5mm, 6mm, 6.5mm, 7mm, 8mm, 9mm, and 10mm.
US Number Sizes: 2.5, 4, 6, 7, 8, 9, 10, 10.5, 11, 13, 15 (7mm).
Pros
Lightweight
Inline hook
Finger and thumb indents
Cons
No US sizing marked on the hook
These Crochet Hooks are made from Indian Rosewood. The carving at the end of the hook is intricate. The hooks are tapered, and the hook head is smooth.
Pros
Beautiful color and grain
Sturdy
Carvings are lovely
Cons
Wooden Ergonomic Crochet Hooks
These are stunning hand-carved hooks. They can be customized using the choice of woods you prefer.
Pros
Gorgeous woods and colors
Hand turned
Beautiful designs
Can customize your preferences for woods (with their suggestions, as different sizes require different qualities.)
Ergonomic large handle
Cons
There is much detail to consider when purchasing these hooks. Don't be put off by the time it takes; these are beautiful hooks and worth the effort.
Susan Bates Wooden Crochet Hooks Set
Unfortunately, they don't sell wooden crochet hooks in a set. Only extreme crochet hooks for bulky yarn sold individually are available.
Handmade Wooden Crochet Hooks
Your Questions Answered
Are Bamboo Crochet Hooks Better Than Wood Crochet Hooks?
Thank goodness we all have a choice of materials for crochet hooks. Bamboo and Wood crochet hooks have similar characteristics that they are both lightweight and smooth to touch.
The colors and grains in the wood are various and beautiful.
It is worth trying out both sorts to see which you prefer.
What Are Some Affordable Wooden Crochet Hooks?
We Crochet stock different colored laminated birch hooks. Crocheters highly recommend them.
See their full range here.
Can You Get Multi Colored Wooden Crochet Hooks?
Yes, you can get wooden crochet hooks multicolor. We Crochet has beautiful hooks made out of laminated birch wood, and are available in four different colorways.
Wooden Crochet Hooks Vs Metal
Here is a comparison of wood hooks and metal hooks.
Wood
More expensive
Less wide availability
Requires more maintenance
Generally more comfortable to use
Naturally ergonomic
Arguably more sustainable
Better for beginners
The yarn tends to grab slightly.
Metal
Cheaper
Widely available
Requires less maintenance
Not recommended for people with arthritis and hand pain
Great for advanced crocheters
Good for speed crochet
I hope the wooden hooks reviewed above help you choose one right for you.
Do you have a favorite wooden hook? If so, please let me know in the comments section below or get in touch with me here.
READ NEXT – Want more info on hooks and their types? See here.
Pin Now to Save for Later