Ergonomic, the word just screams comfortable. Slap it on any regular tool, and it becomes much easier, convenient, and less straining to use.
So, of course, the best ergonomic crochet hooks have been created to keep you crocheting for longer!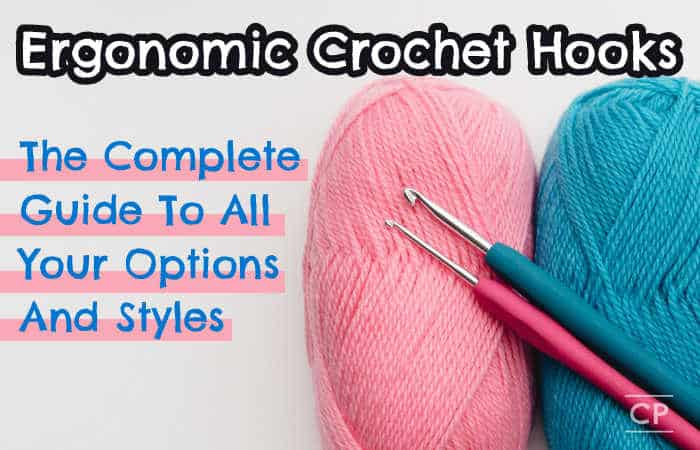 At A Glance Top 11 Best Ergonomic Crochet Hooks:
Note: Clicking the above links will take you to further information, current prices, and customer reviews on Amazon, Etsy and Furls Fiber Arts.
Table Of Contents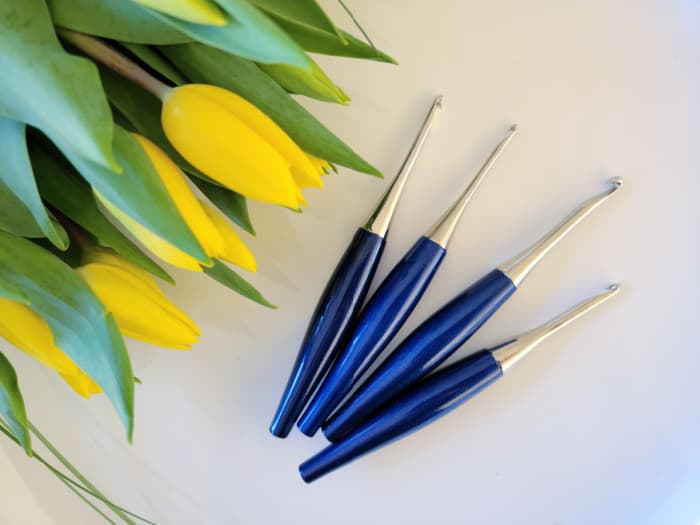 What Are The Best Ergonomic Crochet Hooks?
The best ergonomic crochet hooks are easy to use, highly functional, and safe for your hands. I recommend the Clover Armour Crochet Hooks.
Top 11 Best Ergonomic Crochet Hooks Reviews and Buyers Guide
Read the reviews for my recommendation and the full details for each of the best ergonomic crochet hooks.
Clover Amour Crochet Hooks
Bring some color to your crochet tool kit with these hooks. Each colored soft, easy-grip handle denotes a particular size. The great thing about these handles as the size is engraved rather than just printed on.
We all know over time, printed sizes can rub off.
The hook and shaft are aluminum helping the yarn move smoothly as you stitch.
Users have found they remember the color's size and have no need to check each hook for the correct size.
Both Knife grip and pencil grip crocheters will find this hook comfortable.
The head is slightly pointed, and the lip is slightly rounded, which assists with not splitting the yarn as you work the stitches. The thumb rest is in the perfect position for maximum comfort.
These also come in a set of crochet hooks.
For more, read my post on clover ergonomic crochet hooks.
The set contains:
B – 2.25m (Lime Green)
C- 2.75mm (Yellow)
D – 3.25mm (Orange)
E – 3.50mm (Red)
F – 3.75mm(Pink)
G – 4.0mm (Purple)
7 – 4.5mm (Sky Blue)
H – 5.0mm (Blue)
I – 5.5mm (Green)
J – 6mm (Brown)
Pros
Fun colored handles with the size engraved
Design of head and lip assists with not splitting the yarn
Cons
The aluminum shaft does not go down the entire length of the handle, so the handle's end is flexible. (For most, this isn't a problem)
Click to Learn More / Buy from Amazon
BeCraftee Best Crochet Hook Set
The soft grip rubber handles (thermal plastic rubber) help alleviate pain experienced by users with arthritis, cramping, and carpal tunnel syndrome. The extra length in the handles helps to make these comfortable to use.
The sizes are printed on each of the non slip rubber handles of each ergonomic hook giving information for the US size and metric size.
The set contains 12 hooks:
B1 – 2.25m
C2 – 2.75mm
D3 – 3.25mm
E4 – 3.5mm
F5 – 3.75mm
G6 – 4.0mm
7 – 4.5mm
H8- 5.0mm
I9- 5.5mm
J10 – 6mm
K10 – 6.5mm
L11 – 8.0mm
Pros
The extra length helps lessen pain for people with arthritis
Great for those with larger hands
The hook has a flat portion, great for pencil grip holders
Colors and sizes printed on each hook for easy reference
Great range of sizes for all different weights of yarn
Affordable, but better quality than your average hook
Cons
Some users reported rough patches on the aluminum shafts
Click to Learn More / Buy from Amazon
Lion Brand Yarn 400-5-1907 Crochet Hook
Perfect for beginners using bulky or chunky yarn for their projects. This Q – 15mm size hook is made of smooth plastic and has a rounded head, so it doesn't snag the yarn.
It's lightweight due to the plastic material it's made from.
Pros
Very light to hold
Smooth surface helps create stitches easily
Perfect for bulky/chunky projects
Cons
Not suitable for those who don't like plastic
Handles could be too short for some.
Click to Learn More / Buy from Amazon
Susan Bates Silvalume Crochet Hook
Made of anodized aluminum to remove any imperfections. The metal hooks are heat treated and polished to give a smooth finish. Each metal hook is a different color to help with the selection of the right size hook to use.
You can also get similar products to these metal hooks, but they have a soft touch handle or a bamboo handle, read more in my post on Susan Bates ergonomic crochet hooks.
Each set contains 6 hooks:
F5 – 3.75-mm
G6 – 4-mm
H8 – 5-mm
I9 – 5.5-mm
J10 – 6-mm
K10.5 – 6.5-mm
Pros
Great for those on a budget.
This ergonomic hook is very light to hold
Sturdy materials
Sutiable for knife hold crocheters
Cons
Won't be suitable for crocheters who find metal cold in their hands
Click to Learn More / Buy from Amazon
Addi Swing
The handle is constructed of two complementary plastics: one colorful and soft, and the other white and firm. They're lightweight and fit comfortably in hand.
The hook itself grabs the yarn nicely and slides easily in and out of stitches. It does not snag or split the yarn.
All the hooks are color-coded by size, and the metric size is printed on the handle. For those used to US letter sizing, you will need to refer to a conversion hook size chart.
Pros
Comfortable grip and easy to use for long periods
Great for people with arthritis, carpal tunnel syndrome
Suits all sorts of crocheters, regardless of grip style.
Cons
No US sizing on the handle, only metric
The shaft is shorter and makes it harder to do stitches requiring loading
Click to Learn More / Buy from Amazon
Athena's Elements Crochet Hook
This set has handles made of Thermoplastic soft rubber, so the grip is flexible and soft. The design features a longer shaft, which allows you to easily crochet patterns requiring more loops like puff stitch and cable stitch.
The handles are color-coded but have only the metric sizes printed on them. If you use US sizes, you need to make sure you have a Hook sizes chart close by until you get to know them.
You will notice the sizes go up by .5mm, so US sizes B1 – 2.25m, C2 – 2.75mm, D3 – 3.25mm, F5 – 3.75mm are not included in the set. This product also includes 3 yarn needles.
It is always important to create a swatch when using any hook.
The set contains 12 sizes:
2.0mm
2.5mm
3.0mm
3.5mm
4.0mm
4.5mm
5.0mm
5.5mm
6.0mm
6.5mm
7.0mm
8.0mm
Pros
Comfortable grip in the hand
Lightweight and color-coded
Shaft allows for loading stitches
Cons
No US Sizing printed on the handle
Click to Learn More / Buy from Amazon
Tulip Etimo Rose Crochet Hook
If you are a sucker for the color pink, these are the hooks for you! They do look lovely. The hook is slightly pointed, and the groove is straight. The shiny surface of the shafts can cause a bit of a squeak with some yarns.

The hook glides through stitches superbly. The handles are comfortable in both the pencil grip crocheter and the knife grip crocheter. A considerable investment but so worth it.

The sizing is in metric. It may put some off, but you can always use a hook chart to become familiar with the sizes and, as the experts say, "do a swatch."
Tulip hooks have a long history of excellence and quality in their products. A good reason so many have trusted and continue to trust their company.
These are unique because they're designed to have a ergonomic handle reducing wrist motion, thus lessening wrist pain.
It's highly recommended by people because it reduces their cramps.
Set includes 10 hooks:
2.0mm
2.20mm
2.50mm
3.0mm
3.5mm
4.0mm
4.5mm
5.0mm
6.0mm
Pros
Lovely feel in the hands
Pink colored handles in varying shades
Yarn glides easily while creating stitches
Includes a stitch marker and stitch holders
Cons
Metric sizes only
Labels for sizing are stickers
Click to Learn More / Buy from Amazon
ChiaoGoo Wooden Crochet Hook
Being a size 25mm, it's a large hook perfect for bulky and chunky crocheted items. Made of smooth bamboo, it's light and easy to work with. The shape means yarn glides over the hook with no snagging.
The tapered hook with a pointed tip moves easily through thicker stitches. If you are a beginner, bulky projects are a good way to start because they are quick to do.
Pros
Great for beginners
Comfortable in your hand
Works up bulky crochet projects quickly

Cons
Only suitable for thicker yarns
Click to Learn More / Buy from Amazon
The stainless steel is high quality and lightweight, used for more intricate detailed crochet lace patterns, beading, and shawls.
The flat thumb rest is for improved grip. Durable stainless steel shanks feature gold tips for added strength.
Pros
Perfect for intricate work
Lightweight and fine
Cons
No ergonomic handle
Slightly more expensive than other hooks
Click to Learn More / Buy from Amazon
CrochetLite
These may seem a bit of a gimmick considering they can light up in the dark. Users have found them very comfortable to work with.
They are great for working in dim light and with darker yarns. If your eyesight is not what it once was, these hooks can help.
The heads and shafts are plastic, and they have a shallow, straight indent and shape. The handles are color-coded, and each size is printed on the bottom of the handles as well.
The hook set contains:
C-2.5mm
D- 3.0mm
E-3.5mm
F-4.0mm
G-4.5mm
H-5.0mm
I-5.5mm
J-6.0mm
K-6.5mm
Pros
Comfortable to hold
Easily glide through the yarn
Cons
The original batteries won't last long, but you can replace the battery.
Click to Learn More / Buy from Amazon
Prym Hooks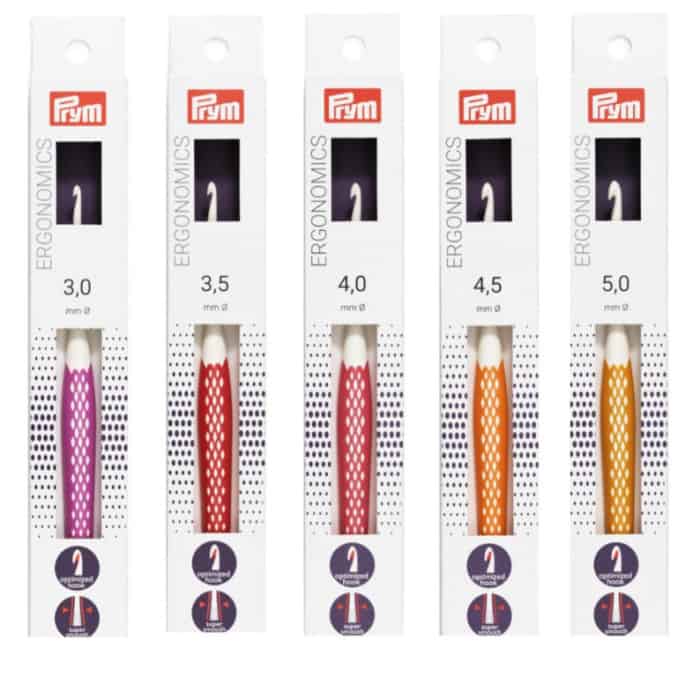 There are no defined thumb rests with this shape, but this doesn't affect comfort when working with it.
The handle becomes narrower at the end and is slightly shorter than other manufacturer's hooks. The point and lip are blunt, which may be a problem if you crochet with a tight tension.
Getting the hook into the stitches could be difficult.
Colored handles are different for each size.
Pros
Comfortable to use
Lightweight
Glides smoothly
Great for knife grippers
Cons
Some people don't like the feel of plastic
Furls Odyssey
The Odyssey Hook is a stunning looking hook. Furls hooks are covered by a "hand-health" warranty and a 100% satisfaction guarantee.
The forward weighted tear drop shaped handle is made of resin. This gives you momentum when crocheting. The hook comes in three options nickel plated pewter, rose gold or gold and many color options.
Pros
Thicker handle for comfort
Sturdy
Beautiful design
Cons
Being a luxury hook it is more expensive than other single hooks but oh so worth it.
Only US sizing on the bottom of the hook
Streamline Wooden Hooks
Furls source sustainable woods that have beautiful grains and character. Streamline hooks are more affordable due to machine automation.
100% handmade with care, hand-healthy ergonomics, smooth surface and warm to the touch. They are 7 inches long.
Furls Crochet have excellent customer service support. Their email is support@furlscrochet.com. They can help if you are in the United States or the United Kingdom.

Pros
The tip of the Streamlines are less rounded than their other lines for better stitch penetration while working through projects.
Comfortable in your hand
Letter and metric size stamp on the handle
100% satisfaction guarantee
Lightweight
Cons
Some users find the 7 inches too long to get good control
What Is An Ergonomic Crochet Hook?
Ergonomics is the science of developing and design products and infrastructure to be the most comfortable, efficient, and safely possible.
Ergonomic is the word to describe a product designed to specific criteria.
In this case, the best ergonomic crochet hooks are designed to make it easier to use and more comfortable for those with pain.
An excellent choice for crocheters who have tendonitis, arthritis, stress injuries, or other complications.
Note: This isn't medical advice. It's a review for informational purposes. If you have a medical condition, it's best to ask your doctor.
These crochet hooks aren't a cure or treatment for hand pain, but they're designed to be comfortable and reduce stress and discomfort on your wrists, fingers and arms.
Anyone can benefit from these great inventions!
If you have consistent pain, get it checked by a doctor. Here are some tips to reduce discomfort when crocheting.
Experiment or get recommendations from doctors to find the best one for you. Some may work for you, others not so much
Use proper lighting to avoid squinting and physical discomfort, especially for your eyes.
Avoid smaller instruments. Use larger ones
Take breaks often
Do hand exercises to stretch out your limbs and muscles and avoid pains
Rest your hands on something comfortable, like a cushion or pillow
Try to mantain a proper posture, sitting in a straight backed chair may be better than the couch for some people.
Doing some of these changes, and it'll make a world of difference.
The Different Parts Of A Crochet Hook
A crochet hook may seem pretty straightforward. A stick with a hook on end, hence the name.
It's slightly more complicated. Knowing the anatomy of these essential tools will help you gain insight and help you choose the right one for you.
The two essential parts are the body and the head.
The body is divided into three main parts, a handle, a shaft, and a throat. Some hooks also have a thumb rest.
The head is divided into a point, a groove, and a lip. The end is sometimes referred to as a tip.
For more information on a crochet hook's anatomy, click here.
What Are The Different Types Of Crochet Hooks?
There are two types of crochet hooks. These are tapered and inline.
Inline ones have the same width all along the length of the hook. The head is the same width as the shaft, and the throat looks like someone's chipped a dent into it to create a groove. They're also called Bates hooks.
Tapered ones are larger at one end, slowly becoming smaller towards the other, hence the name. The heads are usually slightly larger than the shaft. They're also called Boye Hooks.
They both have a different feel, and you probably know which one you prefer. If you don't, try out both and see what you think.
Here are some more differences between both of them.
Inline/Bates
A sharper, pointy head
They're straight and don't taper
The hook is the same width as the handle and doesn't bend or curve
The deep groove makes it easier to hold working wool in place, perfect for beginners
The sharp head is both good and bad. Excellent for inserting the end into the project, though there's a chance it could catch and snag
Some models are too sharp and snag every time, no matter what you do.
Tapered/Boye
The throat is narrower than the rest of the tool.
The tips are usually softer and rounder than the other type.
Most of the hook isn't the same size as the shaft.
If your gauge or tension is tight, these may not suit you because the tapered throat causes the working loop to be even closer and smaller than you want. Your already tight tension can become too tight!
More comfortable for those with wrist pain. You don't need to move your hands much to slip and put yarn loops on the hook.
Also, less effort to 'wrangle' or get the yarn under control ready for crocheting!
For more on Boye Ergonomic Crochet Hooks, read my post.
These are two basic types, and they're divided into the specific types and uses of crocheting. Here's a list of these specially designed models.
Aluminum: Not designed for a specific purpose, but an all-purpose usage model. They're famous for beginners because the yarn slides easily across the hook, much easier to crochet! They come in a broad range of sizes.
Bamboo: Lightweight, smooth, comfortable to use, and made of renewable material, what's not to love? They're affordable and come in many sizes.
Ergonomic: This is the type this review is focusing on. It has a soft, large handle designed for optimal comfort and ease of use. Some allow you to detach the hook from the handle to swap it out for different ones.
Knook: This is an interesting invention. With this, you can crochet something looking like knitting! This is through a long crochet hook with a hole in one end.
Plastic: Light, smooth, and cheap to buy, plastic hooks come in all shapes and sizes. Even in giant quantities, perfect for bulky crochet or broomstick lace. They're hollow, so they aren't a strain on the hands when you're working.
Tunisian: Also known as cro hooks. At first glance, they don't look like a crochet hook because they're much longer and are more similar to knitting needles.
Designed especially for Tunisian crochet, they allow you to keep the stitches on them as you work.
Steel: They have a similar feel to the aluminum ones, but they're the smallest available. They are made for fine and little crocheting, like delicate lacework or doilies.
Ergonomic Crochet Hooks – Your Questions Answered
Are Ergonomic Crochet Hooks Better?
If you're looking for comfort and relief while crocheting, ergonomic crochet hooks are better. If you're looking for something functional to get the job done, standard crochet hooks are good.
Here's a quick comparison between ergonomic crochet hooks and regular crochet hooks.
Ergonomic Crochet Hooks
A large, sculpted handle. (Furls Odyssey & Furls Streamline Crochet Hooks are great examples of this.)
The handle is usually a different material than the rest of the instrument
Sometimes it can be taken apart to swap the ends
Designed to alleviate pain
Designed for comfort
Normal Crochet Hooks
The handle is usually smaller, and the same material as the rest of the hook
Cannot come apart
Designed to suit all sorts of users
Designed for functionality
What Kind Of Crochet Hooks Are Best For Beginners?
The best size for beginners is an H/8 (5mm). It's usually made of aluminum. It's not too big or too small, and very comfortable to work with. The best weight of yarn for this size is worsted weight yarn.
What Is The Most Popular Crochet Hook Size?
Again, the very versatile H/8 (5mm) size! Perfect for a wide range of projects and uses.
What Are The Most Comfortable Crochet Hooks?
Ergonomic crochet hooks. They're designed and made to be comfortable first.
How Do I Choose A Crochet Hook And Yarn?
It's best to choose your yarn first, then examine the label. It will tell you how to choose a crochet hook best suited to the thread.
Are Bamboo Crochet Hooks Better?
If you're looking for something light, affordable, able to be used for a wide variety of projects, yes, bamboo crochet hooks are better.
What Size Crochet Hook Should I Get?
These instruments come in a variety of sizes. The measurement of a hook is how long the shaft is between the head and handle. The size of the rod determines the size of the stitch.
US Sizing uses letters, B being the smallest, and Q is the largest. All hooks in the US follow this method, except steel ones, which use numbers. The larger the number, the smaller the shaft is.
The yarn label should help you, as it has a recommended hook size and stitches every four inches.
Generally, the larger or smaller your yarn, the hook should correspond. If you're not sure, here's a tip to help you.
If your stitches are too loose, you'll need to go down a size. If your stitches are too tight, you need to go up a size.
Here's a helpful comparison table of the different methods of hook sizing.
Metric Diameter – US Knitting Needle Number – Corresponding Hook Size
2.25 mm – 1 – B-1
2.75 mm – 2 – C-2
3.25 mm – 3 – D-3
3.5 mm – 4 – E-4
3.75 mm – 5 – F-5
4 mm – 6 – G-6
4.5 mm – 7 – 7
5 mm – 8 – H-8
5.5 mm – 9 – I-9
6 mm – 10 – J-10
6.5 mm – 10.5 – K-10.5
8 mm – 11 – L-11
9 mm – 13 – M/N-13
10 mm – 15 – N/P-15
12.75 mm – 17 – N/A
15 mm – 19 – P/Q
16 mm – N/A – Q
19 mm – 35 – S
25 mm – 50 – U
Can I Knit With An Ergonomic Crochet Hook?
No, you cannot. However, if you have an ergonomic knook crochet hook, you can crochet while producing results like knitting.
Does The Size Of The Ergonomic Crochet Hook Matter?
Yes, very much! It makes a huge difference in your project. Check your recommended yarn size and hook size on the yarn you're using, the pattern, or the project guidelines you've set out for yourself.
What Happens If I Use A Bigger Crochet Hook?
The crochet method you choose, your tension and yarn, have an impact on the project gauge. If you pick the wrong hook size, the project will be much larger or smaller than intended!
Can I Use A Non-Ergonomic Crochet Hook?
Of course, you can use a non-ergonomic crochet hook! I only recommend them highly because they're comfortable, easy to use, and lessen strain on the wrists and fingers. It's up to you to decide which type works for you best.
Where Can I Buy Ergonomic Hooks?
You can buy them online on places like Amazon and Etsy.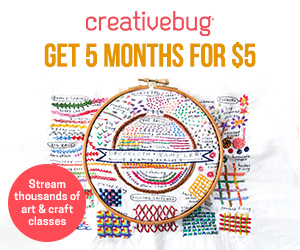 Things To Look For In The Best Ergonomic Crochet Hooks
Does it have a case to keep it organized? – Especially important if you buy several different sized crochet hooks.
You want something easy and convenient to keep the best ergonomic crochet hooks and accessories like a gauge ruler, stitch markers, knitting markers, and sewing needles tidy and easily accessible.
What Is It Made From? – Generally, aluminum or bamboo is better than plastic because they feel excellent in the hands, will last much longer, and are easier to work with.
Is It Available In Many Different Sizes? – If you find a model with different hook sizes to be able to be swapped and changed. Excellent news if you need a variety of sizes.
Is The Grip Comfortable? – If it has a soft grip, it's bound to be more comfortable and keep you crocheting for longer.
Is The Grip Designed To Be Non Slip? – Though it doesn't matter too much, either way, this helps prevent yarn slips off accidentally.
So there you go, plenty of guidance to help you choose the right ergonomic crochet hook for you.
If you have pain, I hope you can benefit from these incredible inventions and have a more enjoyable experience crocheting. If you don't, it's still sure to make this a much more comfortable practice.

If you already have a hook you love, please get in touch here as I'd be interested in what you think.
Happy Crocheting!
Pin Now to Save for Later