A yarn baller machine is usually hand operated. What if you don't enjoy winding yarn by hand or it makes your hands sore?
Try something electric.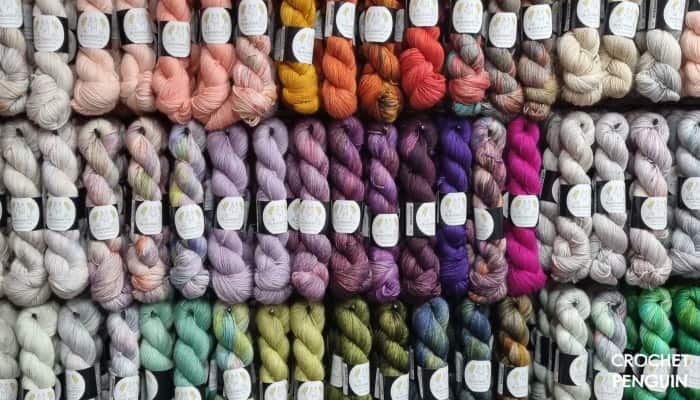 My Quick Recommendations
Having an electric yarn ball winder is attractive. It solves all the problems mentioned above, and it's convenient!
An electric yarn winder and swift revolutionizes your crocheting life. Here are the best ones on the market and the ones to avoid.
I reviewed and updated this post on June 5, 2022.
Table Of Contents
What Is The Best Electric Yarn Winder?
By far the Ashford Electric Ball Winder is the best electric yarn ball winder for sale. It's smooth, made of quality materials, and sturdy.
To make your life easier, here are some great yarn winders.
Read on for more information, and the rest of my reviews of the best brands.
Need the best yarn to learn to crochet? Read my guide to stop being baffled.
Standard Electronic Maple Yarn Ball Winder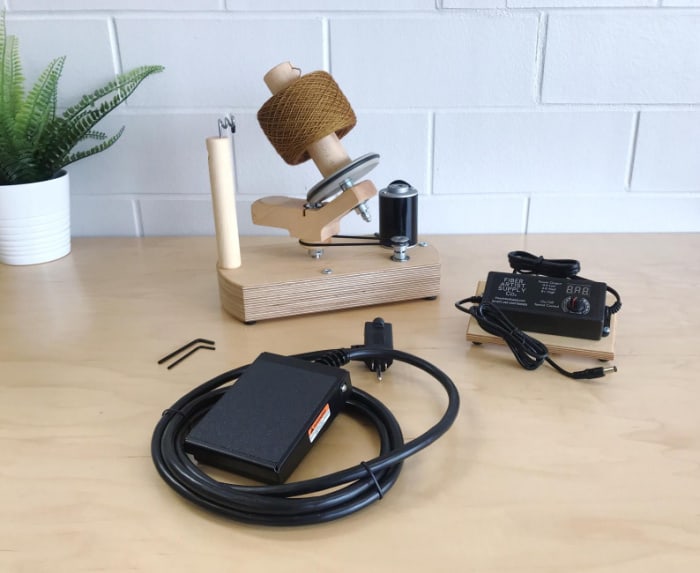 These ball winders have a simple plug & play operation and run off of 100-240v wall power.
This winder can handle most commercially available skeins.
Speed is adjustable. The direction is not. The small, brushed DC motor on these ball winders gives great results.
Unfortunately, it's not always available.
What's Included?
Comes mostly assembled
Power bank
Extension cord
The power supply/speed control is a separate unit containing a speed control knob.
Also LED readout with a number correlated with the winder's speed.
The speed control is a separate unit allowing the user to position the speed control anywhere comfortable.
Replacement parts like a spool are available for these ball winders. The pieces are easy to set up.
Once you've wound your small or jumbo yarn into (centre) center pull cakes, they're effortless to put in a yarn bowl and start knitting!
Is there a best place to order yarn? Find out.
Ashford Electric Ball Winder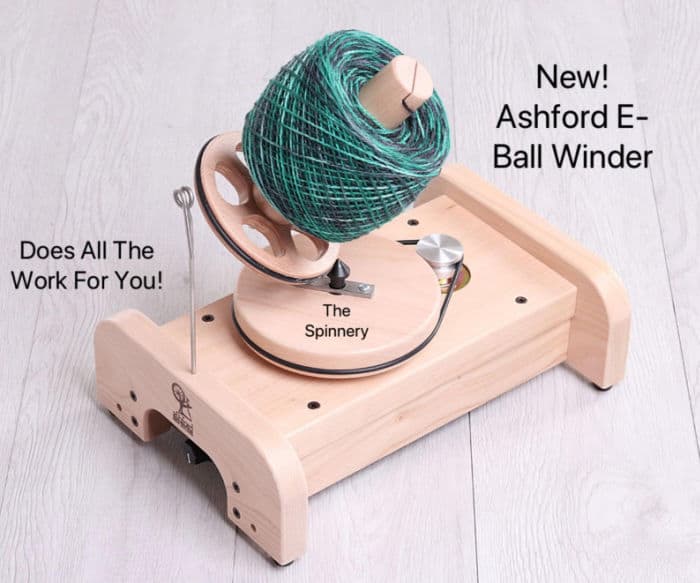 These are lovely ball winders! Makes a great choice for any craft room.
Wind those pesky skeins and hanks into neat cakes. (A way yarn is stored, it's a cylinder with flat sides on the bottom and top.)
Here are more details.
Pros
Easy set up on any work surface
Wind up to (17½ozs) 500gm of yarn
Wind balls both clockwise and anti-clockwise
Soft start allows you to control the yarn as it winds onto the cone
Instant stop when you need it
Includes a foot switch for better control of your yarn
Mounted on rubber feet, one clamp included
12v mains power cord included
Manufactured from beautiful native New Zealand Silver Beech hardwood with a lacquered finish
Sturdy yarn guide and other components
Great customer ratings
Some great crocheting technologies
Sturdy table clamp fixes to any table edge
Reasonable shipping to the United States
Cons
Expensive
Sometimes unavailable or out of stock
Can't take it outside if there's no electricity
Overall, it's a worthwhile purchase if you do serious winding
Want to see an unboxing? Skip to the 8.30 timestamp of this great video.
If you've done any searching, you would've come across a model made by Boye – The Simplicity Boye Electric Yarn Winder.
Boye is a well-known knitting and crochet tools and notions company.
It winded any yarn hank into neat center pull cakes.
What's Included?
85% Plastic / 15% Steel
Uses 120v a/c power
Buying a new one of these models is highly unlikely, as it doesn't seem readily available. You're more likely to find a second-hand model.
However, I don't think you should bother.
Although it sped up winding yarn cakes by hand, it needed to be constantly monitored.
Many customers found the motor wasn't powerful enough and sometimes stopped working altogether.
Suits nearly any work surface.
The Boye electric yarn ball winder price varies depending on where you buy.
How To Use The Boye Electric Yarn Ball Winder
Here's a great review and demonstration by Good Knit Kisses.
Boye Electric Yarn Ball Winder How Do You Make Tension Tighter?
Here's a great tutorial by The Crochet Zombie.
Add luxurious functionality to your life with handmade yarn bowls.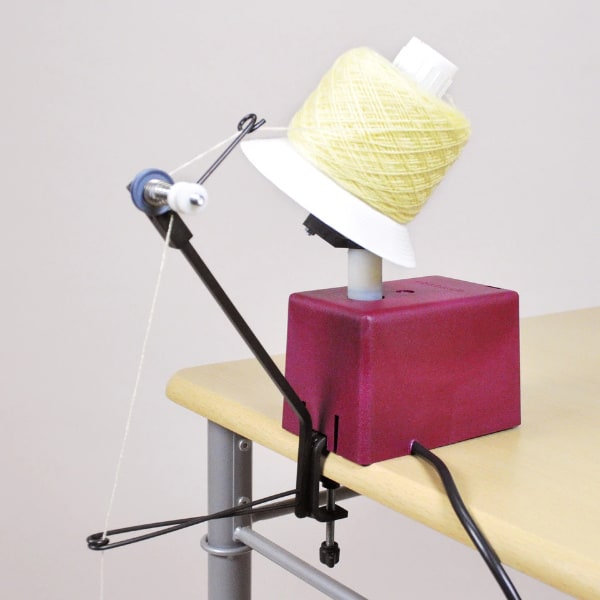 The PDB 250g Electric Yarn Winder will wind up to 250 gm/about 9 oz of yarn cakes, depending on the type of yarn used.
No more sore arm muscles!
This automatic yarn winding machine works with nearly any weight yarn. These yarn winders are perfect for speedily organizing scrap yarn.
A great feature is a spare bobbin is also supplied to wind yarn. There's no auto switch off on this motorized yarn winder.
Switch the yarn winder off once the bobbin is full.
These types of yarn winders have an even flow when winding a yarn cake.
A UK-based company but this electric skein winder ships internationally. The winder will be the correct voltage for the country it's being sent to.
However, you may have to fit a suitable plug for these items in some countries.
If you have trouble using the product, contact their customer service with your email address. Certainly makes your shopping experience easier!
Q&A
How Do You Make An Electric Ball Winder?
With lots of tools, patience, and a good tutorial! Here are some great instructions on how to make a DIY electric yarn winder.
For a more complicated, efficient setup, try this one by Mr. Innovative.
For a simpler approach, have a go at this one by Boston Woolworks.
Where To Buy An Electric Yarn Ball Winder?
Your best bet is Etsy or Amazon. Some people sell them secondhand, and you sometimes find them in craft stores.
They're difficult to track, as a business or brand that makes them is rare.
I'm yet to find an electric yarn winder to suit someone on a budget. That was why the Boye Electric Yarn Winder was popular.
I'll update my post if I find something economical but works well. Have an electric yarn ball winder you recommend?
Get in touch here or tell me in the comments.
(Note: I've never come across an electric yarn swift. Nor does Knit Picks sell electric yarn winders, only hand-operated ones.)
Next > Yarn Sale Cyber Monday
Pin Now to Save for Later