These crochet hooks are super small and fine, for crochet lace or making things with crochet thread. Why are they steel? That's the only material strong enough in such a small size. Read my reviews of the best in this crochet hook material.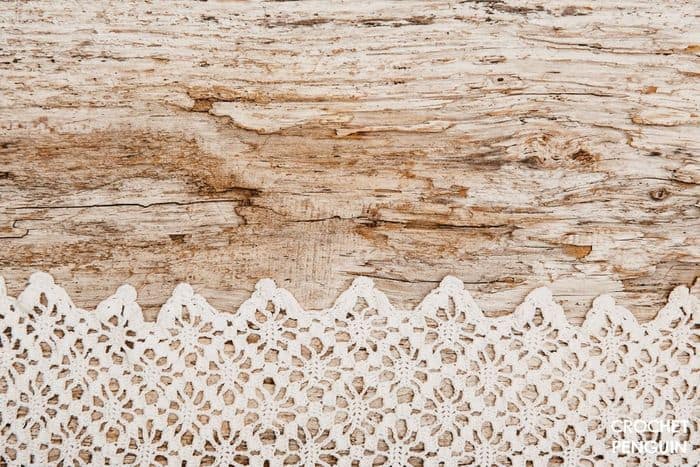 Steel crochet hooks (crochet hooks) are labeled with numbers. The larger the number, the smaller the hook. From 00 or 0 (the biggest) to 14 (the smallest).
I reviewed, fact checked and updated this post on April 19, 2023
Table Of Contents
Steel Crochet Hooks Sets
Boye Steel Hooks
This package contains a crochet set of six silver steel crochet hooks in assorted sizes. The fine hooksare tapered and hook head is pointed. The range gives flexibility in the sorts of projects you can crochet.
My view is the thumb rest is a comfortable distance away from the top. There is enough room on the shaft to hold stitches.
After a long time I've experienced hand cramps because the stitches are so small. To combat this I recommend doing fine crochet lace in short bursts and make sure to do hand exercises.
Features
Sizes Included – US-0 (3.25mm) US-1 (2.75mm) US-7 (1.65mm) US-8 (1.5mm) US-9 (1.4mm) and US-10 (1.3mm)
Length – 5 inches
Pros
Perfect size to make snowflakes, doilies, and other crochet thread projects.
Comfortable to crochet fine projects
Cons
With very fine work, your hands can tire out quickly. Be sure to take rests and do hand and finger stretches.
Check Price On Amazon
Susan Bates Steel Crochet Hooks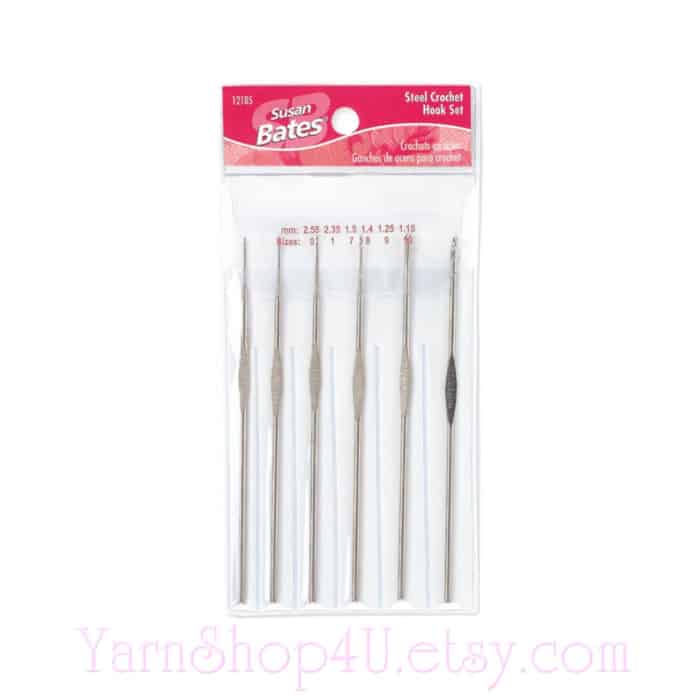 These single ended hooks are made of the finest nickel-plated steel for crocheting the finest crochet thread lace projects. Includes a 3.5″ x 7″ vinyl case for easy storage. Similar to the Boye steel version they are 5″ long. The 6 sizes:
0 (2.55 mm)
1 (2.35 mm)
7 (1.50 mm)
8 (1.40 mm)
9 (1.25 mm)
10 (1.15 mm)
These differ to Boye hooks as they have the thumb rest further away from the top and the hook head is inline. When creating tiny stitches there's a tendancy for your fingers and hands to feel fatigue, not to mention your eyes getting tired with such concentration!
As I mentioned above, take lots of breaks and be sure to stretch.
Pros
Excellent quality
Both mm and US sizes are imprinted on the thumb rest
Cons
Hand and finger fatigue after prolonged use.
No good for people who have nickel sensitivities
Clover Steel Crochet Hooks
Here is a quick guide to the clover steel range.
Clover Soft Touch Steel Crochet Hooks
Steel crochet hooks have a patented ergonomic soft-touch handle for easy crocheting. They are used for beading, jewelry making, and lace making. The product material is perfect for fine threads. The hook comes with a protective cover for safe storage.
The addition of the handle is wonderful for crocheting for a longer time. Crocheters are give these tools great praise. It rests comfortably in your palm and the thumb rest is slightly cushioned for extra comfort.
Pros
Lovely ergonomic handle
The handle is a durable resin
Cons
Clover Amour Steel Crochet Hooks
These amour steel crochet hooks have the same soft-grip handle for the other Crochet Amour Hooks. The colors of the handles are pastel. These smaller sizes are perfect for amigurumi, lacework, and intricate designs with fine thread.
Sizes Available
No. 0 (1.75mm)
No. 2 (1.50mm)
No. 4 (1.25mm)
No. 6 (1.00mm)
No. 8 (0.90mm)
No. 10 (0.75mm)
No. 12 (0.60mm)
Pros
Pastel-colored handles
Smooth steel
Cons
The pastel color shows up dirt and oil so be sure to keep your hands clean and dry. I recommend having a soft towel nearby to dry your hands occasionally if needed.
Clover Amour Steel Pastel Bright New Crochet Hooks Set
It seems this used to be available online, but is no longer, unfortunately. If you know where it's available for purchase, please let me know in the comments.
Tulip Steel Crochet Hooks
Here are some of the best tulip etimo steel crochet hooks supplies.
Tulip ETIMO Rose Steel Crochet Hook
The elastomer cushion grip makes crocheting more comfortable and less stressful on your hands. I simply adore the different pinks. It makes the sizes easier to identify after you've committed that association to memory. Even if you don't do that, the size is easy to read on the handles.
Favored by many crafters for you can crochet small stitches for longer. The smooth surface of the shaft and hook make tiny stitches a breeze!
Sizes Available –
0 – 1.75mm
2 – 1.50mm
4 – 1.25mm
6 – 1.00mm
8 – 0.90mm
10 – 0.75mm
12 – 0.60mm
14 – 0.50mm
15 – 0.45mm
16 – 0.40mm
Pros
Super comfortable
Crochet tiny stitches with ease
Less hand and finger fatigue
Cons
There is a thumb rest bump which may take some getting use to
Milwards Steel Crochet Hooks
Very Vintage steel hooks by Milward, made in England. These are perfect for those who love Vintage tools.
Sizes Available – Sizes 2/0 through 16.
Length – 5 inches
Pros
Great for collectors of vintage crochet tools
Cons
Some of them are not in pristine condition
No good for people who have nickel metal sensitivities
Knitters Pride Soft Feel Steel Crochet Hooks
Check Price On Amazon
Knitter's Pride Soft Feel Crochet Hooks-An innovative product with an ergonomically designed handle. Smooth handle and grip is ideal for crocheters of all skill levels. Steel bodied hook is strong and durable.
This product brand also offers material wood hooks but they aren't suitable for fine work.
Sizes Available – 0.5mm, 0.75mm, 1.0mm, 1.25mm and 1.5mm
Pros
Ergonomic handles
Able to crochet for more extended periods on fine projects
Lightweight
Cons
Only available in 5 sizes
Vintage Steel Crochet Hooks- Different Single Sizes by Reputable Seller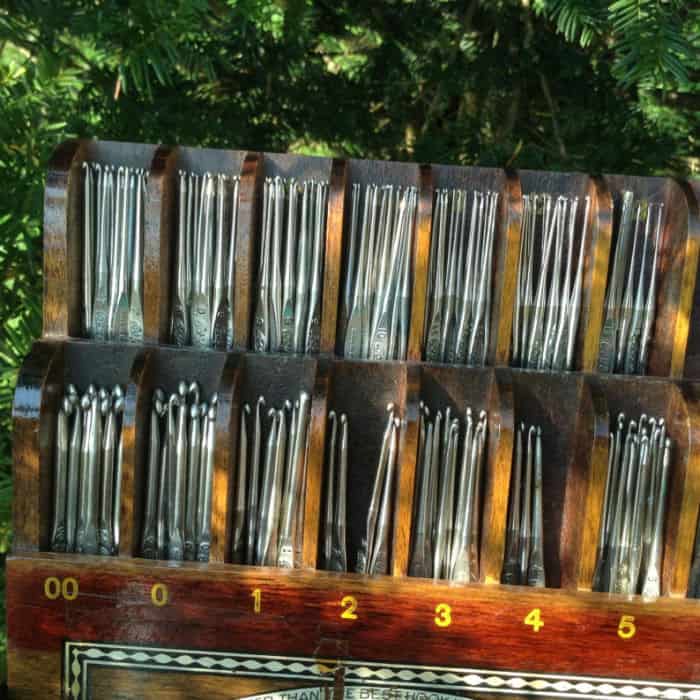 Boye produced hooks with this marking style from the 1930s through the 1940s. .Various small sizes.
These hooks show wear appropriate to their age. Some are stained, a few are a bit less than straight. The seller is a crocheter, too, so be confident that she won't send you anything she wouldn't use.
Pros
If you love vintage Boye Steel hooks, this is for you
Cons
As they are vintage, they show their age
FAQs About Steel Crocheting Hooks
What Are Steel Crochet Hooks Used For?
Steel crochet hooks are used for delicate crochet work, bead crochet, doilies, and lacework.
Steel Crochet Hooks Material
Steel crochet hooks are made from steel or nickel plated steel.
Standard Vs. Steel Crochet Hooks
Standard Crochet Hooks have larger diameters and are made from various materials- aluminum, bamboo, wood, resin, plastic, and steel crochet hooks are small diameters made from steel.
Which Steel Lace Crochet Hooks Is Best?
As they are used for very fine crocheting, a steel hook with an ergonomic handle is best. This helps make crocheting more comfortable.
What Are The Best Steel Crochet Hooks For Thread?
If you'd like to purchase a set of commonly used sizes, Boye makes a set that's good for getting started.
Who Makes The Best Steel Crochet Hooks
The Best Steel Crochet Hooks are those with an ergonomic handle.
Where To Buy Steel Crochet Hooks
It's pretty easy to pick up steel crochet hooks at a yard sale or thrift store, as they were very popular years ago and haven't changed much!
What Is A Size 6 Steel Crochet Hook?
A size six steel crochet hook is 1.8mm in diameter.
Where Can I Buy Steel Metric Sized Crochet Hooks?
You can buy these sizes online and in craft stores.
Conclusion
I hope this helped you find the best steel crochet hook. Do you use these crocheting hooks? If so, what for, and what's your favorite brand? I'd be interested to hear your thoughts.
READ NEXT – Want more info on hooks and their types? See here.
Pin For Later