If you're a beginner crocheter, do you understand crochet hook sizes? Not yet? Don't worry. It's simple, follow the charts below. I'm here to help crocheters like you find the right hook size for your projects. My helpful charts will be your go to guides!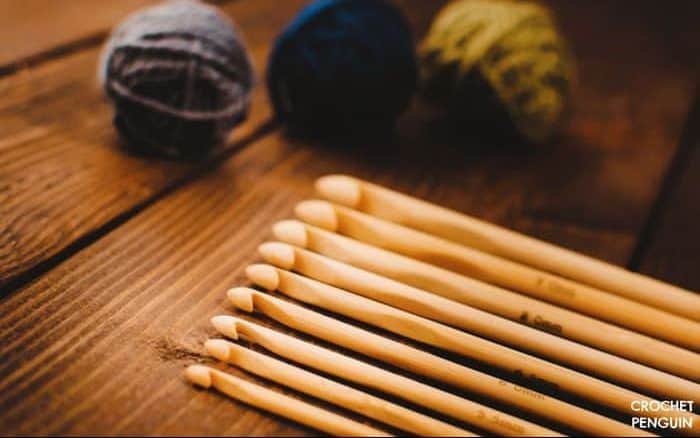 I reviewed, fact checked and updated this post on April 5, 2023.
Table Of Contents
How Do You Know What Size To Use?
Beginners often ask me this question. They want to know what crochet hooks they should use for their projects to get the best result.
Here are methods to decide what hook size you need.
Yarn Label – This gives information on what standard crochet hook size to use, in metric and US sizes and the recommended gauge – how many stitches in a 4×4 inch swatch (Plus more info on care, fiber content.)
Gauge Swatches – It's important to work the swatch with the recommended hook in order to get the amount of stitches in a row. If you have more stitches in the 4 inches then your project will be too small. Use bigger hook if it's too small. If you have fewer stitches in the 4 inches, then it will be too big. Try a smaller hook if it's too big.
Crochet Patterns include crochet hook sizes too. Ask the pattern designer to choose the right size if it doesn't.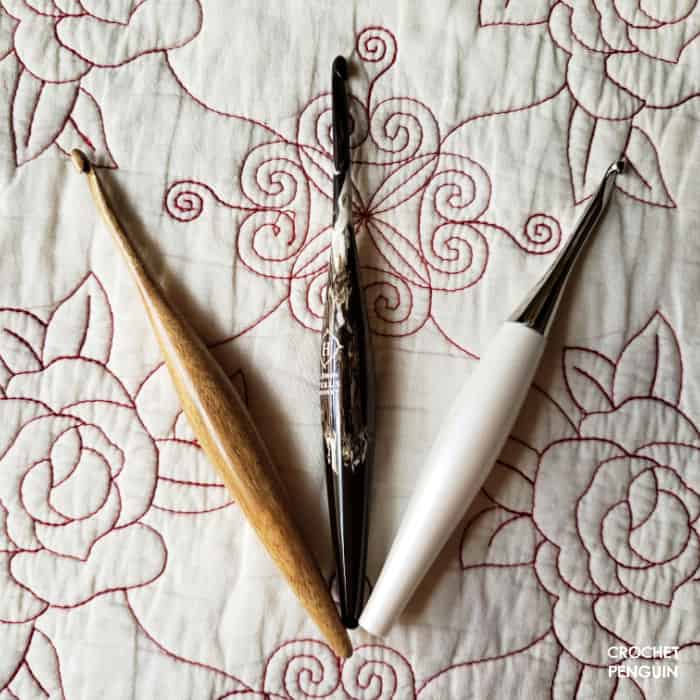 Note: Hook sizes (in mm) vary from the crochet hook brands. No standard set size for crochet hooks exists yet. This measurement guide is for reference only.
I know, the inconsistency between each brand is a problem, and it can be a challenge to figure out, but I'm here for that! Don't change hooks mid-project, it will change your tension. Because of the variety of material, manufacturer differences and styles, use the same hook throughout.
You might run out of yarn if you use different hook sizes when using a kit. Be aware that different hook manufacturers may have a letter size that varies in millimeter size. For example Boye labels their G Hook as 4.25 mm not 4.00mm.
It's super important to complete a swatch with the recommended hook in the pattern to see if you reach the required gauge. The right crochet needle size will determine if your stitches match the designer's gauge.
Every maker has a different tension and when choosing hooks for crochet, swatching is an important matter because you want the design to be the right fit and shape. Many hand made crochet patterns are opting for the millimeter size for the hook, rather than the US letter sizing.
What Are All The Sizes Of Crochet Hooks?
It's essential to know the conversions when using a crochet pattern written in another country. Crochet Hook sizing can be a little confusing because letters or milimeters are used depending on the country.
The diameter of a hook shaft determines the size of the hook and the size of the stitches. Hook sizes are measured in millimeters and are available from as small as 2 mm to 20 mm or bigger!
As the size of a crochet hook is determined by the diameter of the shaft. (The shaft is the space between the thumb area part, the handle, and the hook.) The larger the diameter, the bigger the stitches. Note: I'm not talking about the length of a hook in this post, which is measured from the bottom to the point.
You can convert the diameter of the shaft to United States sizes for these materials. (Uses both numbers and letters of the alphabet.) For example, a US size G hook is 4.00mm in diameter.
UK & Canada – numbers
Australia & New Zealand – metric sizes
The sizing in other countries varies. Choose a system for you, whether metric or lettering and numbers. The bigger or thicker the yarn, the bigger hook you need. Chunky wool uses a bigger crochet hook.
Steel hooks ("thread hooks") are only used for fine lace thread. (Use them to make doilies for the home or intricate designs!) They come in numbered sizes, getting larger as the diameter or millimeters get smaller. If the size is big, it's a sign they're tiny! These crochet hooks come in varying sizes from the 0.6 mm thickness of size 12 to the 3.25 mm thickness of size 00.
Crochet Hooks For Yarn Weights
The Craft Yarn Council has set out hook sizes for each yarn weight. Here's how to find the right size crochet hook for different sizes of yarn.
0 (Lace Crochet, Thread) – B/1
1 (Super Fine) – C/2, D/3
2 (Fine) – E/4, F/5
3 (Light, Light Worsted) – G/6, H/8
4 (Medium, Worsted) – I/9, J/10, K/10.5
5 (Bulky) – L/11, M/13
6 (Super Bulky Yarn Weight) – N/15
Need a fiber weights chart? See here. Want some tutorials on finding the correct size? See these ones. They included pictures to help you.
Crochet Hook Conversion Chart And Crochet Hook Sizes
Hope you find this crochet hook size chart on all the sizes helpful! This crochet hook size conversion is for regular crochet hooks, knook hooks, and all categories of Tunisian crochet hooks.
Metric/AUST/NZ
US
UK/Canada
2.00 mm
–
14
2.25 mm
B/1
13
2.50 mm
–
12
2.75 mm
C/2
11
3.125 mm
D
–
3.25 mm
D/3
10
3.5 mm
E/4
–
3.75 mm
F/5
9
4.00 mm
G or
G/6
8
4.25 mm
–
–
4.50 mm
US7
7
5.00 mm
H/8
6
5.50 mm
I/9
5
6.00 mm
J/10
4
6.50 mm
K/10.5
3
7.00 mm
–
2
8.00 mm
L/11
0
9.00 mm
M/13
00
10.00 mm
N/15
000
11.50 mm
P/16
–
15.75 / 16 mm
Q
–
19 mm
S
–

(These Size Charts Are Based On Standards From The Craft Council.)
(They also have sizes for knitting needles.)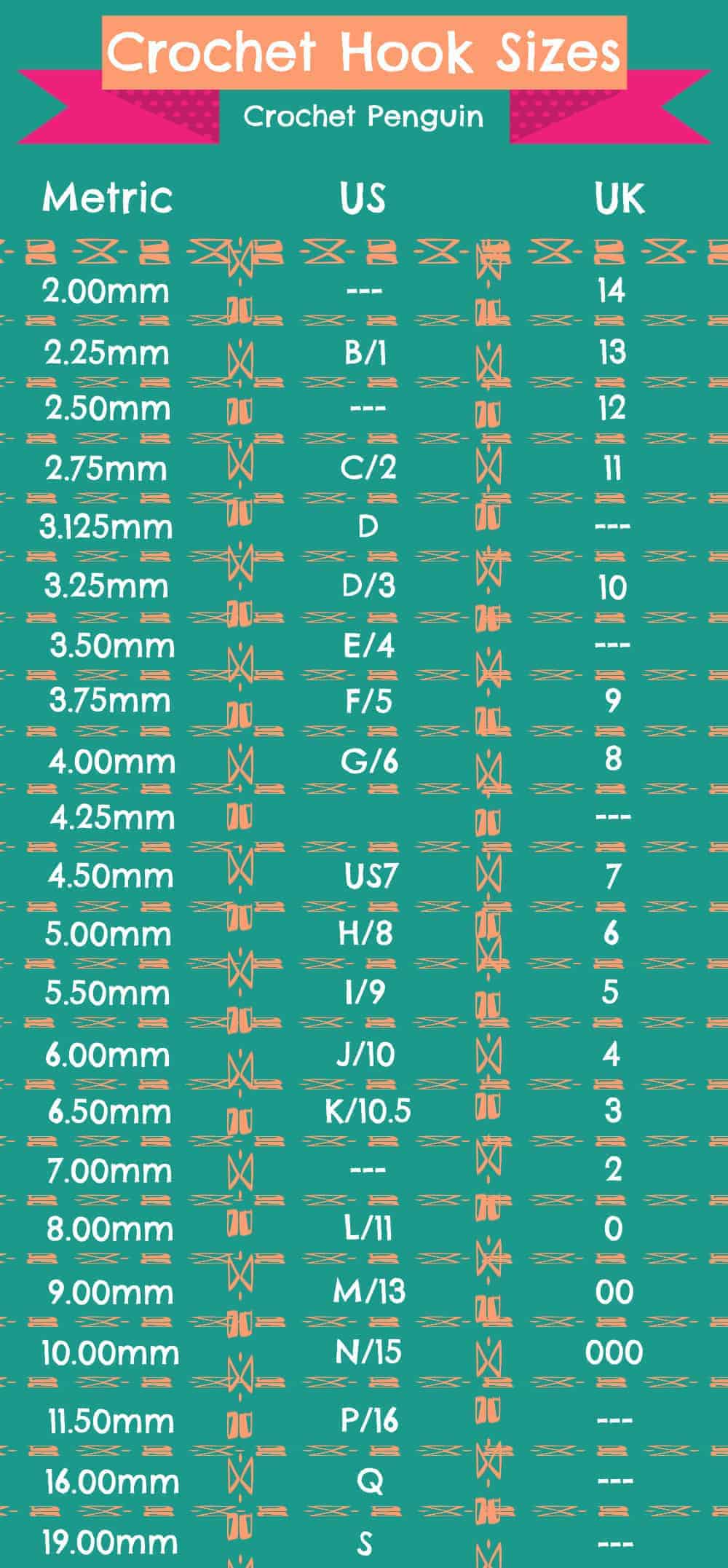 Crochet Thread Hook Sizes / Steel Hook Crochet Sizes
These needle sizes are for thread crochet hooks, used for thread crocheting. For the best steel hooks on the market, my recommendations are the Clover Amour line or Susan Bates. These things have excellent reviews, and are best-sellers!
| Metric | US |
| --- | --- |
| 3.50 mm | 00 |
| 3.25 mm | 0 |
| 2.75 mm | 1 |
| 2.70 mm | 00 |
| 2.55 mm | 0 |
| 2.35 mm | 1 |
| 2.25 mm | 2 |
| 2.20 mm | 2 |
| 2.10 mm | 3 |
| 2 mm | 4 |
| 1.90 mm | 5 |
| 1.80 mm | 6 |
| 1.75 mm | 4/0 |
| 1.70 mm | 5 |
| 1.65 mm | 7 |
| 1.60 mm | 6 |
| 1.50 mm | 8/7/2 |
| 1.40 mm | 9/8 |
| 1.30 mm | 10 |
| 1.25 mm | 9/4 |
| 1.15 mm | 10 |
| 1.10 mm | 11 |
| 1.05 mm | 11 |
| 1 mm | 12/6 |
| 0.95 mm | 13 |
| 0.90 mm | 14/8 |
| 0.85 mm | 13 |
| 0.75 mm | 14/10 |
| 0.60 mm | 12 |

(These Measurements Are Based on the Craft Yarn Council's standards.)
(They also have standards for knitting needle sizes.)

How Do You Know What Size Crochet Hook To Use?
Choosing the right-sized crochet hook type follows a process. A Crochet beginner needs to be aware of the importance of gauge. Most crochet patterns have suggested pattern gauge information with a specific crochet hook. This shows how many stitches you should have per inch.

To crochet a swatch – do a swatch of about 4 inches in the stitch pattern you use in your crochet project. Wash your swatch, let it dry and measure the number of stitches. It is super crucial for crocheting items such as a sweater or top.

Suppose your square is smaller – you have more stitches than what the pattern calls for. Size up a hook. Or down one of the crochet needle sizes if your square is too large, that is, you have too few stitches. If you've bought yarn and don't have a pattern in mind, the label suggests the hook size to use and what gauge you should get.
(Note: Inline and tapered hook sizes vary, as the area between the thumb grip and hook differs.)
You'll find a crochet hook size to suit the crochet projects you make. It takes a while to decide on your first set of crochet supplies, but it gets easier! Once you get your sizes sorted, I'll help you find the best crochet hook set. There are many different types.
Crochet Hook Sizes From Popular Brands
Some brands and hook manufacturers don't produce hooks in all sizes. Know what each craft store makes so you have the right hooks or crochet hook set.
Q&A
Have a question? I've got answers!
What Is The Most Common Crochet Hook Size?
The most common crochet hook size is an H crochet hook (a 6 in Canada and the UK and 5.00mm in metric) which is excellent for beginners. It's used for many projects particularly with worsted weight yarn.
What Is The Best Size Crochet Hook For Beginners?
The best size crochet hook for beginners is size 5.0mm. It's big enough to hold but not cumbersome. It also fits yarns perfectly for people learning to crochet! Regarding a recommended crochet hook type, try aluminum crochet hooks as a start. Bamboo is too grippy to work with for beginners.
When you level up in skill, try wood versions like Bamboo! You'll be pleasantly surprised, as it's smooth and warm to the touch. Crochet hook materials vary (metal, wood, plastic) and finding which works best with different yarns. The kind of hook and the material you love the most will take time.

The head of a hook are either inline or tapered. Try both to see which is your preference.Hooks with a rubber handle are more comfortable and ergonomic. The handles are designed to reduce hand strain. Other benefits of ergonomic crochet hooks are you can crochet for longer and your hands won't be as tired.
Is My Crochet Hook Too Big?
If your crochet hook is too big, here's an easy method to check if indeed it is too big for the pattern you are working on. Test your hook size by crocheting a test swatch and measuring it. A crochet pattern specifies the crochet stitches per inch.
If you don't reach the gauge of the pattern try a different sized hook.
Smaller hook – it will create stitches that are tighter and more of them per inch.
Larger hook – it will create stitches that are looser and bigger and less of them per inch.
But you can adjust the pattern as necessary if the overall fit and shape doesn't matter. You might want smaller stitches in scarves for winter.
Here's a tutorial. (Check out her great range of crochet guides with helpful images and charts.)
A 2.75 mm hook Is What Letter?
A 2.75mm hook is the letter C. Also Crochet needles of this size are equivalent to a US hook size C/2.
How Does Hook Size Affect Crochet?
The smaller the hook size creates stitches with smaller yarn gaps and tighter connections between the loops. For a bigger crochet hook, the opposite is true. Crochet hook size matters. It will determine the crocheted fabric. The yarn thickness also affects the finished product.
What Happens If A Hook Has No Label?
If your hook has no label, here are ways to determine your hook size from your collection. Using a tape measure or ruler, measure the shaft and convert the Metric millimeters to US sizes.
Get a gauge or measuring tool. These have a series of different sized holes that correspond to a certain hook size. Slide the hook you use into a hole of the hook gauge tool until it fits. This will tell you what size the hook is in millimeters or US sizes.
Which Crochet Hook Is Size P?
A size P hook is 15mm. However, some brands label P types of crochet hooks as 10mm.
What Happens If I Use A Bigger Crochet Hook?
If you use a bigger crochet hook, the gauge is larger, making a bigger finished item. If you use a big hook on crochet threads, you end up with a loose creation.
What Size Is A 2.5 mm Crochet Hook?
It's still a 2.5mm crochet hook in US sizing. In UK/Canada sizing, these types of crochet hooks are 12.
What Is A Size G Crochet Hook?
A size G crochet hook in US sizing is also known as G/6. In metric, it's 4.00mm, and in the UK & Canada, it's 8. Some brands like Boye label their crochet hook G as 4.25mm. Be aware that the difference in millimeters can affect your gauge.
What Is A Size 7 Crochet Hook?
A US size seven and a size 7 in the UK & Canada are the exact sizes, but 4.50mm in metric.
In US Sizes, What Is 3.00mm?
In US sizes a 3.00mm hook is a D/3 crochet hook. Some companies use D on 3.25 mm crochet hooks.
What Is A Size 8 Crochet Hook?
A size 8 crochet hook is also known as size hook H in the States, it's a 6 in Canada and the UK and is 5.00mm in metric sizing.
What Size Crochet Hook For Blanket?
The best size crochet for a project idea like a blanket is an H/8 (5mm) size hook. However, it depends on the yarn and your fiber preference. 5/5.5mm for Sport or DK weight yarn. Using something chunkier, or want a looser look for your afghan? Use the crochet hook size 6/6.5mm.
Aluminum crochet hooks are excellent for these projects. A great company that makes aluminum hooks is Susan Bates.
What Size Crochet Hook For 4ply Wool?
The best crochet hook size for 4ply wool is 2.50mm – 3.00mm, US E/4, and 12-9 for the UK/Canada.
Does The Type Of Yarn Weight Affect Which Crochet Needles You Use?
The type of yarn weight affects whether you should use small or big crochet needles (another term for hooks). A thicker yarn requires something bigger, a fine, thin yarn requires a smaller crochet needle.
Conclusion
Come back to this post whenever you need to use the crochet hook sizes conversion chart. You shouldn't have to remember everything! Have fun with your next project experience. Assist each other, friends, and future readers by sharing this post of crochet hook size charts.
Need help with hook sizing or downloading your crochet hook size chart? Use your email address to leave a comment with your questions.
Connect with me on social media, like Facebook or Instagram.
Pin Now to Save for Later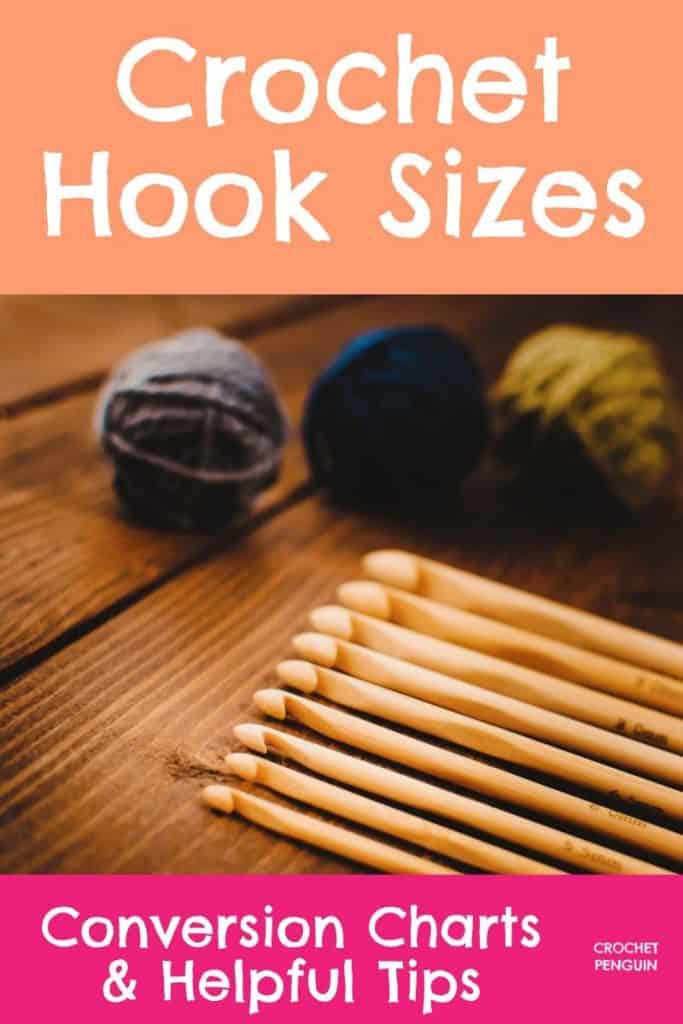 READ NEXT – Want info on the types of crochet hooks? See here.