The Tulip Etimo Crochet Hooks are extremely comfortable to use and highly recommended tools for crochet. The ergonomic handle is what sets it apart from other hooks I've reviewed. Crocheting for extended periods is a breeze with these hooks. Here's my guide to the full range.
I reviewed and updated this post on April 8, 2023.
Table Of Contents
Made in Japan, they create a superior crocheting experience. The tulip crochet hooks are smooth, with a rounded head and tapered throat. The sizes are metric/Japanese numbers, so, use a conversion chart to convert the metric sizing into US sizing. If your looking for other hooks with an ergonomic design see my post here.
Large Etimo Crochet Hooks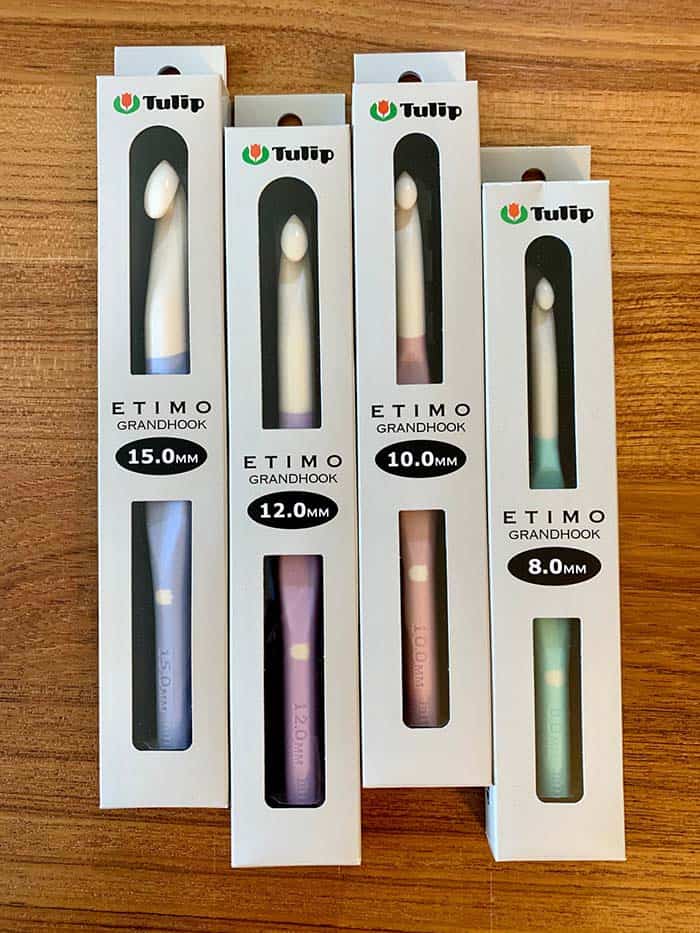 The Tulip ETIMO GrandHook has a plastic hook with a comfort grip. The pointed head is invaluable to getting into stitches. The smooth plastic shaft has no obvious line where it meets the throat. It's available in four sizes: 8.0mm (green), 10.0mm (pink), 12.0mm (purple), and 15.0mm (blue).
Pros
A specially designed head to hook and pull thick yarn
The thumb rest on the front side
The grip helps you hold the crochet hook comfortably
The deeper groove allows easy crocheting
Cons
Only suitable for thicker yarns
Gold Aluminum Crochet Hooks
Check Price On Amazon
Tulip Etimo Cushion Grip Ergonomic Crochet Hook with Cushion Grip in charcoal gray. The hook is quality aluminum in gold color. This set includes hook sizes
D3 (3.25mm)
E4 (3.5mm)
F5 (3.75mm)
G6 (4mm)
7 (4.5mm)
H8 (5mm)
I9 (5.5mm)
J10 (6mm)
Notions included:
Italian embroidery scissors
2 yarn needles
4.5″ ruler
The silver fabric case has slots for all hooks and tools
It folds and closes with a magnetic snap
Pros
The elastomer comfort grip is comfortable
Functional
Durable
Aluminum hook has a polished finish
A clear flap folds over all the tools for protection
Cons
Smooth hook tip
Easy to hold design
Comfortable elastomer cushion grip
Great for crocheters with arthritis
The label is an overlay
A Tulip Etimo crochet hook is more expensive than other hooks but worth the investment
Tulip Etimo Rose Crochet Hooks Set – 5 Star Ratings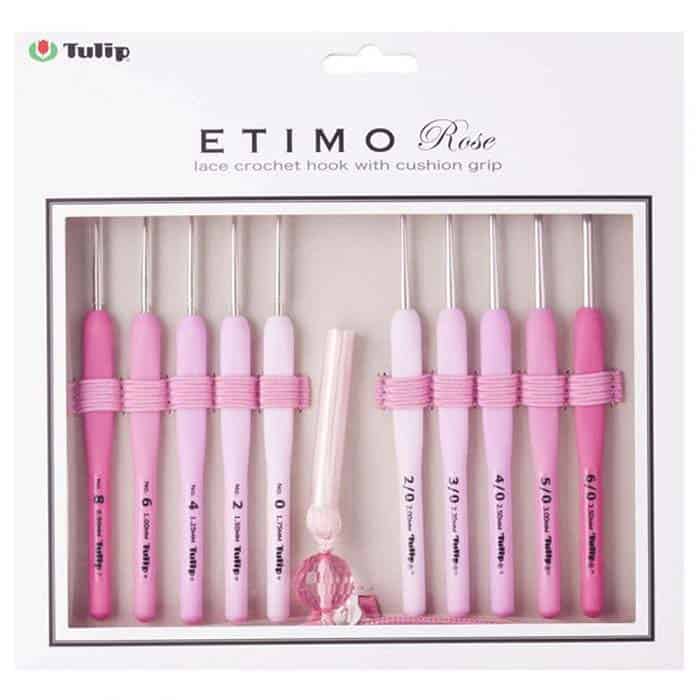 These are suitable for all fiber supplies, wool and other animal fibers slide easily over the surface. Plant fibers such as cotton are also super easy to work with on these hooks.
A 10 piece Etimo crochet hook set that is durable, abrasion-resistant, and smooth. 5 Crochet Hooks and 5 Lace Crochet Hooks. A small, zippered notions pouch is inside the case. It comes with scissors and a couple of yarn needles.
The pretty pink case has a pink tassel and bead/crystal tassels attached to the zipper.
Sizes included:
Size 2 (2.00mm)
Size 3 (2.30mm)
Size 4 (2.50mm)
Size 5 (3.00mm)
Size 6 (3.50mm)
Lace Crochet Hooks
Size 0 (1.75mm)
Size 2 (1.50mm)
Size 4 (1.25mm)
Size 6 (1.00mm)
Size 8 (0.90mm)
Pros
Great for many projects
The comfortable elastomer cushion grip lets you work for hours with little fatigue
Smooth hook tips enable effortless crocheting
Cons
Although different shades of pink, it may take a while to recognize which pink is which hook size
Tulip Etimo Pink Crochet Hooks
This listing is for single Etimo Rose Crochet Hooks. A crocheter's dream. Available in the following sizes:
2/0 (2mm)
3/0 (2.3mm) — US B-1
4/0 (2.5mm) — US C-2
5/0 (3mm) — US D-3
6/0 (3.5mm) — US E-4
7/0 (4mm) — US G-6
7.5/0 (4.5mm) — US 7
8/0 (5mm) — US H-8
9/0 (5.5mm) — US I-9
10/0 (6mm) — US J-10
Pros
Comfortable in your hand
Width of handle suits both knife hold and pencil grip
Well-positioned thumb rest
Rounded hook tip
The cushion grip gives your hand a cozy feel
Lets you work with less fatigue
This seller receives 5 star customer ratings
Cons
Only in Japanese sizing and metric
Tulip Etimo Steel Crochet Hooks
The Etimo Steel Crochet hooks are the smaller sizes for lace crochet and intricate work. These hooks create uniform stitches, and your hands won't tire easily. They come in the sizes:
0 – 1.75mm
2 – 1.50mm
4 – 1.25mm
6 – 1.00mm
8 – 0.90mm
10 – 0.75mm
12 – 0.60mm
14 – 0.50mm
15 – 0.45mm
16 – 0.40mm
Pros
Hook work with crochet thread
Smooth handle
Lessens hand fatigue
Cons
Only suitable for fine threads and yarn
Etimo Tulip Steel Crochet Hook Set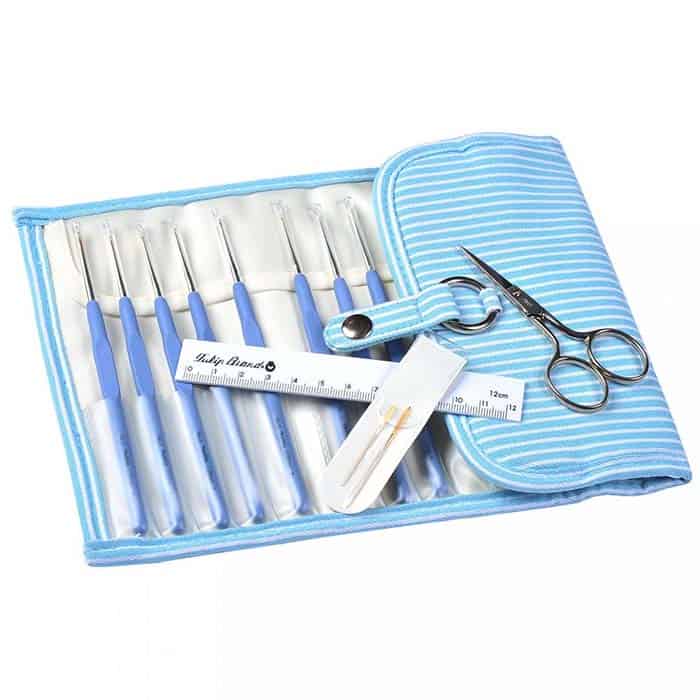 The Tulip Lace Crochet Hook set has the same elastomer comfort grip as the Etimo. This Set has lavender blue handles. The hooks are durable quality polished steel. The set includes
8 Etimo Crochet Hooks (14-0)
Two yarn needles
High-quality thread scissors
4-1/2″ plastic ruler
Cute fabric clutch
Sizes
0 (1.75mm)
2 (1.50mm)
4 (1.25mm)
6 (1.00mm)
8 (0.90mm)
10 (0.75mm)
12 (0.60mm)
14 (0.50mm)
Pros
The cushion comfort grip makes fine crochet projects easier
Superior quality
Gorgeous color (I'm very fond of blue)
Cons
New to lace crochet? Working with a smaller crochet hook may be challenging
Tulip Etimo Red Hooks
These hook supplies have a red matte aluminum finish, and the ergonomic handles are also red. Using these hooks with dark colors is a breeze.
1/0 (1.8mm)
2/0 (2mm)
3/0 (2.2mm)
4/0 (2.5mm)
5/0 (3.0mm)
6/0 (3.5mm)
7/0 (4.0mm)
7.5/0 (4.5mm)
8/0 (5.0mm)
9/0 (5.5mm)
10/0 (6.0mm)
10.5/0 (6.50mm)
Pros
Lightweight
Gorgeous color
Cons
Tulip Etimo Red Hook Set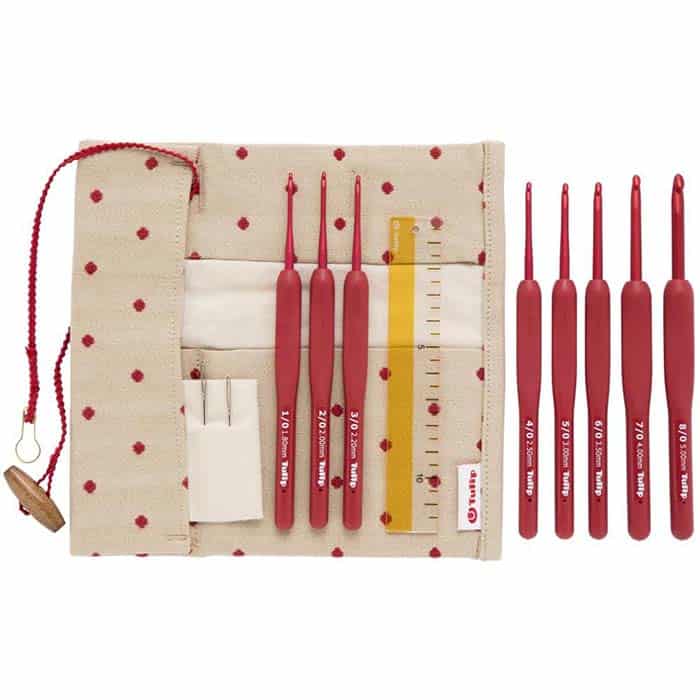 This set contains Tulip Etimo Red crochet hooks with cushion grip, two tapestry needles, ruler, and a red polka-dot fabric case. This version has red aluminum hooks, which is an advantage for those who love this color. The handle's length and depth of the hook make stitching easier.
Metric sizes: 1.8, 2, 2.2, 2.5, 3, 3.5, 4, 5
Pros
Easy on the eyes as there's no glare from hook
Good range of small and medium hooks
Worth the price
This seller ships to the United Kingdom
Cons
You need to love the color red
Tulip Etimo Website
Visit the website of the manufacturer of Etimo tulip hooks. For more on the Tulip Japan company who makes these hooks, click here. Find more crochet hooks on sale I've reviewed.
FAQs About Tulip Etimo Hooks
Tulip Etimo Vs Clover Amour
The Etimo is slightly longer than the Clover Amour
Tulip Etimos are different shades of pink, gray, and red
Clover Amour hooks are bright colors, and different sizes are a different color
Both brands have pointed hooks
Users found the handles of Tulip Etimo are comfortable in both knife grip and pencil grip
Not as comfortable as Clover Amour
Tulip Etimo Vs Clover Soft Touch
Clover Soft touch has a shorter shaft than Tulip Etimo
Tulip has a more significant thumb rest
Clover Soft Touch thumb pad is flat with a smaller rubber grip
Both brands of hooks glide smoothly through the yarn
Does Tulip Etimo Make Larger Crochet Hooks?
Tulip Etimo does come in larger size hooks. The Tulip ETIMO GrandHook has a plastic hook with a comfort grip.
Are Tulip Etimo Clover Soft Touch?
Tulip Etimo and Clover Soft Touch are two different brands of hooks. They both have an ergonomic handle.
In The Tulip Etimo Rose Set Hooks What One Is The Size J?
The J size is 6mm in the Tulip Etimo Rose Set.
Are Tulip Crochet Hooks Worth The Money?
Absolutely Tulip Crochet hooks are worth the money. There are so many excellent reviews for these tools. I highly recommend spending the extra cash for high quality hooks that will last a long time.
Do Any Stores Sell Tulip Etimo Hooks?
It's challenging to find Tulip brand hooks in craft stores/ sewing shop in the United States. They're only available online. (Aka Caron Tulip Etimo in the U.S.)
Conclusion
Hope you found this guide helpful. Tell me about your experience with these hooks. Do you like them? Please leave a comment below. Your email address is never published.
Pin For Later