These lighted crochet hooks have been around for quite a while. Although they may seem gimmicky, crocheters have been pleasantly surprised at how good they are.
Crocheters have found them to work well in dim light and also with dark yarn.
Most options have an ergonomic handle because there needs to be a larger handle to put batteries in.
Here is my list of recommendations of the brands available.
Table Of Contents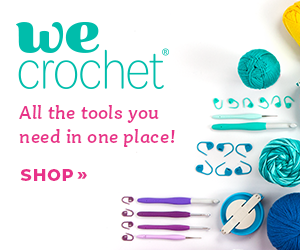 Best Lighted Crochet Hook
NeedleLite Comfort Grip Lighted Crochet Hook
These are lightweight and easy to use. The unique shape allows them to fit comfortably in your hand. Great for use in low-light or dark conditions.
The clear plastic hook lights up when you turn it on. To do that, give the knob at the base a half turn.
7 inches is the total length of the crochet hook measured from the tip of the hook to the end of the light source.
Long-life batteries are installed and ready to use. Typical battery life is more than 48 hours of continuous use. Easy instructions for replacement are included.
Pros
Clear lettering indicating the letter size as well as the mm.
The head is pointed with a deep bowl and rounded lip.
Good customer reviews
Made in the United States
Cons
Some users don't like the squeaky noise that happens with the plastic surface
Check out some of the best yarn websites.
Light Up Crochet Hooks Rechargeable
Yarniss Crochet Hooks Lighted Set
This complete crochet hook set comes with 11 removable tips made of resin. The handle is silicone.
Includes sizes: 2.5mm, 3.0mm, 3.5mm, 4.0mm, 4.5mm, 5.0mm, 5.5mm, 6.0mm, 6.5mm, 7mm, & 8mm.
Has a rechargeable handle with a built-in battery.
Pros
Imitation wood handle
Comes with USB charger cord
Comfortable to hold
You can choose two modes of light – strong and weak.
Can be used for up to 7 – 9h
Cons
Users didn't like the ridge above where the head attaches to the handle. The yarn gets stuck on it. The manufacturer gives this solution – use a rubber band to constrict this gap. They're trying to improve it with future models
Click to Learn More / Buy from Amazon
Crochet stands are what you need to display your hooks.
Crochet Hooks Lights Set with Case
Crochet Hook Sizes: C (2.5mm), D (3.0mm), E (3.5mm),F (4.0mm),G (4.5mm),H (5.0mm),I (5.5mm),J (6.0mm) and K (6.5mm).
The handle's material: ABS & Silicone.
Includes:
10 Mark pins
9 Interchangeable Hooks
6 Plastic Sewing Needles
3 Stainless Steel Needles
1 Pcs Row Counter
1 Storage Bag
1 Stitch Holder
1 Rubber Handle
1 Scissors
1 Knitting Gauge
1 USB Line
Pros
Lights up project well even when in a dark room
Comfortable to hold
Rechargeable crochet hook
Easy to charge
Easy-to-use
Cons
If you're a tight crocheter, these will be more difficult
Click to Learn More / Buy from Amazon
Yarn Mania Light Up Crochet Hooks
These metal crochet hooks are rechargeable with two brightness settings, with improved LED technology, providing strong and focus light without any glazing and blinding effect.
Interchangeable Aluminum Heads in 12 sizes (2.0, 2.5, 3.0, 3.5, 4.0, 4.5, 5.0, 5.5, 6.0, 6.5, 7.0, 8.0mm)
Ergonomic Curve Shape Handle has a soft silicone cover. It works for all hold positions. Perfect for users with arthritis.
1x Scissors, 9x Crochet Markers, 1x Measuring Tape, 1x Organizing Pouch, 1x Leather Case.
Pros
Light projected out toward yarn and not just tip of hook like others.
Comfortable any way you hold the hook
Metal tips
Takes 30 minutes to charge and lasts for 6-12 hours
"Boye" style hook tips
Cons
Some users found the hook length a bit long.
Click to Learn More / Buy from Amazon
LED 9 In 1 Hooks Set
Set features – 1 x Storage Bag;1 x Charging Cable;1 x Plastic Wrench;1 x Needle Handle Holder.
9 Plastic Needle Tips (2.5mm, 3mm, 3.5mm, 4mm, 4.5mm, 5mm, 5.5mm, 6mm, 6.5mm)
Handle Length: Approx. 4.72inch / 12cm
Hook Length: Approx. 1.57-1.77inch / 4-4.5cm
This LED crochet hook handle has a built-in lithium battery. It can be recharged and reused. 15-minute quick charging and long-lasting for up to 7-9 hours.
USB charging with a wall adapter, power bank, computer, etc.
The ergonomic design handle is made of rubber.
Hooks are smooth and have no rough edges. The hook throat is deep enough to catch the yarn but easy to get into stitches.
Pros
It's comfortable to use and eases hand pressure
There are 2 modes of light – strong and weak
Great for when you're using black yarn
Cons
Some users found they didn't hold its charge
Click to Learn More / Buy from Amazon
Lite Crochet Hooks
These are equipped with an LED light. They're great to work in poorly lit areas or if you're working with dark-colored yarn.
You can choose which size you prefer to use. They're are sold separately.
Pros
Bright light within the hook to help with dim-lit areas.
Cons
Some may not like the plastic hook as it can squeak
Shipping may take time
Crochet Lite Hooks Set
Crochet Lites Hook includes 9 different sizes ranging from 2.5mm to 6.5mm and are color-coded for ease of use.
Sizes included: 2.5mm – C ,3.0mm – D, 3.5mm – E, 4.0mm – F, 4.5mm – G, 5.0mm – H, 5.5mm – I, 6.0mm – J, 6.5mm – K, 9.0mm
These hooks are made of durable materials for a longer life span and are battery operated.
Pros
Operated by a simple on/off switch.
Includes both metric sizing and US sizing
Tapered head
Smooth surface
Cons
Check your gauge when working with these hooks. Online reviewers often suggest the larger sizes in the Crochet Lite range are over-sized.
Your Questions Answered
Where To Buy Lighted Crochet Hooks?
Crochet hooks that light up are available online through many retailers. If you click on the buttons above, you can check which is the best option based on where you live. Take shipping costs into consideration.
You can also find crochet light up hooks in brick and mortar craft stores like Michaels and the craft section in Walmart.
Hopefully, this helped you discover whether light up crochet hooks are right for you. A useful, surprisingly good quality tool.
Note: These aren't to be confused with glow in the dark crochet hooks, which don't have a light, but are rather made with materials that glow.
READ NEXT – Want more info on hooks and their types? See here.
Pin Now to Save for Later