This helpful information includes a crochet tools list and the crochet tools names for easy reference.
Here is a guide to the best tools for crochet. If you start crocheting, it's always a good idea to understand the crochet tools you need to know to get started.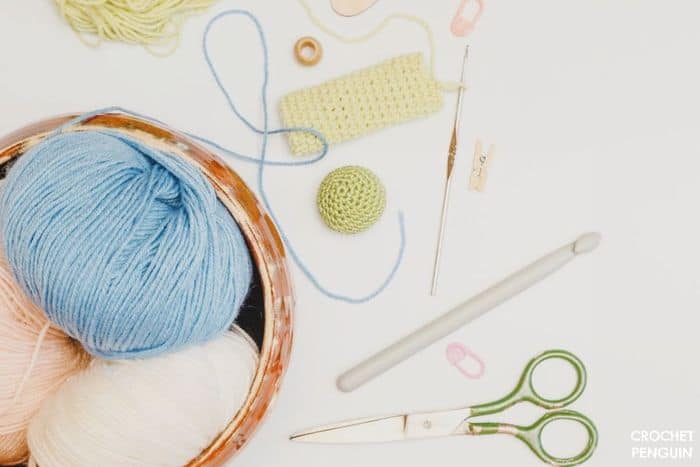 Table Of Contents
What Are The Materials And Tools Used In Crocheting?
If you're looking for the answer to the question: what do you need for crochet, read on.
Yarn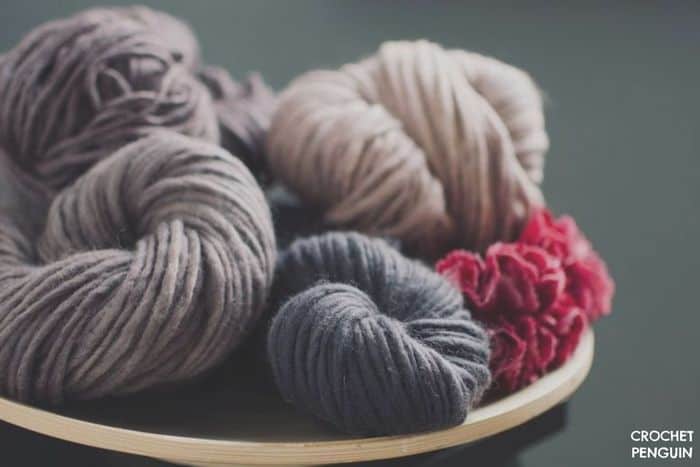 How I love all types of yarn. Different yarns are used for crochet projects. Acrylic yarn is a popular choice due to the many colors it comes in and its affordable price.
Crocheters highly recommend Red Heart and Lion Brand yarns. There are many others that you can use.
For the best yarn to choose, read my post on the best yarn for crochet.
Crochet Hooks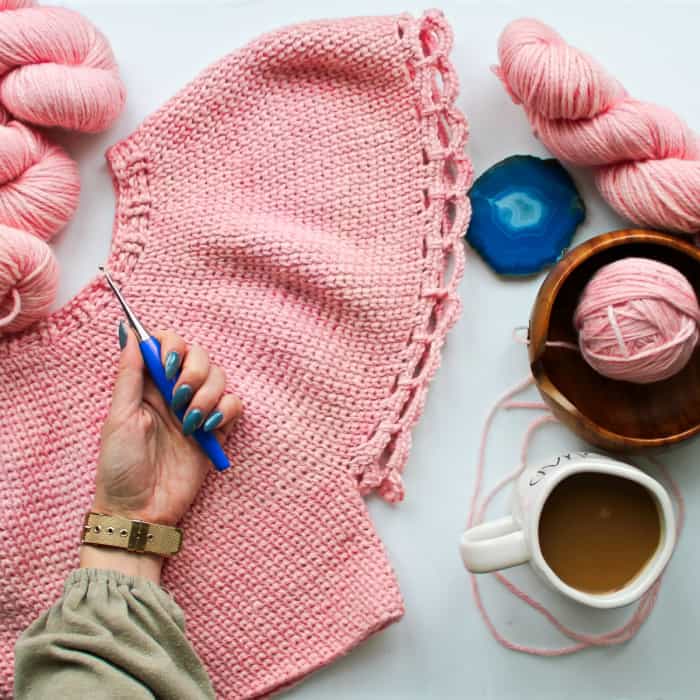 Of course, crochet hooks are essential crochet tools. There are so many variations and sizes.
For more on the best crochet hooks to choose from, please read my post on the best crochet hooks.
If you're a beginner to crochet, consider starting with an inexpensive hook
Scissors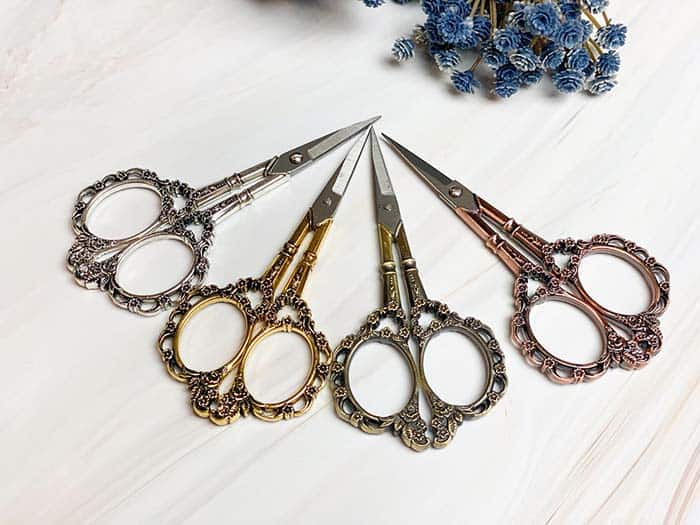 Having good scissors makes sense when you are crocheting. Times scissors are needed – cutting yarn when changing colors, weaving in ends, and making pom poms.
You can also get a yarn cutter pendant, like the one from Clover.
This cutter can be strung on a decorative ribbon and worn as a necklace. The sharp circular blade inside the metal exterior quickly and cleanly yarn and threads.
Click to Learn More / Buy from Amazon
Yarn Needle/Darning Needle/Tapestry Needles
This kind of needle used for crocheting has a giant eye, unlike a sewing needle. The larger eye of the needle makes it easy to insert your yarn or thread to weave in your crochet project's yarn ends.
Tape Measure
An essential crochet tool to measure your crochet project. Crochet patterns will have measurements of how long an item should be and how wide.
They are also great for taking family and friends' measurements to ensure an excellent fit for any crocheted garments you might make for them.
Click to Learn More / Buy from Amazon
Crochet Hook Case Or Hook Organizer
Having your favorite hooks all in one handy case or organizer is a great idea. Both have sections for individual hooks and room for all your notions like stitch markers, scissors, and a tapestry needle.
Click to Learn More / Buy from Amazon
Stitch Markers
Stitch Markers help keep you to keep track of stitch pattern repeats, the beginning of a round or end of around. There are so many beautiful stitch markers available, but here are some that are very popular.
Click to Learn More / Buy from Amazon
Row Counter / Digital Row Counter
Forget the notebook and pen to write down your rows. Row counters are available in different forms, and this one is a digital row counter.
You press the button every time you finish a row, and it records it digitally. It has an adjustable band to fit on your finger. These are handy crochet tools that crocheters recommend.
Stitch Patterns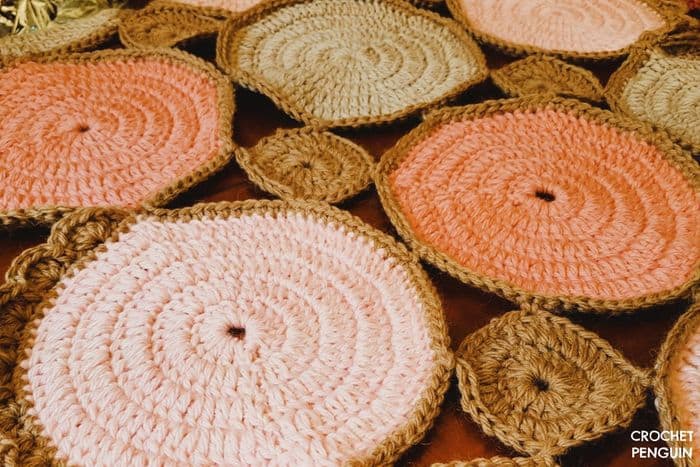 There are so many crochet stitch patterns to enjoy. Many are available on the internet, and crochet experts often have video tutorials that give you step by step instructions on doing a specific stitch.
Crochet Patterns will involve different stitch patterns depending on the project you undertake.
Think amigurumi, sweaters, hats, mittens, gloves, cowls, scarves, home decor items, and afghans/blankets. Here's my post that shares some excellent crochet pattern books.
Crochet Book Or A Stitch Dictionary
A recommended book would be Crochet Stitch Dictionary: 200 Essential Stitches with Step-by-Step Photos by Sarah Hazell. It has excellent instructions to show you how to do different techniques.
Click to Learn More / Buy from Amazon
For more excellent crochet books, please read my post.
Crochet Materials Organizer
Crochet Materials organizer for crochet hooks, yarn, scissors, and needles. Keep everything together and organized. Great for having at home and when you are crocheting on the go.
This bag has compartments with plenty of compartments for any other bits and pieces you may have.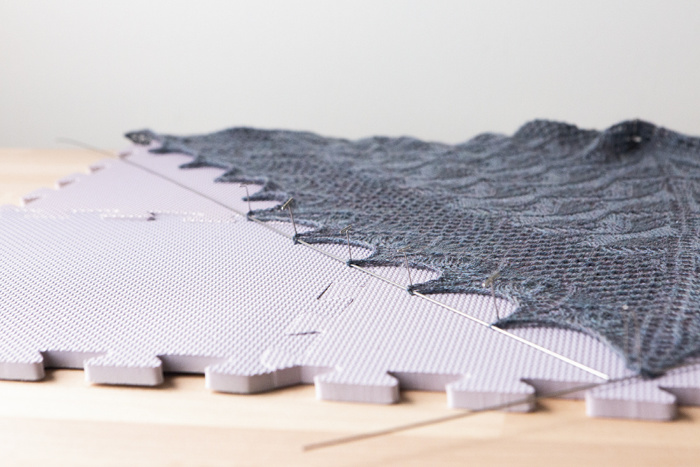 Blocking boards and mats are great tools to have when you are working through blocking your crochet projects. They help your project to have lovely clean edges like granny squares and open up any intricate stitch patterns.
Click on the links above to read my reviews.
Yarn Storage
Keeping yarn neat and tidy is easy if you have a dedicated craft room with lots of cupboards. If you are only storing yarn away for a current project, this bag is a great option.
Click to Learn More / Buy from Amazon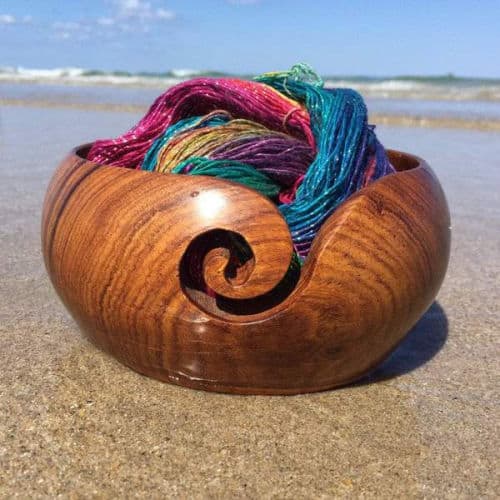 Yarn bowls help to keep your yarn from rolling off the couch and onto your floor. They are a fantastic tool, and the different materials they are made from and the features are varied.
I've shared some beautiful yarn bowls in my guide.
Crochet Tools For Beginners – What Tools Do I Need For Crocheting?
If you're a beginner, the tools you need for crocheting are only the following.
Yarn
A crochet hook
A Pair Of Scissors
That's it; this is all you need to get started! You can always add to your crochet supplies if need be later.
Your Questions Answered
What Are The Most Popular Crochet Items?
The most popular crochet items are infinity scarves, crocheted hats and beanies, baby clothing, and amigurumi.
How Many Hooks Do You Need To Crochet?
To get started, you only need one recommended for your yarn and the pattern you have chosen. As your confidence grows and your crocheting skill increases, more hooks of differing sizes will be needed.
I hope this guide on the best crochet materials and tools was helpful.
Let me know if you have any favorite crochet tools that I haven't mentioned. I'd love to hear about them.
Pin Now to Save for Later