Are you sick of chasing your yarn around as you crochet? I have the answer – get yourself a yarn bowl.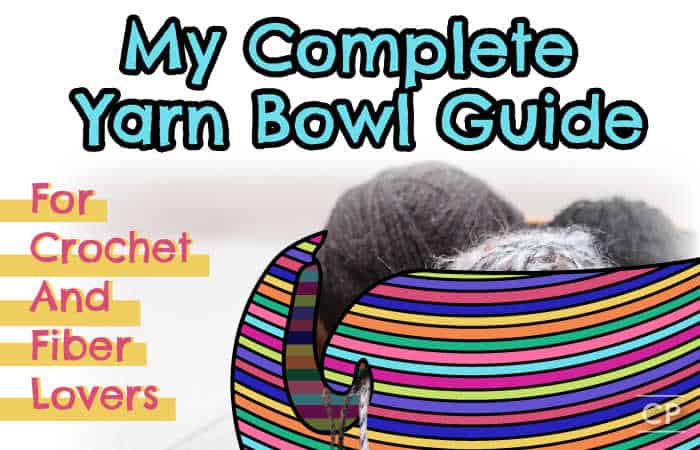 A beautiful and functional tool to keep yarn in one place. Learn more and read my reviews below.
At A Glance – The Contenders For The Best Yarn Bowl
(Clicking the links above will take to you Amazon and Etsy)
Table of Contents
What Is A Yarn Bowl?
A Yarn Bowl is a bowl with a flat bottom and high sides, with a swirl cut in one side. This is where the working yarn is threaded through.
The materials they are made from differ, some are made from wood, others ceramic, plastic or sometimes even metal.
Often they have circular cutouts for storing hooks or when using more than one yarn in your project.
What Is A Yarn Bowl For?
A yarn bowl is used to keep your yarn from rolling around when you are crocheting.
The weight of the bowl allows the ball of yarn to roll around inside without getting tangled. The high sides keep it in place.
Why You Should Use One
To keep you from wasting time chasing your yarn around.
Yarn bowls keep your yarn clean, preventing it from collecting fluff or dust.
You can move it wherever you feel like crocheting.
Convenient to when working with multiple yarns
They are a yarn holder and also look beautiful.
Keeping your yarn safe from pets
What Size Yarn Bowl Is Best?
The best size yarn bowl is 6½ – 8 inches wide and 3½ – 4½ inches tall. This will fit most yarn balls and the sides are high enough so it doesn't jump out as you crochet.
Most medium size yarn bowls are approximately 5-6" in diameter and 3" high. Small bowls are approximately 4" across and 2-3" high while large bowls are 6-8" across and 4-5" high.
A tip is to measure the width and height of the wound balls you mostly use in your crochet projects. This will help you decide which size is best for you.
How To Choose a Yarn Bowl
Yarn bowls are wooden, ceramic, plastic or metal – Which material do you prefer?
No rough edges where the yarn comes through
High walls
A wide, flat base with some weight so it is stable when the yarn moves around in it.
An opening where you can thread the yarn from the top
Yarn Bowl Buying Guide
Here are some beautiful yarn bowls that I've reviewed.
Yarn Valet Yarn Bowl
The non slip rubberized base acts as a suction cup to stop it from moving on smooth surfaces. The entire bowl is unbreakable. Measures approximately: 6″ length, 3″ height, 6″ width.
Pros
Lightweight and easily transportable
Won't break if accidentally knocked over
Fits smaller balls and larger skeins, the hole at the top is for string of yarn of small balls, the one at the bottom is for larger balls.
Made in the USA
Long lasting
Cons
Some people might not like the 'plastic' look
Bamboo Yarn Bowl With Lid
Made from 100% bamboo. The surfaces are smooth so your yarn won't catch as you crochet. The top is a great addition to keep yarn clean from dust. Measures 5.5″ diameter x 3.5" height.
Pros
Lovely feel and aesthetic
Lightweight
Bamboo is a sustainable material
Cons
Only holds small balls of yarn up to 50g with the lid on
Click to Learn More / Buy from Amazon
Hagestad Classic Rosewood Yarn Bowl
A high gloss wooden yarn bowl. The surfaces have polished so that there is no chance of yarn snagging and keeps good tension. Approximately 7″ diameter x 4″ height. can comfortably fit a 5oz ball of yarn. The travel pouch is included so you can easily take it anywhere. There are 2 holes for storing your crochet hooks. The holes are 6.5mm in diameter.
Pros
Lifetime guarantee
Large size can hold bigger balls
Cons
The manufacturer are honest about their product having an odor that will go away with time
Click to Learn More / Buy from Amazon
Hand Painted Kitty Cat Yarn Bowl
If you love crochet and cats, this is the yarn bowl for you! Handcrafted yarn bowl by Cape Cod artisan Judith Stiles. The design is inspired by Meg the Cat, who pulls loose yarn balls onto the floor.
Measures 5 1/2″ in diameter and 3 1/2″ inches in height.
Pros
Fun design and lovely colors
Sturdy and heavy base
Smooth surfaces that won't catch the yarn
Cons
The nature of ceramic is that if you accidentally drop it, it will break. However ceramic lasts for a lifetime is well looked after.
Click to Learn More / Buy from Amazon
Handmade Wooden Bowl By Darn Good Yarn
The Sheesham Wood (Indian Rosewood) is smooth and polished to highlight the natural grain of the wood. It measures 2.5″ x 5″ and will comfortably fit a 3.5 oz/100 gram ball of bulky yarn. When purchasing you help to support the Co-op of craftspeople in India.
Pros
Heavy base which keeps it from moving
Lightweight enough to be transportable
Cons
Click to Learn More / Buy from Amazon
Yarn Bowl Hand Thrown Stoneware
Michael Fillus-Sherman of Avior Pottery's product has a clean, smooth swirly loop for the yarn. The artist sizes them a little larger then the norm to help hold larger amounts of yarn.
The Volcano Blue glaze combination has an earth toned bluish grey body, overflowed by a dripping rim of deep iridescent color.
Approximate Dimensions: 5 1/2″wide X 4″height.
Each piece is made to order so will vary slightly because they are individually thrown and fired.
Pros
Beautifully handmade
Gorgeous functional design
Smooth swirl for where the yarn goes through
Great customer reviews
Cons
As each bowl is made to order expect around 3 weeks for shipping
We Crochet Rosewood Yarn Bowl
We Crochet prides themselves in having products that will suit the needs of crocheters. This wooden one keeps your cherished yarn clean and off the floor. The swirl is super smooth to ensure that the yarn glides through easily as you work on your projects.

A tapered bowl with an opening diameter of 5" and a middle bowl diameter of 6″.
Pros
The grains of wood are highlighted to give a lovely finish
Smooth surfaces
Good for those on a budget
Cons
Sculptured Face Ceramic Yarn Bowl
This amazing piece of artwork is bound to bring a smile to your face every time you look at it. It would certainly be a conversation starter.
Each one is an original one-of-a-kind piece that is given a name which will appear on its the birth certificate that will come with it. Some people prefer to name their own. Just let the seller know if you want to do that and they will put that name on the birth certificate.
Dimensions (approximate) of a regular yarn bowl – 2 3/4″ tall, 6 1/4″ wide
and weighs 1.7 lbs
All of artist Something Lucky's work is safe for food use and all of our glazes are lead-free and non-toxic.
Pros
Such a fun practical piece of art
Multipurpose – can hold chips, nuts, candy and great for a string dispenser
Cons
Just be prepared for the reactions of family and friends who think it is less than lovely!
Maplewood Yarn Bowl
Made from Maplewood it has a lovely design and three places you can store your hooks.
The glossy coat brings out the rich detail of the natural wood grain while providing a luster and glow.
A tapered bowl with a flared opening; top and widest middle are 6″ diameters, narrowest point is 4.5″ diameter.
Pros
Cons
Not suitable for large skeins of yarn
Sleepy Sheep Ceramic Yarn Bowl
This cute sheep-shaped version keeps your yarn free of annoying tangles and knots. Just drop a ball or skein into the center and thread the yarn through the curly sheep's tail opening in the back of the bowl.

Measures 6″ in diameter, 4 1/2″ in height it has a lustrous glaze and adorable details. It will hold about 3oz of yarn.
Pros
A super cute design
Functional and smooth edges
Cons
Is a small size so won't hold a large yarn ball
Click to Learn More / Buy from Amazon
Glazed Ceramic Floral Design Extra Large Yarn Bowl
This is quite a heavy option weighing 2.75 pound/1250g. You wouldn't want it dropping on your foot!
The extra space means you can have more than one ball of yarn at a time.
Pretty orange floral design on a turquoise background
Click to Learn More / Buy from Amazon
Yarn bowls make crocheting easier, they keep yarn in place and save you from chasing it all over the place. And reminding you that it's probably about time you did some housework because the floors need attention.
Who needs that when you could be crocheting 🙂
Hope you find one you love and my reviews have helped with your decision. If you're looking for more options, check out the luxurious furls yarn bowls.
Happy crocheting with your new favorite tool.