Sick of chasing yarn around as you crochet? It's a sign you need a yarn bowl. A beautiful and functional tool to keep yarn in one place. There are many shapes and designs to choose from.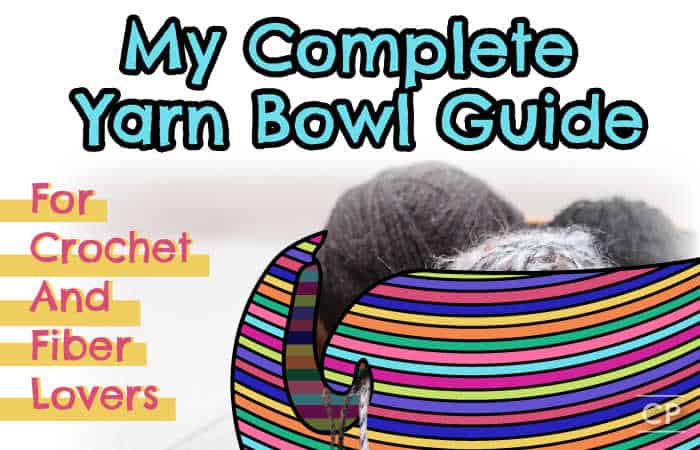 My Quick Recommendations
I reviewed, fact checked and updated this post on April 19, 2023
Table Of Contents
Here is a selection of some beautiful yarn bowls I've reviewed. Enjoy perusing your choices in this yarn bowl collection. Unruly yarn will be a thing of the past in your home!
Yarn Valet Yarn Bowl
Check Price On Amazon
The non-slip rubberized base acts as a suction cup to stop it from moving on smooth surfaces. The entire plastic yarn bowl is unbreakable.
It's a larger size compared with the wooden or ceramic crochet bowl in this list, at 6″ length, 3″ height, 6″ width. This is an advantage if you often use larger yarn skeins or yarn cakes to crochet.

Pros
Lightweight
Transportable
Made of ABS plastic
Affordable price
These ones won't break if knocked over
Fits smaller balls and larger skeins
Top hole is for small balls, the bottom one is for larger balls
Made in the USA
Easy to stash in your yarn bag
The company treats its customers well
Long-lasting
Safe around kids and your dog
Great value
Ships to the United Kingdom
Cons
Some people might not like the 'plastic' look on these tools
Some may not like the shape
Bamboo Yarn Bowl With Lid
Check Price On Amazon
Made from 100% bamboo. The surfaces are smooth, so your yarn won't catch as you crochet. These bowls come with a lid. This is a great addition to keep yarn clean from dust.
Measures 5.5″ diameter x 3.5" height.
Pros
Lovely feel and aesthetic
Lightweight
Bamboo is a sustainable material
Makes a great gift
Stay tangle free!
Ships to nearly any international delivery address
Cons
Only holds small balls of yarn up to 50g with the lid on
Willbond Wooden Wool Bowl
A high gloss wooden yarn bowl. Polished surfaces, so there's no chance of yarn snagging on the wood finish.It keeps good tension. Take these items anywhere with the included travel pouch. There are 2 (6.5mm diameter) holes for storing your crochet hooks or knitting needles.
Approx 6″ diameter x 3″ height – Fits a 5oz ball of yarn.
Pros
Lifetime guarantee
Large size holds bigger balls
High customer ratings
Place your notions in it too!
Supports all sorts of yarn ball sizes
Great for home décor too
Cons
Has an odor that will go with time
Handmade Kitty Cat Yarn Bowl
If you love crochet and cats, this sort of yarn bowl is for you! A handcrafted yarn bowl by RobinBadgerPottery.
5 1/2″ in diameter and 3 1/2″ inches in height.
Pros
Fun design and lovely colors
Sturdy and heavy base
Smooth surfaces don't catch the yarn
A favorite of the crochet and knitting community
Bring some joy to your hobbies
Cons
If you drop it, it breaks. However, ceramic lasts a lifetime if well looked after
Hand Thrown Stoneware Wool Bowl
Michael Fillus-Sherman of Avior Pottery's wool bowl product has a clean, smooth swirly loop for the yarn. The artist sizes them to hold larger amounts of yarn. The Volcano Blue glaze has an earth-toned bluish-grey body with a rim of deep iridescent color. Makes a real difference to your crochet experience. Each piece is made to order.
Approximate Dimensions: 5 1/2″ wide X 4″ height.
Pros
Cute and beautifully handmade
Gorgeous, functional design
Smooth swirl cutout for where the yarn goes through
Great customer reviews
A true work of art
Ships free to the United States
Suits many people
Cons
As each bowl is made to order, expect around 3 weeks for shipping
We Crochet Rosewood Holder -Suits Medium Sized Yarn Balls
We Crochet prides itself in having products to suit crocheters' needs. This wooden one keeps your cherished yarn clean and off the floor. The swirl is super smooth to ensure yarn glides through easily.
Opening diameter of 5" – middle bowl diameter of 6″.
Pros
Sturdy
Highlighted wood grains for a lovely finish
Smooth surfaces
Good for those on a budget
Excellent for crochet and knitting projects
Useful for another purpose – an idea is putting lots of small things inside
Safe to use around children and pets
Keeps fiber from becoming a mess!
Cons
Sculptured Face Ceramic Yarn Bowls
This amazing artwork is bound to bring a smile to your face every time you look at it. It's a conversation starter! Each is an original piece with a name on its birth certificate. Some people prefer to name theirs. Tell the seller, and they'll put that name on. Safe for food use, and glazes are lead-free and non-toxic.
Dimensions (approx) – 2 3/4″ tall, 6 1/4″ wide, weighs 1.7 lbs
Pros
Fun, practical piece of art
Large slot to suit any yarn
Multipurpose – holds chips, nuts, candy and great for a string dispenser
Good for storing crocheting notions too
Some have two slots
No snags
A variety of designs and versions to choose from
Cons
Prepare for the reactions of family and friends who think it's less than lovely!
Pieces are unique, so there's limited availability. They do custom pieces though
Made of a fragile material. Treat these things with care
Maplewood
It has three places to store your hooks. The glossy coat of the wood design brings out the rich detail of the natural wood grain while providing a luster and glow. A tapered bowl with a flared opening.
Top and widest middle – 6″ diameter
Narrowest point – 4.5″ diameter.
Pros
Lovely to use
Sturdy
Shop has easy to use interface and checkout
Suits knitters and crocheters
The several holes are great for fair isle patterns and other crafts
Cons
Not suitable for large skeins of yarn
Sheep Ceramic
Check Price On Amazon
This sheep-shaped version keeps your yarn free of annoying tangles and knots. Drop a ball or skein into the center. Thread the yarn through the curly sheep's tail opening in the back of the bowl.
Pros
Super cute design
Functional and smooth edges
Lustrous glaze
Adorable details
The cut out doesn't catch the yarn
Feels lovely in your hands
Makes a great decorative piece in your house
These make great gifts
Cons
Won't hold a large yarn ball
Unicorn Yarn Holders
No products found.
Check Price On Amazon
This is an excellent option for extra large crochet or knitting yarn. Can be used as a crochet bowl or knitting bowl. The whimisical design is fun for those who love magical creatures. The glazed surface makes sure there is not catching of your fiber as you craft.

Pros
Fun loving design
Glazed surface so yarn doesn't snag
Large size
Cons
The nature of this product is that it can break if dropped
The painted decorations can have imperfections
Glazed Floral Extra Large Sizes
Check Price On Amazon
A pretty orange floral design on a turquoise background.
Pros
The extra space means you have more than one ball of yarn at a time
Fits any yarn weight
Cons
Heavy – weighing 2.75 pounds/1250 g. Don't drop it on your foot!
Want more options? Try the Nagina International Mango Wood Knitting Bowl or the BambooMN yarn bowl.
I would also highly recommend Lenny Mud yarn bowl designs if you or your friends have a cheeky sense of humor.
What Is A Yarn Bowl?
A Yarn Bowl is a bowl with a flat bottom and high sides, with a swirl cut on one side. This is where the working yarn is threaded through. The materials are wood, ceramic, plastic, or metal (usually aluminum). Often they have circular cutouts for storing hooks or when using more than one yarn in your project.
A yarn bowl keeps your yarn from rolling around when you are crocheting. I've lost count of how many times I've tried to wrestle with tangled yarn! Chasing yarn under chairs and tables is annoying. Knots form almost instantaneously in string. (1)
The bowl's weight allows the ball of yarn to roll around inside without getting tangled. The high sides keep it in place. Every crocheter needs some essentials (like yarn, hooks, a ruler, and stitch markers), and a yarn bowl is one!
What Is The Point Of A Yarn Bowl? – Factors & Reasons To Consider
The benefits of having a yarn bowl are numerous! Here are some:
The most important reason is to keep you from wasting time chasing your yarn around! You'll feel much more content
Yarn bowls keep your yarn clean, preventing it from collecting fluff or dust
Move it wherever you feel like working on your crocheting or knitting project
Useful in other ways too. Like storage for things like keys or use them as a decor piece
Enhance your crochet or knitting experience
Convenient when working with multiple yarns in your projects
They are a yarn holder and also look beautiful in your living room
Keeping your yarn safe from pets
Easy to keep within arm's reach
Add beauty to your hobby
What Size Yarn Bowl Is Best?
The best size yarn bowl is 6½ – 8″ wide and 3½ – 4½" tall. This fits most yarn balls. The sides are high enough, so it doesn't jump out.
Small bowls – 4" across | 2-3" high
Medium size yarn bowls – 5-6" diameter | 3" high
Large bowls – 6-8" across | 4-5" high
How Big Should A Yarn Bowl Be?
Measure the range of the width and height of the wound balls you use. It's best to err on the side of bigger if you use thick threads like bulky yarn.
How To Choose a Yarn Bowl
Here are my tips to pay attention to when choosing a yarn bowl:
Wooden, ceramic, plastic, or metal – Which material do you prefer?
No rough edges where the yarn comes through
High walls
What amount of yarn do you want to hold?
What style do you prefer? There are many to choose from, like classic minamlist designs or ones painted with flowers or text
Choose something with a good circumference
Wide, flat base with weight, so it's stable when the yarn moves around
An opening where you thread the yarn from the top
What Can I Use Instead Of A Yarn Bowl?
You can use any of the following: a teapot, a woven basket, a colander, a plant pot with drainage holes, a tote bag, a water jug, or ziplock bags.
Are Yarn Bowls Any Good?
Definitely! Yarn Bowls are well-made, beautiful, and functional.
Conclusion
Yarn bowls make crocheting easier. They keep yarn in place and save you from chasing it all over. Happy crocheting with your new favorite tool! Want to share your favorite yarn bowl? Tell me in the comments using your email address.
Hope you find a choice you love, and my reviews helped your decision. Looking for more options? See the luxurious furls yarn bowls.
Looking for more info on yarn? See here.
References
Jawed, M. K., P. Dieleman, B. Audoly, and P. M. Reis. "Untangling the Mechanics and Topology in the Frictional Response of Long Overhand Elastic Knots." Physical Review Letters 115, no. 11 (2015). https://doi.org/10.1103/physrevlett.115.118302.