Your project bag holds everything you need for crafting, so take your time choosing the right one.
Keeping everything secure and organized is simple with a project bag. Here's your guide to the best crochet project bag.
Your bag carries patterns, tools, writing implements, yarn cutter/scissors, and, of course, yarn.
I reviewed and updated this post on January 8, 2022.
Table Of Contents
Crochet Project Bag With Dividers
This craft caddy has everything you need to organize your crochet tools and projects. It has removable and adjustable dividers, which can accommodate several configurations.
Padded handles and sides make it easy to carry while protecting your supplies. It measures (15.25 x 9.5 x 8 inches).
Pros
There are 17 interior and exterior pockets
Spacious
Sturdy material
Lightweight
Cons
The dividers don't attach to the bottom so small items can roll around the bottom of the bag.
Click to Learn More / Buy from Amazon
Drawstring Bag For Crochet Project
This lovely heavy 100% cotton canvas fabric drawstring crochet bag features two handles, drawstring closure, two interior pockets, four exterior pockets, and has a flat bottom. There are lots of colors to choose from.
Measurements approx: Base: 11″x7″, Top: 18″ wide and Height: 14.5″.
Pros
Washable (line dry, so it doesn't shrink!)
Easily holds 12 skeins and a project.
Professionally sewn seams
Cons
Some of the more popular colors may be sold out
Large Crochet Project Bag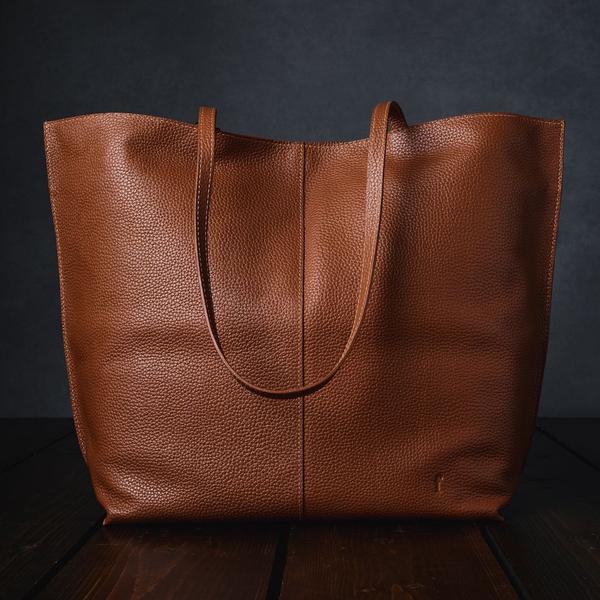 Furls' Project Handbag comes equipped with 38 tool spaces and two additional accessory pockets.
It has a generous interior pocket that can hold up to 872yds (799m) of yarn, and also has a magnetic closure. Available in black or tan leather.
Pros
Elegant design
Lots of space for different hooks
Sturdy
The bag can hold your project, yarn, and pattern
The two handles are strong and comfortable.
Cons
It's on the pricier side
Not suitable for Vegans
Crochet Travel Case
This is a stylish option for when you crochet on the go. It fits under most airline seats.
Pros
Tray for organizing notions
big enough to hold several yarn balls
Protected by metal feet on the bottom
Designed to be worn across the body or over the shoulder
With removable handles
The magnets included can hold your patterns on the metal lid
There are five different colors to choose from.
Cons
Not machine washable but you can spot clean it
Crochet Project Holder
This bag has a taller profile, better suited to hold large yarn skeins than other crochet project bags. It's made from durable polyester, features reinforced sides for durability and two reinforced strong carrying handles for travel.
There are different slots, zippers, and pouches providing multiple options for your yarn to stay tangle and snag free and your hooks in place.
It measures 12 x 8.5 x 11 inches.
Pros
Flat bottom
Plenty of space
Big enough to hold larger crochet projects
Cons
Click to Learn More / Buy from Amazon
Little Cotton Bag To Carry Crochet Project
This little cotton project bag features a dogwood branch with two yarn-ball flowers. Made from sturdy cotton fabric, it's perfect for small projects like socks, hats, and mittens!
It measures 8 x 9 3/4 inches.
Pros
Sweet nature-inspired design
Affordable
Cons
Only suitable for small crochet projects
Crochet Project Zip Bag
A zipped quilted project bag suitable for storing crochet projects in progress and comfortably holds six (100 g) skeins. This quilted project bag is free standing and has a flat base but has a soft structure.
Made from 100% cotton/linen (exterior) natural cotton lining and polyester wadding. Zip fastening with interior pockets. Side handle and looped tab with a lobster clip.
The size of this bag is approx: Width 36 cm (14 inches), Height 28 cm (11 inches), and Depth 12 cm (4.5 inches).
Pros
Professionally sewn
Lovely fabric design
Perfect for medium-sized projects
Wrist handle on the side
Cons
No strap to carry over your shoulder
Blue Crochet Project Bag
Atenti's Borsa Project Pouch called Trinity is in a Southwestern-inspired woven blue fabric. This large pouch has an end to end zipper closure and a detachable leather shoulder strap.
Fully lined in water-resistant tan taffeta featuring a zippered pocket, two slotted pockets, and stoppers on the bottom.
Measurements : 14.00″W x 10.00″H x 5.00″D.
Pros
Gorgeous fabric
Holds small crochet projects
Cons
Not suitable for vegans
Pricier
Medium Hand Dyed Drawstring Bag
No products found.
The eco-cotton hand-dyed fabric with lovely tones of orange will certainly be admired by the people in your crochet group.
It's machine washable (on a cool delicate program) and you can iron it too. This bag is roomy with inside pockets for your hooks and notions.
The handle for your wrist makes it a great option for when you are crocheting on the go.
No products found.
Comparable Products To Consider
Keep your crochet tools organized with my crochet organizers post.
I hope my guide has helped you. If you have a favorite Crochet Project Bag, be sure to let me know. Get in touch with me here or leave a comment below.
Pin Now to Save for Later