Here are the top crochet books and best crochet books for beginners. A wonderful resource for any crocheter's library. Crochet books are a wonderful way to learn techniques and stitches. Crocheting books with patterns are excellent for inspiration!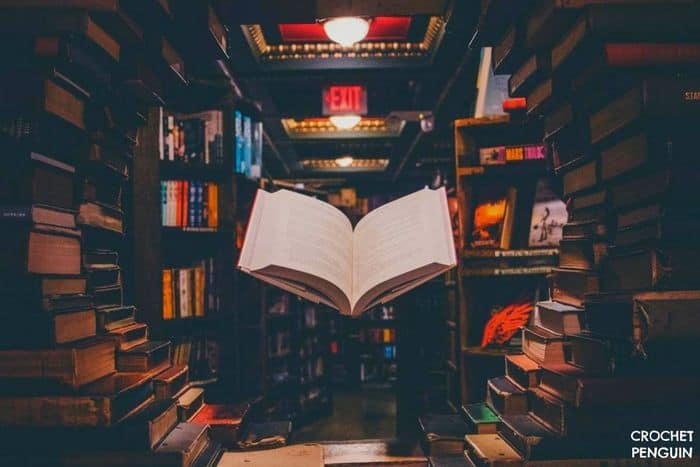 I reviewed, fact checked and updated this post on April 18, 2023
Table Of Contents
What Is The Best Book To Learn Crochet?
Learn to Crochet, Love to Crochet By Anna Wilkinson – Beginner Crocheter Friendly
Over 20 Crocheted Accessories & Garments to Make for You and Your Friends
Check Price On Amazon
A crochet book with over 20 projects, a wonderful book to help you choose your first project. The first ten are focused on how to crochet for beginners. The second ten is focused on expanding your knowledge and creating a fantastic handmade wardrobe.
Anna Wilkinson is a knitwear and crochet designer who's worked for several high-profile fashion houses and the author of other crochet books.
Best General Books For Crochet
The Crochet Answer Book, 2nd Edition By Edie Eckman
Solutions to Every Problem You'll Face; Answers to Every Question You'll Ask
Check Price On Amazon
A perfect reference book for almost every problem you might encounter on your crocheting journey. Edie Eckman is a teacher, designer, and author of several helpful crochet books and others on other crafts.
Hooked on Crochet by Ruth Maddock – Includes Beginner Techniques
Check Price On Amazon
Written for the absolute beginner crocheters, she guides you through your first stitch on your crochet hook to more complicated garments and items. Plenty of visual guides, simple instructions, tips, and hacks in this crochet book. Ruth Maddock is a designer trained in the fashion industry. She mixes classics and modern takes in her designs.
Stitch 'N Bitch Crochet: The Happy Hooker by Debbie Stoller
Check Price On Amazon
One of the best crochet books for a modern audience who's afraid to pick up this craft because 'grandmothers do it.' This book debunks myths and stereotypes while you learn a wonderful hobby. Debbie Stoller is the author of crochet books and others in the stitch & bitch series.
How to Crochet by Pauline Turner
The Definitive Crochet Course, Complete With Step-By-Step Techniques, Stitch Libraries, and Projects for Your Home and Family
Check Price On Amazon
A definitive guide with lots of details on every aspect you could want to know. Sections dedicated to different types of this hobby, plus information about their origins. Pauline Turner is a writer of several excellent resource books on a variety of crafts.
A to Z of Crochet by Martingale
The Ultimate Guide for the Beginner to Advanced Crocheter
Check Price On Amazon
A focus on techniques, stitches, fixing errors, and problems for all skill levels. An ultimate guide!
Crochet Stitch Dictionary by Sarah Hazell – 200 Crochet Stitches
200 Essential Stitches with Step-by-Step Photos
Check Price On Amazon
A wonderful place to get started in your learning stitches journey. Divided into sections to make it easier and organized by difficulty level, a library in one crochet book. Sarah Hazell writes many reference libraries and helpful resources like this.
Crocheting in Plain English by Maggie Righetti
The Only Book any Crocheter Will Ever Need
Check Price On Amazon
She makes a bold claim with the title, but it's true. A complete resource on everything to learn crochet. From the basics to caring for your crocheted items, it has lots of information without being overwhelming. Maggie Righetti is an instructor, teacher, and author who's been an expert in her field for many years.
Simple Crocheting by Erika Knight
A Complete How-to-Crochet Workshop with 20 Projects
Check Price On Amazon
A workshop in a crochet book, what an excellent idea! Take it at your own pace, and Erika hasn't forgotten anything. Take on gorgeous projects with ease while challenging yourself and learning. Erika Knight creates workshops based on simple, easy to understand principles.
Crochetterie By Molla Mills
Cool Contemporary Crochet for the Creatively-minded
Check Price On Amazon
Though the title is a mouthful, it's true! Create stylish and functional garments, accessories, and items for those around you and your home, while growing in your skillset. Molla Mills is a Finnish blogger and designer focused on modern, contemporary, and functional creations.
Crochet Step By Step By Sally Harding – Including How To Read A Pattern
Check Price On Amazon
Learn from the very basics to more complicated projects with simple steps and excellent visual procedures. More than 100 stitches and techniques are included, with a simple guide on reading patterns. Plus, lots more. Sally Harding has published many crochet pattern books.
Calamity-Free Crochet By Catherine Hirst
Troubleshooting Tips and Advice for the Savvy Needlecrafter
Check Price On Amazon
Think of this as a manual for whenever you have a problem. Like your knowledgeable friend who can help you solve your problems but lives on your bookshelf or e-reader. The author creates wonderful crochet books bringing classic, timeless elements of crafts with a modern twist.
Modern Crochet By Molla Mills
Crochet Accessories and Projects for Your Home
Check Price On Amazon
Create excellent decor and functional items for your home, plus ideas for gifts, accessories, and many more. Stunning photography and colorful patterns.
Crochet Your Way By Susan Levin & Gloria Jensma
A guide to developing your skills and individual style, leading up to creating an original afghan crochet you can wear. Plus, more than 20 projects to try.
Susan Levin and Gloria Jensma are instructors and designers who teamed up to create this excellent publication.
Check Price On Amazon
150 Favorite Crochet Designs By Mary Carolyn Waldrep
Check Price On Amazon
Published by Dover Publications, a trip through crocheting history as much as a collection of designs to try. Showcasing the best designs from the late 19th century to the present day. Mary Carolyn Waldrep has written many crochet books and others on arts and crafts, from embroidery to scrapbooking.
Tunisian Crochet – Basic & Textured Stitches – Vol 1 By Petra Tornack-Zimmermann
Check Price On Amazon
A wonderful stitch dictionary for perfecting the skill of Tunisian Crochet. All the Tunisian crochet stitches patterns are written in a clear and easy way to understand and the pictures help you see what each should look like.
Best Amigurumi Crochet Books – Amigurumi Patterns
Edward's Menagerie By Kerry Lord – Animal Crochet Amigurumi Projects
Over 40 Soft and Snuggly Toy Animal Crochet
Check Price On Amazon
Full of colorful, lovable characters waiting to be made with simple crochet stitches. A perfect selection of toys or stuffed animals you can make for the little ones in your life or yourself! Be warned. Crochet cute toys and it becomes addictive quickly! Kerry Lord is a designer and owner of the British TOFT Alpaca Shop. Kerry's son Edward inspired the series Edward's Menagerie when she decided to make an Elephant for him.
Unicorns, Dragons, and More Fantasy Amigurumi 2: Bring 14 Enchanting Characters to Life! By Joke Vermeiren
Check Price On Amazon
Amigurumi with a particular focus, fantasy and fantastical creatures. Some examples include fairies, unicorns, dragons, and more. Create a fantasy wonderland full of intriguing creatures. Joke Vermeiren specializes in amigurumi (usually made with worsted weight yarn) for imaginary and real creatures and animals, having published many amigurumi books & on the topic of crochet.
My Crochet Doll By Isabelle Kessedjian
A Fabulous Crochet Doll Pattern with Over 50 Cute Crochet Doll's Clothes and Accessories
For someone who dreamed of having a doll during their childhood but didn't like Barbie's look. It starts as one basic pattern for the toy itself, then over 50 designs for clothing and accessories.
Check Price On Amazon
Hello Kitty Crochet By Mei Li Lee
Supercute Amigurumi Patterns for Sanrio Friends
Check Price On Amazon
Combining two adorable Japanese exports, Hello Kitty and Amigurumi in one, could it be any cuter? Simple patterns to create characters and accessories. Mei Li Lee is a designer and book reviewer who loves anything cute and whimsical. This is a collector's item!
Best Granny Square Crochet Books
Granny Square Crochet Book
35 Contemporary Projects Using Traditional Techniques
Check Price On Amazon
This book draws on both traditional and modern techniques. Bringing a retro item and mixing it with contemporary influences isn't easy, but she pulls it off very well. Thirty-five gorgeous crochet projects. The writer has created many wonderful books bringing the classic, timeless elements of crafts and giving them a modern twist.
Granny Squares Weekend By Emma Varnam
20 Quick and Easy Crochet Projects
Check Price On Amazon
Struggling to find a project to do? At a loss for creativity, and feel like something simple and enjoyable? The whole theme is simple, easy projects you can complete in a few days or a weekend! Emma Varnam is a designer and has published several books.
Granny Squares By Susan Pinner
20 Crochet Projects with a Vintage Vibe
Check Price On Amazon
This book takes granny squares and gives them a retro feel. It teaches you 8 basic patterns you can mix and match to create the 20 project ideas included.
Modern Granny Square Crochet and More By Laura Strutt
35 Stylish Patterns With a Fresh Approach to Traditional Stitches
Check Price On Amazon
Get back to basics with this book. Granny squares, triangles, and more form the basis for lovely household accessories. Everything you need to crochet stylish patterns in geometric shapes. The author is a textile designer, crafter, and fiber arts enthusiast.
Best Crochet Motifs & Border Books
Beyond the Square Crochet Motifs By Edie Eckman
144 Circles, Hexagons, Triangles, Squares, and Other Unexpected Shapes
Check Price On Amazon
Mastered the granny square, and ready for something more complicated? This resource is the answer. Create lovely projects and motifs with over 144 ideas. Edie Eckman is a crochet and knitting teacher, designer, and author of several helpful books on both crafts.
Mandalas to Crochet: 30 Great Patterns By Haafner Linssen
Check Price On Amazon
Mandalas. They're charming, but what about crocheting them? Featuring inspirational photography, this has 30 beautiful patterns to choose from. Haafner Linssen is a blogger and contributor to several magazines. This is her first book.
Crochet Geometry By Shannon Mullett-Bowlsby – Crochet Patterns That Fit And Flatter
Geometric Patterns to Fit and Flatter
Check Price On Amazon
Crocheting garments are complicated. Yet Shannon manages to break it down into simple shapes beginner crocheters can tackle. Featuring clear instructions and visuals, get ready to make your first crocheted clothing item. Shannon Mullett-Bowlsby is an expert teacher and pattern designer. With his business partner, Jason, they run Shibaguyz Designs.
Best Crochet Afghan And Blanket Books
Big Book of Crochet Afghans: 26 Afghans for Year-Round Stitching By Connie Ellison
Check Price On Amazon
There's a project for every season. Sections in this stitch book on incorporating granny squares, lace, and Tunisian stitching in an afghan.
Unexpected Afghans By Robyn Chachula
Innovative Crochet Designs with Traditional Techniques
Check Price On Amazon
Putting a unique twist on the classic afghan, this book features terrific, whimsical designs. Learn traditional and modern techniques.
200 Crochet Blocks for Blankets, Throws, and Afghans By Jan Eaton
Check Price On Amazon
Featuring over 200 "building block" patterns, you can create gorgeous, custom blankets. The author is an expert needlecraft and textile designer.
Best Crochet For Babies Books
Adorable Crochet for Babies and Toddlers By Lesley Stanfield –
22 Projects to Make for Babies from Birth to Two Years
Check Price On Amazon
Cute clothes and accessories for newborns to 2-year-olds. A range of experience levels, from beginner to advanced creations. Lesley Stanfield is a pattern creator, contributor, and editor to several magazines and an author.
Candy Tots: Unique Crochet for Babies & Toddlers By Candi Jensen
Check Price On Amazon
Unique and wonderful patterns by a leading designer for crocheted items for young ones. Combines classic themes with modern ideas.
FAQs About Crocheting Books
Where Can I Buy Crochet Books? You can buy them from any online yarn company and Amazon. Local Bookstores and online bookstores who offer gift cards. Independent store, a local yarn and fabric shop and designers sell them. WeCrochet has some great exclusives.
Conclusion
I hope this selection is inspiring! Enjoy the excellent resources. Plenty of the best crochet books to add to your library, whether a bookshelf or your e-reader. Which of the books appeals to you the most?
Pin For Later