There are many sock yarns, but how do you decide which is best for your crocheted socks? I'll help you find sock yarn on the market perfect for your project and needs.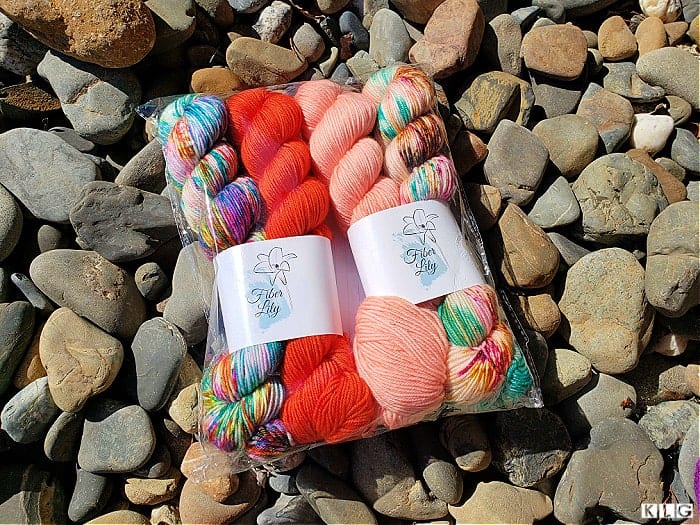 My Quick Recommendations
The above links take you to Amazon & Love Crafts.
Here are some great yarns for socks.
I reviewed and updated this post on January 3, 2022.
Table Of Contents
What To Look For In Sock Yarn For Crochet
Here are some key decision-making factors to consider when choosing the best sock yarn for crochet and knitting.
What Is Sock Yarn?
According to the Craft Yarn Council, a superfine yarn (fingering weight yarn) is most often used for socks. Usually, because anything thicker might not fit your shoe size!
However, you can get away with a thick yarn for a boot sock, like sport weight yarn. If you make wool ones, they're perfect for winter because of the heating capacity. No more cold feet.
What Is Different About Sock Yarn?
Superwash merino wool and nylon blend yarn make hardwearing, long-lasting socks with some elasticity.
Keep in mind pure wool has less stretchiness, stands less abrasion, and is more susceptible to holes over time.
How Do You Choose Yarn For Socks?
It's good to look for a blend of wool with at least 20% nylon. Of course, it depends on your preference of material.
What Kind Of Care Does It Need?
Many sock yarns are machine washable. Others require handwashing. Washing socks happen often, so make it easier for yourself (or the recipient) and ensure they're machine safe.
What's It Made Out Of?
Many different fibers. But the most common fiber content is a superwash merino wool blend.
How Much Yardage?
You need at least 450 yards.
What Yarn Weight Is Best?
Weight sock yarn.
What's Your Budget?
What's the purpose of your socks? Are they a special gift? Are they utilitarian, for the office, or fun bed socks? This matters when it comes to price.
The products I've reviewed below are affordable and won't break the bank.
Is there a best crochet yarn? Let's find out.
What Is The Best Sock Yarn?
Paintbox Yarns Socks
A fantastic selection of colorways in four themes. An excellent selection of self-striping yarn. Great for knitting socks too.
Zebra Print
(Mock) Fair Isle
Stripes (bold colors and graduated)
Pixel (like a uniform speckled yarn)
One skein makes a pair of socks. Some of the best yarn containing superwash wool and polyamide create soft and durable socks.
How Does It Compare?
Care Instructions – Machine washable. Dry flat and don't tumble dry
Made Of – 75% Wool 25% Polyamide
Yardage – 427yds (390m)
Yarn Weight – 4 ply
Skein Weight – 3.5oz
Suggested Hook – 2mm-3mm
Pros
Smoothly spun
Lovely range of fun colors
Machine washable at 40 degrees
Affordable
Squishy when made into socks
Cons
Not as soft as other superwash merino wool yarn blends
Not as many solid stripe options
Complex stitches won't show up well
What would make your next project even more meaningful? Find the best luxury yarn for crochet.
Patons Kroy
These fingering weight sock yarns are durable and soft while retaining warmth. With wool, moisture wicks away from your skin.
The array of striking patterns adds interest and fun to your socks experience. They're great for sock knitting wool socks too.
You'll need two balls for most pairs ankle-length pairs. (For larger men's sizes, three balls for a pair.)
How Does It Compare?
Care Instructions – Washing machine and tumble dry
Made Of – 75% Washable Wool/ 25% Nylon
Yardage – 166 yds (152 m)
Yarn Weight – #1 Fingering 4ply
Skein Weight – 1.75 oz (50g)
Gauge – 22 sc and 24 rows
Suggested Needle – (US D/3) 3.25 mm crochet hook
Pros
The colors don't fade even after many washes
Variety of colors
Sturdy and durable
Warm and comfortable on the skin
Creates a thick fabric
Cons
May be a little itchy on the first wear. They soften after a couple of washes.
The variegated yarns won't give you two precisely the same socks.
May have knots
Check Price On Amazon
What's the best place to buy yarn cheap? Here's how to find it.
Berroco Comfort Sock
Usually, acrylic/nylon blends aren't a good choice. Wool wicks away moisture. Acrylic doesn't. If you're sensitive to wool, this is a good alternative. These would make good knitted socks also.
How Does It Compare?
Care Instructions – Machine wash this acrylic sock yarn inside out and tumble dry on low heat
Made Of – 50% Nylon 50% Acrylic Yarn
Yardage – 447 yards
Yarn Weight – Fingering
Skein Weight – 3.5 oz (100 g)
Suggested Hook – 3.25 mm (D)
Product Design
For people who are sensitive to wool. This acrylic blend is easy to care for and soft against the skin. The nylon adds strength and durability.
Pros
Good quality
Vibrant colors
Great for any weather
Fun self-striping options
Soft to touch
Hard-wearing
Create something else with these, not just socks!
Soft and squishy, they would make lovely bed socks
Cons
You may find your feet sweat a little
They need to be washed after each use as acrylic absorbs odors
Check Price On Amazon
Keep your fiber neat and tidy in a yarn ball holder bowl.
Regia
This type of yarn has a fantastic range of bright, self-patterning sock yarns perfect for simple stockinette stitch socks! A new project is in order 🙂
1 x 100g ball makes one pair of socks. Great for sock knitters too!
How Does It Compare?
Care Instructions – Machine washable and machine dry
Made Of – 75% wool 25% nylon
Yardage – 459 yds (420m)
Yarn Weight – 4 ply
Skein Weight – 3.50oz (100g) ball
Suggested Hook – 2.00-3.00mm
Product Design
For crocheters who love self-patterning socks.
Product Evolution
Schachenmayr, the Regia manufacturer, teamed up with Arne and Carlos, well-known creators, to design their engineered self-patterning range.
Pros
Fabulous engineered pattern and gradient color changes
Excellent price point
Plenty of fun colors and gradients
Has a bit of stretch
Cons
Scratchy but softens with multiple washes
The pattern is a little lost on crocheted socks, looks better on knit socks
Check Price On Amazon
Comfy Fingering
A perfect thinner, lightweight yarn choice. A cotton sock yarns blend is great for those sensitive to wool. WeCrochet offers other yarn weights in this line.
It's good if you want to knit something too.
How Does It Compare?
Care Instructions – Machine Wash Gentle/Tumble Dry Low
Made Of – 75% Pima Cotton, 25% Acrylic
Yardage – 218yds (199m)
Yarn Weight – Fingering
Skein Weight – 1.8oz (50g)
Gauge – 4 inches = 21 – 32 single crochets
Suggested Hook – B-E hooks (2.25mm-3.5mm)
Pros
Ships to New Zealand & Australia
Gorgeous colors in brights and pastels
Soft
Washes well
Make all sorts of things, not only socks!
A lovely drape with a slight sheen
Excellent stitch definition
Doesn't split
Cons
Tends to pill
Cotton isn't as hardwearing as wool
Malabrigo Yarn
A super-soft yarn of 100% superwash merino fibers delightful against the skin. A source of joy for anyone who wears it.
How Does It Compare?
Care Instructions – Machine wash in cold water and dry flat
Made Of – 100% superwash merino
Yardage – 440 Yds
Yarn Weight – Fingering
Skein Weight – 3.5 oz (100g)
Suggested Needle – B (2.25mm) – E (3.50mm)
Pros
Soft and squishy
Gorgeous colorways in solids, speckles, and variegated
Sturdy and durable
Find more gorgeous options (and crocheting tools) on the site store
Cons
There is no nylon which usually helps with the durability of socks. These may not last as long as yarns that have some nylon.
Drops Alpaca
Beautiful sock yarn weight made of alpaca. Perfect for many stitch patterns.
How Does It Compare?
Care Instructions – Hand wash and dry flat
Made Of – 100% superfine Alpaca
Yardage – 183 yds (167 m)
Yarn Weight – Sport
Skein Weight – 1.8oz/50g
Suggested Hook – 3mm
Pros
Super soft
Comfortable close to your skin
High quality
3 strands spun together for durability
Slight sheen
Cons
Handle with care when washing by hand
It may felt
Galileo
This wool and bamboo blend makes lightweight and comfortable socks. However, it needs handwashing. Keep that in mind if you're not a fan of extra work!
It might take more room in your shoes as it's thicker than fingering. They'd be great boot socks!
How Does It Compare?
Care Instructions – Hand wash and dry flat
Made Of – 50% merino 50% viscose from Bamboo
Yardage – 131 yds
Yarn Weight – Sport
Skein Weight – 1.8 oz (50g)
Gauge – 4×4 inches 16 – 20 single crochets
Suggested Hooks – E-7 hooks
Pros
Soft and breathable
Doesn't split
An interesting texture
Affordable shipping
Would make a luxurious gift for someone
Great for someone who doesn't like wools
Cons
Limited colors
Only available in sport weight
Looking for more? Try Capretta Superwash, a cashmere and merino blend. Or Mini Maiden, a hand-dyed blend of silk fiber and wool.
Which Is Best For You?
Paintbox Yarns Socks – Self-striping socks
Patons Kroy – Durable hardwearing socks
Berroco Comfort Sock – Super soft, perfect for bed socks
Comfy Fingering – Excellent alternative to wool
Regia – For fabulous self-patterning socks
Malabrigo Yarn – Luxury 100% Merino Socks
Drops Alpaca – Luxury softness 100% Alpaca
Galileo – Excellent choice for a blend of merino and bamboo
Want another option? Try wool yarns like KnitPicks Stroll Tonal.
Q&A
What Is Sock Weight Yarn?
A superfine yarn.
Is Dk Yarn The Same As Sock Yarn?
No. A DK weight is thicker than a sock weight yarn.
Is Sock Yarn 4 Ply?
Yes, often!
Is Sock Yarn Sport Weight?
No. It's is finer than sport.
Is Sock Yarn Stretchy?
Yes! Because it's typically blended with nylon.
Is Sock Yarn Worsted Weight?
No. It's finer than worsted weight yarn.
Is Sock Yarn Lace Weight?
Lace yarn is finer. You can use sock yarn for lace patterns, but it's thicker.
Is Sock Yarn 3 Ply?
It can be 3 ply.
Can You Use Sock Yarn For Sweaters?
Absolutely! However, it'll be a lighter fabric.
Where To Buy Sock Yarn
It's readily available at your local yarn store, craft stores, and online.
Wool Vs Cotton Socks
Wool is warmer than cotton
Wool is more durable and wicks away moisture
Wool lasts longer than cotton
How Thick Is Sock Yarn?
It's often 3ply. Thinner than Sport weight and thicker than lace weight yarn.
How Much Nylon In Sock Yarn?
Typically over 20% nylon.
Does Sock Yarn Need To Have Nylon?
It doesn't have to have nylon, but without, it's not as durable or strong.
What Can I Make With Sock Yarn?
All sorts of crochet projects. Hats, scarves, shawls, wraps, mittens, sweaters, baby clothes, and blankets.
Is Cotton Yarn Good For Socks?
Cotton is an excellent alternative for people sensitive to wool.
Can You Use Sock Yarn For Hats?
Yes, you can make some gorgeous hats.
Can You Use Sock Yarn For A Scarf?
Yes, you can.
There are so many sock yarns out there, and I hope the selection above gives you guidance for the best one. If you crochet some socks, let me know with your email address in the comments.
Pin Now to Save for Later