Guess what, Walmart sells yarn winders. But which yarn ball maker? What price ranges, and are there heavy-duty options? Are they any good? All answered in my review.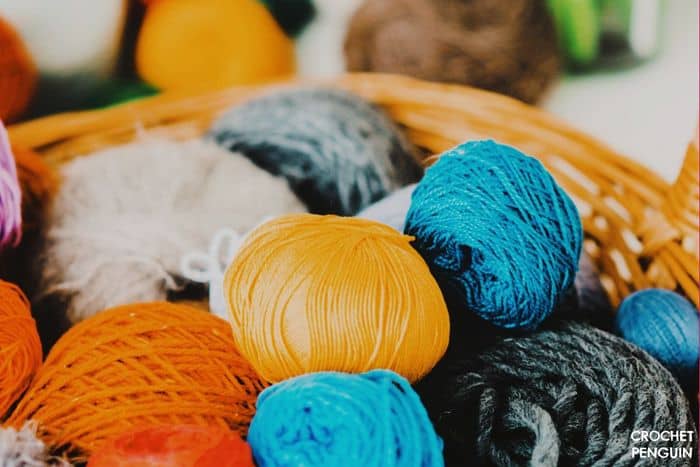 Table Of Contents
Which Is The Best Walmart Yarn Winder?
Lacis II
This is their most popular winder product available in their store. Made by the company Lacis, this is their flagship model, a medium-sized yarn winder perfect for most people's needs.
Made of mostly durable plastic and with a metal guide arm, it's made well and built to last. Check for the current price on their site.
Features
A simple system makes the winding easy
No complicated instructions on how to use all the different parts
Instructions included
Simple set up, almost no assembly required
Can wind up four ounces of yarn at a time
Pros
Affordable
Made with quality materials
Simple and easy to use
Winds diagonally
Cons
Can take up quite a bit of room so not the best for those limited on space
Sometimes the yarn can get tangled, though this rarely happens
Lacis Jumbo
The jumbo or heavy-duty yarn product available from Lacis, this workhorse of a winder, can wind up to 10 oz of yarn at a time.
A unique feature not present in other jumbo models is it possesses two swing arms. One is designed to keep the yarn flowing smoothly, and the other is for balance. Makes for steady wind.
Features
Features in the box: winder body, cone, yarn guide, yarn guide mount, 2 swing arms, and instructions.
Able to wind up to 10 ounces of yarn
Comes partially assembled, but there are easy instructions included for you to follow.
Made of heavy-duty materials, designed to last for many years
Can clamp to a surface easily
Pros
Some people were able to wind up to a pound of smaller weight yarn on this winder
Comes with tools to help you put it together
Study construction and very durable materials
Winds at a diagonal direction
Cons
Quite large and bulky so needs a large area to accommodate it
Doesn't store compactly
Some may find the second swing arm annoying or unnecessary.
Have to hold the yarn to maintain consistent tension
Lacis In-Line Yarn Ball Winder
A cheaper model for those looking to do casual winding or an excellent first yarn winder, or those looking for something more affordable, this is an ideal choice.
It can sit flat on any surface, and winds in a straight line, convenient if you're tight on space.
Features
Perfect for those on a budget
No need for cones or tubes to wind your yarn
Sits flat on a table, with or without the included table clamp
Winds up to 4 oz of yarn
Pros
The bobbin is inline, so it doesn't need to be replaced as often compared to other models.
On the cheaper end, it's very affordable.
Winds very smoothly and quietly
Cons
It doesn't last as long as some other models available.
Limited table clamp capacity, won't attach firmly to some surfaces
The plastic can wear after lots and lots of use, though this rarely happens.
Darice Winder Hand Operated
Another pick on the cheaper end of the price spectrum is a no-frills, simple machine designed to get the job done quickly and efficiently.
Features
Winds up to 3 oz worth of yarn
Sits flat on a table, or can be clamped down
Winds in a straight line
Measures 7.5 x 5.7 x 4.1 inches when fully assembled
Comes completely assembled
Pros
Flexible in where you can place it
The soft base makes sure it doesn't damage or mark surfaces beneath it
No bobbins needed
Simple and very easy to use
Cons
It doesn't last as long as some of the other models available.
Limited flexibility of how thick a tabletop it can be fixed to
Instructions not included in the box.
Loops & Threads
Created by the yarn, notions, and tools company Loops & Threads , this is yet another simple, no fuss yarn winder available from Walmart.
It's an inline yarn winder and can sit flat on a table with or without the use of a table clamp.
Features
Able to wind up to 4 oz of yarn
Instructions included
Pros
Simple and easy to use
Quick set up
Sits flat on a surface without damaging the tabletop beneath
Cons
It doesn't last as long as some other yarn winders available.
Other Recommended Products To Go With Yarn Winders
Lacis Swift
A swift designed to work in combination with any other winder from Lacis, this is an affordable, quiet workhorse.
Features
Made predominantly out of metal and plastic.
Able to hold hanks up to 60 inches in circumference
Flexible handle so you can position it almost any angle you need to
Adjustable table clamp with wooden screws
Pros
Easy to use
Instructions included
Umbrella style, so good for people who prefer that style of swift
Cons
Takes up quite a bit of room
Large Lacis Swift
Similar to the model just mentioned above, it's almost identical except for the fact it's larger and can hold a bigger circumference of yarn.
Made of durable birch wood, this looks beautiful as well as getting the job done quickly and efficiently.
Features
Made entirely out of sanded, durable hardwood (birch).
Sturdy construction with quality materials.
Easy to assemble and get started with using it
Instructions included.
Has a circumference capacity from 19" all the way up to 100"!
Pros
Very flexible in the circumference of yarn you can put on it
Spins easily and smoothly
Very quiet
Made of lovely birch, guaranteed to last a long time
Umbrella style so easy to use
Cons
Sometimes the clamp can loosen, although this rarely happens
Takes up lots of room, need lots of space to accommodate it
FAQS About Yarn Winder Walmart
Do I Need A Walmart Yarn Winder?
It depends on your preferences, how much yarn you buy, and where you get it from. Here is a list of reasons why you might need a yarn winder.
If you buy all or most of your yarn in hanks or skeins
If you shop and purchase yarn online
If the skeins you buy are quite large, they can be very time consuming to wind by hand!
You want to save time
You want to make it easier to keep your yarn organized
You want to get on with crocheting your project faster!
Can You Use One Without A Swift?
Yes, of course! But as I explain down below, using a swift makes it much easier to operate, saves time, and helps prevent the yarn from stretching. So if you're willing to invest in something like that, it's very well worth it.
How Does A Swift Yarn Winder Work?
Think of swift yarn winders as a more comfortable, more convenient alternative to someone's outstretched hands or the back of a chair!
You place the ring of yarn around the holders on the swift and adjust it, so it fits snuggly without slipping.
Once the end of the yarn is attached to the winder, and you turn the handle, it spins, unwinding the thread so it can be winded into a cake.
It also prevents tangles, helps you find inconsistencies in the yarn, and also helps you maintain proper tension.
Hopefully, this helped you decide which yarn winder from Walmart is the best one for you.
Which one appeals to you the most? Have you bought one from Walmart already? If so, what do you like/dislike about the range available there?
Pin Now Save For Later