The history of an antique ball winder yarn dates back many years. Interested in how the older models work? Read on.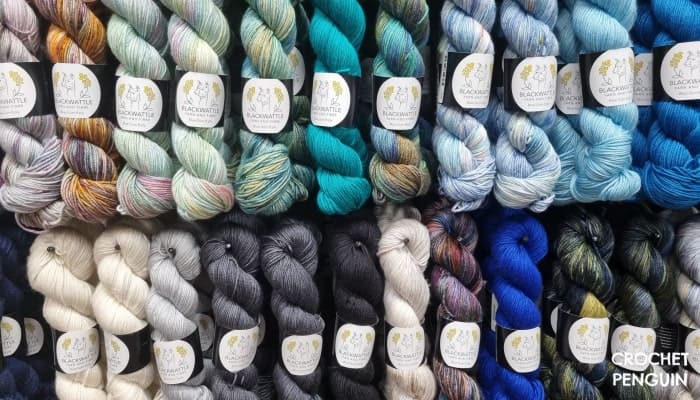 I reviewed, fact checked and updated this post on April 14, 2023.
Table Of Contents
What Is An Antique Yarn Winder?
An antique yarn winder dating from as early as the 19th century. AKA a ball winder, a clockenhen, a clock reel, a knitty knotty, a niddy noddy, a nostepinne, a spinners weasel, or a skein winder.
They're wood, even the gears! There was one main wooden gear, and the gear shaft was covered. Luxury models were whalebone, ivory or iron. Wood Used: Shaker Ash, Birch, Chestnut, Cherry, Maple, Oak, Pine, and Poplar.
Are There Any Antique Winders That Aren't Wooden Yarn Winders?
Yes, there are ones made of metal, but they're not as old as wooden items.
Types Of Antique Winders
The niddy-noddy is the most common older yarn winder. The base of the wool winder has a center pole, two criss-cross pieces are attached to the top, and the sticks have knobs (wooden dowels) to hold the yarn and adjust the size for different yarns.
One style has four arms, wooden pegs on each end, and a tripod base. Other antiques resemble a ship's wheel, some sit flat on a tabletop or surface, and others look like an umbrella.
The origin of the nursery rhyme "Pop Goes The Weasel" comes from yarn winding. The spinner (weasel), pops after a while.
Often they were brightly colored, and more expensive models had decorative edging.
Poor people made yarn winders and spinning wheels, as they were expensive.
Handmade antique yarn winders are rare.
In Romania, textile makers continue spinning, winding and weaving on old machines.
How Does An Antique Yarn Winder Work?
An antique yarn winder works by creating loops with a 72″ circumference. It turns 40 times to create a hank (bundle.) When complete, the person made a knot to keep it together. This process was repeated seven times until a skein of 560 yards.
Some don't wind it into a skein, but bobbins, spools, or a ball. Yarn swifts were used with a yarn winder like the modern method. The swifts were wood, spinning horizontally, and lay flat.
As yarn hanks or skeins didn't vary in size, there was limited adjustability. Spinning accompanied winding yarn, as different methods create a different texture, tension, or tautness. They spun the yarn first, winding it to create a hank, skein, or ball.
How Much Is An Antique Spinning Wheel Worth?
It easily fetches thousands at an antique market or auction. If you're buying one, double check the sale price and insure the spinning yarn wheel is in good condition.
Can I Use A Vintage Yarn Winder For Modern Yarn?
Yes, vintage yarn winders can be used for modern yarn as long as the yarn fits the winder's specifications. However, a vintage yarn winder may require more manual labor, and may not be able to handle thicker yarns.
Conclusion
It's important to be connected to our past to learn for the future. Do you know something about them? Which combination would be most suitable for you? See my review of the swift and winder.
Pin Now to Save for Later