Hobby Lobby is a craft and fiber arts notions company based in the US. So naturally, they sell yarn winders. Curious whether the hobby lobby yarn ball winder is worth it? Read on.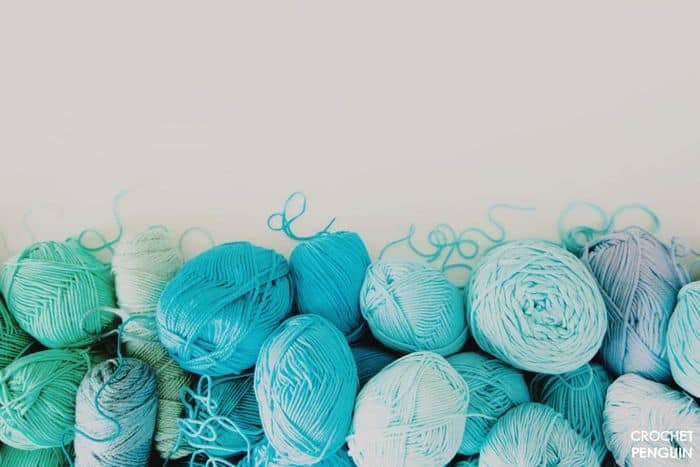 I list the products available from Hobby Lobby. If you decide it isn't the right fit, I have other recommendations.
Need more recommendations? Take a look at my best ball yarn winder review.
Table Of Contents
Hobby Lobby Yarn Winder
Created by Yarnology, this is a simple, no-frills yarn winder that gets the job done excellently well.
Efficient, and perfect for those on a budget, it's an excellent choice for the beginner crocheter, or for your first yarn winder.
Keep in mind this has a fair share of negative reviews, but it also has people who are perfectly happy with their purchase. It's up to you to decide whether it will work best for you or not!
Features
Winds up to 4oz at a time.
It can sit flat on a surface or can be clamped to a tabletop.
The included table clamp can be attached to surfaces of up to 2 1/4″ inches thick.
Little setup required.
Simple instructions included in the box.
Pros
Simple to use comes almost completely assembled
On the cheaper end of the price spectrum
Easy to follow instructions
Cons
Only available to those who live in the US
Not suitable for serious winding or a lot of use
You need to control the tension. Otherwise, the yarn cakes might be too floppy
Interested in where to buy yarn online? Here's what you need to know.
An Note On The State Of Hobby Lobby
Currently, all their physical stores have closed. But their online shop remains open and trading, and they're still accepting and shipping orders.
The company doesn't accept international orders, unfortunately. So keep that in mind if you're from outside the US. They do ship to APO/FPO addresses.
As you work, store your fiber in yarn ball bowls.
What Is The Best Yarn Ball Winder?
Best All-Rounder – Stanwood Needlecraft Large Metal Yarn Ball Winder, 10-Ounce
Created by Stanwood Needlecraft, this is a very popular yarn winder for an excellent reason! It's made from plastic and metal, and a unique feature is their well-crafted gears made from nylon.
Well made, carefully constructed, and guaranteed to withstand some serious cranking.
Features
Winds up to 10 oz of yarn at a time.
Unique tool-less setup, no need to use a screwdriver or pesky tiny screws to set this up!
Creates center pull yarn cakes.
Pros
Well protected gears prevent the yarn from snagging
A manufacturer's guarantee
Very well made with quality materials
Cons
Rarely winds too tightly.
Click to Learn More / Buy from Amazon
Best Jumbo/Heavy Duty – Lacis Jumbo Yarn Ball Winder
Created by the company Lacis, they make several different types of winders, but this is by far their most popular model.
It's a jumbo winder, meaning it's designed to wind more yarn than most smaller, conventional ones available on the market.
Despite being made from mostly plastic, it's robust and high-quality. A perfect investment if you have a lot of yarn to wind or you work with large skeins.
Features
Can wind up to and including one pound of wool at a time.
Winds at a diagonal
Features two swing arms for added flexibility
Designed to withstand a lot of use and some serious cranking
Comes disassembled but includes detailed instructions n how to put it together
Pros
Made of quality, durable materials
The gear shaft is protected to prevent yarn from getting caught
Easy to maintain the proper tension
Cons
Some found it a bit tricky to put together and take apart again
Quite large so not suitable for those with limited space
Click to Learn More / Buy from Amazon
Other Recommendations
Knit Picks Yarn Ball Winder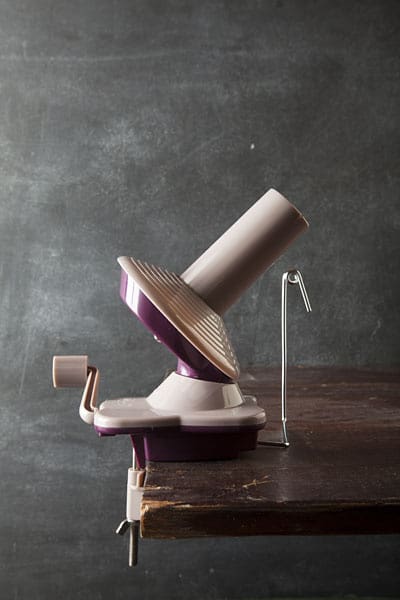 One of the best cheaper options available on the market, this does not compromise quality despite the low price. This model is available on their sister site – We Crochet.
Made with sturdy materials, predominantly metal and plastic, this is an excellent choice regardless of skill level.
Keep in mind it's not best to use it for heavy-duty use, as it may wear it out.
Features
Can wind up to 3.5 ounces
Comes with a table clamp
Pros
Perfect for those on a budget
Works very well for smaller sized balls
Cons
The gears can sometimes slip
Unable to change the center tubes to wind yarn with a smaller gauge
Can't turn too fast otherwise the yarn could snag
What Is A Yarn Ball Winder?
A popular tool for crocheters, knitters and yarn enthusiasts alike, it's a notion to make winding yarn from skeins and hanks into easily usable cakes!
Makes for a much tidier yarn stash, and you can get back to the important stuff, crocheting!
Why Do I Need A Hobby Lobby Yarn Winder?
Here's a list of reasons why this tool would be a perfect fit for you –
You buy your yarn predominantly in hanks or skeins
You have a large yarn stash that gets very messy
You use a lot of yarn to do projects
Or you'd like to save some time and make quite a frustrating experience much more manageable!
How Do You Use A Yarn Ball Winder?
Note: These are instructions on how to use one in conjunction with a yarn swift. To use it without a swift, replace the swift for the bak of a chair or something else to hold the ring.
You'll also need to unwind the yarn from the hank to wind it into a ball by hand.
Remove the label and untwist it to create a ring of yarn. Check your yarn swift is set up and ready to go. Place it on the swift, and adjust or expand the umbrella as necessary to make sure it's tight around the ring.
Spin it around, and examine the ball for that stop the yarn tangling. Remove these knots.
Find the end of the thread, and take it to the ball winder, and attach it. Pull the yarn end through the slit at the top of the ball winder. Now you can start the yarn winding process.
Apply a bit of tension if the swift is loose. Otherwise, you can just crank the winder. When you need to stop winding for a moment, don't let the swift keep spinning by itself.
Continue turning until there isn't much yarn left when there's only a bit left, thread the last piece through your fingers as you finish.
Hopefully, this helped you discover if the yarn winder from Hobby Lobby was worth it for you. If not, hopefully, my hand-picked recommendations help you find the perfect one to suit your needs.
Have you ever used this type of yarn winder before? What do you think? Let me know down below.
Pin Now to Save for Later