The Royal Ball Winder was a favorite of many people. Some people still have theirs and enjoy winding with this model. However, it's not likely to return to the market.
I share another great boxy winder for yarn.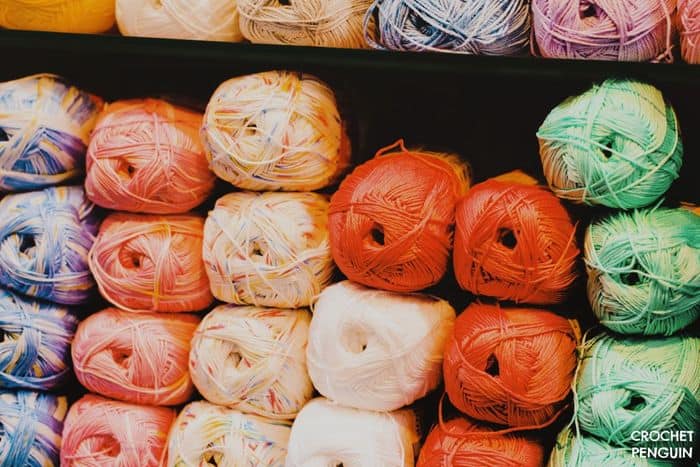 Why was it popular? Made of plastic, small, lightweight, and easy to transport. It suited people on a budget and it wound 4 ounces of yarn.
Table Of Contents
What Is The Best Yarn Ball Winder?
Stanwood Needlecraft Yarn Ball Winder 4 ounce
This user-friendly, hand-operated winder makes center-pull yarn cakes from 4 oz. balls. Say goodbye to a tangled mess of yarn!
Clamps to a variety of furniture. Made of strong materials and easy to crank, a one-person operation. If winding from swifts, purchase one with this winder.
Pros
Makes small 4.oz. center-pull balls, ensuring you'll never have a tangled mess.
The table clamp has a range of about 1 3/4″ so you can clamp it to a variety of tables, shelves, or a chair.
Made of quality, strong materials.
Easy to crank, made with sturdy metal. Operation makes smooth, easy to wind balls.
Easy to order and purchase online.
Great value for money.
Doesn't take up too much space.
Cons
It can only create smaller balls, not a big issue. This means you may have to cut a larger ball into two pieces.
Stanwood Needlecraft – Large Metal Yarn Ball Winder 10 oz – Heavy Duty
If you're looking for a winder to handle greater amounts of yarn this is a great option. Manufactured by the same company as the one above, it can wind up to 10 oz of yarn and is made of heavy-duty materials.
Click to Learn More / Buy from Amazon
Yarn Ball Winder – Royal Replacement
The Oregon Woodworker has found the Stanwood Needle Craft 4 oz version is a great replacement for the Royal Yarn Winder.
This is what they said:
"After extensive searching we found a company that has duplicated the Royal Yarn Ball Winder, which is no longer produced."
"They've added two improvements as well. It has a metal hand crank and the screw clamp is 1/2″ longer."
Rosie's Royal Yarn Ball Winder
The Woolery offer a model very similar to the Royal. From what I can tell, it looks similar to the Stanwood one mentioned above.
It seems to have the same design, colors and made of plastic with a metal crank.
How Do Yarn Ball Winders Work?
Yarn Ball Winders work by attaching one end of the yarn to the ball winder, then follow these steps.
Slip the yarn through the metal yarn guide and into the notch in the plastic disk at the top of the winder.
Slowly turn the crank at the back of the winder in the direction indicated on the instructions with your winder. The ball forms on the winder.
Use your other hand to gently guide the yarn.
The bobbin on the yarn winder will rotate and form a yarn cake.
Once the yarn comes to an end take the cake off the bobbin, tuck in the center pull end and the outside end.
Why Do I Need A Yarn Winder?
You need a yarn winder to save time and to get back to what you love doing – crocheting. If you love organized yarn, you'll enjoy making the neat yarn cakes that are produced when using a yarn winder.
Do You Need A Swift To Use A Ball Winder?
If you're going to do lots of winding, having a swift is a good idea to use with a ball winder.
You won't have to use the backs of chairs to place your hank of yarn. Swifts allow you to have your hands free to concentrate on the winding.
If you're looking to replace your Royal Winder, I hope my reviews help.
I'd love to hear about your experiences with winders. Please pop me a note in the comments below, message me on Twitter or get in touch here.
What is the best combination for you? See my review of the swift and ball winder combo.
Pin Now to Save for Later