Wind lots of yarn regularly? Get a Jumbo Yarn Winder. Aka heavy duty yarn winders, they withstand serious cranking! These winders wind up to 10 oz of yarn, perfect for large hanks. I've reviewed the top models below.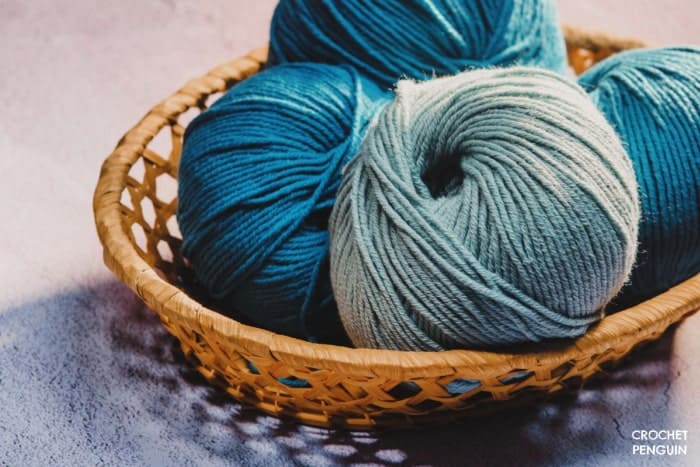 Note: None of the winders mentioned in the review is an electric yarn spinner. For more on those, see my post.
I reviewed, fact checked and updated this post on April 28, 2023
Table Of Contents
Lacis Jumbo Yarn Ball Winder
This model is popular with crocheters due to its affordability and the amount of yarn it can wind. It can handle winding skeins of up to 10 oz in a number of different yarn weights from lace to bulky. Simple to assemble, the winding operation is smooth and effortless. It's made of mainly plastic parts with a large metal yarn guide and 2 metal swing arms.
The yarn is placed through the yarn guide and through only one of the metal swing arms, the other is used for balance.
Pros
Can wind large amounts of yarn into big cakes
Some users found they could wind up to 1lb of yarn
Smooth winding motion
Cons
Some people found the second metal swing arm was annoying
No yarn counter is included
Check Price On Amazon
Maple Jumbo Yarn Winder
A quiet, effortless machine, this offers smooth, even cranking with little effort. Beautifully handcrafted with attention to engineering detail. You can wind up to one pound of fingering weight yarn and ten ounces of worsted weight yarn. (For thicker weight yarns, the amount is less.) Easy to assemble and disassemble and parts are easy to replace if necessary.
Each jumbo ball winder sold has a one-year warranty from the date of purchase against the manufacturer's defects. It's an investment in your crocheting pursuits but a worthwhile one. This model is built to last.
Pros
Made from beautiful hard and premium veneered plywood
One year guarantee
Simple to follow manual
Very positive reviews
Parts are replaceable
Manufactured in the United States
Cons
It needs to be cleaned if you use it a lot. Fortunately, it isn't hard.
Stanwood Needlecraft Metal Jumbo Ball Winder
This makes large yarn ball cakes, with a yarn capacity up to 10 oz. The cakes created are center pull and are wonderfully neat and compact. Despite being quite bulky and heavy, it's easy to assemble and stores compactly and easily. It's one of the most popular heavy-duty winders.
It's very versatile in terms of the yarn it can work with, all ranges of weights and yarn, from wool, acrylic, and cotton, to cashmere, merino, and silk. The base is made from heavy metal so it can really crank out some serious amount of winding.
Pros
This winder can handle large skeins up to 10 ounces
Made of sturdy engineered metal, apart from the cogs, made from a nylon material
Designed to last years
Heavy duty
Little assembly needed, simple to use
Quiet, with a smooth, even crank
The base of the frame has rubber feet, to protect areas beneath and prevent slipping
Very positive reviews
An excellent choice if you're going to be doing a lot of yarn winding
Cons
It can be a bit confusing at first, but with time and practice, it becomes easier.
These sometimes are out of stock due to their popularity
Check Price On Amazon
Oregon Woodworker Winder – Smooth Gears – Special Price – Ships Fast
Great news! This seller has offered smaller versions in the past but recognised there was a market for supporting crafters who want products supporting skeins that are larger.
Sturdy metal and plastic materials in this large capacity ball winder construction; it will last for a long time.
The gears operate very smoothly and helps to reduce tangles in your yarn. You can use these jumbo ball winders to work with smaller and larger yarn skeins, including lace weight and heavy weight yarns.
You will be able to wind approximately 13oz (350-400 gram) center yarn balls. The handle is easy to turn and winds smoothly. The table clamp is included. The instructions are clear and include pictures to help with assembly.

They offer a special price-ships fast to anywhere in the USA. If you're in another country, for shipping add what is given at checkout when you enter your delivery address.
Consider a yarn swift of excellent craftsmanship by the same seller as they have some excellent table top versions with pegs rather than the umbrella yarn swifts.
Conclusion
If you're looking to upgrade or want to purchase a larger winder, I hope you found this post helpful. Jumbo yarn winders are perfect if you have lots of yarn to wind. These make your life easier and make more time for more pleasurable things, like crocheting!
I'd love you to share your experience. Drop me a note here or message me on Twitter.
Pin For Later