Tulip Crochet Hooks are manufactured in Japan and are a favorite among crocheters. The metal hooks are smooth and the ergonomic handles are comfortable to use for many hours. They are top quality and will last for many years.
Here's a guide to the range of Japan Tulip crochet hooks.
Table Of Contents
I reviewed, fact checked and updated this post on April 12, 2023
For a complete overview of the company that names these crochet hooks, please read my post.
This is one of their most popular product lines. The Tulip Etimo Crochet hook has a cushion grip. For more information, please read my post on the Tulip Etimo Rose crochet hook and tulip ergonomic crochet hooks. These are great crochet hooks for arthritis.
Tulip Sucre Bead Crochet Hook Set
The Sucre Bead crochet hook is designed to crochet with beads and has a soft grasp. The hook is smaller, and the shank is shorter than with conventional crochet hooks. Complete-set with 5 Etimo crochet hooks in sizes: 1.75mm, 1.50mm, 1.25mm, 1.00mm, and 0.90mm in a Pink and black poker dot case.
Pros
Lovely colors – each size is has a different pastel color
Soft Grip Handle
Perfect for bead crocheting or delicate lacework
Cons
Not suitable for thicker yarns
Tulip Crochet Hooks Steel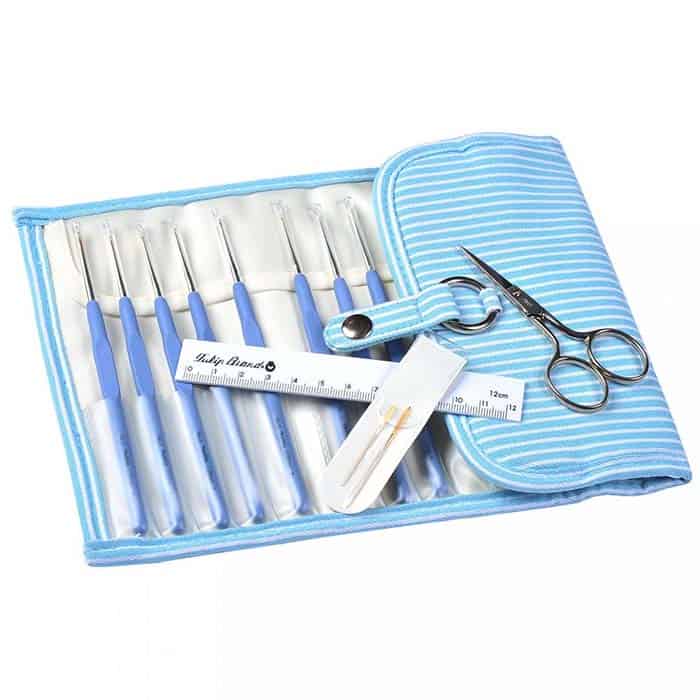 The Tulip Lace Crochet Hook set has the same elastomer comfort grip as the Etimo. This Set has blue handles. The hooks are durable quality steel with a polished finish that doesn't deteriorate. The Set includes 8 Etimo Crochet Hooks (14-0), two yarn needles, high-quality thread scissors, a 4-1/2″ plastic ruler, and a cute fabric clutch.
Sizes:
0 (1.75mm)
2 (1.50mm)
4 (1.25mm)
6 (1.00mm)
8 (0.90mm)
10 (0.75mm)
12 (0.60mm)
14 (0.50mm)
Pros
The cushion comfort grip makes doing fine crochet work a breeze
The steel crochet hook is of superior quality
Excellent range of sizes
Cons
If you are new to lace crochet, working with a smaller crochet hook may be tricky at first. With time and practice, you will master it.
Tulip Tunisian Interchangeable Crochet Hooks
Tulip "CarryT" interchangeable Tunisian crochet hooks are made of natural, Japanese bamboo. The connector is remarkably smooth and allows yarn to slide on the cable without resistance. A rubber ring prevents the loosening of the cable. The cables can be screwed on without tools.
The Set includes
10 crochet hooks in sizes – 3.5mm, 4.0mm, 4.5mm, 5.0mm, 5.5mm, 6.0mm, 6.5mm, 7.0mm, 8.0mm and 9.0mm
3 cables (60-80-100cm long)
1 adapter
Two end caps
Two sewing needles
1 Tulip gauge with built-in yarn cutter
One practical case for storage
Pros
Lightweight
A perfectly shaped hook that facilitates Tunisian crochet
Smooth transition from hook to the cord
The cables have a rotating joint, which does not twist the cable when crocheting.
Cons
No US sizing but many patterns give the mm size hook required
Tulip Double Edge Crochet Hooks
Tulip double-ended aluminum crochet hooks are available in a variety of sizes. Both flexible and durable, matched with the flawless balance between sharp curves and smooth edges, make it the ideal hook for crocheting. Sizes available in mm are:
2.00 – 2.20, 2.20-2.50, 2.20-3.00, 2.50-3.50, 3.00-3.50, 3.00-4.00, 4.00-5.00, 4.50-5.50, 5.00-6.00.
Pros
Convenient having two different hook sizes on each end
Saves space
Cons
Only metric sizing which isn't a problem if you have a conversion chart handy if you prefer US letter sizing.
FAQs About Tulip Crocheting Hooks
Are Crochet Hooks by Tulip Inline Or Tapered?
Tulip crochet hooks are a combination of tapered and inline. They have a pointed hook head.
Tulip Vs. Clover Crochet Hooks
The size of the head, throat, and shank differ slightly between Tulip and Clover Crochet Hooks.
The Tulip handle is somewhat rounded, and the Clover handle has a flat edge.
The head of Clover is marginally thicker than Tulip
The shank of Tulip increases gently from the head to the body
Compare Susan Bates Crochet Hooks To Tulip
Susan Bates Crochet Hooks are inline. Tulip hooks are more tapered. They are both made from aluminum.
Cheap Hooks By Tulip?
Tulip Hooks are of premium quality and, therefore, not cheap. You may have to spend time searching for the best price.
Where To Shop For Tulip Crochet Hooks?
You can buy Tulip Crochet Hooks from online retailers such as Etsy and Amazon and eBay. Some craft stores will stock them. Also, try your local yarn store.
Conclusion
Tulip Crochet Hooks are an investment but so worth it. Do you have these hooks? Please share with me what you love about them. Message me here or drop me a note in the comments.
Pin For Later