We use the internet for some fantastic things, pretty much anything imaginable. Why not take advantage of every use you can? You know you can use it to buy yarn. No? You have no idea what you're missing out on.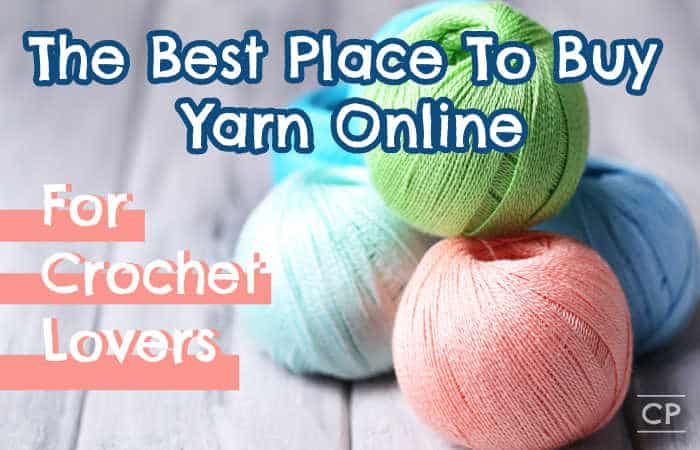 So many incredible yarns within a click's reach.
In this post, I've included the best yarn companies, how to buy yarn online, what to look for, and more helpful tips.
In a hurry? Here's a list of the best places to buy yarn online.
WeCrochet – The Best Place To Buy Yarn Online
Table Of Contents
What's The Point Of Shopping Online?
The yarn store is fantastic. It's not just shopping. It's a whole experience!
Filled to the brim with lovely yarn, hooks, all things crochet, and people as passionate as you! I'd quite happily live there.
You can feel and experience the yarn while dreaming of your next project. Wonderful.
Yet online, you're sitting behind a computer screen. You can't touch the yarn, only see a picture of it. Don't be discouraged. That's the only downside.
Buying online is a whole different experience.
There are some great reasons to shop online, including
If yarn stores aren't near where you live
If you have limited mobility
If you don't have transport options
If you don't feel like going out! (We all have those days)
Deals and discounts aplenty
Convenience
TIme-saving
Delivered straight to your door
Spoilt for choice
Some brands are only available online (oo exclusive!)
Are you convinced yet? Next, all the information you didn't know you needed for actually buying yarn.
(Note: Though don't give up going into yarn stores! They're run by talented, lovely people who share a deep love of crochet. Worth a visit.)
How Do I Shop For Yarn?
Here's a checklist of simple steps.
Choose an online yarn store! There's a list further down to help you decide.
Choose the perfect yarn.
Add it to your cart, browse for anything else you 'need' 😉
Pay for your order at checkout.
Arrange the shipping
Celebrate!
Eagerly await the arrival near your doorstep.
If you get stuck, don't panic! Just like asking an assistant for help, every yarn company has a dedicated team to help you.
This May Not Be The Yarn You're Looking For – Get The Right One
Important! Remember these questions as you drool, or should I say, browse over the yarns.
What kind of weight?
What kind of fiber?
How much do you need?
What colors?
What type of yarn?
Can you put it in the washing machine?
Reasonable pricing?
What does it come in (hank, skein, ball, cake?)
What are you making? (Scarves, mittens, hats, a sweater, or socks?)
Don't Forget Yarn Symbols & Labels!
Yarn labels have a wealth of information on them. Make sure you read them! Take note of these:
Yarn Weight – From 0-7, superfine, to super bulky!
Gauge – Remember this is a rough estimate, don't forget a swatch first!
Hook Sizing – Best hook size to use, a match made in heaven
Yarn Amount – How much you get in one ball
Care Instructions – You want it to last, don't you?
Make a checklist and check back often when considering a yarn.
Things To Remember When Buying Yarn Online
Keep That Checklist Handy
Make sure you keep track of what you need in your yarn! Refer to your pattern/project guidelines. That way, you won't make a mistake in the specifics of your yarn needs.
Read All The Details!
Probably don't need to explain this, but read all the details. Yarn labels have plenty of helpful instructions on them, so pay attention.
Don't skim over only for you to miss the fact it wasn't machine washable, and oops, now it's felted! That would be a disaster.
Keep An Eye On Customer Reviews
Buying anything online means putting your trust in strangers. You can't rely on your experience or judgment because it's just a picture on the screen.
Scroll down and read those reviews on the product page. Are they positive, negative? Any notes or problems they encountered?
Valuable insight for you to learn from before clicking the buy now button.
It's better to learn from other's mistakes than yours, right?
Watch Out For Bargains & Sales
Everyone loves a bargain. For those who like deals or savings, there's plenty of ways to do that.
Like stores, yarn websites run sales and periodic savings often.
Sign up for the newsletter to keep track of sales. (Sometimes, they offer 10%-15% off your first purchase.)
Their email lists often have exclusive offers, crochet techniques, tips, tricks, and smart ideas.
Follow the company on social media. Sometimes they advertise discounts on their channels.
Seasonal sales happen around big commercial times of the year. Take advantage.
Clearance sales! Yes, online stores have them too! Winter fibers are in clearance in the warm months. (Wool, alpaca, mohair, merino.) Summer/Spring fibers are in clearance in the colder months.
Buy a kit. Yarn is cheaper. Plus, you get everything included for a project.
Buy a box or bundle pack with a mixture of yarns.
Refunds, Returns & Exchanges
Unfortunate as it is, sometimes the item you bought just doesn't measure up. Maybe there's a defect. It's the wrong color or not the amount you paid for.
In case of this, make sure you know the return policy before purchasing anything.
Which Is The Best Yarn To Buy?
It depends on what you need. Keep in mind the following questions. What colors, which weight, which fiber, and how much you need. Use your project or pattern as a guideline to help you.
If you're making it for someone else, keep their considerations in mind as well. Customer reviews should help you decide whether to buy it or not.
Where Can I Buy Inexpensive Yarn?
WeCrochet has great deals and savings regularly. Amazon is an excellent spot to buy yarn in bulk for a discounted price, a bit cheaper than other stores.
What Is The Most Expensive Yarn?
Vicuna is a relative of the alpaca and llama from South America and costs around $300 for one ounce! Some very expensive crochet.
Other fancy yarn includes qiviut, from the Arctic Muskox, superfine merino, baby alpaca, and luxury jumbo yarns.
If you have the budget, it might be something you want to splurge on one day. If only…
Cashmere and alpaca yarn may come to mind, but there's more expensive yarn than that!
Best Places To Buy Yarn Online
Here it is. A collection of the best online yarn stores on the internet. Go forth and satisfy your crochet needs.
Some are dedicated to the best yarns. Some branch out into crochet hooks, notions, bags, and everything a crocheter could need! If you're just buying yarn, be warned, you may be tempted to add other items to your cart.
My top recommendations are below.
Finally! An online yarn store dedicated solely to crocheters and crochet! (1) Hooray! Run by the company that runs Knit Picks, Crafts Americana Inc.
You can expect the same incredible product quality, customer service, and affordability.
They have many different ranges, of all sorts of specifications, like yarn weight. They have superfine weight yarn, right through to jumbo yarn.
If you've shopped at Knit Picks, there are favorites from their yarn brands designed explicitly for crochet, like Dishie Yarn and Chroma Worsted Yarn.
Key Features
Dedicated to crocheters
A beautiful place to find everything you need
A vibrant community
Pros
Decent shipping rates
Affordable prices
Fast shipping
Cons
They only ship to the United States, Canada, Australia, and the United Kingdom currently.
It's all in a name. This store is all about lovely yarn and inspiring many crafters, crocheters, and makers.
Over the years, they've bought many brands, including Lily Sugar&Cream, Patons, Bernat, Caron, and recently Red Heart. They have an extensive selection to match their wealth of brands, excellent for any type of project and yarn.
They also sell patterns, notions, books, bags, and many more related to crochet.
Key Features
Loved by many crocheters, the company has years of knowledge.
A lot of yarn weights, from superfine to worsted weight yarn
Many popular yarn brands in a convenient place.
Pros
Trackable shipping, fast and reliable
They take good care of their customers, Quick and friendly customer service
Email support if you have any problems
Lots of great price ranges
Safe and Secure
This website doesn't seem like a yarn store but rather a look book or place to find inspiration, patterns, books, and helpful techniques and tricks.
Though don't let that appearance fool you. They do sell yarn! Exclusive brands on that site, as well as familiar favorites. Their range caters to all tastes.
They sell excellent quality yarns perfect for making a blanket.
(Note: Love Crafts was formerly known as Love Knitting.)
Key Features
Complete your chosen yarn with a variety of different patterns, books, and inspiration for your crochet project
Easy to use search filter, choose by fiber, color, weight, etc.
Pros
An affordable price range to suit all budgets
Good returns policy
Easy to use and make orders
International Shipping
A friendly and vibrant community of crafters
Cons
Just another ordinary online yarn store, right? No, not at all.Fabulous Yarn is very well-deserving of the name.
A small, independent yarn company is run by passionate owners who enjoy and practice all sorts of fiber crafts.
They have a small yarn store in Tivoli, NY. A luxury yarn store specializing in handcrafted, beautiful balls of all kinds of fibers and colors.
They have new offers daily, so keep an eye out for their wonderful products!
It's an extraordinary place. I've never seen another crochet website anything like it. Well worth a browse.
There's terrific wool yarn from sheep and alpaca. Plenty of beautiful wool dreaming of being added to your yarn stash! Lovely ideas for your next project.
Key Features
Lots of wonderful hand-dyed luxury skeins and hanks
They have both wool yarn and plant fibers
Focusing on yarn made by independent and small companies and designers, so you know you're supporting talented people, not just giant manufacturers
They source their yarns ethically
Perfect for gifts for crocheters
Pros
Lovely yarns and a lot of colors available
Fast shipping for orders, and available internationally
Good returns policy
Cons
A bit of a smaller range than most companies
Founded in 2002 by crafter Laura Zander and her husband, it's grown into a massive company since its conception eighteen years ago.
Jimmy Beans Wool isn't named after a person, but Jimmy is Laura's nickname. The 'beans' in the name is inspired by one of their previous ventures, a coffee shop.
They continue to expand their range each year by acquiring new brands and designing innovative products.
Plenty of selection, from the cheaper acrylic to luxury ones like cashmere and angora.
Key Features
Family-owned
A wonderful community
A variety of beautiful merchandise, like hooks, crochet bags, and many more.
Loved by crocheters, knitters, & makers globally who choose to shop there
Excellent, exclusive yarns only available at Jimmy Beans Wool
Pros
Cheap flat rate shipping of $5 for orders within the US.
Free shipping in the US with orders over $75
Excellent return policy
An easy user interface on their website
Make way for the grandparent of all these companies listed! This is the oldest by far, being founded in 1878. That's right. They're over a century old. To be exact, as of writing, 142 years old!
Founded by a family and still run by the same family, the fifth generation. They opened their online store in 1998, a few years after Amazon was started.
Being a company for that long means you have to keep up with changing technology, markets, and trends. They've done a spectacular job, and they release great products every year.
Despite their name, they sell plenty of other goods, not just yarn. Such as patterns, kits, and other crochet notions
Key Features
They don't just sell patterns. Many are available for free too. For all forms of craft, not just crochet. (Note: You have to have an account with the company to download them.)
Excellent variety of products
Pros
Engaging social media channels
International shipping
Affordable prices
Transparent return policy
Clearance sales regularly. Look for a discount on popular yarns.
Cons
The only yarn available is from their line. Brand choice is limited, but they have more than enough lines to choose from and browse through!
Another site with both an online store and a brick and mortar shop, Purl Soho, was founded in 2002. It's a family-owned company and has stayed like that since the date it was founded.
(There's a common pattern in the founding year of these companies. I wonder why? Maybe 2002 was a good year for yarn and fiber crafts!)
Honing in on exquisite, handcrafted, and one-of-a-kind goods from all over the crochet sphere, and of course, yarn!
Wonderful inspiration for a new project, and there's sure to be something to suit anyone.
Putting a focus on diversity and inclusion, they listen and engage with their clients very well. They bring a very human side to their company and crochet. A very trustworthy company for these reasons!
Key Features
Wonderful high-quality products, like their hooks, bags, pouches.
A lot of effort put into their selection
Extensive resources for all crafts, from weaving to knitting
Hand-dyed skeins of many different colors
Very positive and happy customers.
Pros
A transparent and trustworthy company
Great return policy
Excellent customer service
A wide selection of fibers available
Easy to use and a simple design
Cons
Amazon
The e-commerce giant, existing since the dawn of the internet. But did you know they sell crochet supplies too?
That's right. They're also an online yarn store. Add it to the continually growing list of the service the company provides. A great place to buy yarn in bulk online. Why? They offer discounts if you buy ten or more of one yarn.
Do your shopping for a giant blanket and other massive projects here, and save.
If you want to buy yarn in large batches or at a wholesale price, Amazon doesn't offer that. You have to contact the seller or buy from a department store.
Key Features
Incredibly massive range, the largest of those listed.
It's not just yarn. Oh no. They have many other crochet supplies as well – notions, bags, hooks, etc.
Lots of manufacturers, plenty of innovative products.
Pros
Take advantage of your Amazon Prime membership! If you have one. You can get savings and free shipping. Those are just some of the many perks.
No need to learn how to use a new interface if you're already an Amazon customer.
Keep track of all your online purchases on one site.
Cons
Some yarns won't be available if you don't live in the United States
The colors displayed may not be accurate to the actual yarn
Here are some of the yarns I'd recommend for Crochet Blankets and dishcloths.
Bernat Baby Blanket Big Ball
Lily's Sugar and Cream
Note: Clicking the above links will take you to further information, current prices, and customer reviews on Amazon.
I hope this information on the best online yarn shops is useful to you! If you have a question or I've missed something, please let me know in the comments. I'd appreciate any feedback you have.
If you like, feel free to share this post so others can benefit from the joys and convenience of shopping online.
Do you have a favorite online yarn manufacturer or place online to shop at? I'd love to hear your thoughts!
References
(1) Kim Werker, Knit Picks Launches Crochet-Specific Brand, WeCrochet : 19 Nov 2019. Retrieved from https://craftindustryalliance.org/knit-picks-launches-crochet-specific-brand-wecrochet/, 13 Feb 2020
Pin Now to Save for Later