These ergonomic hooks are excellent if you have Arthritis. Crocheting without pain is possible. The custom design means you can crochet with comfort. Here are the best crochet hooks for arthritic hands.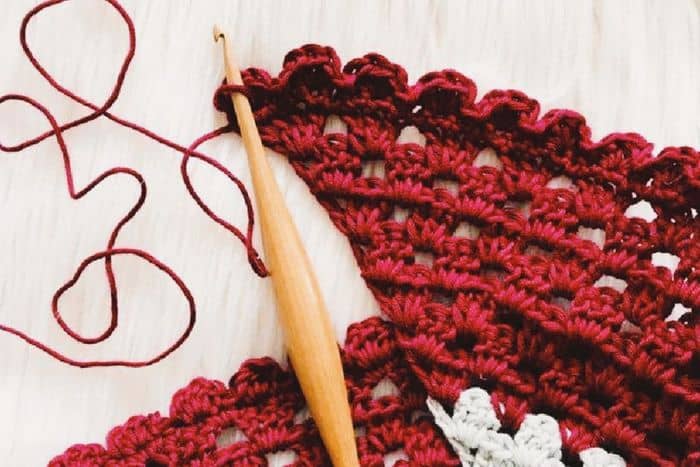 I reviewed, fact checked and updated this post on April 5, 2023
Table Of Contents
Best Ergonomic Crochet Hooks For Arthritis
Clover Amour Crochet Hook
Crocheters highly recommend these hooks. The elastomer handle is easy to grip and super comfortable. These are the most comfortable crochet hooks. Extended periods of crocheting will be a breeze using this hook. Designed to alleviate pain and discomfort that is suffered from Arthritis.
Each size has a different colored handle for easy identification. The hook is aluminum in most of the range. The larger sized hooks are plastic. They are wonderful for all sorts of crochet projects. Clover crochet hook reviews are very positive and loved by crocheters.
Features
Sizes Available – B (2.25mm) – P/Q
Style Of Hook – Tapered
Length – Sizes B- J are 5-7/8″ long (Sizes K – PQ have varying lengths from 6-1/8″ to 6-1/2″)
Pros
Bright colors
The handles are smooth and lightweight.
The handles are medium width.
Sizing is imprinted in the rubber handles, making it easy to tell what size hook it is.
Suitable for both pencil hold and knife hold crocheters.
The aluminum shaft has no burring so that it won't snag your yarn. The larger hooks (size K and up) have a plastic shaft. These ergonomic hooks also lightweight even though they are larger and longer.
This Etsy seller has excellent 5 star customer reviews.
Cons
A little heavier than a metal or bamboo hook.
Furls Crochet Streamline Crochet Hooks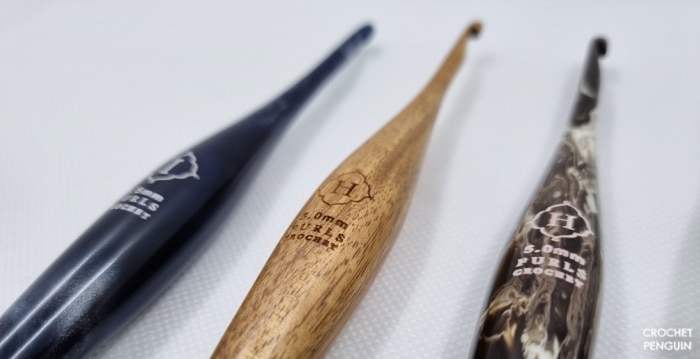 Furls source sustainable woods with beautiful grains and character. Streamline hooks are more affordable due to machine automation. 100% handmade with care, hand-healthy ergonomics, smooth surface, and warm to the touch. Enjoy crocheting again without the pain Arthritis brings.
I love crocheting with my Teak Streamline hook pictured in the middle above. One of my favorites! The yarn just glides over the surface and the hook easily gets into each stitch. I find the larger handle fits comfortably in my palm.
Features
Sizes Available – D (3.25mm) – P (10.0mm)
Style Of Hook – A unique combination of tapered and inline.
Length – 7 inches long.
Made From – Different woods – Camwood, Teak, and Ebony.
Pros
The tip of these ergonomic hooks are great for stitch penetration.
Comfortable in your hand and reduces hand pain
Less strain on the wrists and fingers
Letter and metric size stamp on the handle
100% satisfaction guarantee
Lightweight
Cons
The length may take time to get reasonable control at first.
Check Price On Amazon
Tulip hooks are ergonomic. The cushion support grip fits comfortably in the hand so that you can crochet for longer with less fatigue. Great news for people who crochet and who experience pain when crocheting. Etimo crochet hooks are super comfortable to use.
This beautiful crochet hook set contains the following: Set includes 8 hooks in D3 (3.25mm), E4 (3.5mm), F5 (3.75mm), G6 (4mm), 7 (4.5mm), H8 (5mm), I9 (5.5mm), and J10 (6mm)
Silver handled Tulip scissors
2 x steel yarn needles
Ruler
Stylish grey carry case
Pros
Lovely feel in the hands
Smooth aluminum hooks so yarn won't snag
Lessens hand pain and the hooks handles are comfortable to hold
Hooks are made in Japan with exacting precision
The fabric case and snap are durable
The plastic holders for each hook don't tear after multiple uses.
Cons
The darker color handle may not appeal
Yarniss Crochet Hook Set
Check Price On Amazon
These ergonomic hooks have non-slip color-coded ergonomic handles and are comfortable to use. This makes it much easier for a person to crochet for long periods. Crocheting will be much more enjoyable!
Features
Sizes Included – B 2.0mm, C 2.5mm, D 3.0mm, E 3.5mm, F 4.0mm, G 4.5mm, H 5.0mm, I 5.5mm , J 6.0mm, K 6.5mm, 7.0mm , L 8.0mm , M 9.0mm, N 10.0mm
Style Of Hook – Tapered
Length – 6 1/8 inches
Made From – Hooks are aluminum, and the handles are elastomer.
Notions Included – 9 yarn needles, ten stitch markers, a pair of scissors, and a fabric case.
Pros
Hook sizes are marked on the handle
Soft grip color coded handle
Smooth aluminum hook
Economical
Cons
Some users found the case a little small to fit everything into
The plastic stitch markers were a bit rough.
Check Price on Amazon
This set includes twelve crochet hooks, and each hook handle has a soft rubber grip. If you like a tapered hook, this brand is well known.
Features
Sizes Included – B 2.25mm, C 2.75mm, D 3.125mm, E 3.5mm, F 3.75mm, G 4.25mm, H 5mm, I 5.25mm, J 5.75mm, K 6.5mm, L 8mm, and N 10mm
Style Of Hook – Tapered
Pros
Thumb rest on the hook handle shaft
Sizes are marked on the handle
Handles are color coded according to size
Cons
Some users found the surface of the hook a little rough
What Are The Most Comfortable Crochet Hooks?
Each crocheter will have a preference as to the length of the hook and width of the handle. The soft grip elastomer handles are very popular due to the comfort experienced.
How To Choose The Best Ergonomic Crochet Hook For Arthritic Hands
There are many hooks available. Choose one with all the correct features to ensure it helps make crocheting more comfortable and pain-free. The crochet hook needs to have a comfortable handle. Avoid hooks made entirely from metal. Having just the hook made from aluminum is fine, but the handle should not be metal. A rubber handle is what you need.
The best ergonomic crochet hook for Arthritis is one with a soft grip rubber handle. The ergonomic handle's shape and length are designed for comfort in the hand when crocheting for long periods.
Tips For Crocheting With Arthritis & Carpal Tunnel Syndrome
Prepare your hands by placing them in a bowl of warm water for 5 minutes and soak. Then towel dry.
Turn your wrists in a circular motion go one way and then the other. Do this for a good 3 minutes.
Shake out your arms for a minute or so.
Place your hands in a prayer position. Keeping your hands touching, bend your hands to one side and then to the center. Then bend your hands to the other side.
Repeat this movement but with your fingers splayed.
If you're sitting, get up regularly, stretch and walk around.
Use the best ergonomic crochet hooks.
FAQs About Crocheting Hooks For Arthritis
Is Crocheting Bad For Arthritis?
The good news for people who have Arthritis is that you can still crochet! It is essential to have a crochet hook with an ergonomic handle. Suppose you have only been using metal hooks. When you try an ergonomic hook, you'll be delighted with how much more comfortable they are.
You need to take breaks and perform some simple stretches at regular times. A wrist guard or stress relief glove may also help.
Can You Crochet With Arthritis?
Yes, you can crochet with Arthritis. Ergonomic crochet hooks will help to make crocheting more comfortable. It is essential to rest at regular intervals and do some hand exercises.
Can Crocheting Be Bad For Your Hands?
Crocheting is not bad for your hands if you are aware of the effects of repetitive movement. Doing something for a long time, using the same muscles/tendons can cause pain, particularly if you have Arthritis.
Other repetitive stress disorders are Tennis Elbow, Carpal Tunnel Syndrome, or Repetitive Strain Injury in your hand, wrist, and arms. It is best to use an ergonomic crochet hook to experience comfort in your hands when crocheting. Take regular breaks and do stretches.
Are Wooden Crochet Hooks Good To Use?
Wooden hooks are warm to the touch and are lightweight. Wooden Crochet hooks that have an ergonomic handle like the Furls Streamline mentioned above are excellent.
Conclusion
Hope this selection of the best comfort crochet hooks helped you. Please leave any questions in the comments section below or message me here.
Pin For Later