Soft, snug baby blanket yarn to comfort little ones. Babies are a wonderful reason to try crocheting a blanket! Seeing them in your handmade blanket brings such rewarding joy! I share gorgeous types of yarn suitable for the best yarn for baby blanket.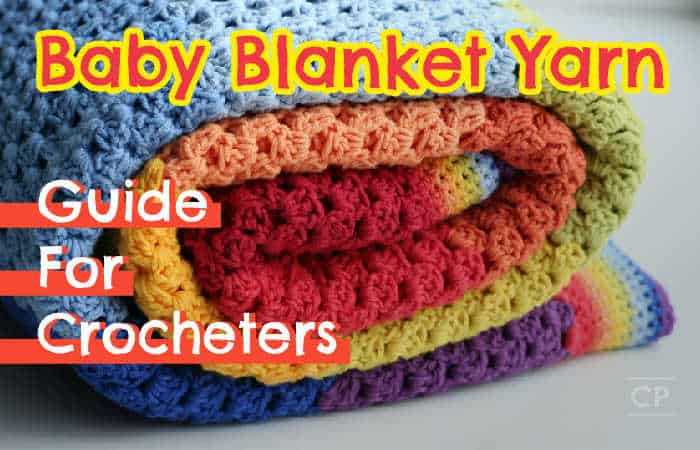 My Quick Recommendations
Note: The above links take you to further information, current prices, and customer reviews on Amazon.
I reviewed, fact checked and updated this post on April 11, 2023
Table Of Contents
What's The Best Yarn For A Baby Blanket?
Many crocheters and knitters agree cotton or acrylic blends are the best yarn for a baby blanket. They're the plushest yarns and have excellent machine washability. Even better, they're available in many colors and are perfect affordable/cheaper yarns. Soften acrylic using a fabric softener.
These are perfect for baby blankets, but other blends and yarn types, like Cotton/Acrylic Blends, Organic Cotton, and Silk/Bamboo Blends, are great. The last option is more expensive but luxuriously soft.
Sometimes sock yarns would suit a baby blanket. There are fabulous designs for a baby blanket pattern, but you need to choose a yarn first!
Guide To The Best Yarn For Baby Blankets
I've reviewed yarns suitable for crocheting baby blankets. They're categorized by material: acrylic, cotton, cotton/acrylic blend, organic cotton, and silk/bamboo.
Bernat Baby Blanket Big Ball
Check Price On Amazon
A wonderful Bernat yarn for a baby! Super soft, cuddly, and a joy to work with. Bernat Baby blanket yarn has lovely shades to suit any home decor. Bernat Baby yarns are Oeko-tex certified. (It's been tested for over 300 harmful substances!) It's safe for your little one's sensitive skin, and perfect for these projects. This bulky weight yarn is machine washable too.
Use it for kids' garments and baby accessories with a soft and cuddly texture. The baby blue is a delightful shade and a popular choice. The Bernat Simple Chevron Baby Blanket pattern is perfect for beginners. It's a free downloadable pdf.
Yarn Weight Category: Super Bulky (6) – It's a big ball size
Content: 100% Polyester
Yarn Colors: Various solid different colors and prints
Skein Weight: 10.5 oz. / 300 g
Yardage: 220 yd. / 201m
Care: Machine washable and dryable. Cold water machine washes and machine dry
Gauge: 8 sc – 8 rows = 4″ (10 cm)
Suggested Crochet Hook: 8.00 mm, US L/11
How Many Balls Of Bernat Yarn Do You Need For A Baby Blanket?
The number of Bernat yarn balls you need to make a baby blanket depends on the size you choose. For most tiny tot blankets, you need two balls of Bernat Blanket Yarn 10.5 oz. This makes a blanket approx 34″ [86.5 cm] wide x 36″ [91.5 cm] long. As there's lots of yarage, it's perfect for craft machines!
Pros
Easy laundry care, soft and easy to care for
A great range of pastel colors and prints
Many reviews with 5 stars
Oeko-tex certified
Great choice for first time baby blanket knitters
Excellent choice of super bulky yarn
Ships to many countries
Use it for other crafting interests too
Would suit someone who loves soft things!
Cons
Remember to wash in cold water
Sometimes yarn tangles
There can be knots where the yarn has been joined
We Crochet Brava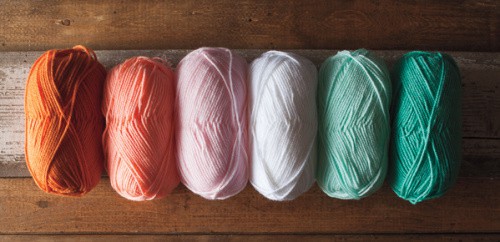 You can't go wrong with this classic yarn! I'm a fan, as I've made some great projects with it. This excellent company has other excellent brands for an affordable price.
Weight: Medium (4)
Material: 100% Premium Acrylic
Skein Weight: 100gm
Yardage: 218 yds.
Colors: 47 gorgeous baby colors
Care: Machine Washable and Dryable. Tumble Dry Low
Gauge: 11–14 sc = 4″
Suggested Hook: I – K hooks (5.5 mm-6.5 mm)
Pros
Huge colors range for a gorgeous baby blanket
Durable and hardwearing
Good budget option for crochet baby blankets
Free shipping for orders over $35 in the United States
Excellent customer ratings
Great customer service if you have trouble with your order
In Australia, Canada or the UK? Great news, this ships to your country
Cons
Some users complained of knots where joins are in the ball
Need to check for availability of the colors you like
Lion Brand Baby Soft Yarn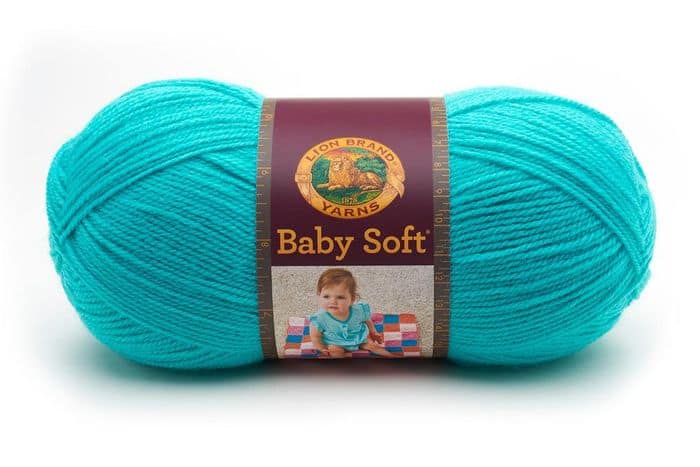 Baby soft yarn is a blend of synthetic fibers, soft, stretchy, and durable. This yarn is suitable to machine wash and dry.
Yarn Weight: Light Worsted Yarn (3)
Materials: 60% Acrylic, 40% Nylon
Skein Weight: 5 oz. / 140 g
Yardage: 459 yds. / 420 m
Colors: Good color palette of various pastel colors, solids and prints
Laundry Care: Machine washable and dryable. Low temp wash and dry.
Gauge: 16 sc – 20 rows = 4″ (10 cm)
Suggested Crochet Hook: 4 mm, US – G/6
Pros
Ideal for babies
Some of the softest yarn and cuddly
Machine washable in temps less than 105F/40C
Easy to work with
This type of yarn has a wide colors range
Easy to care for
Good ball size makes for easy storage
This site has excellent pattern inspiration
Creates wonderful results
Cons
Looking for funky bright colors? The options are more pastel colors
Bernat Softee Baby Yarn – Bernat Blanket Yarn Collection
Check Price On Amazon
An easy-to-crochet premium acrylic yarn. This yarn is perfect for a baby blanket, infant & kids items, baby garments, and home decor. Great for all occasions! Super soft and light. Marled yarn Bernat Baby is a twisted look of white and solids.
Weight: Worsted Weight Yarn (3)
Material: 100% acrylic
Care: Machine Washable and Dryable.
Skein Weight: 5 oz. / 140 g
Yardage: 362 yds. / 331 m
Colors: 16 solid colors and 2 marled colors
Gauge: 16 sc – 19 rows = 4″ (10 cm)
Knitting Needle Size: 4mm
Suggested Crochet Hook: 4.00 mm, US – G/6
Pros
Easy yarn to crochet with
Soft on hands
Some of the softest yarn available
The selection of yarn color combinations of the prints are cute
Easy to care for
Easily machine washed
Cons
Some people found knots where the yarn had been joined.
Caron Simply Soft
Check Price On Amazon
Weight: Medium (4)
Material: 100% Acrylic
Skein Weight: 6 oz / 170 g
Yardage: 315 yds / 288 m
Care: Machine wash delicate cycle. Machine dry delicate cycle
Colors: Simpy Soft has 42 solid colors (brights and pastel colors)
Crochet Gauge: 13 sc and 14 rows = 4″ (10cm)
Suggested Crochet Hook: 5 mm (US H/8)
Pros
Wonderful variety of colors, funky brights, and soft pastels
Easy to work with
Cons
Some users reported shedding
Lion Brand Vanna's Choice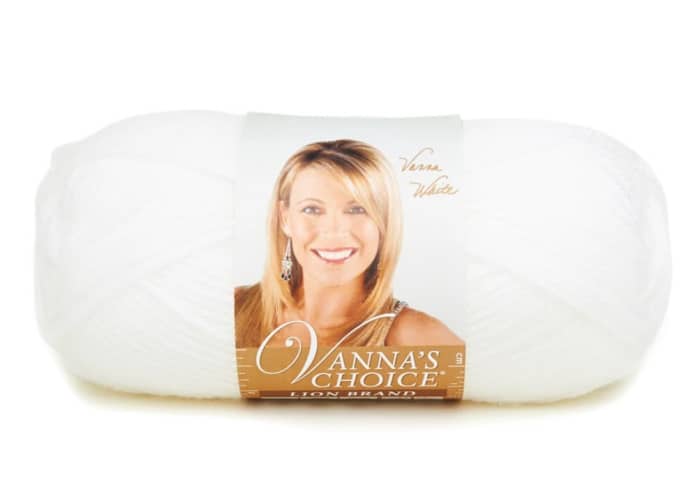 These lion brand yarns are popular with many crafters for a good reason!
Weight: Medium (4)
Materials: 100% acrylic
Skein Weight: 3.5 oz. / 100 g
Yardage: 170 yd. / 156 m
Care: Machine Washable and Dryable Tumble Dry
Crochet Gauge: 12 sc – 15 rows = 4″ (10 cm)
Suggested Crochet Hook: 6 mm, US – J/10
Suggested Knitting Needles: 9 (5.5 mm)
Pros
This item is a good budget pick (sign up for their email newsletter on the site to get the latest deals for your purchase)
Cons
Some found it split
Not so easy to work with
Not so easy to care for
Not as soft as other premium acrylic yarns
Some colors aren't suitable for baby items, better for home décor.
Universal Yarn Bella Chenille
Check Price On Amazon
Weight: Super Bulky (6)
Material: 100% Polyester Yarn
Skein Weight: 100gm
Yardage: 131 yds.
Colors: 16 options (Solid brights and pastel colors)
Care: Machine wash. Don't tumble dry.
Crochet Gauge: 9 sc – 9 rows = 4″ (10cm)
Suggested Crochet Hook: (8 mm) US – L-11
Pros
Soft bulky polyester
Snuggly
Colors are fun
Excellent chennile yarn for blanket desighs, a baby shower gift or home decor projects
High-quality yarn
Great value for money
Cons
Red Heart Soft Baby Steps Yarn
Check Price On Amazon
The red heart yarn is a 100% synthetic yarn designed to be soft and cuddly.
Weight: Medium (4)
Material: 100% Acrylic
Skein Weight: Solids: 141 g/5 oz, Prints: 113 g/4 oz,
Yardage: Solids: 234 m / 256 yards, Prints: 187 meters/204 yards
Care: Machine wash at low temperature. Machine dry at low temperature
Crochet Gauge: 4" x 4" (10 cm x 10 cm) 12 sc and 15 rows with a 5.5 mm (US I-9) crochet hook
Suggested Crochet Hook: 5.5 mm (US I-9)
Pros
Super soft to the touch
Lightweight
Great stitch definition
Cons
Some find the yarn splits
Lion Brand Yarn 24-7 Cotton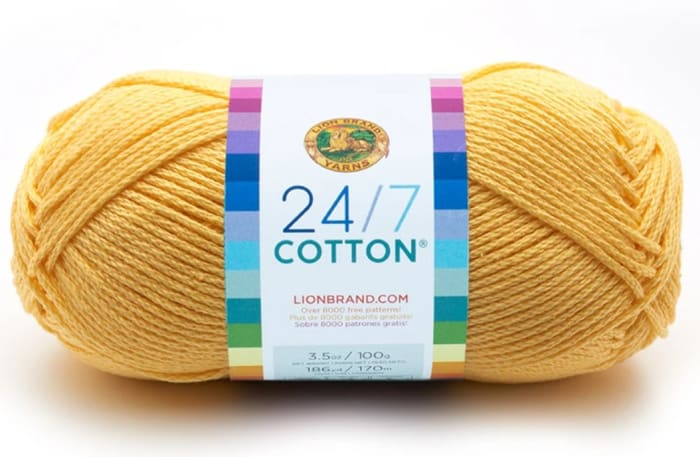 Lion Brand is the oldest family-owned yarn store in the world. They have a great range to suit any baby blanket. This is made of 100% natural fiber, is medium weight, and soft to touch. A great summer choice for baby projects! Shop for enough yarn for your whole blanket so the color is the same throughout.
Weight: Medium (4)
Material: 100% Mercerized Cotton
Skein Weight: 3.5 oz. / 100 g
Yardage: 186 yd. / 170 m
Colors: 25 options of varying pastels and bright solids
Care: Machine Wash and Dry
Crochet Gauge: 14 sc – 19 rows = 4″ (10 cm)
Suggested Crochet Hook: 4 mm, US – G/6
Pros
Great range of colors with a lovely sheen
This site has plenty of baby blanket patterns to choose from!
Light and sturdy, but still some of the softest yarn in their collection
These quality yarns are easy to work with
Excellent yarn for baby blankets
This site makes it easy to do your shopping as everything's organized by handy categories
These skeins of yarn are the perfect choice for other crafts and hobbies too
Cons
The yarn is 4 ply, be careful of splitting
Bernat Handicrafter – Cotton Yarn Family
Check Price On Amazon
Weight: Medium (4)
Contents: 100% Cotton
Skein Weight: 14 oz. / 400 g
Yardage: 674 yds. / 616 m
Care: Wash and Machine Dry
Colors: 2 in the large skeins
Crochet Gauge: 13 sc – 14 rows = 4″ (10 cm)
Suggested Hook: 5 mm, US – H/8
Pros
100% USA grown cotton yarn
Yarn made in the USA
Easy care
Lasts long
Cons
Some found the handicrafter cotton yarn stiff
Limited yarn color choice
We Crochet Comfy Fingering Yarn
A gorgeous range of brights and pastels. Pima cotton and acrylic fibers' blend makes it easy to crochet textured stitches, like cables. Create baby blankets, baby clothes, and hats with this yarn.
We Crochet (the sister company of Knit Picks) have an excellent support team. These knowledgeable people also love yarn and crochet and respond to emails customers have. Also, keep in the loop about their fab sales and crocheting tips with their e-newsletters.
Weight: Fingering Weight, Light-Sport Weight Yarn (Baby Sport Yarn)
Material: 75% Pima Cotton, 25% Acrylic
Yardage: 218 yds. (199 m)
Care: Low Tumble Dry & Gentle Machine Washing
Skein Weight: 50g
Colors: 20
Crochet Gauge: 21 – 32 sc = 4″
Suggested Crochet Hook: B – E hooks (2.25mm-3.5mm)
Pros
Lovely colors in brights, neutrals, and pastels
Soft fabric
Great stitch definition
Easy care
Hardwearing and lasts a long time
High-quality yarn
Ships to the United Kingdom
Cons
Users would love more color options
Can pill
Patons Silk Bamboo
Check Price On Amazon
Weight: Light Worsted Weight (3)
Material: 70% bamboo, 30% silk
Skein Weight: 2.2 ounces / 65 grams,
Yardage: 102 yards / 93 meters
Colors: 8 muted tones
Care: Handwash, dry flat.
Knitting Gauge: 22 stitches by 26 rows = 4×4 inch
Suggested Crochet Hook: Size G-6 (4mm) hooks
Pros
Gorgeous texture
Lovely sheen
Everything you make with this produces an amazing result
Would make a great garment
Great choice for a variety of baby projects
Affordable shipping to your delivery address
Color choices are perfectly coordinated so it's easy to make matches for your creations
Cons
Don't wash in a machine
This thing has a more expensive cost than acrylic
Some find the yarn is slippery
Not easy care
No ombres, only solids and other styles
Comparable Products To Consider
Here are my suggestions.
If you're looking for something else, the Lion Brand Thick And Quick yarn are great too. The filters on the LionBrand website make it easy to search.
Best Baby Blanket Yarns – Buying Checklist
There are qualities the best baby blanket yarn should contain. A baby blanket should be lightweight (but still warm if it's cold weather), cuddly, soft, and functional. The best yarn is machine washable, soft, and hardwearing.
Here's a list of questions to ask when choosing what yarn makes the best blanket for a little one. These are the times to decide what you want to make your afghan with!
Can You Machine Wash The Yarn?
As lovely as many hand-washable yarns are, they need to be washed often! Vomit, drooling, and diaper disasters are common with babies. Save the parents and yourself time and energy, avoid hand washing, and ensure the answer to the question is a yarn machine washable, is yes.
Using a washing machine is much easier for parents of newborns! The best yarn for a baby blanket is machine washable, not hand wash. Check the label to see if it's hand washable or machine washable. You want something to withstand a normal machine wash, with a temperature of about 40° Celsius or 104° Fahrenheit.
Sometimes a yarn is machine washable and dryable! Putting something in the tumble dryer on a rainy day makes life much easier. If you choose an acrylic fiber, don't let the parents iron the yarn or bleach it, it'll destroy your hard work!
What Do The Parents Prefer (Colors/Material)?
Though you may have ideas on what the baby would like regarding materials and color, you're not making knitting blankets for the newborn. The baby has no choice in the matter.
Take into account their preferences when they discuss the colors they are choosing for the nursery. Not sure? Ask them.
If they want a multicolored blanket, the best way to get those yarns without spending too much is a bundle or value pack. Most sites have many kinds on offer with several weights. Makes the experience of being a knitter or crocheter much easier!
What's Your Budget?
As with any crochet or knitting project, you tackle, choose lovely, luxury products or an excellent but cheaper option for baby knitting. Don't go over budget! As babies grow, they use it for a year at most. The baby phase doesn't last long! Ensure you're not paying anything too expensive.
Acrylic, polyester, other synthetic fibers, and cotton are cheaper. Alpaca yarn (alpaca wool), silk, and bamboo are luxury yarns and more expensive.
Are The Parents Or The Baby Allergic To Wool?
If one or both parents are allergic or sensitive to wool, there's a chance the child is too. You don't want the baby's skin to develop a rash or be irritated. If so, avoid animal fibers. Choose something hypoallergic or a synthetic fiber like acrylic to ensure the baby's skin isn't irritated.
Not sure? Ask.
The Blanket Ends Up In The Baby's Mouth!
Young children explore through their mouths, so your blanket ends up there. Check the reviews of a particular yarn if they say how well the yarn held up.
When Will The Baby Be Born?
When is the child due, and in what season? Spring, Summer, Fall, Winter? Winter or cooler months: softer and warm material. Summer or warmer months: lightweight fiber for a summer blanket (acrylic and cotton).
Do You Need Multiple Balls Of Yarn?
Know the ball size or yardage. If you need more than one ball of yarn, buy them from the same dye lot if you're planning on one color. (Dye lots are a batch of yarn dyed at the same time.)
This is important for any knitted project, not just baby blankets. Even if the colors are the same and come from a different dye lot, they look different.
What Kind Of Feel Should The Yarn Have?
Check the parent's preferences when you make your decision about the softness. There is plenty of incredibly soft yarn for baby blanket. Winter, you want a soft, bulky, thick chenille-style yarn. Summer, you want thin, lightweight, but still soft yarns.
Will The Blanket Pose A Hazard For The Newborn?
Babies aren't self-aware. You need to ensure the blanket specifics won't pose a hazard or difficulty to the newborn. Here's a quick checklist of things to remember to keep the child safe.
Ensure your tension is tight, and your stitches are close together. Loose stitches could cause a choking hazard, and so could novelty yarns.
Don't choose knitting patterns with holes. You don't want the child to be able to put their fingers through the yarn.
Weave in all the ends. Double-check the weaved-in ends can't be picked out.
Avoid a bulky blanket in summer and a light one in winter. The baby could overheat or get too cold.
What Gauge Do Your Crochet Patterns Or Craft Projects Require?
Gauge: This is the stitches per inch, also referred to as the yarn's tension. To find the yarn gauge, count the number of stitches over 6 inches. Divide by 6. Having the correct gauge ensures your knit and crochet patterns look like the finished product you're trying to achieve.
FAQs About Baby Blanket Yarns
Is Acrylic Yarn Safe For Babies?
Yes! The best yarns for baby blanket to choose from are soft acrylic or a blend of acrylic with a nice texture. Little ones need to be kept snug.
Is Wool A Good Material For A Baby Blanket?
Yes, as long as the parents or the baby aren't allergic or sensitive to wool. Baby skin is delicate, and such allergies affect them more than adults. Merino wool yarn is hypoallergic, super soft, and warm. Or choose blends with merino wool, or splurge on baby alpaca.
Merino yarns are expensive, as it's premium animal fiber. Though superwash is cheaper.
How Long Does It Take To Crochet A Baby Blanket?
It depends on the blanket's size, what kind of weight yarn it is, and how fast you crochet! If you use sock yarn, it's going to take a while to make, as it's such thin yarn fiber!
How Many Balls Of Bernat Yarn Do You Need For A Baby Blanket?
Smaller baby blankets need 1-2 skeins. Larger ones need 3-4.
How Do You Wash Bernat Baby Blankets?
Handwash or machine wash in the delicate program, with cold temperature.
Does Walmart Carry Bernat Yarn?
Yes, Walmart sells Bernat Yarn, though double-check if it's in stock at your local store.
How To Decide Between Yarns For Warm And Cold Weather?
Thicker bulky yarns are best for winter, and lighter yarns like cotton for warm weather. The little ones need crochet yarn to keep them comfortable, and they're not good at temperature regulation.
How To Wash Crocheted Blankets?
Machine Washable – delicate or wool setting in a cold wash
Washed By Hand – gentle soap in cold water.
Treat these washing instructions as a guideline only, always read the label!
How Much Yarn Do I Need For A Baby Blanket?
Knitting with chunky yarn like a chenille-style yarn? Two balls are good. Knitting baby blankets with something smaller? 9 balls.
How Big Should A Baby Blanket Be?
If you're following a pattern, most show how much yarn (yardage) is needed to finish the project. Find the yarn you've chosen, and see how many yards are contained within one ball. Next, on the pattern, find how many yards you need, and divide it by the total amount within one skein.
Always do a swatch before making the full throw! It'll make things much easier, as you catch out potential mistakes you might make on the job.
Conclusion
Soft, and snugly baby blanket yarns perfect for crocheting or knitting a baby blanket. I hope you enjoy making baby blankets, and the parents and the newborn are sure to appreciate the creation you've put so much effort into.
Have a question about these art supplies? Leave a comment using your email address and I'll answer it! Or tell me in the comments about your lates baby project. I love hearing from readers of my blog. Want more blanket yarn info? I have a full post here.
Pin For Later