What if I told you there's a single yarn craft combining crochet and knitting? Enter Tunisian crochet!
Read on to find out more in my Tunisian crochet guide.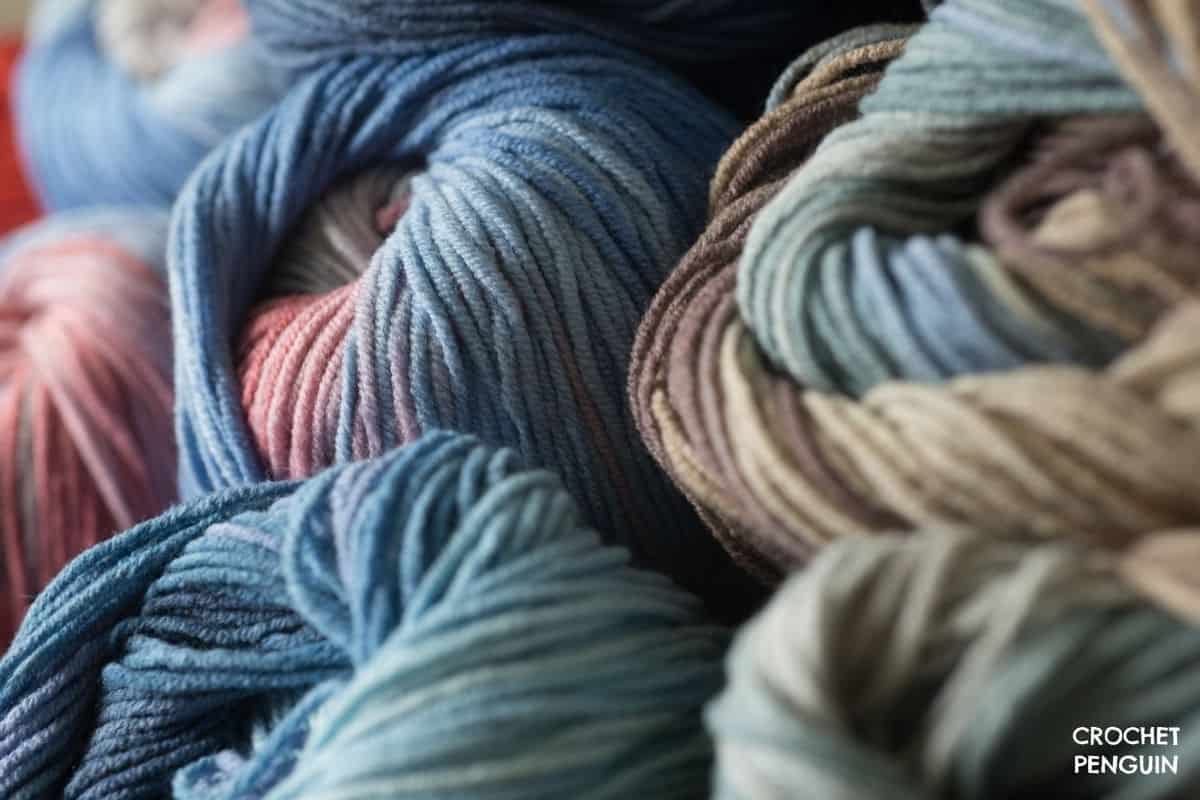 With this crocheting technique, make textiles that imitate knitting and fabrics that look similar to crochet. You can also create completely different stitches with this technique.
There's no proof it originally came from Tunisia. So, where did it come from, and what do we know about it?
Table Of Contents
What Is Tunisian Crochet?
Tunisian crochet (pronounced tyoo-ni-zee-uhn crochet in the UK and Australia, and too-nee-zhn crochet in the USA) is a type of needlecraft merging knitting and crochet.
Knitters and crocheters alike will find something reminding them of their craft in Tunisian crochet.
Learning this technique is great if you like the appearance of knitting but don't like using two knitting needles. Or, maybe you don't like something about crochet, but you still like its look.
Since Tunisian crochet didn't come for Tunisia, where did it originally come from? No one knows, unfortunately.
Tunisian crochet's popularity didn't return until the 1960s, when it was again featured in print.
People did see Tunisian crochet first appear in print in 1884 in a book called 'The Dictionary of Needlework.' During those years, Tunisian crochet was increasingly popular. However, soon after, it declined.
What Is The Difference Between Crochet And Tunisian Crochet?
Here is a quick comparison between traditional crochet and Tunisian crochet.
#1 – Fabric
Tunisian crochet is quite stretchy. It also tends to curl more than regular crochet.
Regular crochet is exceptionally stretchy.
#2 – Tool
Tunisian crochet: In this crochet technique, you use a longer hook. The longest hooks are up to 14 inches long.
Traditional crochet: The regular crochet hooks are short than the Tunisian hooks and tend to be around 6 inches long.
#3 – Method
Tunisian crochet: You work the stitches on two passes, the forward pass and return pass.
Traditional crochet: You flip the work at the end of the row.
What Is The Difference Between Tunisian And Afghan Crochet?
Though they sound like two completely different crochet techniques, they're the same thing. Tunisian crochet is known as afghan crochet too.
People used to call Tunisian crochet "Afghan crochet" or "Afghan stitch" before the 1970s, but now people interchange the two.
Afghan crochet is often confused with a different crochet method. But, it's a group of crochet stitches within the Tunisian technique.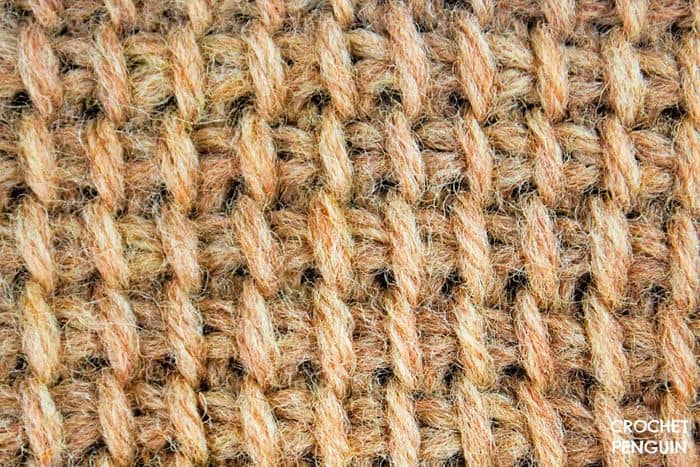 How To Tunisian Crochet
First things first, let's start with the basics. Here's a list of things you'll need.
Tunisian crochet hook. (The pattern you're using will tell you which one you need.)
Yarn
Scissors
Tape Measure or a Ruler
Darning needle to weave in the ends
Optional: Stitch Counters Or Stitch Markers
Regarding the size of the hook you need, check the yarn label to see what it recommends.
Here are how to do some of the most common Tunisian stitches with some free crochet tutorials. A perfect introduction to expanding your stitch repertoire.
Looking for yarn for crochet socks? See my review.
How-To: Tunisian Simple Stitch
This Tunisian crochet stitch is the most basic of stitches and is very easy to learn. (Abbreviated as Tss or also known as Afghan stitch.)
Learn how to do it in this video tutorial by B.Hooked Crochet.
If you'd prefer written instructions, read on for how to do a Tunisian simple stitch.
Start the process as you would if doing normal crochet, with crochet chains (also known as a foundation row or foundation chain). Once you've done the foundation row, now you start to turn it into a Tunisian stitch.
The Tunisian simple stitch is comprised of two parts, the forward pass and the back pass. Remember to always keep the yarn behind the fabric.
Forward Pass: Ignore the first vertical bar. *Insert hook under the next vertical bar, do a yarn over and draw up a loop. Repeat from *. Keep all the loops you create on your hook.
Reverse Pass: To do the reverse pass, make a yarn over and draw it through one loop on your hook. *Yarn over again and draw through 2 loops on your hook; repeat from * until only one loop remains on the hook.
Congratulations! You've completed one row of the Tunisian simple stitch. Repeat this process as many times as necessary. For as many rows as you need, and watch your Tunisian crochet fabric grow.
How-To: Tunisian Full Stitch
Very textured, thick, fluffy… This is a gorgeous, warm stitch.
Video Tutorial by TL Yarn Crafts.
How-To: Tunisian Knit Stitch
Is this stitch knitted or Tunisian crocheted? Hmm, I wonder… Also know as Tunisian Stockinette stitch, because in fact, it creates a crochet fabric very much like stockinette stitch in knitting!
As always, you start with a foundation chain, but quickly turns from crochet into something else when you do it.
This 'knit' stitch looks very like real knitting on the front, but you'll see a difference between the two when you flip it to the wrong side.
Video Tutorial by American Crochet Association.
How-To: Tunisian Purl Stitch
This stitch looks almost precisely like a knitted purl stitch.
Video Tutorial by The Crochet Crowd.
Tunisian Crochet In The Round
Here's an excellent tutorial for working in the round with the simple stitch.
Video Tutorial by Designs by Phanessa.
Tunisian Crochet Stitches
How Many Tunisian Crochet Stitches Are There?
There are more than 400 Tunisian crochet stitches out there in total. Of course, you don't need all of them in your stitch repertoire, but here are the four most common crochet stitches Tunisian.
Stitch #1. The Simple Stitch (a.k.a Afghan Stitch) Tunisian Crochet Stitch
The Tunisian simple stitch makes a stretchy yet almost opaque woven-like fabric. The wrong side has a bumpy texture and looks very similar to the knitted purl stitch.
Stitch #2. The Full Stitch Tunisian Crochet Stitch
Fluffy, thick, warm… what more could you ask for in a fabric? This stitch's warm characteristic makes it an excellent choice for winter garments, like scarves.
Another great thing is that the finished fabric two different textures on either side; it's reversible.
Stitch #3. The Tunisian Knit Stitch Tunisian Crochet Stitch
Now, this is where you can get fooled! The Tunisian knit stitch looks like the knitted knit stitch. As soon as you flip the apparently 'knitted' fabric, you might see a difference if you compared it to a real knitted piece.
Stitch #4. The Tunisian Purl Stitch Tunisian Crochet Stitch
Hmmm… Is this Tunisian crochet or knitting? Look closely and compare a knitted and Tunisian purl stitch, and you'll see a slight difference between the two.
This stitch is great if you don't like knitting, but you want to make a purl stitch.
More types of Tunisian Crochet Stitches:
Reverse Stitch
Ocean Stitch
Top Stitch (a.k.a. Bump Stitch)
Basketweave Stitch
Smock Stitch
Popcorn Stitch
Tunisian Lace
Mesh Stitch
Honeycomb Stitch
2×2 Rib
Tunisian Double Crochet
Tunisian Crochet Hook
What Is A Tunisian Crochet Hook?
A Tunisian crochet hook is elongated, hooked at one end, and stoppered at the other. Tunisian or 'Afghan' crochet hooks are ideal for holding lots of stitches. They are designed specifically for Tunisian crochet.
Good examples are Clover Tunisian Hooks, Boye Tunisian Hooks, Susan Bates Afghan Hooks & Addi Tunisian Hooks.
Can You Use A Regular Crochet Hook For Tunisian Crochet?
Yes, you can use a regular crochet hook for Tunisian crochet, but only for small projects. The bigger the project is, the harder it will be to fit all of the stitches on a regular crochet hook.
Tunisian crochet hooks are longer than traditional crochet hooks and have stoppers at the ends. These characteristics make it easier for the hook to hold more stitches.
Tunisian Crochet Patterns
Here are a few recommendations to give you some inspiration and expand your crochet skills with some free Tunisian crochet patterns.
"Let's Get Cozy" Mug-Cozy by Kris Stone
This free Tunisian crochet pattern is a simple, functional project that will come up in no time. A great beginner project.
Tunisian Basketweave Pillow Crochet Pattern By Tanya Eberhardt
Here is a free Tunisian crochet pattern for a pillow cover for something equally functional but a bit more advanced.
A Funny Thing Happened… Shawl By Amy Depew at The Laughing Willow
A pretty, gauzy shawl with loose, open stitchwork.
Flaming Gorge Scarf by Hailey Redden
When used with a self-striping or multi-color scarf, the rich gradient complements the lovely stitchwork.
Once you've made a few patterns for beginners and have grown in your abilities, try attempting this wonderful open cropped bolero.
For more excellent patterns and Tunisian crochet projects, Ravelry is an excellent place to look.
Also, popular designer and creator Dora Ohrenstein has published a book through Interweave on a modern, easily accessible approach to Tunisian crochet.
Featuring 30 Tunisian crochet stitches and 11 projects, this is a great introduction to this method.
The New Tunisian Crochet: Contemporary Designs from Time-Honored Traditions
Tunisian Crochet Afghan
Here are some great patterns for Tunisian crochet for afghans and their tutorials.
Sweet Gingham Baby Blanket Video Tutorial by TL Yarn Crafts
Daydream: A Simple Striped Tunisian Crochet Blanket by One Dog Woof
Here are crochet designer and blogger Chiwei's video tutorial of how to do the simple stitch (the most common of Tunisian crochet stitches.)
Here is a related video tutorial on how to change colors in Tunisian Crochet.
Honestly Easy Tunisian Crochet Afghan by AllFreeCrochet
An easy and quick weekend project, it uses contrasting color bulky yarn, so it crochets up very fast.
Your Questions Answered
Is Tunisian Crochet Easy?
Yes, very! It helps to have an easy-to-follow video tutorial or in-person teacher. Practicing and mastering some basic Tunisian crochet techniques will make the stitches much easier to learn with them.
Once you've practiced and mastered simple stitch, it will be easier for you to learn the other stitches because you'll be familiar with the basic hand motions.
What Is Tunisian Crochet Used For?
Lots of different things. You can make almost anything with Tunisian crochet. From socks to hats, shawls to cardigans.
Does Tunisian Crochet Use More Yarn?
Compared to knitting, Tunisian crochet does use more yarn, along with traditional crochet.
Is Tunisian Crochet Difficult?
Not at all! You don't need any experience in knitting or standard crochet. So you can learn the Tunisian style even if you've never used yarn and a hook or needle together.
Why Is It Called Tunisian Crochet?
It's hard to discern why this needlecraft is called Tunisian Crochet since we don't know much about it. We do know that people used to only call it Afghan crochet and later also called Tunisian crochet.
So it's kind of a mystery why they chose 'Tunisian.'
How Do You Finish Tunisian Crochet?
To bind off or cast off, end with one loop on your hook right after you finish the return pass.
Arunima from KnitterKnotter explains it in detail in her video tutorial.
Is Tunisian Crochet Faster Than Knitting?
Yes, Tunisian crochet is faster than knitting, but only if you're quite well versed in the technique. As a beginner, you'll go quite slow as you get the hang of the method.
But as you become experienced, you'll find it can be faster than standard crochet, and almost as twice as fast as knitting!
Why Does My Tunisian Crochet Curl?
Every who does Tunisian crochet gets curled fabric, so don't worry if you think it's something you're doing wrong.
How Do I Stop My Tunisian Crochet From Curling?
Picture this: you've finished doing a Tunisian crochet project, and you're so happy with it! But hang on, is that a curl you see at the top there? I know that feeling. Super annoying!
Here are four simple methods that help reduce that super frustrating curl.
Troubleshooter #1. Block it!
This technique will remove the curling for a short amount of time. Here is my article about how to block a knitted piece. If you wash the knit again, the curl may come back, so it's a good idea to block it again.
Troubleshooter #2. Seam it!
Seaming the ends together of a finished project, such as a scarf, completely removes the curling. If you were sewing together a scarf, then it would instantly make a curl-free infinity scarf.
A stylish win-win. It's as easy as it seams! (Sorry, not sorry 🙂 )
Troubleshooter #3. Go Up 2 Hook Sizes.
Use a hook size at least two sizes up from the one your yarn or pattern calls for.
For example, if you're pattern calls for a US hook size D/3, you want to change it for a US size F/5.
Troubleshooter #4. Loosen Up Your Tension.
This method helps the curl loosen a little bit. It will still be curled, but not as much as if you used a tight tension.
Out of all four of these methods, blocking is preferable.
Is Tunisian Crochet From Tunisia?
Unbelievable as it may seem, the Tunisian crochet did not come from Tunisia. People aren't exactly sure where it came from, although it did appear in print in 1884 in 'The Dictionary Of Needlework.'
What Can I Make With Tunisian Crochet?
There are so many beautiful Tunisian crochet patterns you can find all over the internet.
Some things you can make with Tunisian crochet:
Afghans
Headbands
Dishcloths
Boot cuffs
Hats
Shawls
Baby booties
Cowls
Baby blankets
Sweaters
Scarves
Pillows
Bags
Beanies
Blankets
How Do You Make A Tunisian Crochet Dishcloth?
Here are some Tunisian crochet dishcloth/washcloth video tutorials:
Basic Brittany Video Tutorial By B.Hooked
Tunisian Shaker Dishcloths Video Tutorial by VeryPink Knits
Simple Stitch Washcloth Video Tutorial by The Crochet Crowd
Now you have the information you need to start a new Tunisian crochet project.
Start with a small project like a dishcloth. Then work your way up to bigger, challenging projects like patterned blankets and sweaters. Good luck!
Next > Cyber Monday Yarn Sale 2021
Pin Now to Save for Later