There's a yarn craft combining crochet and knitting! Read my Tunisian crochet guide. With this crocheting technique, you make textiles that imitate knitting.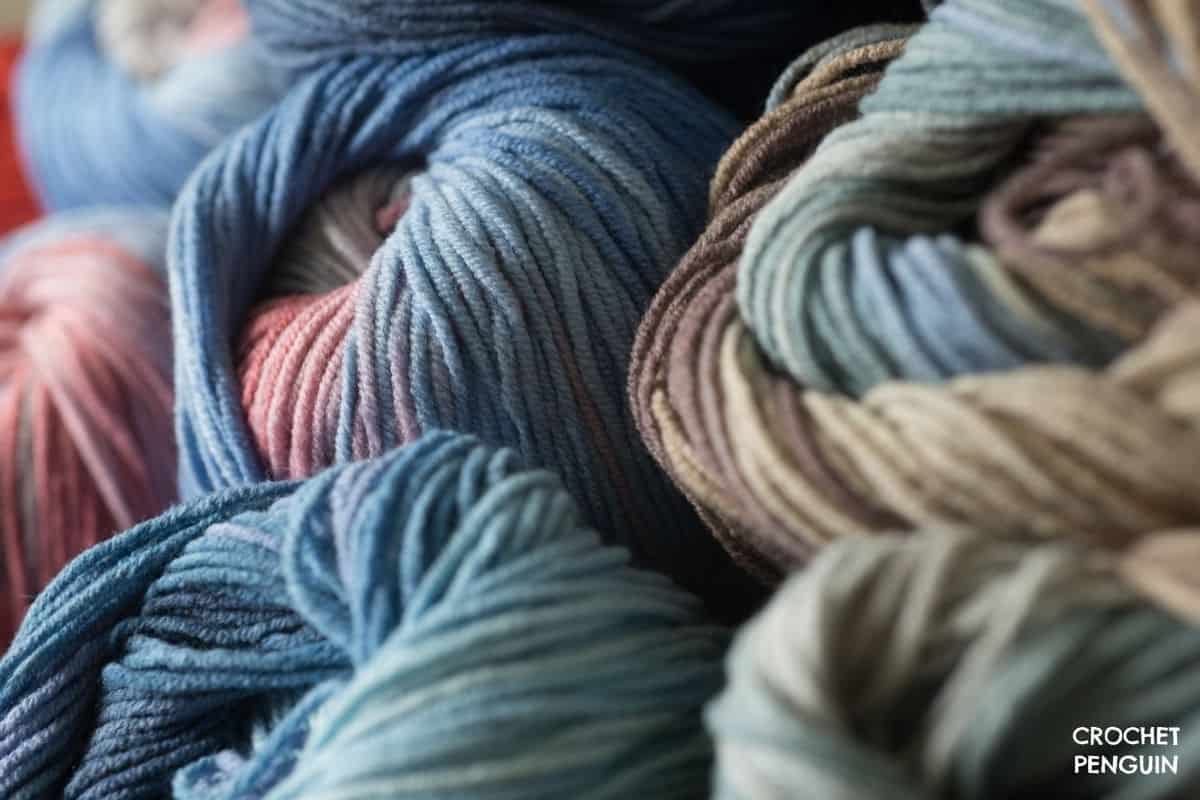 I reviewed, fact checked and updated this post on April 14, 2023.
Table Of Contents
What Is Tunisian Crochet?
Tunisian crochet is a needlecraft merging knitting and crochet. (Pronounced tyoo-ni-zee-uhn crochet in the UK and Australia, and too-nee-zhn crochet in the USA.) Knitters and crocheters find something of their craft in Tunisian crochet. Where did it come from? No one knows!
It first appeared in print in 1884 in a book 'The Dictionary of Needlework.' Tunisian crochet's popularity didn't return until the 1960s.
What Is The Difference Between Crochet And Tunisian Crochet?
Tunisian crochet curls more than regular crochet. Regular crochet is stretchy. Tunisian crochet uses a longer hook up to 14″ long. Regular crochet hooks are shorter and around 6″ long.
Tunisian Crochet: Work the stitches on two passes, the forward pass and return pass. Traditional Crochet: Flip the work at the end of the row.
What Is The Difference Between Tunisian And Afghan Crochet?
They're the same. People used to call Tunisian crochet "Afghan crochet" or "Afghan stitch" before the 1970s, but people interchange the two. Afghan crochet is a group of crochet stitches within Tunisian.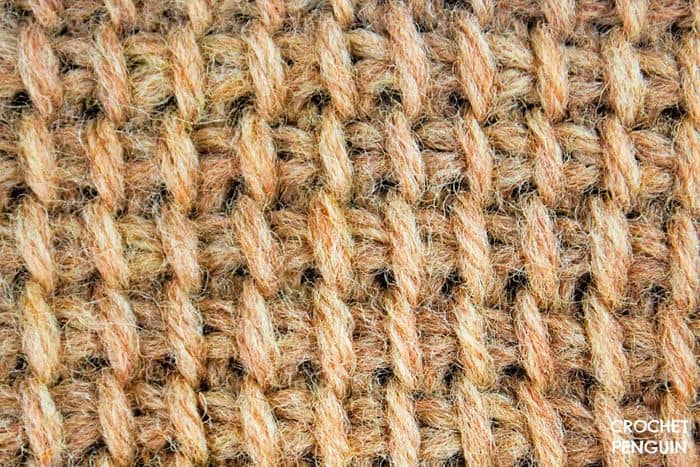 How To Tunisian Crochet
Here's a list of things you'll need.
Tunisian crochet hook. (Refer to your pattern)
Yarn
Scissors
Tape Measure or ruler
Darning needle to weave in the ends
Regarding the size of the hook, check the yarn label. Here are the most common Tunisian stitches with free crochet tutorials.
How-To: Tunisian Simple Crochet Stitch
This Tunisian crochet stitch is the most basic of stitches. (Abbreviated as Tss or also known as Afghan stitch.) Learn how to do it in this video tutorial by B.Hooked Crochet.
Refer written instructions? Read on for doing a Tunisian simple stitch. Start with crochet chains (aka a foundation row or foundation chain). Once you've done the foundation row, now turn it into a Tunisian stitch. The Tunisian simple stitch comprises the forward and back pass.
Always keep the yarn behind the fabric.
Forward Pass
Ignore the first vertical bar
*Insert hook under the next vertical bar
Do a yarn over
Draw up a loop
Repeat from *
Keep the loops you create on your hook
Reverse Pass
Make a yarn over
Draw it through one loop on your hook
*Yarn over again
Draw through 2 loops on your hook
Repeat from * until only one loop remains on the hook
Congratulations! You've completed one row of the Tunisian simple stitch. Repeat this process as many times as necessary. Watch your Tunisian crochet fabric grow.
How-To: Tunisian Full Stitch
Textured, thick, fluffy. This is a gorgeous, warm stitch. Video Tutorial by TL Yarn Crafts.
How-To: Tunisian Knit Stitch
Is this stitch knitted or Tunisian crocheted? Aka Tunisian Stockinette stitch. It creates a fabric like stockinette (vertical bars)! Start with a foundation chain. This 'knit' stitch looks like knitting on the front, but you'll see a difference. Video tutorial by the American Crochet Association.
How-To: Tunisian Purl Stitch
This stitch looks like a knitted purl stitch. Video tutorial by The Crochet Crowd.
Tunisian Crochet In The Round
Here's an excellent tutorial for working in the round with the simple stitch. Video tutorial by Designs by Phanessa.
How To Read Tunisian Crochet Patterns
Here are the Tunisian crochet abbreviations.
US & UK Terms
UK Terms
Tunisian simple stitch
tss
Tunisian simple stitch
tss
Tunisian full stitch
tfs
Tunisian full stitch
tfs
Tunisian single crochet
tsc
Tunisian Double Crochet
tdc
Tunisian half double crochet
thdc
Tunisian Half Treble Crochet
thtc
Tunisian double crochet
tdc
Tunisian treble crochet
ttr
forward pass
FwP
forward pass
FwP
return pass
RetP
return pass
RetP
extended simple stitch
etss
extended simple stitch
etss
Tunisian knit stitch
tks
Tunisian knit stitch
tks
Tunisian purl stitch
tps
Tunisian purl stitch
tps
Tunisian slip stitch
tslst
Tunisian slip stitch
tslst
Tunisian twisted
ttw
Tunisian twisted
ttw
Tunisian reverse stitch
trs
Tunisian reverse stitch
trs
How Many Tunisian Crochet Stitches Are There?
There are over 400 Tunisian crochet stitches. You don't need all, but here are the common crochet stitches Tunisian.
1 Simple Stitch (aka Afghan Stitch) Tunisian Crochet Stitch: Makes a stretchy, opaque woven fabric. The wrong side is bumpy and looks like the knitted purl stitch.
2 Full Stitch Tunisian Crochet Stitch: Thick, warm… what more could you ask for in a fabric? This stitch is excellent for winter garments, like scarves. The finished fabric is reversible.
3 Tunisian Knit Stitch Tunisian Crochet Stitch: Flip the 'knitted' fabric and there's a difference from a knitted piece.
4 Tunisian Purl Stitch Tunisian Crochet Stitch: Compare a knitted and Tunisian purl stitch, and you'll see a difference. This is great if you don't like knitting, but you want to make a purl stitch.
More Tunisian Crochet Stitches:
Reverse Stitch
Ocean Stitch
Top Stitch (aka Bump Stitch)
Basketweave Stitch
Smock Stitch
Popcorn Stitch
Tunisian Lace
Mesh Stitch
Honeycomb Stitch
2×2 Rib
Tunisian Double Crochet
Tunisian Crochet Hook
What Is A Tunisian Crochet Hook?
A Tunisian crochet hook is long. Hook at one end, and stopper at the other. Tunisian or 'Afghan' crochet hooks are ideal for holding many stitches.
Good examples: Clover Tunisian Hooks, Boye Tunisian Hooks, Susan Bates Afghan Hooks, and Addi Tunisian Hooks
Can You Use A Regular Crochet Hook For Tunisian Crochet?
Yes, but only for small projects. The more there are, the harder fitting stitches on a regular hook is. Tunisian crochet hooks are longer and have stoppers at the ends. It's easier for the hook to hold more stitches.
Tunisian Free Crochet Patterns
Here are recommendations for free Tunisian crochet patterns.
Note: Purl Soho haven't released any Tunisian patterns.
Tunisian Crochet Afghan
Here are great patterns for Tunisian crochet afghans.
Sweet Gingham Baby Blanket Video Tutorial by TL Yarn Crafts
Daydream: A Simple Striped Tunisian Crochet Blanket by One Dog Woof: Here are crochet designer and blogger Chiwei's video tutorial of how to do the simple stitch (the most common of Tunisian crochet stitches.)
Here is a related video tutorial on how to change colors in Tunisian Crochet.
Honestly Easy Tunisian Crochet Afghan by AllFreeCrochet: An easy, quick weekend project using contrasting color bulky yarn.
FAQs About Tunisian Crocheting
Is Tunisian Crochet Easy?
Yes! Use an easy-to-follow video tutorial. Mastering basic Tunisian crochet techniques make other stitches easier to learn.
What Is Tunisian Crochet Used For?
Make anything with Tunisian crochet. Socks to hats, shawls to cardigans.
Does Tunisian Crochet Use More Yarn?
Compared to knitting, Tunisian crochet uses more yarn, especially when using a bulky yarn weight.
Is Tunisian Crochet Difficult?
Not! You don't need any experience in knitting or crochet. Learn the Tunisian style even if you've never used yarn, a hook or needle.
Why Is It Called Tunisian Crochet?
It's hard to discern why. People used to only call it Afghan crochet. It's a mystery why they chose 'Tunisian.'
How Do You Finish Tunisian Crochet?
To cast off, end with one loop on your hook after the return pass. Arunima from KnitterKnotter explains it in her video tutorial.
Is Tunisian Crochet Faster Than Knitting?
Yes, Tunisian crochet is faster, but only if you're experienced. As a beginner, you'll go slow.
Why Does My Tunisian Crochet Curl?
Everyone who does Tunisian crochet gets curled fabric.
How Do I Stop My Tunisian Crochet From Curling?
Here are simple methods to reduce the curl.
1 Block It!: This removes the curling. Here's my article about blocking a piece.
2 Seam It!: Seaming the ends together of a finished project removes the curling. Sewing together a scarf? It makes a curl-free infinity scarf.
3 Go Up 2 Hook Sizes: Use a hook size two sizes up from the one your yarn or pattern calls for. If your pattern says US hook size D/3, change it to a US size F/5.
4 Loosen It!: Relax your tension. It'll still curl, but not as much as a tight tension.
What Can I Make With Tunisian Crochet?
Things to make with Tunisian crochet: Afghans, headbands, dishcloths, boot cuffs, hats, shawls, baby booties, cowls, baby blankets, sweaters, scarves, pillows, bags, beanies, and blankets.
How Do You Make A Tunisian Crochet Dishcloth?
Here are Tunisian crochet dishcloth/washcloth video tutorials.
Basic Brittany Video Tutorial By B.Hooked
Tunisian Shaker Dishcloths Video Tutorial by VeryPink Knits
Simple Stitch Washcloth Video Tutorial by The Crochet Crowd
Conclusion
Now you've finished reading, you have the info you need to start a Tunisian crochet project. Choose a small crochet Tunisian project like a dishcloth. Work your way up to challenging projects like patterned blankets and sweaters. Good luck!
Pin For Later