Susan Bates sells various crocheting hooks, and they sell long hooks for Tunisian crochet (aka Afghan crochet.) These lightweight inline Anondized aluminium tools are excellent for tunisian stitches and patterns. I'm sharing my recommendations on which are best.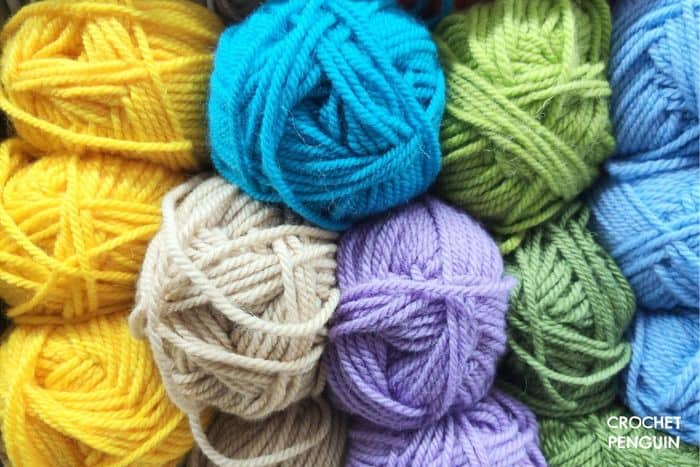 Some of these feature long crochet hooks with a stopper or knob. (Aka crokit hooks). They also make a long double-ended hook. Both are available individually, although the latter is harder to find. Read on for my recommendations.
I reviewed, fact checked and updated this post on April 15, 2023
Table Of Contents
Susan Bates Tunisian Hook
Check Price On Amazon
The most widely available Tunisian crochet hooks are available from the Susan Bates sellers. They're part of the larger Susan Bates Silvalume line, made with smooth, colorful aluminum. (They're color-coded.)
When tested these are easy to use for long periods of working on a Tunisian crochet pattern due to their lightweight feel. The pointed hook head makes it simple to get into each stitch. The surface of the shaft is smooth so stitches slide effortlessly.
Features
Sizes Available – Size J/10 (6mm)
Length – 10″
Made From – Anodized Aluminum
Pros
The alumium its made from is anodized, and the anodizing process removes any surface impurities.
Affordable price
Sizes to work with any yarn weight
Durable
Long-lasting
Great value for money
Good length, long shaft for multiple stitches
Great for making a garment project or projects for the home
Smooth and yarn slides along easily
Cons
Some found the head wasn't sharp enough
Susan Bates Flexible Tunisian Hooks
Check Price On Amazon
Flexible Tunisian hooks are a long crochet hook ending in a plastic cord and a stopper at the end of that. Used for Tunisian crochet or afghan crochet that needs lots of stitches to be worked simultaneously, like if you were crocheting a blanket.
These are an excellent option as the cord holds the majority of the stitches. This takes the weight of the hook itself. The stopper keeps the stitches from sliding off.
Features
Sizes crochet hooks Susan Bates – US Size G 6
Length – 22″
Made From – Anodized Aluminum
Pros
This afghan hook is durable
Many people give it 5 stars
Smooth
The details of the sizing is clear and doesn't rub off
Keeps in excellent condition
Orders ship to the United Kingdom and other countries
Yarn glides easily
Cons
Some found the quality of the Susan Bates hooks wasn't very good
Some found the head and hook weren't sharp enough
A limited selection of sizes
Susan Bates Double Ended Tunisian Crochet Hook
Check Price On Amazon
Made of plastic and part of the Susan Bates Luxite brand range, this is only available in larger sizes for thicker, bulkier yarns. These items are perfect for bulky Tunisian and afghan crochet makes. The plastic of these afghan crochet hooks is smooth and lightweight.
Features
Length – 10″

Made From – Smooth Plastic
Pros
This item is durable
Easy to purchase
Good deals and offers on price
Excellent customer service
Comfortable to use
Things in this store are often on sale
Affordable shipping for your order to your country
Inspiration for patterns to try on their website
Cons
Probably a bit too grippy for some people
This product isn't always in stock
Limited needle sizing available, which is a problem
Not available outside the US & Canada
Old Susan Bates Tunisian Crochet Hook
Sometimes Vintage versions are available. Though hard to find, there are a few options. An excellent choice for collectors, crocheters, and lovers of vintage fiber arts tools alike. They had a smooth finish, and excellent durability and strength.
Susan Bates Tunisian Crochet Hook Set
I've researched a set containing Tunisian crochet hooks but I couldn't find any products. Susan Bates doesn't sell these types of hooks in sets, only individually. Know anywhere in an online shop where you can buy a Susan Bates Tunisian Crochet Hook Set? Tell me in the comments.
Tunisian Crochet Hooks Colors
Here is a list of the Susan bates Tunisian crochet hook colors and their equivalent US and Metric Sizes.
Light Gold – US B-1 – Metric – 2.25mm
Light Pink – US C-2 – Metric – 2.75mm
Light Blue – US D-3 – Metric – 3.25mm
Light Peach – US E-4 – Metric – 3.50mm
Grey Pink – US F-5 – Metric – 3.75mm
Pink – US G-6 – Metric – 4.00mm
Blue – US H-8 – Metric – 5.00mm
Red – US I-9 – Metric – 5.50mm
Gold – US J-10 – Metric – 6.00mm
Green – US K-10.5 – Metric – 6.50mm
Silver – US L-11 – Metric – 8.00mm
Grey Light Blue – US M-13 – Metric – 9.00mm
Pink Bronze – US N-15 – Metric – 10.00mm
Conclusion
Tunisian crochet is an exciting and unique form of crochet, and these affordable crochet hooks from Suan Bates are sure to help you get started with this technique. Do you do Tunisian crochet? I'm sure other readers would be interested to hear about your experience.
Leave your thoughts down below using your email address.
Pin For Later