I've got all crochet stitches here! There are many gorgeous stitches in crochet. You'll never be at a loss for what stitch patterns to try. Start with the basic crochet stitch patterns and move on to more advanced techniques to build your crocheting skills.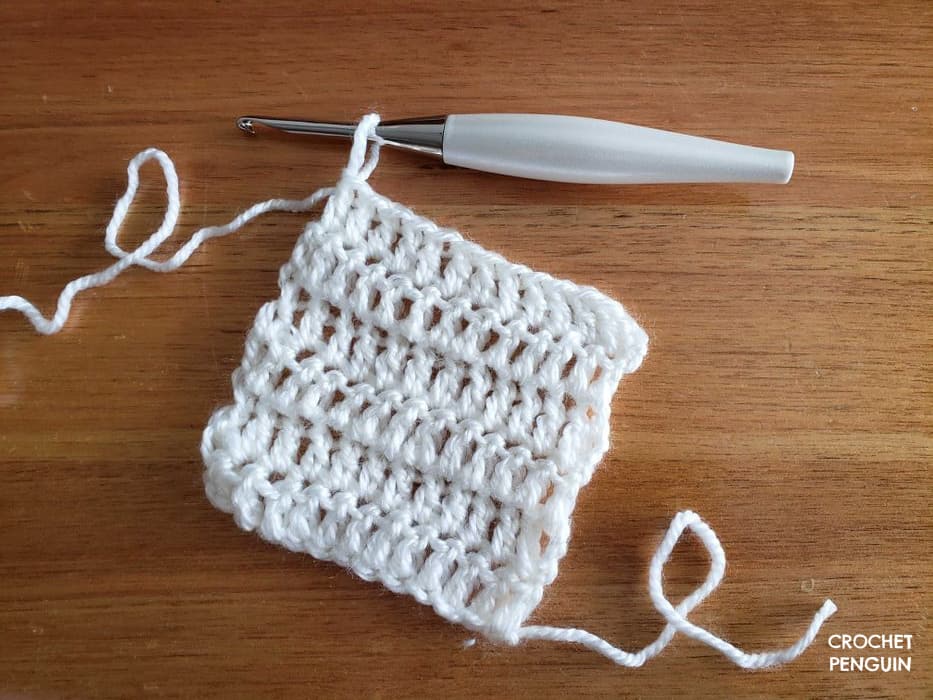 I reviewed, fact checked and updated this post on April 12, 2023
Table Of Contents
Basic Crochet Stitches
Chain Stitch
The most basic stitch in crocheting, the one you should learn before everything else. This is the first step on your journey of learning.
Single Crochet Stitch
This crochet pattern is used to create solid pieces durable and useful. It's a great crochet stitch for scarves, hats, bags, and home accessories.
Here are some variations of single crochet.
Extended Single Crochet
Herringbone Single Crochet
Picot Single Crochet
Reverse Single Crochet
Single Crochet Chevron
The crochet stitch makes up most of the crochet patterns you see on crochet afghan and home décor. The fabric it creates is flexible and robust, perfect for blankets and other crochet projects.
Here are some variations of double crochet.
Back Post Double Stitch
Crossed Double Crochet
Double Crochet Cluster Stitch
Herringbone Double Crochet
Long Double Crochet
The crochet stitch that's between double crochet and single crochet. Create anything from bracelets to afghans with this crochet pattern. Here are some variants of this stitch pattern.
Braided Half Double Crochet
Crossed Half Double Crochet
Ribbed Half Double Crochet
Herringbone Half Double Crochet
Treble Crochet Stitch
Slightly more complicated than other basic stitches, but still essential to learn! It creates a thicker fabric, perfect for blankets or shawls.
This is a nifty techniques used to start any circular crochet project, and crocheting in the round.
Easy Stitches
Cluster Stitch
With this easy crochet technique, create shawls and scarves with a modern texture that stands out. It's perfect for colder weather.
Variations: Mixed Cluster Stitch
Find out how to do it in this free crochet pattern.
Post Stitch
These move the stitch to the front with a front post stitch and back post stitches towards the back. A staple in design work, you can make some appealing patterns!
Variations
Front Post Crochet
Front Post Treble Crochet
Overlapping Post Stitch
Try this crochet stitch pattern.
Single Rib Stitch
This looks like a knitted row, and the result is lovely! Use it for trim, horizontal borders, or edges on garments. It's crocheted using single crochets. (Aka ribbed stitch.)
Variations: Faux Mistake Rib Stitch
Basketweave Stitch
This unique and interestingly textured crochet stitch creates a dense fabric with an impressive finish. Perfect for many crochet projects. Try this crochet stitch tutorial.
Grit Stitch
A suitable stitch for beginners as it's all single crochet. Double crochet in the mixed grit stitch is just as easy. Perfect when you're learning.
Lemon Peel Stitch
It combines single crochet and double crochet (dc). Row by row, the stitches alternate. The stitch created looks like a lemon rind.
It's lovely and adaptable. You can crochet this if you know single crochet and chain! (Aka Moss Stitch & Granite Stitch.)
Moss Stitch
An Easy Crochet to create a lovely dense texture. Thanks to clear and easy to understand information from Daisy Farm Crafts.
V Stitch
A beautiful design that works up quickly. It's excellent for crocheting large projects such as afghans. But it's suitable for many other projects.
Variations: Cluster V Stitch, Offset V Stitch, V Double Stitch
Try these crochet stitch tutorials.
Pretty Crochet Stitches
Arc Stitch
(Aka Arch Stitch or Arcade Stitch.) This might appear complicated, but you can learn it quickly. Eyelets and fans forms small arches.
Blueberry Stitch
This is gorgeous! Create a charming project using puff stitches and double crochet. Perfect for scarves, blankets, and more. Here's a tutorial by Rachel at Desert Blossom Crafts.
Cable Stitch
Cable stitches aren't just for knitting! Although it's a complicated process, you can also create gorgeous ones with crocheting.
Variations: Interweave Cable Stitch & Braided Cable Stitch
Crocodile Stitch
A unique textured stitch requiring some previous crocheting knowledge. It looks a little like crocodile skin, hence the name.
Loop Stitch
Create a lovely ruffled effect for edging on a scarf or blanket.
Pineapple Stitch
Create something tropical with this fruit-inspired design.
Fun Crochet Stitches
Almond Ridges Stitch
With this, you create a beautiful ornate pattern using four rows. You may not think it's easy, but if you can slip stitch and half treble, you'll be fine! Ideal for a blanket, washcloths, or a scarf.
Bean Stitch
This unique design has puff stitches worked against puff stitches in the row below to push them off to one side. The fabric appears zig-zagged and scattered like little beans.
Jacob's Ladder Stitch
Combines what looks like knitting without it or Tunisian crochet! An excellent stitch to try for a mosaic project.
Plaid Stitch
Ever wanted to make plaid without buying the fabric? Now's your chance!
Rice Stitch
A textured, dense design perfect for washcloths and placemats.
Seed Stitch
This is the crocheted version of the knitted one. It's incredible how similar it looks!
Fancy Crochet Stitches
Angel Stitch
There are two rows of stitching within this beautiful stitch. It's a loose, open stitch, so you can see the shapes of the "angels"! It takes little time to learn this pattern.
Bavarian Stitch
This technique creates a beautiful, textured design in the shape of a diamond. It's worked in the round, but you can apply the same process to rows!
Chevron Stitch – Gorgeous Crochet Pattern
This stitch seems complicated, but you'll be fine if you learn how to increase and decrease single crochet using single crochet stitches.
Crunch Stitch
This stitch creates a thick and textured fabric. Perfect for blankets and handbags. This is for intermediate crocheters.
Eyelet Stitch Crochet
It combines texture and open stitches by crossing double crochets to shape eyelets around. It's great for clothes and shawls. Follow this tutorial by Lenysea.
Floret Stitch
This stitch design has a subtle texture and makes a beautiful solid fabric. The stitch is a simple pattern, as it's a simple two-row repeat.
Honeycomb Stitch
Take inspiration from the clever, busy bees to make a beautiful hexagonal pattern.
Primrose Stitch
A lovely patterned crochet stitch that looks more complicated than it is.
Ripple Stitch
This does what it says – it creates lovely fabric ripples.
Sedge Stitch
The grasses of meadows inspire it. Crochet a wonderful, unique piece.
Side Saddle Stitch
Use this to make soft, tactile fabric with a lovely texture.
Loose Crochet Stitches
Basket Stitch
An open-weave style stitch. This is difficult to crochet. It's looser than most crochet stitches, making it great for scarves, baskets, and lace!
Celtic Stitch
In basket weaving, this uses front and back treble crochets. It's easy to remember once you get the hang of it, even though it's advanced. (Aka Celtic weave stitch.)
Drop Stitch
The stitch makes a beautiful lacy fabric. To add texture to an openwork piece, add several rows of drop stitches.
Glover Stitch
This looks gorgeous from every angle. Cluster stitch meets crunch stitch.
Lace Stitch
Create this stunning, delicate design perfect for loose, lacy projects.
Variations: Broomstick Lace Stitch, Lacy Arrow Stitch, Lacy Crown Stitch, Lacy Trees Stitch
Mayberry Stitch
Something lovely and vibrant to make in springtime! Pops of texture intersperse between rows of half double crochet.
Offset Stitch
The stitch looks different with each material, so crochet it in cotton and wool to see how it looks. If you like double crochet, you'll love this!
Variations: Offset Filet Net Stitch
Solomon's Knot Stitch
Using simple stitches creates a unique design rarely seen in crochet. An openwork stitch ranges from lacey to lose, depending on the stitch height. AKA Lovers Knot, Crochet Love Knot, Knot Stitch, True Lovers Knot, and Hail Stone.
Variations: Extended Solomon's Knot Stitch, Double Solomon's Knot Stitch
Triangle Stitch
It's a simple crochet stitch with a lovely geometric repeating design.
Cute Crochet Stitches
Bead Stitch
You might think this bumpy stitch is complicated, but it's not difficult. Although it's not a beginner stitch, beginners may find it easy. Make this if you can single and double crochet.
Bear Claw Stitch
The stitch is easy to do and creates a unique pattern suitable for a lovely blanket. Front post triple crochet isn't challenging to learn. There are only four repeating rows.
Bobble Stitch
Bobble stitches are fun and easy and make any crochet piece pop. It's easier than you think to get started, despite how complicated they look. (Aka Puff Stitch.)
Variations: Boxed Puff Stitch, Harvest Stitch, Zig Zag Puff Stitch, Leaf Stitch
Cat Stitch
Love cats? Make many with this pattern involving double crochet and chain stitches. It works up quickly for blankets and scarves. (Aka Kittens In A Row Stitch.)
Griddle Stitch
It uses single crochet and double crochet, giving the project a fantastic bumpy texture. Isn't that easy?
Parquet Stitch
This lacy mesh stitch uses fundamental stitches. Crochet this if you know chain, single crochet, and double crochet!
Silt Stitch
It's easy to crochet this, though it looks complicated. There are only two rows, and each is a simple set of stitches.
Star Stitch
It creates a starburst-like design by working multiple loops together. Half double stitches between each row of stars complete it. Perfect for stunning washcloths and winter blankets. It's also called the daisy stitch and the marguerite stitch.
Variations: Ninja Stars Stitch
Strawberry Stitch
It's deceptively easy, but it gives crochet projects a new dimension. Maybe you could create an afghan inspired by a fruit salad with this!
Large Crochet Stitches
Alpine Stitch
Despite being so easy, it creates a unique texture. Do this if you know double and single crochet. A blanket, an accessory, or a pillow are wonderful project ideas.
Granny Stitch
The classic crochet technique, nearly everyone knows what this is! A classic, timeless look that may remind you of your grandmother and her crafty skills.
Variations: Granny Ripple Stitch, Granny Stripe Stitch, Granny Spike Stitch
Jasmine Stitch
Do a lovely project inspired by the beautiful flower that smells lovely!
Peacock Feather Stitch
This is majestic, like the bird it's named after. It's a stitch with lots of texture that would make a warm article of clothing!
Popcorn Stitch
Add this to your crochet projects for an extra dimension and interest. It's one of the easiest textured stitches to learn.
Variations: Reverse Popcorn Stitch
Shell Stitch
A decorative stitch for advanced beginners. It makes an excellent border. Crochet it in one color for a simple design or change colors.
Variations: Clamshell Stitch, Crazy Shell Stitch (Brick Stitch), Open Shell Stitch, Quadruple Shell Stitch, Marshmallow Stitch, Shells And Ladders Stitch
Starburst Stitch
A beautiful stitch resembling a multiple-sided star. This is suitable for all kinds of crocheted creations! Aka, the Catherine wheel stitch and the Harlequin stitch.
Crochet Stitches For Blankets
Aligned Cobble Stitch
The raised pebble look is appealing to those who enjoy clean lines. It looks amazing and is also easy to crochet. If you're a crochet newbie, choose this for an adventurous texture. As long as you know with single and treble crochet, get making!
An absolutely stunning and beautifully textured work! This popular mosaic technique is a gorgeous crochet pattern. Luckily, it's not too difficult to follow.
Back Loop Chevron Stitch
This classic technique creates an elegant, straightforward ripple. There's a puffy texture, and it works with many blankets, throws, and afghans.
Blanket Stitch
Perfect for blankets! Because of its dense nature, this works for scarves, hats, or washcloths. It uses single crochet and double crochet.
Crochet Box Stitch
A warm, dense texture. Whether in a solid color or a color combination, it's beautiful, unique, and works well for almost any project.
Dot Border Stitch
Used for borders, this is a sweet finish to a blanket project.
Feather Stitch
A beautiful, textured crochet stitch. It's easier than it looks, and it's squishy! The stitch definition is fantastic, especially with multiple colors.
Variations: Feather And Fan Stitch
Houndstooth Stitch
A unique pattern that works best in two alternating contrasting colors.
Spider Stitch
With chunky crochet stitches, this is an excellent texture for crochet hats. Don't worry. There's nothing scary about this design!
Trinity Stitch
A beautiful stitch, and it works up so quickly! It would look lovely with variegated or self-striping yarn.
Crochet Stitches For Chunky Yarn
Block Stitch
This is truly an eye-catching and bold design. It's hard not to love the modern look and its versatility, depending on what colors you use.
Cabbage Patch Stitch
A gorgeous lace-like texture with the most amazing drape and feel. Simple stitches create a lovely pattern!
Pebble Stitch
Reminiscent of a pebbled beach or a garden path made of rocks, hence the name. Suited to a hat a sweater or blanket!
Variations: Pretty Pebbles Stitch
Crochet Stitches For Scarves
Arrow Stitch
As you expand your crocheting skill set, add this to your repertoire. Textures give a project so much life.
Blended Arrows Stitch
A unique vintage-looking stitch combining long stitches and multiple colors. This would be perfect for any multi-colored creation. For a tutorial, see here.
Front Cross Stitch
Use simple double crochet stitches to create something new!
Icicle Stitch
The details are compact but striking. Any crochet project made with this stitch will reward! A winter-themed blanket, anyone? (Aka Larksfoot Stitch.)
Crochet Stitches For Jumpers
Bullion Stitch
A one-of-a-kind technique! It's produced by repeatedly wrapping yarn around a crochet hook and pulling it through.
Diamond Stitch
This lovely repeating design uses treble crochet stitches with a double and single crochet base. A simple pattern with a four-row repeat. (Aka diamond waffle stitch.) Variations: Diamond Lace Stitch, Diamond Lattice Stitch, Quilted Lattice Stitch, Diamond Trellis Stitch
Hugs Stitch
A cute name for a lovely stitch! Make a cozy warm jumper.
Tri-squares Stitch
This is well-loved because it's so versatile! You can use it in crochet clothing or accessories, blankets, and even home decor items.
Crochet Stitches That Look Like Flowers
Balanced Shell Stitch
This is because the shells are layered instead of nestled between two clusters. It has pretty lace details, and the fabric has a nice drape.
Berry Stitch
(Aka, Even Berry Stitch.) It has a smooth texture like a berry. The bumps create an appealing pattern perfect for blankets and accessories.
Elizabeth Stitch
The stitch is soft, elegant, and crisscrossed. It's also slightly bumpy. You'll work it up like a dream once you master it!
Iris Stitch
It's only a one-row repeat, and all your stitches are placed in spaces rather than stitches. Memorize it quickly for easy crocheting!
Suzette Stitch
This beautiful yet sturdy crochet fabric combines single and double crochet. Plus, it's reversible, making it an ideal blanket or washcloth.
Tulip Stitch
It's a fun crochet stitch where the stitches lean to one side. It has a beautiful drape for crochet scarves or shawls!
FAQs About Crocheting Stitches
Can You Mix Crochet Stitches?
Absolutely! Experiment and try different styles together! Who knows, you might invent a never-seen-before combination.
Why Are My Crochet Stitches So Loose?
Maybe your crochet hook is too big for the yarn. Try a smaller hook.
Or, you could've forgotten to tighten the slip knot or cast on too loose.
Why Are My Crochet Stitches Uneven?
Either it's not the right place to start or end the row, you're skipping stitches, or by crocheting two stitches in one space, somewhere, you've added a stitch. Unfortunately, the best thing is to undo a row and try again!
How Many Crochet Stitches Are There?
No one knows for sure, but most estimates are over 200! Lots to learn.
Why Do My Crochet Stitches Lean?
Crochet stitches naturally lean left if you're right-handed and right if you're left-handed. Wrapping the yarn around the hook causes this.
You can't prevent it. Block your work when finished to make the stitches straight.
Why Are My Crochet Stitches Tight?
Your tension is too tight, or your hook size is too small. Fix it by determine your pattern's gauge and do a swatch. You may need to adjust your hook size if your gauge is off the pattern. Try going up a size. Experiment with how you hold the yarn and hook and take a lighter grasp.
Conclusion
Hope you found my complete guide to stitches in crochet helpful. There are all kinds of crochet stitches. It's incredible how many there are! Lots of crochet stitches to learn. Enjoy! If I've missed any crochet stitches and abbreviations in this crochet stitch guide, please let me know.
Pin For Later