Think of a crochet starter kit as a one-stop box of everything you need to kickstart learning crochet.
Thinking of starting crochet, or ready to dive straight into this enjoyable hobby? Welcome! I warmly join you on this crochet journey, as I'm still learning and practicing every day.
Here are the crochet kits for beginners, perfect for learning to make the creation of your dreams.
Table Of Contents
What Is A Crochet Kit?
A kit is a collection of items all packaged together designed for a specific purpose or project. They're convenient because instead of making a list of everything you need, it comes ready in one package for one price.
So a crochet kit has all the equipment necessary for a specific crochet project and helps you learn how to crochet.
There are a few types of crochet kits.
Some are single project kits, as in they have all items included for one crochet item and nothing else. Some of this type include yarn, and others don't.
Some are beginner crochet kits, as in they have everything you need to start crocheting. They may or may not include yarn, and most have an instruction booklet with several different projects for you to try.
An amigurumi kit includes everything to make one or many amigurumi creations. They almost always have yarn. These aren't the best choice for beginners, though, as they're quite complicated things to crochet.
Why Should You Get Crochet Kits For Beginners?
Crochet starter kits are perfect for beginners because of the following reasons.
Convenience – Everything you need comes in a package, ready to go.
Time-saving – No need to spend hours searching online for each product. Just find the one you want, and you're good to go!
Value – Bang for your buck as all the products under one price, and sometimes you won't be able to find things in the kits anywhere else.
Affordability – As everything's all together, you save money by buying a bundle than everything separately. Plus, shipping is cheaper the fewer items you have in your cart.
Educational – Step outside your comfort zone, learn something new, and gain more confidence in your crocheting skills and crochet stitches repertoire.
Easy – Not too hard, but just that right combination of familiar, enjoyable, and a bit challenging.
Helpful – Detailed and easy to follow instructions are included to guide you from your first stitch right to cast off.
Regardless of skill level, a beginner kit is still useful for advanced crocheters if you want to relax with a more straightforward project.. Without having to worry about what you purchase beforehand!
What Is Needed To Start Crocheting?
Here's a checklist.
Yarn
A crochet hook or more than one – (if the pattern requires different/multiple hook sizes)
Tapestry Needle – (to weave in the ends)
Scissors – (to cut the yarn if necessary)
A pattern or project idea – (after all, you need a plan to create!)
Creativity!
Things To Consider In The Best Crochet Starter Kit
Does It Include One Or More Crochet Hooks?
These, along with yarn, are the most necessary materials for doing crochet! Make sure they're included in the kit. Sometimes, another size will be needed for different parts of the creation, so check they're in the kit.
Does It Have Yarn?
Not all crochet kits have balls of yarn. Often you'll have to buy it separately. This is good if you want to choose for yourself, but not so good in terms of convenience.
If it does have it, usually it will be more expensive than those without. Decide what suits you.
What About A Tapestry Needle?
A tapestry needle is a small needle with a large eye (the hole you put the thread). It's for sewing crochet pieces together and weaving the ends in. (It's also called a yarn needle or a darning needle.)
A beneficial tool that's often forgotten until the moment you need it. Make sure the crochet for beginners kit has one of these!
(Don't forget to make sure the yarn will fit in the needle. You don't want to have a chunky weight yarn only for the needle to be too small.)

Don't Forget Stitch Markers!
Nifty little tools to help you keep track of pattern and stitch changes. A stitch counter usually looks similar to safety pins. Yes, you could use a piece of scrap yarn if they aren't included.
But it's nice to have a set of stitch markers that stand out against any yarn you're working on.
Is A Measuring Tape In the Contents?
This is important! Before beginning any project, you need to start with the basics. Make a swatch to test your gauge and see if it's right according to the instructions. A measuring tape helps you make sure it's the right size.
What Kind Of Accessories Are Included?
Pay close attention to the list of contents, so you get a sense of what's in the kit. Essentials include all the items listed above, such as the instruction booklet with beginner projects and patterns.
Other things aren't essential, but good to have.
Are The Instructions Included, & Clear To Understand?
An instruction manual or instruction book, if there are multiple projects, is essential. Read customer reviews and look at the item previews to see if the instructions are clear and easy to understand.
Sometimes, the crochet kits beginners' contents might only be for one creation, but they'll include bonus projects.
Is There An Individual Guarantee On Each Of The Items?
Sometimes things in a kit will be in excellent working order, but one item doesn't work, unfortunately. Read the guarantee policy to see if you can replace that one item or they have to replace the entire thing.
What About The Return Policy?
In the unlikely event of a mishap with the product, you don't want a complicated and unfair policy holding you back from enjoying the crochet kit!
Is The Price Worthy Of The Value Of The Kit?
If you're on a budget, a money-saving tip is to assess all products included in a kit, and add up the price of them all separately, and compare. It'll tell you which is cheaper, but generally, a kit is more reasonable.
Don't want to blow your budget on your quest to learn how to crochet.
The Best Crochet Starter Kit
Here are some suggestions for getting you started in this fabulous craft.
Learn To Crochet Kit Dishcloth Bloom
Dishcloths are a lovely functional and practical project to learn how to crochet. Once you've done one, you will be keen to make more.
Kit includes:
Learn To Crochet Club: The Dishcloth, beginner instruction booklet
3 balls of Dishie yarn (1 each in Azure, Begonia, and Sunshine Multi)
US size J-10 (6 mm) Caspian crochet hook
a yarn needle
Pros
Includes everything you need to complete a crocheted dishcloth.
Fun and bright colors
Cons
Only comes in the colors listed
Beginner Crochet Kit – Washcloth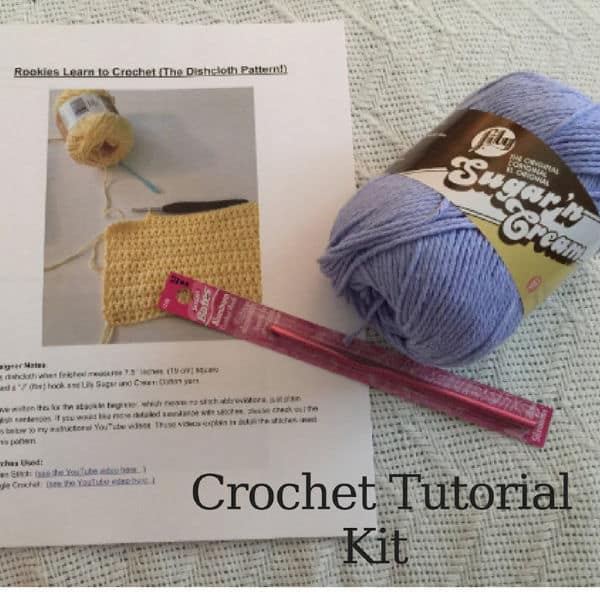 Dishcloths make great presents, and once you learn the basics, you will be able to try all sorts of different patterns.
This starter kit includes the pattern in a DIGITAL VERSION ONLY that you can print or use online, the hook and cotton yarn you'll need to do your project, and all the videos you'll need to watch and learn.
(All videos and pattern will be sent in an email digitally after purchase) The hook and yarn will be sent in the mail.
Pros
Simple stitch to learn and master
Cons
Very limited choice of yarn color
Learn To Crochet Kit For Kids and Adults
A lovely gift to yourself for beginning your crocheting journey or for someone else who would love to have a go at crochet.
Included in the kit – approx. 1 mini-skein (20 grams/80 yards) or 2 mini-skeins (10 grams/40 yards each) colors vary –
One wooden crochet hook
One wooden acorn
One fun progress keeper
One yarn needle
How-to directions
Easy-to-carry drawstring bag!
Pros
Cons
You don't get to choose your colors, but you can choose girl or boy and child or adult at checkout.
Get Hooked Learn To Crochet Kit
Nomad Yarn's instructions take you from the very beginning chain of crochet through more intricate stitches to create an attractive sampler to show off your new skills.
The kit includes –
1 280yd skein of Twisted Branch – 100% Superwash Merino Wool, hand-dyed in Nomad Yarn's studio in Plainfield, IN (pre-wound).
1 Bamboo Crochet hook
1 Set Yarn Snips
1 Nomad Yarns Tape Measure
1 Tapestry Needle
12 page pattern / tutorial
Digital download of the booklet and 12 videos hosted on YouTube
Pros
Lovely colors available
Yarn hand-dyed
Detailed instructions and helpful videos
Cons
Penguin Crochet Kit By The Woobles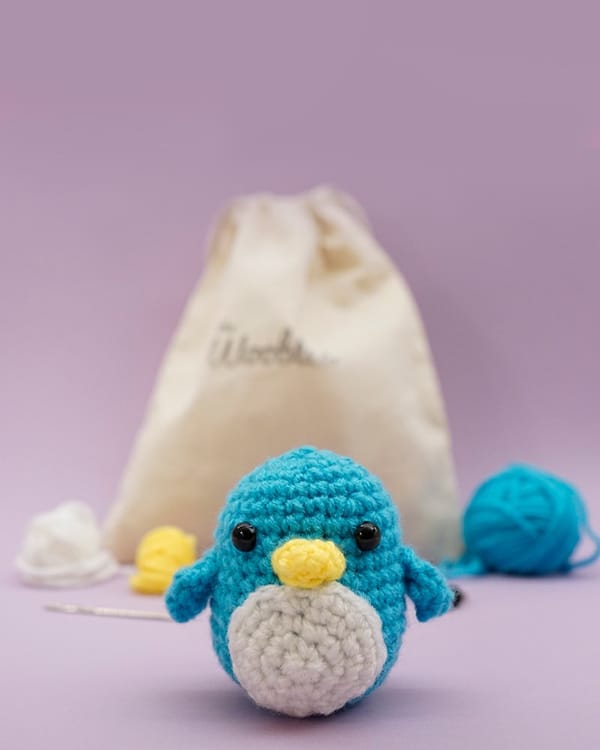 Isn't this little penguin adorable? This kit is suitable for absolute beginners.

It includes Quickstart instructions that teach you everything from holding yarn to crocheting your first few stitches. The instructions also have plenty of pictures. Enables you to have your own crochet classes at home.
It comes in a reusable cotton bag to make it easy to tote around with you.
This Kit Includes:
Video tutorials for your first few stitches
Pattern as a PDF download
Blue, white, and yellow yarn
Pre-started crochet piece, so you can get right into practicing the main crochet stitch.
Plastic safety eyes
Polyfill
Tapestry needle
Stitch marker
Drawstring cotton bag to carry everything
4mm crochet hook (for an additional charge)
Lion Brand Yarn One & Done Kits Swipe Right Crochet Cowl
The kit includes:
One black and white copy of Swipe Right Crochet Cowl pattern
Lion Brand® Chillax® Yarn (70% acrylic, 30% wool)
Crochet Hook Size N (10 mm)
Lion Brand® Large-Eye Blunt Needles
Pros
Funky and modern design
Only takes one ball of yarn
Cons
Only available in one color
Susan Bates Learn Crochet Kit

Follow the instruction book that has instructions and clear diagrams make learning the basics simple. The book contains more than thirty projects to make and includes left-hand instructions.
It contains five Susan Bates Silvalume crochet hooks (US sizes G, H, I, J & K), one afghan hook, two yarn needles, and a knit gauge.
Pros
Easy to understand instructions
The hooks are larger, perfect for beginners
Cons
Click to Learn More / Buy from Amazon
4M Easy-To-Do Crochet Kit
The crafts included in the booklet are a handbag, a coaster, a placemat, or a belt. This kit is great for kids from the age 8 and up who want to learn to do crochet and have something to wear at the end of their efforts.

It includes 2 hooks, a plastic needle for sewing in ends, and 7 colors of yarn.
Pros
Interesting designs to create.
Cons
There will be parts in the learning that kids will need help with.
Click to Learn More / Buy from Amazon
Learn to C2C Crochet Afghan
A classic quilt inspired afghan using the C2C crochet technique. This technique is where you work a square or rectangle from one corner across to the next on the diagonal.
This starter kit is suitable for advanced beginners.
All the yarn you need to finish the blanket, A printed booklet of how to do the C2C technique, a Majestic Hook K-10.5 (6.5mm) and 3 large yarn bobbins
Pros
Excellent value
Clear instructions
Lovely colors
Cons
If you have difficulty following charts this kit is not for you
Mira Handcrafts Crochet Starter Kit
Plenty of colorful yarn to make all sorts of crochet projects.
The kit includes – 2 Crochet Hooks(size H and J), 2 Weaving Needles, and a link to download 7 Ebooks.
The Ebooks cover beginner to advanced projects and instructions.
Pros
Lots of variety for items to make
Cons
Some customers reported that the yarn splits easily
Click to Learn More / Buy from Amazon
Boye Taught Myself Crochet
This kit includes (1) crochet pattern instruction book, (5) crochet hooks G, H, I, K, and L, (2) tapestry yarn needles, (1) tape measure, (1) knit tally, and (20) split-ring stitch markers.
The booklet includes 15 project ideas.
Pros
A good starter kit for a collection of hooks for future crochet projects
Cons
Yarn is not included and would need to be purchased separately
Click to Learn More / Buy from Amazon
Crochet Beginners Kits
The package includes one instruction book, five crochet hooks, one afghan hook, tapestry yarn needles, split-ring stitch markers, and 1″ cabone rings.

The instruction book contains 16 different projects to help you practice and hone your skills. Try out scarves, koozies, shawls, and more.
Pros
Fun ideas for wearable crochet items
Cons
Yarn and thread not included.
Click to Learn More / Buy from Amazon
Learn to Crochet Kit by Loops & Threads
This kit includes a crochet hook and instruction booklet for learning the basics of crochet. It does not include yarn, so it would suit older children. Recommended yarn to use with the included hook is medium weight.
Pros
Suitable for right- and left-handed users
Cons
Not suitable for younger children
Click to Learn More / Buy from Amazon
DIY Beginner Crochet Kit (Apple)
A fun project for an introduction to crochet and amigurumi. The kits comes with everything you need – crochet hook, yarn, stuffing, stitch marker, needle, embroidery floss, and additional accessories.
Pros
Fun for kids and adults to do
Cons
The yarn is not high quality
Click to Learn More / Buy from Amazon
Star Wars Crochet Kit
If you love Star Wars characters this kit is for you! The instructions steps you through twelve different characters. Includes enough yarn to make Yoda and a Stormtrooper.
Yarn colors included are white, black, pale green, beige, and brown. Also included is a tapestry needle, an inexpensive crochet hook in size 3.50 (US E/4), four plastic safety eyes and fiberfill.

You need to buy additional materials to make other characters. Learning to do amigurumi will take a little bit of practice when you are a beginner.
Click to Learn More / Buy from Amazon
Harry Potter Crochet Kit
This kit helps you crochet Harry Potter and Dobby the House Elf. The kit includes yarn, stuffing, needle and thread, safety eye beads, and the special magic wand crochet hook!
A 76-page book gives step-by-step directions with lots of helpful pictures.
You can make other characters but need to purchase more materials.
Click to Learn More / Buy from Amazon
Hope you find something to help you make something you're proud of.
Best of luck making your first handmade crochet creation! If you make something using one of the kits I've reviewed, I'd love to see it and hear about your process.
Unfortunately I couldn't find any kits to make crochet hand mitts, but if you know of a good one, let me know down in the comments.
Which one appeals to you the most, or what project do you dream of tackling?
Pin Now to Save for Later