Furls Odyssey Crochet Hooks combine plated metal and a resin ergonomic handle finished in luxury sparkly automotive paint.
The Odyssey range of Furls Crochet Hooks are modern and fabulous. Read my reviews below.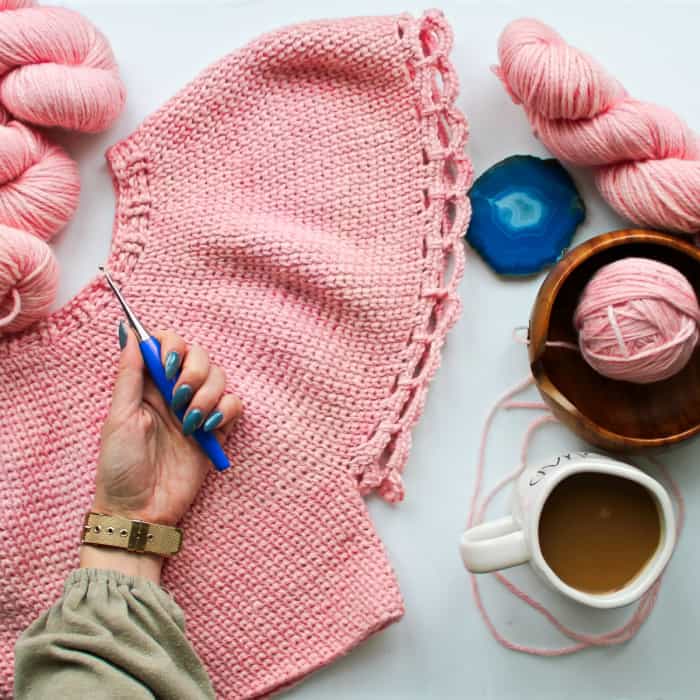 Table Of Contents
Furls Odyssey Crochet Hooks
The plated finish is Nickel. These come in a range of fun, bright sparkle colors.
The style of Furls Crochet hook is a unique combination of inline and tapered. Smooth and rounded crochet hook tip.
The length from tip to end is 6 inches.
Furls Fiberarts shape each ergonomic handle so that the crochet experience of people suffering from carpal tunnel or arthritis is very comfortable.
The letter sizing is marked on a small sticker at the bottom of the hook. Some users have not been impressed by this as they felt the sticker would eventually come off.
Furls recommend keeping each hook in the box; they came in as the size is marked on the box.
Note: Furls Odyssey hooks don't come in a set. If you're looking for the best crochet hook set, read my post.
Sizes Available
B-2.25mm
C-2.75mm
D-3.25mm
E-3.5mm
F-3.75mm
G-4.0mm
G+-4.5mm
H-5.0mm
I -5.5mm
J-6.0mm
K-6.5mm
L-7.0mm
M-8.0mm
N-9.0mm
P-10.0mm
Colors Available –
Red
Peach
Yellow
Lime
Turquoise
Forest
Blue
Purple
Pink
White
Black
Single Hook Stand
Match your Odyssey hook with a single hook stand. The funky streamlined design will undoubtedly show off your beautiful hook.
Furls Odyssey 12 Hook Stand
These modern stands hold 12 Odyssey hooks. Perfect for a desktop display of your beautiful hooks. A range of colors matching the hook colors above.
Best Case For Furls Odyssey Crochet Hooks
Holds up to 7 Furls hooks or 21 conventional hooks. Approximately 9″ wide x 4.5″ tall; easily fits into handbags. Handmade out of genuine leather and seals securely with a magnetic clasp.
Your Questions Answered
Furls Odyssey Vs. Streamline
Furls Odyssey are metal and resin hooks
Streamline are made of different woods – Camwood, Teak, and Ebony
They both have the same teardrop-shaped body
The Streamline is seven inches long
Cheap Furls Odyssey Hooks
The cheapest Furls Odyssey hooks are those colors in the Nickel-plated finish.
Do Furls Odyssey Hooks Tarnish?
Due to the process of plating, the pewter neck does not tarnish.
What Hooks Are Comparable To The Furls Odyssey Hooks?
Other hooks do not compare to Furls Odyssey Hooks as they are unique.
These are luxury hooks that look sleek and modern, definitely worth the money to enjoy the experience of crocheting with premier tools.
Pin Now to Save for Later