Think one person isn't enough to do anything? Everyone can make a difference by changing their habits one step at a time. Here's how you can help.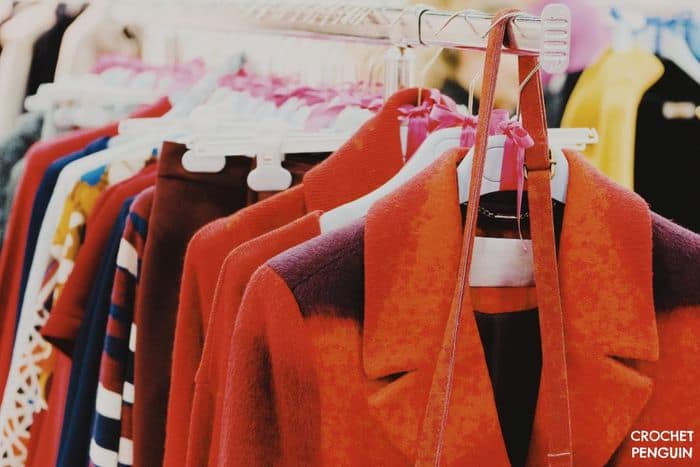 Fast fashion devastates the environment, the planet, animals, and people. Though cheap, trendy clothing seems attractive, it's not sustainable. The sooner things change, the better.
Table Of Contents
What's The Alternative To Fast Fashion?
Slow fashion is awareness and approach to fashion, which considers the processes and resources required to make clothing, particularly focusing on sustainability.
It involves buying better-quality garments that will last for longer and value fair treatment of people, animals, and the planet.
Modern-day Slow Fashion, encourages us to buy fewer garments at higher quality, made from sustainable processes, less often.
You want nothing but highly rated crochet tools for your hobby! Read my blog post.
It also emphasizes the art of clothes making and celebrates the skills of the craftspeople who make them.
As a maker, I appreciate the movement of Slow Fashion. By investing my time & energy in unique, hand-crafted pieces, I appreciate the reality of time.
I choose how to spend my time crafting and celebrate what I can accomplish in the hours (days, weeks) it takes to finish a project.
A deeper appreciation for items made this way. Woven into the fiber is a mindful purpose and meaningful engagement with the creation of a garment.
Slow Fashion VS Fast Fashion
What are the differences between Slow Fashion and Fast Fashion?
Slow Fashion
Made from high quality, sustainable materials
Often in smaller (local) stores rather than huge chain enterprises
Locally sourced, produced and sold garments
Few specific styles per collection, which are released twice or maximum three times per year.
The clothes almost always last longer.
Fast Fashion
Fast fashion describes clothing designs that move quickly from the catwalk to retail stores to meet new trends.
Fast fashion competes with traditional fashion houses that continue to introduce new fashion lines on a seasonal basis.
Innovations in supply chain management among fashion retailers make fast fashion possible
Clothes fall apart, wear out faster, needing replacement, often ending up in landfill
Need some great cotton yarn for baby blankets? Read my post.
How is this slower approach changing the fashion industry?
In July 2018, 10 UN organizations established a UN Alliance on Sustainable Fashion.
They promote projects and policies to ensure the fashion industry cooperates achieves Sustainable Development Goals. Reducing negative environmental and social impacts of fashion.
In July 2019, fashion retailer Zara announced that all of its collections would be made from 100% sustainable fabrics before 2025. H&M fashion giant is aiming to be run on 100% renewable energy by 2040.
Many boutique fashion brands pride themselves on sustainability. The emergence of rental clothing service platforms like "Rent The Runway" is in an attempt to reduce the amount of fabric waste.
The Fashion Transparency Index 2020 (5) aims to "push major brands to be more transparent and encourage them to disclose more information about their policies, practices, and supply chain."
The index has a list of 250 of the world's largest fashion brands and retailers. They are ranked according to how much they disclose about their social and environmental policies, practices, and impacts.
Slow Fashion vs Ethical Fashion vs Sustainable Fashion
How is slow fashion different from ethical fashion and sustainable fashion? The other two types are similar, but aren't all-encompassing, rather focusing on specific aspects.
Ethical Fashion
This focuses on the ethical side of things, avoiding human rights violations and creating cruelty-free products, and supporting works with fair wages and welfare programs.
Sustainable Fashion
This focuses on the environmental side of things, reducing waste, using eco-friendly products and methods, giving back to the environment, and using sustainable materials grown organically.
What Are Some Easy Ways To Shop More Sustainably?
Buy Less is a great start
Thoroughly look through your wardrobe. There may be pieces you've forgotten about that you could fall back in love with.
Get creative and put together outfits in a different way from what you already own
Get knitting or crocheting! There are many stunning patterns for all sorts of clothing from bikinis to gorgeous sweaters
Before you buy anything new, always look to see if you can find it secondhand.
Check thrift stores, vintage shops and resale sites like eBay and Beyond Retro
Learn to sew! Mending or altering your clothing will extend the life of your wardrobe.
Investigate some of the brilliant rental platforms that are available. They often use a subscription service for a certain amount of garments per month
Swap and share with your friends
Spend some time researching your favorite brands to find out more about their impact on the planet. Are they doing anything to improve the sustainability of their manufacturing process actively?
Be familiar with the Eco Clothing Labels
Look for Fashion Transparency – the amount a retailer is willing to disclose about environmental and social policies.
Buy quality products that will last
Ask the question 'Who Made My Clothes?' (6) Ethical fashion is about both paying living wages to everyone involved.
Follow people on Social Media who support ethical and sustainable fashion, unfollow those who don't
The Sustainability Rating Of Different Fabrics
There's no clear answer as to the most sustainable fabric, as each one has its pros and cons, and not all will suit everybody.
Synthetic fibers aren't necessarily worse than natural. Just because it comes from plants doesn't mean it's sustainable on a large scale.
Of course, it's not just the raw material, it's the processing and creating of the garment, not to mention transporting it to the store or customer. So there's no wrong or right answer, the best you can do is do your research.
Here is a list of different fabrics.
Cotton – Perhaps the most unethical production of common fabric. It requires enormous amounts of water to grow it and the use of pesticides.
Grown in developing countries, many cotton farmers are heavily exploited, with many earning less than 2 dollars a day. Of course, organic cotton is much better and more sustainable, but it still requires lots of water.
Denim – Made from cotton, Denim uses huge amounts of water and the use of pesticides. Love the look of 'distressed' Denim?
This effect is created by sandblasting the fabric to soften it. The small particles, when inhaled, can cause serious health risks to workers.
Linen – Is made from Flax, which can grow in a range of conditions and requires much less water than cotton. If it is not dyed, it is fully biodegradable.
Nylon – There is good news for some nylon – Econylon has developed eco-friendly nylon created with recycled plastics. Traditional Nylon is a fabric sourced from crude oil.
During the production, a bi-product is nitrous oxide, a greenhouse gas that is more potent than carbon dioxide.
Polyester – As this material is partly derived from petroleum, it's production is linked to one of the world's largest polluters; the oil manufacturing industry.
It is costly in resources as there is a need for heating and cooling processes as part of the production. The fabric also sheds microfibres, which is a large contributor to plastic in our waterways and oceans.
Silk – Silk has a relatively low carbon footprint. The growing of Mulberry trees whose leaves are what keeps silkworms alive are considered reasonably sustainable.
The trees' growth does require water, but the trees also store carbon and help reduce climate change.
Wool – A natural fiber that lasts for decades. It is biodegradable and requires minimal energy to produce. It is important to check for sustainable farming practices and to ensure the fair treatment of animals.
Alternative, Sustainable Materials
Hemp – According to extensive research, hemp is one of the most environmentally friendly fibers out there. It produces more than 250% fiber than cotton.
The only issue would be what the dyes used are made of, so be sure to check those are eco-friendly.
Recycled, Upcycled Materials – Recycled clothing is great because the materials already exist.
It reduces the pressure to create new, raw materials. It also takes usable fiber out where it would usually end up landfills.
Tencel – Slightly synthetic, mostly natural, this fiber is created with eucalyptus trees. It surpasses cotton in using less water, more fiber produced per area of trees growing, and no need for any spraying.
Yulex – A natural neoprene, a usually synthetic material used in swimwear, is harvested from rubber trees. The plantations these come from are sustainably looked after by local communities and workers.
While there's growing support for Slow Fashion, there's a long way to go.
To support the Slow Fashion movement, consumers need to be a part of the growing movement of people looking beyond the "appeal" of the cheap, high turnover of fast fashion.
Instead, focus on quality, not quantity, and researching what sustainability policies a particular brand has implemented.
Every conscious choice you make makes a difference. It's not too late to change for the better.
Pin Now to Save for Later
Sources
Slow Fashion 101: What is Slow Fashion (vs Ethical Fashion & Sustainable Fashion), 2018, <https://www.sloww.co/slow-fashion-101/>, Accessed 18 June 2020
What Is Slow Fashion?, 2018, <https://goodonyou.eco/what-is-slow-fashion/>, Accessed 18 June 2020
What Does Slow Fashion Actually Mean?, 2019, <https://www.thegoodtrade.com/features/what-is-slow-fashion>, Accessed 18 June 2020
Fashion Transparency Index, 2019, <https://issuu.com/fashionrevolution/docs/fashion_transparency_index_2019?e=25766662/69342298>, Accessed 18 June 2020
"Who Made My Clothes" Movement – How it All Began, 2018, <https://fashioninsiders.co/features/inspiration/who-made-my-clothes-movement/>, Accessed 18 June 2020