With all the waiting when traveling by plane, why not crochet?
Can I bring crochet hooks on a plane? Yes, though there's more to it.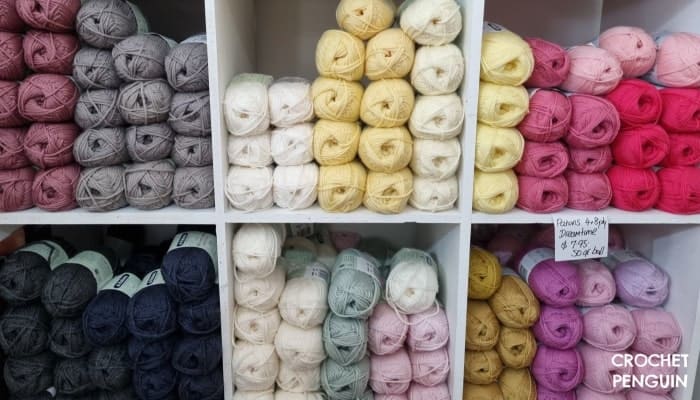 There are other tools used like scissors. That's covered too.
I've put together this guide so you don't have your crochet hooks confiscated by airport security.
I reviewed and updated this post on June 5, 2022.
Table Of Contents
Can I Bring A Crochet Hook On An Airplane?
Yes, you can take crochet hooks on planes within the U.S. According to the Transportation Security Administration's website:
Crochet Hooks
Carry On-Bags: Yes
Checked Bags: Yes
Take crochet hooks on the plane with you in your carry on baggage and your checked baggage. Happy Days!
It's worth wrapping your hooks in a fabric holder since the TSA adds:
Any sharp objects in checked bags should be sheathed or securely wrapped to prevent injury to baggage handlers and inspectors.
Have your hooks wrapped in carry-on bags too in case a TSA agent needs to check through your items.
There's a warning on the TSA website stating:
The final decision rests with the TSA officer on whether an item is allowed through the checkpoint.
There's the risk a TSA officer may decide your hooks can't go through the security checkpoint. Following the tips below should help.
Don't take your most treasured or expensive hooks in your carry-on luggage. Put them in your checked bag.
Want to see what the best crochet tools are? Read through my review.
Can You Bring Metal Crochet Hooks On A Plane?
I've read accounts on craft forums where crocheters had no issues with bringing metal/wooden/plastic crochet hooks on planes within the U.S.
It seems like it's rarely an issue if traveling in the U.S. but can be if traveling outside of the U.S.
Place your metal crochet hooks in your checked bag when traveling outside the U.S.
Are Bamboo Crochet Hooks Better?
From my research, if traveling outside of the USA it's better to take bamboo hooks with you in your carry on bag.
Place them with pens in a compartment in your bag or a pencil case, as you go through a security checkpoint.
Does Southwest Airlines Allow Crochet Hooks?
Southwest Airlines Domestic flights within the United States allow crochet hooks on board the plane.
They follow the TSA guidelines for what you can bring on the plane.
Traveling to an international destination with Southwest Airlines?
Place your metal hooks in your checked bags for your return flight to the U.S. Countries like Mexico have strict rules about sharp objects.
Other Tools Used For Crocheting
Thread Cutter
Circular thread cutters like the Clover thread cutter or others with blades must be placed in your checked bags.
Scissors
For carry-on bags, scissors must be blunt, and the blades are no longer than 4″/10cm from the pivot point.
Have longer scissors? Place them in your checked luggage.
Make sure your travel scissors or safety scissors (kindergarten style) fit within these rules.
A good alternative is a small pair of nail clippers.
Dental floss can also do the trick for cutting yarn. Dental floss has a little blade inside you can use to cut yarn.
Sewing Needles
Bring sewing needles in your carry-on bag or in your checked bags. But leave them in your checked in luggage. Finishing is annoying on a plane.
As far as notions go, have a little notions kit for traveling. It's handy to have everything in one place.
All your crochet tools like stitch markers, yarn needles and tape measure can be kept in one convenient place.
This means you don't have to dig for it once you're on the plane and having it all together is easier for the agents.
This case fits under most airplane seats. Feed your yarn through so you crochet without the hassle of the wool getting away from you.
Traveling Outside the United States
Mexico
Knitting Needles and Crochet Hooks are only allowed in checked bags. Don't take them in your carry-on bag.
Canada
Knitting needles and crochet hooks of any size and type (e.g. plastic, aluminum, bamboo) are permitted in carry-on or checked bags.
Australia
There used to be a restriction on knitting needles and crochet hooks on a plane in Australia, but has since been removed.
Place them in your checked bags or take them on board.
United Kingdom (UK)
Take your crochet hooks in your hand luggage on flights within the UK and in your hold luggage.
European Union (EU)
On their list of prohibited items is:
…tools with a blade or a shaft of over 6 cm capable of use as a weapon, like screwdrivers and chisels.
Don't take any metal crochet hooks on board and stow them in checked in bags. Have bamboo or plastic hooks.
Scissors (max 6 cm / 2.3″ from the fulcrum) are allowed. Small craft scissors with blunt points are a good idea or small nail clippers.
France
It's strictly prohibited to take crochet hooks on a plane in France. They must be checked in.
Double check with the country's polices before you travel.
Best Crochet Hooks For Traveling On Planes
Addi Comfort Grip Crochet Hook
Check Price On Amazon
Addi® Comfort Grip hook, featuring color-coded plastic handles for ease of organization. Has a comfortable grip.
The head has a shiny finish, a rounded lip, and a rounded groove.
Available in
A (2mm)
B (2.5mm)
C (3mm)
D (3.25mm)
E (3mm)
3.75mm
F (4mm)
G (4.5mm)
H (5mm)
I (5.5mm)
J (6mm)
Pros
Good for stitches requiring loading
The shaft is long enough
Cons
Lion Brand Bamboo Hooks
Includes sizes
Each hook is marked for its size. Set of three hooks.
Pros
Inexpensive
Comfortable to hold and use
Glides through the yarn
Cons
Helpful Travel Tips For Crocheters
Travel rules and permissible items are subject to change – while this list is accurate for now, new rules can go up anytime.
Always check the country and airlines before you fly.
Here's a handy tip: consider taking a padded mailing envelope and sheet of stamps with you when you travel.
So on the odd chance your hooks are going to be confiscated, you can mail your package home to yourself!
There are a few tips you can use to ensure you have an easy trip with your crochet.
Think about how much time you'll have to crochet. Taking your latest crocheted afghan isn't best
Prepare for small projects like hats and take the yarn needed which should only be a couple of balls.
Have a zip up bag for all your supplies.
Know your pattern and have a backup. You might not have wifi.
Pattern is online? Download the pdf or print out it.
Have a few rows of your project started when you reach the airport.
The transportation security administration agents are less likely to throw out your crochet hook if they see you aren't just harboring sharp objects.
Only bring something you don't mind losing. Don't bring your favorite set of hooks.
Do your research before you go on your trip.
Going through airport security is stressful, make it easy on yourself.
You can't control what security will let you fly with. But with these travel tips and tricks, you'll enjoy a flight full of crafting and relaxing.
Follow the rules. Sitting at the airports for hours is draining.
If you can take your crochet hooks on the plane, that'll pass the time. If not, take a good book, your e-reader or an audiobook.
I'd love to hear about your experiences when traveling with your crochet hooks. Leave a comment.
Pin Now to Save for Later