Prym Crochet Hooks have superior comfort. The synthetic material is flexible and lightweight. The shape of the shaft is tapered with an ergonomic design.
Experience pain in your wrists or hands when you crochet? These are the hooks you need.
Table Of Contents
Prym Ergonomic Crochet Hooks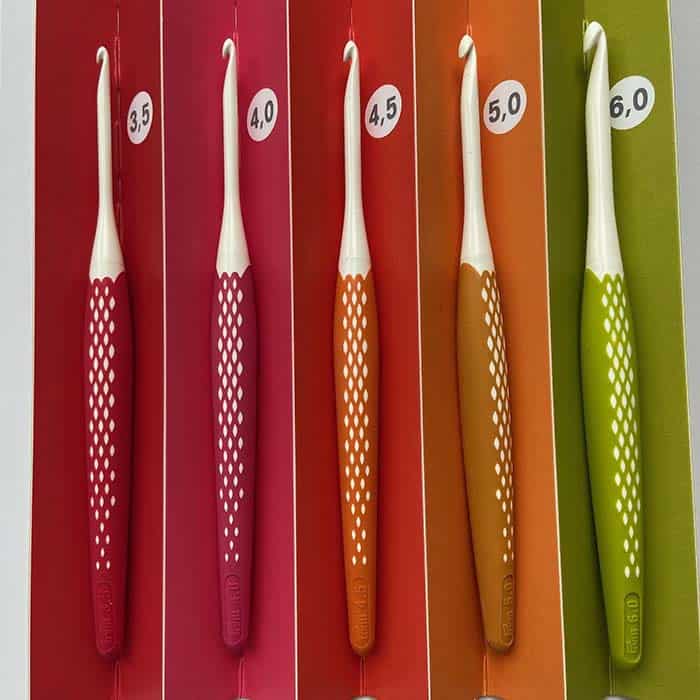 Prym Ergonomic Crochet hooks have a handle that becomes narrower at the end and is slightly shorter than other manufacturer's hooks. Excellent crochet hooks for wool and many different types of yarn.
High performance ergonomic hook that allows you to crochet for long periods comfortably. Each size is color-coded. The sizes available: 3mm, 3.5mm, 4mm, 4.5mm, and 5mm.
Pros
Comfortable to use
Lightweight
Yarn glides smoothly
Flexible
Cons
The point and lip are blunt, which may be a problem if you crochet with a tight tension.
See my article about baby blanket wool.
Prym Ergonomic Hooks Larger Sizes
The same feel as the hooks mentioned above, only these are the larger hooks.
Sizes available: 6mm, 7mm, 8mm, 9mm, 10mm, 12mm, and 15mm
Pros
Light, flexible crochet hook, warm to the touch – for optimum crochet comfort
Stitches glide smoothly over the shaft and improved hook.
Ergonomic grip for effortless crochet
Millimeter sizes are on the handle
Cons
Some crocheters don't like the feel of plastic
Prym Soft-Grip Crochet Hook
These are prym soft handle crochet hooks. Unfortunately, they're not available in a set.
Sizes available: 2mm, 2.5mm, 3.0mm, 3.5mm, 4.0mm, 4.5mm, 5.0mm and 6mm
Pros
Smooth aluminum hook
Rubber handle
Each size has a different colored grip for easy identification
The mm size is on the handle
Helps avoid hand fatigue
Cons
No letter sizes are mentioned
Prym Long Double Ended Tunisian Crochet Hook
These double ended hooks are 25cm long and perfect for Tunisian Crochet.
Sizes available: 4mm and 6mm
Pros
Smooth anodized aluminum surface
High quality
Good length
Double ended, which is excellent for two colorwork Tunisian crochet projects
Metric size is engraved on the hook
Cons
Hope you found this guide to crochet needles Prym helpful. These lightweight, ergonomic hooks are sure to suit any crocheter, regardless of skill level.
If you have any questions, please let me know in the comments below or get in touch here.
Pin Now to Save for Later