Crochet is a fabulous way to bring out kids' creativity. Once they learn the basics, they create wonderful projects. A Kids Crochet Kit makes it easy to learn crochet skills, and in the end, they have a crocheted item they'll be proud of.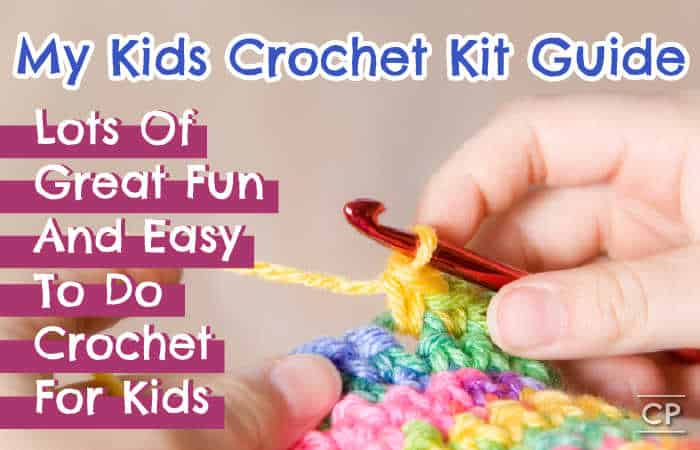 The kits come with everything needed, hooks, yarn, crochet technique, and stitch instruction booklets.
At A Glance: The Top 6 Kids Crochet Kit
Note: Clicking the links takes you to further information, current prices, and customer reviews on Amazon, Etsy, and Crochet.com.
I reviewed, fact checked and updated this post on April 25, 2023
Table of Contents
Crochet Craft Kit For Kids
A child who learns to crochet is a rewarding experience that can have lifelong benefits. Crocheting gives kids something interesting to fill their hours outside of their other activities. Some of the short term benefits of crocheting for children are:
Improving self-esteem – Mastering a new skill is always a confidence boost. The ability to create wearable items they have made themselves encourages a sense of achievement.
Honing motor skills – Kids can find holding a hook and yarn in their hands and then creating stitches quite difficult at first. With practice and time, their fine motor skills will improve, and crocheting will become easier.
Expressing their creativity – With kids crochet kits, the project ideas are included, but with the new skills learned, a child can go on to choosing their own yarns and crochet patterns and get really involved in a new hobby.
Practicing literacy skills – Children can practice following instructions, reading, and even basic math through working on crochet patterns.
Time spent crocheting means they have a break from electronic devices – Crocheting allows kids to use other areas of their brain. It can be tricky, and that promotes problem-solving.
Practice the art of mindfulness – Staying on the one task and doing something repetitively can create a sense of calm.
Penguin Crochet Kit By The Woobles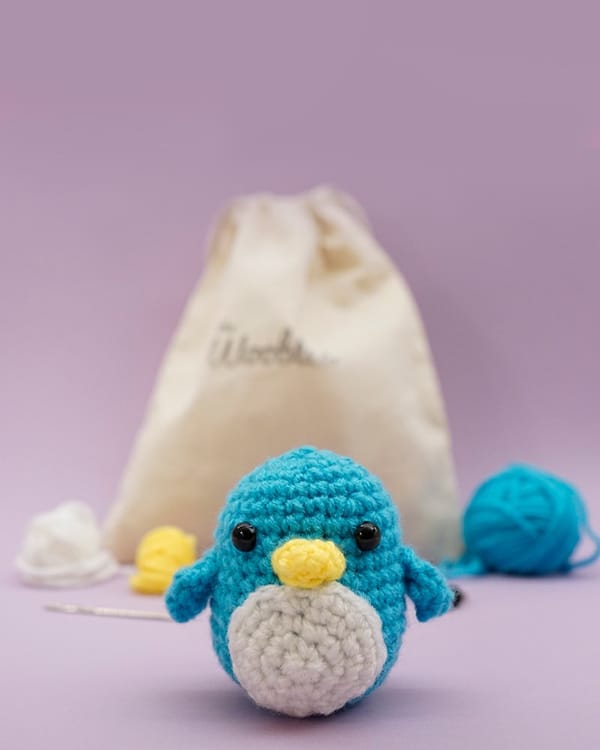 Isn't this little penguin adorable? This kit is suitable for absolute beginners. It includes Quickstart instructions that teach you everything from how to hold yarn to crocheting your first few stitches. The instructions also have plenty of pictures to demonstrate the crochet techniques.
My own kid loved creating Pierre. The step by step instructions were easy to follow and having the magic circle for the already started was a huge help.
This Kit Includes:
Video tutorial for your first few stitches
Beginners crochet Pattern as a PDF download
Blue, white, and yellow yarn
Pre-started crochet piece, so you can get right into practicing the main crochet stitch (if you're a leftie, they will start it in the correct direction)
Plastic safety eyes
Polyfill
Accessories -Tapestry needle, Stitch marker
Drawstring cotton bag to carry everything for the craft kit
4mm crochet hook (for an additional charge)
4M Easy-To-Do Crochet Kits
For kids started off in crochet, it's wise to provide them with a full kit including everything they need. So a kit with hooks, yarn, and a technique instruction booklet. As much as it is fun to visit a yarn store, it can be somewhat overwhelming when you are new to crochet. Having everything all ready to go is the key to success.

This 4m crochet art kit has a choice of yarn colors. The instruction manual is visual with graphic information on how to create the stitches. The kit contains enough materials to create three of the following crochet items: coaster, handbag, place mat, or belt. Great functional products to show off your new skill.
Pros
two crochet hooks, one plastic needle, and seven colors of yarn
Suitable for Ages 8 and above

Cons
The yarn is quite thin
Younger kids will need help to understand what to do
Check Price on Amazon
Louies Loops Crocheting Kits Includes Crochet Hook & Needle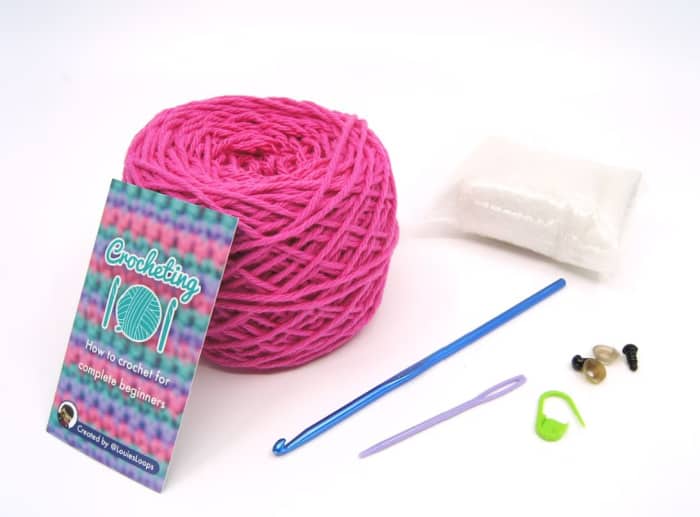 Louie offers a kit that is more like a mini crochet course as this kit provides links to 25 unique videos and a full eBook. The purpose is not only teach the crochet basics but to get practice with different patterns and techniques.
Kit includes:
The Yarn (2)
Worsted Weight Cotton (Projects 1 – 6 + Practice Yarn)
Medium Weight Acrylic (Project 7: Classic Beanie)
2 Crochet Hooks
Aluminum Size G6/4.00 mm Crochet Hook
Aluminum Size I9/5.50 mm Crochet Hook
Stuffing
Darning Needles (2)
Stitch Markers (2)
Sticker
Crocheting 101: How to Crochet for Complete Beginners (Digital Copy)
Acorns And Twigs Beginner Crochet Kit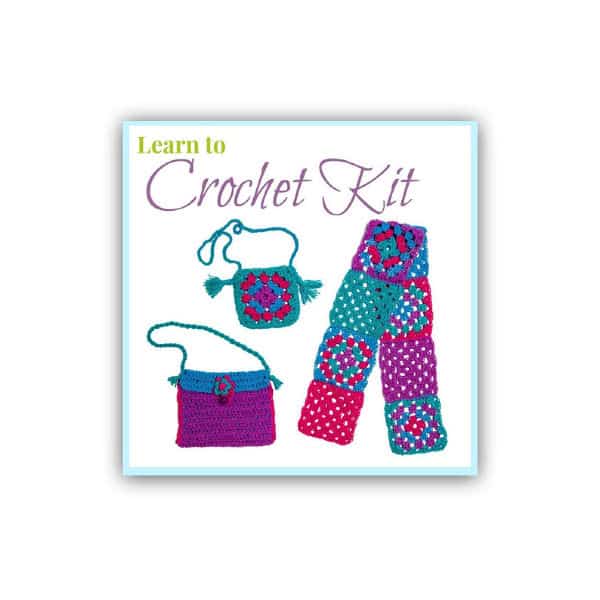 Learning one of the most popular techniques in crochet, the Granny Square, is fun. The kit comes with enough yarn to complete a Long Granny Square Scarf or 2 purse projects. It also includes a plastic Crochet Hook.
100% Wool Yarn, in four colors (colors may vary), fleece for felting buttons for the purse, and complete Illustrated Instructions. Sewing Needle and thread not included. Recommended for ages 7 & up.

Pros
The Granny Square technique is a great building block for future projects
The pattern can be used to create more projects
Cons
Younger kids will need help and to remember while they are learning, they will make mistakes and to be patient with themselves 🙂
Panda Amigurumi Kit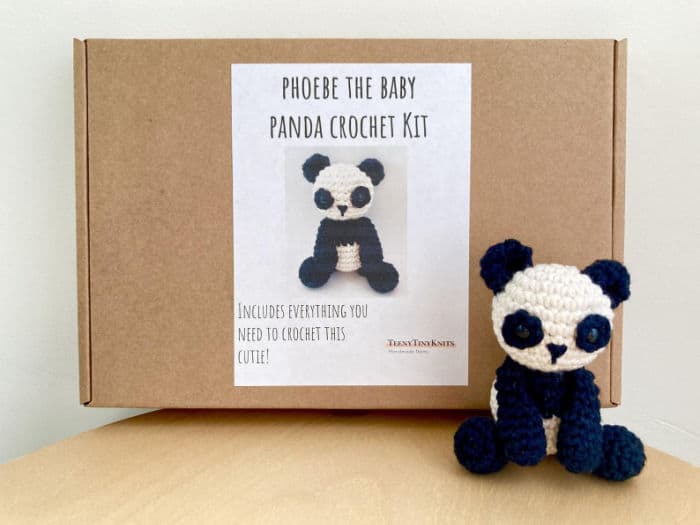 This adorable amigurumi crochet kit is the perfect introduction to crochet for your child! The kit includes everything your child needs to make their own cuddly panda toy, including step-by-step instructions, soft yarn, and a crochet hook.
Kids who are new to crochet will enjoy following the easy-to-follow instructions as they make each piece of the panda, from its head to its feet. They can cherish and play with their new friend for years to come once it is complete.
This kit contains:
11g white cotton yarn
14g black cotton yarn
6mm safety eyes
3mm crochet hook
Tapestry needle
Polyester filling
The finished item should be around 8.5cm in height when sitting. The pattern in this kit is written in English with UK crochet terms. Best crochet kit for children who love animals.Such a fun project!
Crochet Kit – French Market Tote Bag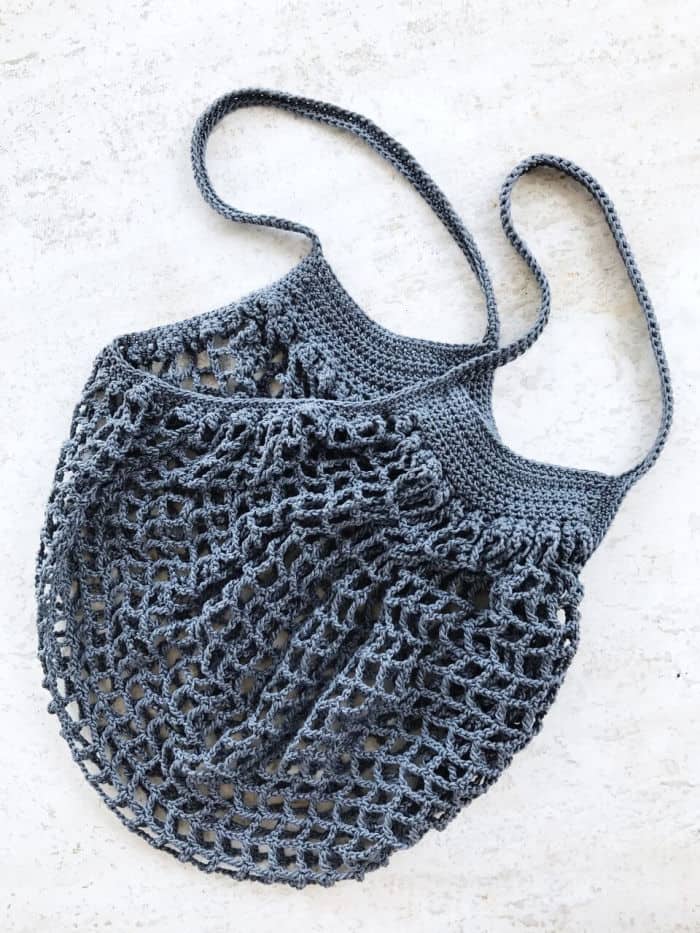 A project suited to older children who really want a challenge. It is crocheted in a flat piece, and then long sturdy straps are added. Fun to do and makes an excellent gift. Made in Lion Brand 24/7 Cotton Yarn, it's easy to wash and has the strength to hold your market shopping.
The usd regular price of around $15 usd is affordable. Sometimes you'll find this kit with a sale price during certain times of the year. For shipping add a further amount based on what you've ordered.

Pros
The perfect summer bag project
You can choose different fun colored yarns
The mesh stitch is easy to master and the pattern includes clear instructions
The suggested yarn doesn't split easily
Cons
Does not include any crochet hooks
Conclusion
Crochet kits for kids also make wonderful gifts. Crochet kits are often transportable, so they're perfect for taking in the car or when waiting. The kits are also great for beginning a crochet collection as they come with hooks that can be used again. I hope you've found a kids crochet kit. Looking for more kits? See here.
Pin Now to Save for Later