Designer crochet hooks are a great addition to your crochet hook collection. They come in a range of sizes and materials.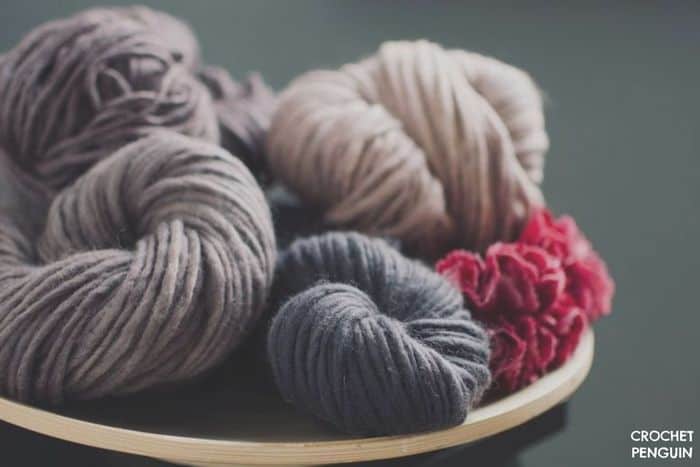 They're fabulous for long periods of crocheting without tiring your hands. The beauty of the wooden hooks delight any crocheter.
Table Of Contents
Furls Alpha Series Hooks
Each of these wooden crochet hooks is 100% handmade in Cocobolo, Tulipwood, Blackwood, Bloodwood, Rosewood, Olivewood, Bocoyte, and Purpleheart.
Furls Fiberarts source sustainable woods. Each Alpha Series hook is made by hand, and is one of a kind. Each hook has a unique combination of grain, wood, size, and shape and is a luxury hook.
If you experience hand fatigue when crocheting for long periods, these hooks are a great option.
Sizes Available
3.5mm
3.75mm
4.0mm
4.5mm
5.0mm
5.5mm
6.0mm
6.5mm
7.0mm
8.0mm
9.0mm
10.0mm
13.0mm
15.0mm
Pros
Gorgeous range of woods
The design of handles are comfortable
Unique hook
Cons
Pricier than other hooks but worth it
See my review of soft worsted weight yarn for baby blanket.
Hand Turned Ergonomic Custom Hooks
Stunning wooden crochet hooks of combinations of woods such as Cocobolo, Bocote, Gabon Ebony and Bloodwood.
The hand-turned hooks are carved for maximum beauty.
They come in a set of 4 and the sizes vary.
Pros
Stunning design
Ergonomic handle
Comfortable
Smooth surface
Suitable for both knife grip and pencil hold crocheters
Cons
An investment but a great addition to your collection.
WeCrochet Caspian Regular Hooks
The Caspian crochet hooks have a smooth finish with just the right amount of grip. Both beginning and experienced crocheters will appreciate the deeply grooved wooden hooks.
The ocean-inspired colors of green and blues are delightful.
Features
Sizes Available – E-4 (3.5mm) to 12.0mm
Style Of Hook – Inline
Length – 6″
Pros
Thumb rest on the handle
The hook head is slightly rounded
The yarn glides easily
Smooth surface
Cons
The hook isn't marked, so keep the original packaging it comes in that shows the size
The Hook Nook Resin Hooks
The Hook Nook crochet hooks are designed to be a crocheter's best friend. Each hook is created to be ergonomic and fit your hand correctly to prevent wrist or hand pain.
The tapered neck creates even tension in your stitches, while the shape of the tip allows the yarn to be worked with ease. Each hook is custom-dyed resin.
Features
Sizes Available – G, H, I, J, K, L, N
Style Of Hook – Tapered
Made From – Resin
Pros
Comfortable to hold
Sturdy
Each hook size is a different color
Cons
It may have some rough edges. We Crochet Customer Service will take care of any hassles such as this.
KnitPro Waves Aluminium Crochet Hook Set
Single-ended aluminum crochet hooks with sturdy yet soft grips. The set of hooks comes in a faux leather pink case.
Set Includes 9 hooks in sizes.
2.00mm – Rosemary
2.50mm – Jade
3.00mm – Laurel
3.50mm – Magnolia
4.00mm – Tangerine
4.50mm – Bluebell
5.00mm – Laburnum
5.50mm – Primrose
6.00mm – Pansy
Pros
Perfectly smooth silver finish
Colour coded grips
Comfortable for those experiencing hand/wrist pain
Cons
The case could be better quality
Check Price On Amazon
What Are The Best Designer Crochet Hooks?
The best designer crochet hooks are those that are unique and comfortable to use. Ones to make you smile when you create a crochet project with them.
Hope this post helped you find some of the most stunning crochet hooks available to add to your collection.
Pin Now to Save for Later