Let's face it. Even avid crocheters get bored. I have the solution; crochet mags! If you're tired of crocheting, why not read something full of crochet inspiration? Here are the best crochet magazines and subscriptions that I highly recommend and have in my library.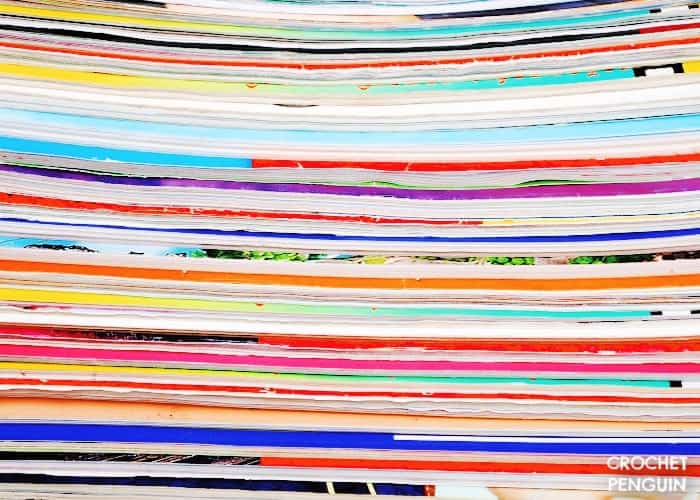 My Quick Recommendations
Table Of Contents
What's The Best Crochet Magazine?
You're here for magazines. So read on to find a crochet magazine subscription to suit you!
A stunning collection of crochet patterns, tutorials, and articles covering fascinating crocheters, you will find everything you need to get started crocheting.
Print & Digital
Content: Crochet patterns, how to articles, Interviews, Crochet A Longs
Pros
Gorgeous pictures
Easy to understand how to articles
Fascinating interviews with designers
Previous issues are often on sale
Cons
Print copy not available in craft stores
The patterns in the Crochet Foundry mag are beautiful. They have lots of different designers that create seasonally-themed garments. Perfect for any crochet enthusiast.
Digital
Published Seasonally
Content: Patterns, tutorials
Pros
Digital: less paper waste
Good reviews
You may ask for help even if the problem is from a past issue
Sizing guides for patterns
It's well worth becoming a subscriber
Cons
Only published every season; no extra issues
Pom Pom Mag (Plenty Of Incredible Patterns)
Pom Pom Magazines are a collection of crochet and knitting patterns. Each mag is published every season, featuring seasonal themed patterns. I love how they include people from all over the world in their modeling and pattern designing. An excellent choice!
Print Or Digital? – Print and Digital
How Often Is It Published? – Quarterly
What Kind Of Content? – Crochet and knitting patterns
Pros
Beautifully created patterns
Available in print
The graphic design is lovely
Pom Pom's team have great values
Printed on sustainably sourced paper
They feature all sorts of designers and crocheters in their issue
Cons
Not focused only on crochet; knitting patterns included
Some issues are only available digitally
Annie's Crochet Magazine
This is full of everything to do with crochet. There are a good number of patterns and crochet stitches tutorials in these crochet magazines.
Digital
Published Seasonally, with extra issues
Content: Crochet patterns, tutorials
Pros:
Digital; less paper waste
Lots of cool patterns
Cons
Crochet World (Digital Issue Only)
Crochet World is another magazine series from Annie's Catalog. It has lots of crochet techniques and crochet projects to try. They also include occasional industry interviews.
Digital
Published Seasonally and monthly
Content: Seasonal patterns with extra issues
Pros
Less expensive than the previous magazines
Published more often
Seasonal themed house decor
Lovely patterns
Cons
Only digital
The extra issues are more expensive than the monthly mags
Happily Hooked Magazine
This mag from the United States is filled with crochet patterns and helpful information. There's also a lovely community of fellow crocheters who adore collecting and sharing patterns.
Digital
Published Monthly
Content: Seasonal themed patterns, crochet news, interviews
Pros
Good reviews from customers
Friendly community
Help from others with pattern problems
16 patterns per month
Comes with a bunch of freebies when you subscribe, like bonus patterns. Sometimes they have physical products, like soft-grip crochet hooks
Cons
Not great for people who prefer physical magazines
Your Crochet Mag
Note: This magazine's online store doesn't seem to be working. It looks like you can only buy it at UK craft stores. Your Crochet Mag is a UK-based magazine full of lovely crochet patterns.
How Does It Compare?
Print Or Digital? – Print
How Often Is It Published? – 4 times a year
What Kind Of Content? – Patterns
Pros
Lots of home décor patterns
Available in print
Cons
Only available in the UK
Only published four times a year
No digital editions
I Like Crochet
I Like Crochet is a magazine from the UK. It contains patterns and other crochet fun you can get your hook into.
Digital
Published Every Month
Content: Patterns
Pros
ILikeCrochet is pretty cheap
Lovely seasonal themed patterns
Cons
Digital; not great for people who like print
Inside Crochet
Inside Crochet publishes issues on all sorts of topics. They focus on natural fibers and small and independent businesses and designers.
Print & Digital
Published Monthly
Content: Patterns
Pros
You can get issues in print and digital
Digital editions are much cheaper
Great if you want to expand your crochet skills
Magazine issues full of helpful instructions on a project like home decor.
Cons
Print editions are expensive
Crochet Now
A UK-based magazine focusing on modern creators of today. They publish all sorts of crochet goodness.
Print
Published Quarterly
Content: Patterns and advice
Pros
An acclaimed publication
Detailed, helpful tutorials for all skill levels
All sorts of crochet designers, bloggers, and pattern publishers featured
Awesome patterns, like fashion accessories
Affordable retail price
Cons
What To Look For In Crochet Magazines
Here are some tips to help you pick a magazine.
Print Or Digital?
Print and digital are both fine choices, but here are a few pros and cons about each.
Print is good for people who like physical magazines, but it uses paper, and takes up space in your home. Digital is paper-free, great for people who prefer reading online, often has interactive features, is usually cheaper than print, but it might be hard for some people to read.
Publishing Frequency?
This depends on how much patience you have! Maybe you're always checking your inbox or mailbox to see if your mag has arrived yet. My advice: Get a monthly subscription. But if you prefer to wait and not feel overwhelmed with things to read, seasonal mags are the go.
What Content?
This also depends on your preference. All magazines have a couple of patterns in them. (It's not a crocheting magazine if there are no projects!) Others have news and interviews. All in all, they have a mixture of content.
Free Or Paid?
Most magazines are in a subscription format, or you can buy a one off issue. I haven't found a free magazine so far in my research, but let me know in the comments if you know any.
Note: You can get many magazines and pattern collections from your library. If they don't have what you're looking for in their catalog, ask your friendly librarian to order them in!
Which Is Best For You?
I hope you've found a magazine that you like. Let me know in the comments which are your favorite!
Annie's Crochet Magazine

– Affordable and full of inspiration.

Crochet Foundry

– Great clothing projects with size inclusivity.

Crochet World

– You'll never be short of patterns.

Happily Hooked

– Best value, with many extras and a vibrant community.

Pop Pom Mag

– Great for modern, colorful patterns.

Your Crochet Mag

– Many patterns to try and the materials needed.
I

nterweave Crochet

– Full of tutorials and new techniques.

I Like Crochet

– Get access to all the patterns you could ever need.

Inside Crochet

– Read the latest news and inspiration from the industry.
C

rochet Now

– Great for crocheters from the UK.
Comparable Products To Consider
Another magazine to try would be Simply Crochet. Their back issues are well worth the read. You may want to look at my crochet books post too.
FAQs About Crocheting Magazines
Is There A Crochet Magazine?
There are dozens of crochet magazines on the internet and in bookstores.
What Is The Best Crochet Magazine UK?
One of the best crochet magazines in the UK is Happily Hooked. Crochet Now is also a good choice.
What Is Happily Hooked?
Happily Hooked is a crochet magazine from the UK.
How Much Does A Subscription To Happily Hooked Cost?
A subscription to Happily Hooked costs $49.99 per year or 25 cents per pattern.
What Is The Best Crochet Magazine For Beginners?
Any of the above magazines are great for beginners, but the patterns may be a little hard. If you're a beginner, get one of the cheaper mags.
Should You Invest In A Crochet Magazine Subscription?
It depends on whether you'll read it. If you're the person who buys books and leaves them in the cupboard, don't. But if you value crochet content and read magazines, go for it!
What Happened To Magic Crochet Magazine?
The Magic Crochet magazine was removed from the market some time ago. At first, nobody knew why, but it turned out the company merged with others. When they released new ones, they were about sewing.
Conclusion
I hope you found this list of the best crochet magazines helpful! Time to start reading. If you have suggestions for what I should add to this post, please tell me below.
Pin For Later