A crochet bag makes it easy to keep everything you need for your crocheting projects organized. I share some ready-to-buy options for a crochet organizer.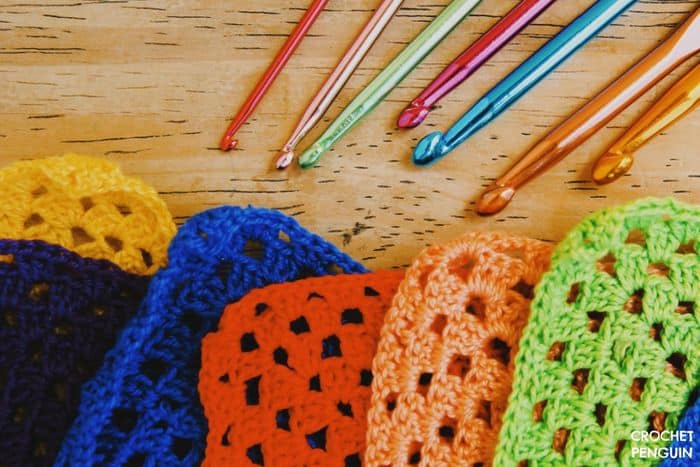 There are also some options to make your own crochet bag.
These would make great, functional, crochet accessories gifts!
Table Of Contents
Crochet Travel Case
A sturdy gorgeous case that fits underneath most airplane seats. Crocheting while travelling never look so good!
Pros
Metal lid. Includes magnets for holding patterns.
Choose from five beautiful colors.
Materials are durable
Organizes your notions in a tray
Big enough to hold several balls of yarn
Metal feet protect the bottom
Wear it across your body or over your shoulder
Detachable handles
Cons
Can only be spot cleaned, don't put in the washing machine
Crochet Storage Tote
This Crochet bag has six interior compartments with matching holes on the top. They are great for keeping skeins of yarn separated. You can feed different colors of yarn through the holes.
There are three sets of magic tapes to keep the yarn in place when not crocheting. The inside divisions go all the way to the bottom. The flexible and transparent PVC top cover allows you to see what's inside without opening.
A half-open design on the top allows you to put your unfinished projects into the bag without cutting away the yarn.
Front pouches and elastic loops for crochet hooks. Side and back pouches to store crochet pattern books, stitch markers, scissors, a tape measure, and tapestry needles.
The handle and removable adjustable shoulder strap give you the option to carry it by hand or on the arm.
Pros
Holds several projects
Durable canvas material
Plenty of space
Cons
Make sure you are getting the size you want as there are three options
Click to Learn More / Buy from Amazon
NICOGENA Crocheting Organizer
Roomy enough for loads of yarn balls, ideal for small to medium projects. The sizeable multifunctional front pocket is perfect for organizing various accessories.
The elastic bands and visual panel with velcro are great for storing your standard hooks. And the pockets with different depths allow you to keep most crochet hooks of different lengths.
There are two side pockets roomy enough for you to store larger ergonomic crochet hooks. Three large reinforced holes (grommets) are on the top of the bag for threading different colored yarns.
Measures 15.5 x 7 x 9 inches.
Pros
Plenty of storage space
Lightweight
Comes with a mini yarn storage drum
Cons
Steel Hooks would fall out of the elastic bands. They would need to be kept in one of the pockets
Doesn't have any interior dividers
Click to Learn More / Buy from Amazon
HOMEST Portable Crochet Tote
This crochet bag is ideal for a small to medium project. It measures 16 x 6.5 x 9 inches.
The front pocket can store your crochet hooks. The elastic loops can hold aluminum hooks from 2mm-10mm, ergonomic handle crochet hooks from 2mm-6mm.
Three grommets are on the top of the bag to thread through yarn without getting tangled.
Pros
Spacious storage for your yarn, projects, and hooks
Stylish design
You can carry the bag over your shoulder or hold the handles in your hand
Crochet on the go
Cons
It won't suit larger crochet projects
Click to Learn More / Buy from Amazon
Crochet Bag Patterns
Here are a few bag crochet patterns so you can make your own.
Your Questions Answered
Are Crochet Bags In Style?
There are so many stylish crochet bags from totes, market bags, purses, and clutches.
What Is The Best Yarn For Crochet Bags?
It's best to use cotton yarn for your crochet bag. Cotton's durability and elasticity make it an excellent option for sturdy bags. It's also washable.
How Do You Make A Crochet Bag Sturdy?
Work with a durable yarn like cotton, or hemp
Make smart choices with crochet purse handles
Secure the handles correctly
Consider lining your bag
Add interlining between the fabric lining and the crochet. Use batting or interfacing
Use tight, dense crochet stitches
Add a secure closure like a zipper, drawstring, snaps, or buttons
How Do You Crochet A Hand Bag?
Here is a tutorial from Naztazia to crochet a simple sweet handbag.
How Do You Crochet A Small Pouch?
Bethany from Whistle and Ivy steps you through how to crochet a small pouch.
How Do You Crochet A Strap On A Bag?
BellaCoco shows you how to create a crocheted cord for a strap on a bag
How Do You Sew A Lining Into A Crochet Bag?
Vickie Howell has a fabulous tutorial on how to sew a lining into a crochet bag
Comparable Products To Consider
See my post on a crochet organizer for keeping your tools under control.
I hope you find a crochet bag to suit you.
I'd love to hear about any I might have missed. Please leave a comment below or contact me here.
Pin Now to Save for Later