Boye is a well known and popular brand of crochet hooks. They have a long history of product development, ensuring crocheters needs are met.
Read the history of Boye and their most popular crocheting tools.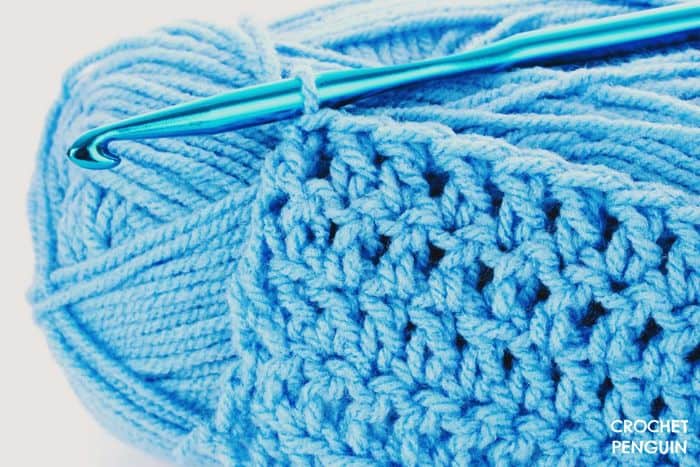 Table of Contents
Company History
The Boye company began in 1906 with the introduction of a sewing caddy called the Rotary Case.
They expanded in the sewing business with sewing machine parts and accessories. It wasn't until 1917 that they put out Boye steel crochet hooks made in the U.S.A.
Through years of development, Boye became recognized as the premier supplier of crochet hooks and Boye knitting needles. In 1989 Boye Needle company merged into Wrights.
The Boye brand is now part of the Simplicity Creative Group when that company acquired Wrights in 2000.
For a complete guide to the range of their hooks, read my article.
Boye Crochet Master Steel and Aluminum Set
The Boye Crochet Master hook set is perfect for the beginner crocheter. This set includes 24 different sized crochet hooks and a zippered case to keep them neat and organized.
With this many hook options, you'll be able to complete nearly any crochet project you want. You'll have all the hook sizes you need!
The smaller crochet hooks are made of steel. They are great for crocheting with thread. The larger crochet hooks are made of aluminum and used with various types of yarn.
The hooks have a tapered head, which allows for easy crocheting.
Pros
The set comes within a compact case
Different colors denote different sizes
No splitting of yarn due to the rounded head
Cons
Some people find their wrists ache when using steel or aluminum hooks for extended periods.
Click to Learn More / Buy from Amazon
Boye Aluminum Hooks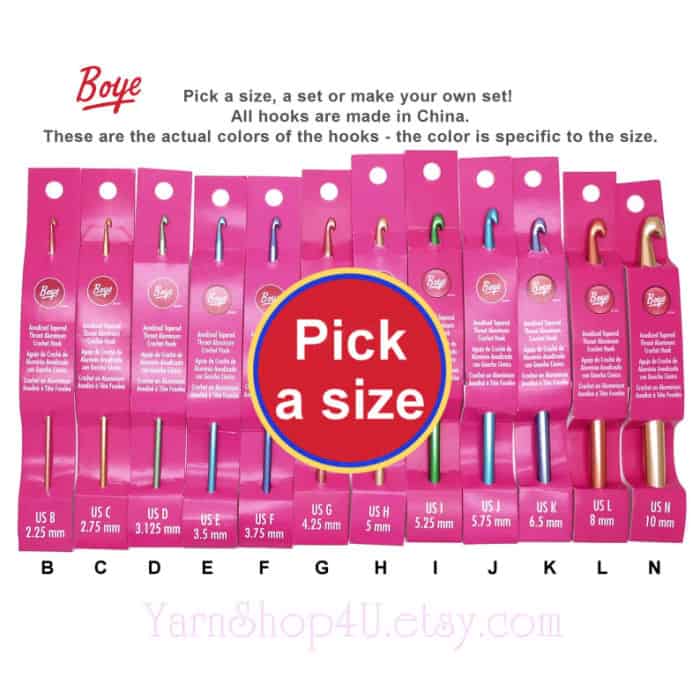 Boye Anodized Aluminum hooks come in a range of sizes. They are color-coded, and the size is embossed on the thumb rest. They're 6 inches long.
Sizes in U.S. and metric:
B1/2.25mm
C2/2.75mm
D3/3.25mm
E4/3.5mm
F5/3.75mm
G6/4.25mm
H8/5mm
I9/5.25m
J10/5.75mm
K10.5/6.5mm
L11/8mm
N15/10mm
Pros
Smooth surface
The yarn doesn't get caught
Lightweight
Durable
Cons
Like any metal hook, when using for long periods, you may experience hand fatigue.
Sizes Available – H
Style Of Hook – Afghan/Tunisian
Length – 14 Inches
Made From – Aluminum
Pros
Doesn't split the yarn
Knob at the end to stop stitches coming off the hook
Smooth anodized aluminum surface
Cons
Some found the hook too small
The soft rubber handle is easy to hold and makes long periods of crochet more comfortable. The surface is smooth with indentations where you can rest your thumb. The hook is aluminum.
Sizes Available –
B- 2.25mm
C-2.75mm
D-3.25mm
E- 3.5mm
F-3.75mm
G -4.25mm
H-5mm
I-5.25mm
J-5.75mm
K-6.5mm
L-8mm
N-10mm
Style Of Hook – Aluminum hook with a soft plastic colored handle
Pros
Letter and mm sizing printed on the handle
Ergonomic handle
Helpful for people with arthritis
Cons
There visible seams where the two sides of the rubber handle come together.
Some customers were not impressed with the quality.
Click to Learn More / Buy from Amazon
Boye Aluminum Crochet Hook Crochet Hook Set
This crochet hook set includes (8) assorted crochet hooks in different colors depending on the size.
Hook sizes: 3.25-6.5 mm, US D-K.
Pros
You can easily glide your hook through the yarn
Durable
Lightweight
Affordable
Cons
Some customers experienced one hook missing in the pack.
Click to Learn More / Buy from Amazon
Boye Plastic Crochet Hook Set, Sizes L11 to P16
4 Jumbo Boye Crochet hooks included in this set.
Hook Sizes: L-11 (8mm) through P-16 (11.5mm)
Pros
Lightweight
Each size is in a different pastel color
Great for beginners
Cons
Plastic hooks create friction
Click to Learn More / Buy from Amazon
Boye Steel Vintage Hooks
These Boye Steel Vintage Hooks are from the 1940s. Being one of the older styles, they remain the most abundant.
These hooks show wear appropriate for their age. Some are stained, a few are a bit less than straight. The seller is a crocheter, too, so be confident that she won't send you anything that she wouldn't use.
Sizes available
0.85mm-13
1.0mm-12
1.1mm-11
1.3mm-10
1.4mm-9
1.5mm-8
1.65mm-7
1.8mm-6
1.9mm-5
2mm-4
2.1mm-3
2.25mm – 2
2.75mm – 1
3.25mm – 0
3.5mm – 00
Pros
If you love Boye steel hooks made in the U.S.A. these are for you.
Cons
The size 14 is not available
There seems to be some debate about whether the Boye Crochet Hooks' quality has declined since moving the manufacturing overseas.
People rave about the older versions of Boye Hooks with the stamp U.S.A.
There are still many current version Boye Hook crocheters who love the tapered shape and the position of the thumb rest. The Boye brand is still strong, having been in the craft industry for over 114 years!
Do you crochet with a Boye Crochet hook? Please share with us what you enjoy the most about crocheting with one.
Leave a comment below or drop me a line here.
Pin Now to Save for Later