Ever wondered if there's a multipurpose fiber? You're in luck! Worsted weight yarn is a favorite yarn because you can crochet many things with it!
Read more for more information on what it is, how to use it, how thick it is, and what hook sizes to use with it.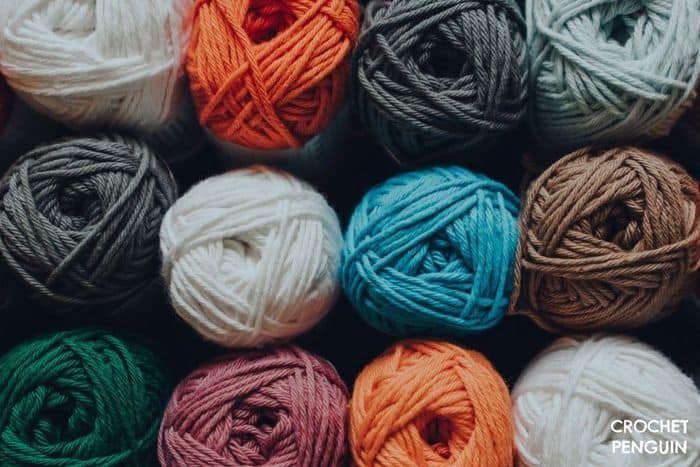 Table Of Contents
What Is Worsted Weight Yarn?
It's a type of yarn that isn't heavy, but it's not light either. This yarn type is heavier than the fingering, sports, baby, and double knitting or DK yarns, but lighter than the bulky weights.
It's easy to crochet with and creates crocheted fabric quickly, without the result being too bulky.
Throughout your crocheting journey, you'll no doubt use this in your projects and patterns many times. It's an excellent choice for beginners, and popular among pattern designers, publishers, and brands for beginner projects.How
Do You Spot Worsted Weight Yarns At Craft Stores?
Sometimes the yarn label will have a big 4, signifying medium or it will say 'Medium', or both.
How Popular Is Worsted Weight Yarn?
Knitters and crocheters both love this yarn; it's super popular! It'ss on various popular yarn companies like Lion Brand & Bernat most-sold list. One of Lion Brand's most popular yarns, Malabrigo is worsted.
Are you having trouble controlling your unruly yarn? A yarn spooler could help.
What Kind Of Yarn Is Worsted Weight?
Worsted yarn is medium, also labeled as a number four on skeins of yarn. It has an average crochet gauge of 2.75–3.5 stitches per inch, and a knitting gauge of 16–20 sts on US 7 to 9 knitting needles.
Of course, your gauge range depends on many factors. People have different individual gauges.
They come in many different colors.
There are so many types of yarn, so how do we number them, and do they even have numbers?
Thankfully, the US Craft Yarn Council (CYC) made our lives easier by developing a 'Standard Yarn Weight System' to keep yarn weights consistent.
The Standard Yarn Weight System range from numbers 0 to 7, which all yarn manufacturers adhere to when printing symbols on their labels. The weights and yarn categories made by the CYC are as follows:
No. 0: Lace Weight Or Crochet Thread
No. 1: Super Fine
No. 2: Fine
No. 3: Light (DK, Baby Sport, Baby DK
No. 4: Medium (a.k.a Worsted)
No. 5: Bulky (Aran Chunky)
No. 6: Super Bulky
No. 7: Jumbo (Sutiable for Arm Knitting)
Looking for the best yarn to crochet with? See my review.
What Is Ply?
If you look closely at a length of thread, you might notice that it appears twisted. If you untwist it far enough or pull it apart, you'll start to see two or more strands that make up the one piece.
Those separate threads all bunched together are what people and yarn manufacturers call 'ply.'
For example, if you went to the yarn store and picked up a ball that said "2-Ply", that would mean it's made up of 2 strands twisted together to make one. The same goes for 3-ply, 4-ply, and any other number of ply.
The number signifies how many strands make up one length. When you see 'ply' on a yarn label, just think it has 2 – or any other number said before the word ply – strands twisted together to make one.
Ply is also applicable to tissues. Whichever number listed before the word ply, 3, for example, means that it had three layers of paper bunched together.
Trying to locate where to get yarn? I have a guide to help you.
Recommended Crochet Hook Size
Here are what crochet hooks to use for the worsted yarn. Keep in mind these are just general guidelines.
Metric (Australia and New Zealand sizes):
US Sizes:
However if you want to create lacy, openwork patterns, or a looser project or patterns, use a larger hook size.
What Is Worsted Yarn Used For, And What Can I Make With Worsted Weight Yarn?
Here is is a list of what you can make with this type of yarn.
Garments
Gloves
Stuffed toys
Scarves
Sweaters
Cowls
Blankets
Socks
Almost anything else you can think of!
Now, what is sock yarn? Let me explain.
Worsted Weight Yarn Equivalents and Substitutions
Names that are equivalent to this weighted yarn:
Worsted Weight Yarn Substitutions
Help! You have run out of it and need it for various projects, and you don't have time to go to the store. What do you do?
Don't fret. There is a nifty trick you can do to make it at home.
Ingredients:
1-2 balls of DK weight yarn
Method:
Split the ball into two. You can omit this step if you already have two balls.
Combine the two strands of yarn so you have one strand. Voila!
Here's a nifty tip: You can try using two different colored DK yarn balls to make multicolored yarn that's yarn weight worsted.
Your Questions Answered
Is Worsted Weight Yarn The Same As DK?
No, worsted weight yarn is not the same as double knitting yarn (DK yarn). They are two separate weights.
Worsted yarn is heavier than DK yarn.
Is 4 ply Yarn Worsted Weight?
No. Worsted weight yarn is typically ten ply.
What Is The Meaning Of Worsted?
Definition of 'worsted' from the Oxford Dictionary: "A fine smooth yarn spun from combed long-staple* wool."
*Long-staple means having long fibers.
How Thick Is Worsted Weight Yarn?
It's is a medium weight or a number 4 in the Craft Yarn Council yarn weight system.
Hopefully, you learned something more about the wonderful world of yarn. Happy crocheting, crafters!
Do you like working with this kind of yarn, if so, why, and what things do you make with it? I'd be interested to hear your thoughts.
Something I forgot? Or have a question? Leave a comment at the end.
Pin Now to Save for Later