Sick of using chairs to hold your yarn hank while winding it into a ball?
There's a solution! Umbrella yarn swifts.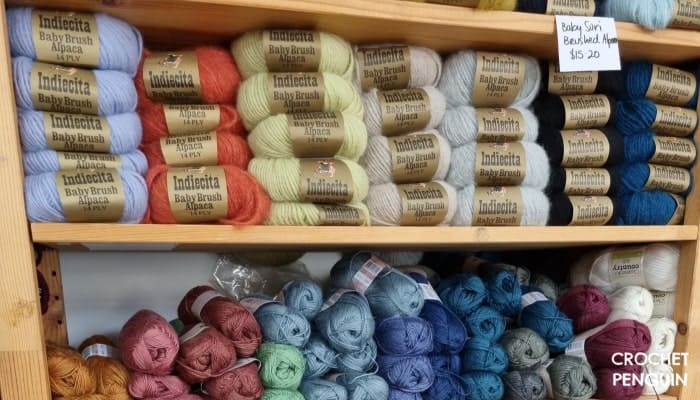 I reviewed and updated this post on July 13, 2022.
I cover what one of these is, how to use it, and the best ones available on the market.
Table Of Contents
Stanwood Needlecraft Wooden Umbrella Swift
Check Price On Amazon
Manufactured with premium polished birch wood and a lovely texture.
Pros
Accommodates yarn hank circumferences up to 6 feet
Rotates without grinding
Clamps onto surface edges
Looks nice
Base clamp sits onto surfaces up to 1 3/4″ thick
Solid
Collapses for storage
Cons
Wooden screws may be hard to tighten and unscrew
After a few years, parts of the swift become damaged
Knit Picks Onyx Yarn Swift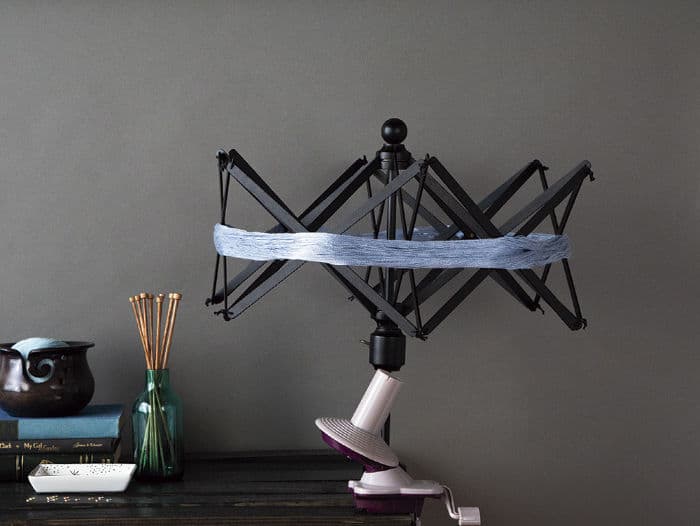 This is the same as the other model in this post from Knit Picks. Except it's polished with a black surface. Stylish and functional.
Note: They sell a case to put it in. Available in teal, silver and rose gold.
Features
Gold brass screws with a plastic stopper on the end
Clamps onto tables up to 1 1/2″ thick
Pros
Fast, quiet, winding
Elegant black looks attractive
Easy to set up and use
Sturdy
Cons
The screws may be damaged/broken
Schacht Swift
This swift is versatile. Winding from bobbins, vertically, and other angles. It has many useful features.
Prose
Changes from horizontal to vertical and back using a release pin
Durable
Solid wood
Easy winding
Cons
Expensive
Complicated assembly
Knit Picks Birch Yarn Swift
This is the classic yarn swift from Knit Picks.
They have a lovely natural color showcasing the varied woodgrains of the birch. This swift features effortless spinning.
Note: They sell a case to put it in. Available in teal, silver and rose gold.
Features
Smooth birch wood
Wooden clamp
Pros
Spins quietly
High quality
Sturdy
Collapsible
Easy to set up
Excellent customer service
If the swift breaks, Knit Picks replaces it
Looks pretty
Cons
Sometimes parts are damaged
Knitters Pride Yarn Swift
Check Price On Amazon
This swift combines dyed, laminated birch strips with natural birch wood. It has a smooth rotation.
Features
Laminated and natural birch wood
28″ high
Skein winds
Winding handle at the top
Pros
Quick spinning
Smooth wood
Pretty stripes
Cons
Nagina International Umbrella Yarn Swift
Check Price On Amazon
Available in beech and rosewood. An excellent tool to hold the yarn.
Sturdy and withstands lots of winding.
Features
Tabletop style
Natural beechwood or rosewood
Four arms (collapsible and extendable)
Pros
Attractive
Rotates quickly
Quick replacements if yarn swift is damaged
Cons
The swift moves (put non-stick pads on the bottom)
What Is An Umbrella Swift?
These have expandable 'ribs.' This is where you wrap the yarn. It has a center rod with a screw which slides up and down.
When collapsed, the screw is loose and at the bottom. When expanded, the screw is tight and around the middle.
The base has a wooden clamp to a bench, a table, or any flat surface.
What Makes Umbrella Swifts Different From Other Swifts?
An umbrella swift has a rack like a wine rack. Amish swifts have arms.
What is the easiest yarn to crochet with? You'll be an expert in no time with my guide.
Why Are Umbrella Swifts Called Umbrella Swifts?
It expands and collapses like an umbrella.
How Do You Use An Umbrella Swift?
Here is the Schacht swift demonstration.
Here is how to use a Knitpicks umbrella swift with a ball winder.
These instructions are for the Stanwood Needlecraft umbrella swift.
Step 1 – Fastening
Slide the notch onto the edge of a sturdy surface
Push the swift until the table sits inside, and there are no gaps
Tighten the screw on the bottom until the swift doesn't wobble
Step 2 – Placing The Hank On The Swift
Untwist your hank
Drape it over the closed swift
Expand the rack with the hank looped over it by pushing upwards below the start of the ribs
Do this until the yarn is wrapped tight around the swift.
Push the tightening screw until it sits below the base of the ribs
Holding the position in one hand, tighten the screw with the other
Step 3: Start winding!
Winding by hand? You're ready to go
Using a ball winder? here is a video tutorial by VeryPink Knits
Although wooden ones last a lifetime, cheaper metal and plastic ones are good too. Which do you prefer? Let me know.
Pin Now to Save for Later