Sick of using chairs to hold your yarn hank while trying to wind it into a ball? There's a solution; yarn swifts. There are various types of swifts, but this post focuses on the umbrella swift.
I cover what one of these is, how to use it, and the best ones available on the market.
Table Of Contents
What Is An Umbrella Swift?
These types of swifts have one rack or 'ribs' at the top that expand and collapse. This part is where you wrap the yarn. It has a centre rod with a tightening screw which slides up and down the rod.
You turn the screw to keep the rack/ribs in place. When collapsed, the screw is loose and positioned at the bottom. When expanded, the screw is tight and placed around the middle.
The base has a wooden clamp (the bottom of which also has a tightening screw), so it can attach to a bench, table, or any flat surface.
What makes umbrella swifts different from other swifts?
Unlike an Amish style swift, the umbrella swift has a clamp at the bottom, not wooden pieces for a base. The purpose of the clamp is to hold it tight onto the edge of a surface. There's a screw you turn to tighten the clamp and hold the open rack in place.
Your average umbrella swift has a rack like a wine rack. Amish swifts have two wooden arms.
What is the easiest yarn to crochet with? You'll be an expert in no time with my guide.
Why are umbrella swifts called umbrella swifts?
It expands and collapses like an umbrella.
What are they made out of, and which material is best?
These swifts vary from wood (such as rosewood, maple, or birch) to metal and plastic. You may like the solidity and texture on the wooden styles.
Or you may like the lightness and affordability of the metal and plastic swifts. It's your choice.
How Do You Use An Umbrella Swift?
Note: These instructions apply to the Stanwood Needlecraft umbrella swift.
To watch the:
Step 1: Fastening to a surface.
Start by sliding the notch part onto the edge of a sturdy surface. The table edge will be inside the notch. Make sure you push the swift until the table edge is snugly sitting inside and there are no vertical gaps.
Now tighten the screw on the bottom until there is no wobbling of the swift.
Step 2: Placing the hank on the swift
Untwist your hank, and drape it over the closed swift. Expand the rack with the hank looped over it by pushing upwards below the start of the ribs. Do this until the yarn is tightly wrapped around the swift.
Make sure it's not loose. Otherwise, the yarn will fall off.
Push the tightening screw upwards until it sits below the base of the ribs. Holding the position in one hand, tighten the screw with the other. Ensure it's nice and tight and keeps the rack up well.
Step 3: Start winding!
At this point, you're ready to start using the swift and winding your yarn! If you're winding by hand, go ahead and do it.
If you're using a ball winder and need help on how to use it with the umbrella swift, here is a video tutorial by VeryPink Knits.
Visual Learners: Click here for a 2-minute video tutorial on how to assemble and use an umbrella swift by Stanwood Imports.
Stanwood Needlecraft Wooden Umbrella Swift
Manufactured entirely out of premium polished birch wood, with a lovely texture and is very solid.
Pros
Accommodates yarn hank circumferences up to 6 feet
Rotates without grinding
Clamps securely onto surface edges
Looks nice when on display
Base clamp sits onto surfaces up to 1 3/4 inch thick
Solid
Collapses for storage
Winds quickly
Cons
On rare occasions, wooden screws may be hard to tighten and unscrew
Sometimes after a few years of winding, some parts of the swift may become damaged
Check Price On Amazon
Knit Picks Onyx Yarn Swift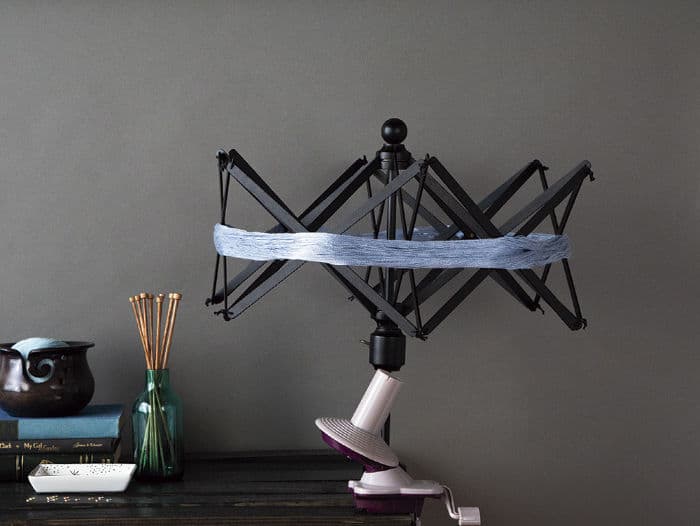 Made from smooth laminated birch, this is the same as the other model mentioned in this post available from knit picks. Polished with a smooth painted black surface, this looks as stylish as it is functional.
Note: This yarn swift is portable, and they sell an easy carry case to put it in when not in use. Available in teal, silver and rose gold.
Features
Smooth laminated, painted black birch
Gold brass screws with a plastic stopper on the end
Clamps onto tables up to 1 1/2 inch thick
Pros
Fast and quiet winding
Elegant black colour
Looks attractive
Easy to set up and use
Sturdy
Cons
On infrequent occasions, the screws may be damaged/broken.
Schacht Swift
This swift is versatile. Winding from bobbins, winding vertically, and from other angles. It has many useful features.
Prose
Can change from horizontal to vertical and vice versa using a quick release pin
Durable
Made of solid wood
Quick and easy winding
Cons
Expensive
Requires a bit of assembly
Knit Picks Birch Yarn Swift
This device is the classic yarn swift from Knit Picks. They are designed with a lovely natural colour that showcases the rich and varied woodgrains of the birch, this swift features smooth and effortless spinning.
Note: This yarn swift is portable, and they sell an easy carry case to put it in when not in use. Available in teal, silver and rose gold,
Features
Made of smooth birch wood
Wooden clamp
Pros
Spins quickly, quietly, and smoothly
High quality
Sturdy
Collapsible
Easy to set up and take apart
Excellent customer service, if swift breaks Knit Picks send a replacement
Looks pretty
Cons
A few customer's swift parts were damaged.
Knitters Pride Yarn Swift
This swift combines dyed, laminated birch strips with natural birch wood resulting in charming and colourful tool. It has a smooth and quiet rotation.
Features
Made with a combination of laminated birch and natural birch wood
28″ in height
Skein winds
Winding handle at the top
Pros
Quick and quiet spinning
Aesthetically pleasing
Super smooth and even wood
Pretty coloured stripes on rack
Cons
Sometimes, but rarely, snags yarn.
Check Price On Amazon
Nagina International Umbrella Yarn Swift
Available in two equally lovely hardwoods, beech, and rosewood, the rich wood grains make for an excellent tool to hold the yarn in place. Very sturdy and designed to withstand lots of winding.
Features
Tabletop style
Natural beechwood or rosewood
Four arms (all collapsible and extendable)
Pros
Comes in two natural kinds of wood, rosewood, and beech
Collapsible
Attractive to look at
Rotates quickly and without grinding
Quick replacements if yarn swift is damaged
Cons
Sometimes the swift moves around (fixed by putting non-stick pads on the bottom)
Check Price On Amazon
Hopefully, this post helped you discover what an umbrella swift is and which model would suit you best.
Although wooden ones are sure to last you a lifetime, cheaper metal and plastic ones get the job done just as well and are just as easy to use.
Which do you prefer best, and why? Why do you like using this type of yarn swift if you already have one? Let me know down below.
Pin Now to Save for Later