Want a list of Tunisian crochet stitches? I've got you covered!
Here is my Tunisian stitch guide with free crochet patterns and video tutorials to try!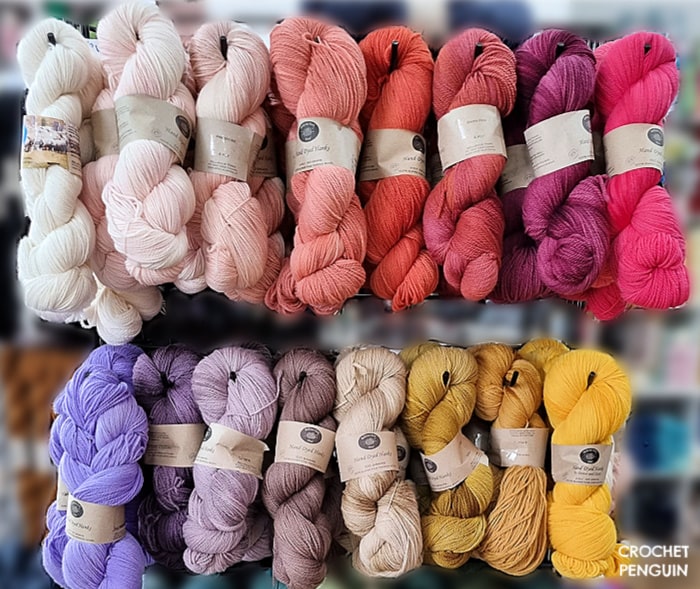 Table Of Contents
Tunisian Crochet Stitches For Beginners
Wondering what the basic Tunisian crochet stitches are? Here are some easy Tunisian crochet stitches to try.
Get out your Tunisian crochet hook, and let's make these Tunisian crochet basic stitches! (All stitches mentioned have free patterns.)
(Note: Tunisian crochet hooks are more extended than hooks, as the stitch patterns require more stitches at once than other crochet stitches in regular crochet.)
(That's the fundamental difference between it and other methods of crochet.)
How Do You Crochet Tunisian Stitch?
Let's start with an essential Tunisian crochet stitch guide. This is the first thing you need to learn to practice Tunisian Crochet! It's also called the afghan stitch pattern.
(A variation on this to level up your skills is the Simple Stitch Rib.)
Tunisian Purl Stitch
When you first learn it, the Tunisian purl stitch is trickier than other basic crochet stitches. But it's worth the effort! This stitch looks a lot like a knitted purl stitch.
Tunisian Knit Stitch
Sure, it says 'knit' stitch. But it's a crochet stitch that looks like a knit stitch! There is no need to use knitting needles with this one, just your afghan crochet hook!
Tunisian Double Crochet Stitch
As you've probably guessed already, this stitch looks like regular double crochet. Below is a video and photo tutorial to help you.
Treble Stitch
People use treble stitches to create taller fabrics. They look lovely!
Top Stitch
The Tunisian top stitch doesn't look like traditional crochet. But it's a beautiful stitch!
Here are some others to try.
Chain Back Bar Stitch
This interesting Tunisian crochet stitch looks like waffle stitch. Learn how to do it with this tutorial from CrochetKim.
Chain Top Loop Stitch
This lovely, textured stitch reminds me of a fluffy carpet. But if you make something with it, you'll want to have the result on display, not on the floor!
Flat Simple Stitch
It's great if you want something that looks intricately woven.
Japanese Purl Stitch
This pretty but practical stitch resembles an infinite line of waves rolling on the sea. Here's a picture tutorial by Kim Guzman
Tunisian Simple Stitch To Back Loop
Create a repeating design of swirling little dots.
Twisted Knit Stitch
It makes an effect similar to ribbing but with a nice twist.
Twisted Simple Stitch
The simplest Tunisian stitch out there, with a unique twist! 🙂
Advanced Tunisian Crochet Stitches
Here's a list of different Tunisian stitches. These Tunisian crochet patterns are trickier than those mentioned previously, so be patient with yourself as you attempt them!
Aligned Cross Stitch
A lovely geometric design with alternating horizontal and vertical crosses.
Alternating Chain Back Bar and Purl Stitch
Looks like a pleasant bunch of flowers threaded together! Here is a tutorial by Crochet Kim.
Alternating Full Stitch and Tss2tog Stitch
It would make an excellent textured stitch for a bag or home decor item. Practice with Crochet Kim and her tutorial.
Alternating Half Slip Stitch and Yarn Over Stitch
Creates lovely, neat rows of fabric like knitted ribs!
Alternating Knit and Purled Knit Stitch
Looks like a complex maze of intersecting horizontal and vertical lines.
Alternating Knit Stitch and Chain Back Bar Stitch
A differently structured version of the above, but just as appealing. It also has a pretty textured look. Take a look at the tutorial by Kim Guzman.
Alternating Twisted Knit and Simple Stitch
Combines two of the simplest stitches in the Tunisian Crochet technique to create an appealing, deceptively simple stitch.
Basketweave Stitch
This would make a great stitch for a basket, bag, or another decor item, hence the name.
Barbed Wire Stitch
Despite the name bringing up connotations of sharp, dangerous-looking fencing, this unique stitch makes for a great project!
Here's step by step instructions by Crochet Kim.
Bobble Stitch
Create lovely little bobbles with this fun stitch. (Aka popcorn stitch.)
Brick Stitch
The finished product looks like you've knitted a series of tiny, closely laid squares!
Double Extended Stitch
Make a taller, more detailed version of the Tunisian simple stitch.
Here's a great tutorial by Kim Guzman.
Drop Stitch
Create dramatic, loose scarves and shawls with this beautiful technique.
What Is Tunisian Full Stitch?
It's a more complex, tightly crocheted textured stitch with little details. It would make a wonderfully warm cowl for winter.
Grapevine Stitch
This looks so much like a grapevine. You almost expect grapes to pop up from it. 🙂
Tunisian Honeycomb Stitch
Gives a textured appeal to a blanket or scarf using this pattern reminiscent of honeycombs. Getting hungry for honey yet?
Lattice Stitch
Looks like a cute little hexagon tile effect. It reminds me of old window frames in vintage houses and interior designs.
Ocean Stitch
This looks a little like a series of intertwined waves. Why not use it to fashion a bag for your things at the beach?
Offset Cross Stitch
This is an exciting variation. I love how the fabric looks like a haphazard quilt!
Pearl Stitch
Perfect for winter! This Tunisian stitch would make a fun and fluffy hat or mittens.
Prairie Stitch
The diagonal effect resembles softly blowing prairie grasses, or a great geometric design, depending on how you look.
Seed Stitch
Not to be confused with the knitting stitch, though it looks similar!
Tunisian Smock Stitch
Doesn't this look like a cute, chunky weave pattern? It would make a perfect, sturdy stitch for a durable bag with a good amount of stretchiness.
Straw Stitch
Think of it as a vertical design similar to ribbing. It reminds me of straws, hence the name, or perhaps thatched roofing! Here's a tutorial by Raffamusadesigns.
Tiny Clusters Stitch
This super cute repeating pattern reminds me of lots of tiny seashells on a beach. It's repetitive, so it's relaxing to create once you know how to do it.
Wave Stitch
Reminds me of relaxing on the beach watching the waves! Perfect for summery dishcloths and throws. It comprises stitches of varying heights. Make it in three complementary colors for the ultimate wow factor.
Woven Stitch
This Tunisian stitch looks like a fabric weave or rippled water. Plus, it's perfect for making home decor items if you like a woven look.
Reversible Tunisian Crochet Stitches
Here's a Tunisian crochet stitch dictionary of reversible ones.
What Is Tunisian Reverse Stitch?
Unlike Tunisian simple stitch, Tunisian reverse stitch is done on the backside of the fabric. The foundation row has vertical bars in front and back and a chain-like top.
Tunisian reverse stitch makes thick, bumpy crochet projects. This stitch doesn't curl as much as others. You'll love the textures once you get used to working on the opposite side of the fabric!
How Do You Do A Reverse Tunisian Crochet Stitch?
Here's an excellent tutorial by The Crochet Crowd on YouTube.
Lace Tunisian Crochet Stitches
Here are some other Tunisian crochet stitches instructions for lace projects. Enjoy practicing something new with your Tunisian hook!
(Note: These use basic stitches and advanced techniques, so have patience and determination as you attempt them!)
Aligned Clusters Stitch
This Tunisian lace stitch is perfect for delicate projects like shawls or scarves. It's complicated with multiple repeats but makes a lovely result.
Arrowhead Stitch
This open, lacy stitch is excellent if you love designs with triangles.
Blackberry Stitch
This Tunisian crochet stitch has a beautiful lacy effect. But unlike the berry it's named after, it won't scratch or prick you!
Crochet Kim demonstrates this stitch.
Extended Shells Stitch
This is a longer, slightly more complex but equally lovely version of the classic shell stitch. Perfect for projects needing drape.
Faux Hairpin Lace Stitch
It's as lovely as it sounds! Creates a delicate, open design with vertical lines. Follow Kim's tutorial.
Keyhole Lace Stitch
Confusing at first, but the unique keyhole effect makes it worth it. You'll have to watch the video tutorial to see what I mean!
Ladder Lace Stitch
Though much less open and airy than its similar knitted counterpoint, it's still lovely and lacy. The name comes from how the vertical rows resemble ladder rungs.
Layered Eyelets Stitch
Little clusters on top of little clusters! This complicated stitch is rich in visual appeal, but don't let it scare you off! It'll take a while, but be worth it.
Lozenge Stitch
Fancy making something crocheted to look like a cough lolly? No? When you see how beautiful this stitch looks, you might change your mind!
Great for practicing cluster stitches.
Mesh Stitch
Ever wanted a handy supermarket bag for your fruit and vegetables? Make a beautiful, functional one using this technique.
Pyramid Lace Stitch
Creates a never-ending, repeating stack of interlocking pyramids that's very pleasing to the eye. It would make a lovely coaster or mat!
Shooting Stars Stitch
Create an airy shawl inspired by the starry night sky. Perfect for summer evenings!
Q&A
Which Tunisian Crochet Stitch Uses The Least Amount Of Yarn?
The simple stitch, as it doesn't need many loops.
How Many Tunisian Stitches Are There?
There are many crochet Tunisian stitches! No one's exactly sure, but many estimates over 100 to choose from! Plenty of future project ideas.
Tunisian crochet stitches create a fabric with an interesting texture. There are plenty of new techniques to try, so happy crocheting your following Tunisian Crochet projects!
Hope you found this Tunisian stitches tutorial helpful.
Pin Now to Save for Later