Single crochet is the first stitch to learn. Here's your complete guide on how to single crochet.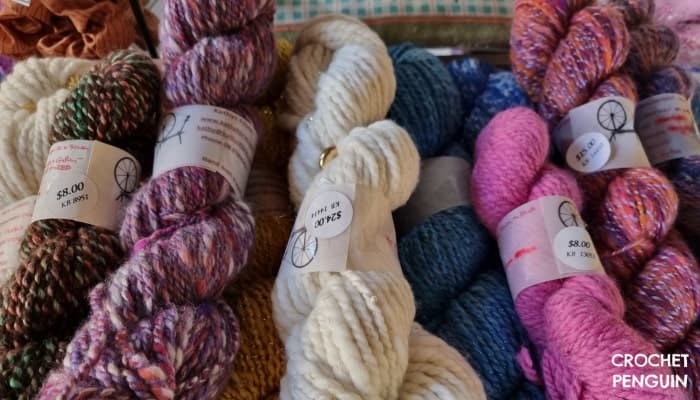 I reviewed and updated this post on July 13, 2022.
Table Of Contents
What's A Single Crochet Stitch?
A single crochet stitch is the smallest stitch in basic crochet stitches. It's also the first one you learn after the chain stitch. The following stitches are ordered from smallest to tallest.
They're in US and UK terms.
Single crochet = Double crochet
Half double crochet = Half treble crochet
Double crochet = Treble crochet
Treble crochet = Double treble crochet
Double treble crochet = Triple treble
How Do You Do A Single Crochet Stitch For Beginners?
Here are single crochet instructions and what you'll learn.
How to hold your hook and yarn
How to do a foundation chain
How to do a single crochet
Step 1
Make a slip knot
Put the slip knot on the hook
Hold the crochet hook in your right hand
Tension your yarn.
Don't know how to hold your hook and thread? Read my guide for left and right-handers.
Make a foundation chain before you create single crochets
Yarn over by putting your hook under the yarn
Go up and over
Pull through the loop
Repeat until you get your desired amount of stitches
Step 2
Now you're ready to learn the single crochet. Skip the first chain stitch (the 'v' shape). You can do the next part two ways. The second way is prettier, but tricky.
Method 1
Ensure the 'v' shapes are facing you
Insert the hook into the middle of the second chain stitch
There should be two loops on your hook
Yarn over
Pull through one
Yarn over
Pull through both loops on the hook
Method 2
Ensure the wrong side (bumpy side) of the chain stitches faces you
Each bump represents one stitch
Insert the hook into the second chain bump from the hook
Yarn over
Pull through one
There are two loops on your hook
Yarn over
Pull through two
Now there's one loop on the hook
To do another single crochet, go to the next chain or bump, and make it. Don't go into the spot in you used. Here's a video tutorial.
How To Do Single Crochet Left Handed
Making single crochet left-handed is the same as the instructions above, only you hold the crochet hook in your left hand.
How To Work Rows of Single Crochet Stitches
Here's how to do a row of single crochet.
At the end of a row, turn the work and chain 1
Single crochet into the next stitch
Don't go into the chain you made, but the next one
Go through both loops on the next stitch, the front and the back one
Continue single crocheting across
Repeat these instructions
How To Count SC Stitches And Rows
I'll teach you to count single crochet stitches and rows. As you work a single crochet, turn at the ends of rows. After a couple, the fabric looks like it has sections. Each counts as two rows.
One comprises one row of right side single crochets and one row of wrong side single crochets. Count the number of sections and multiply by two.
What Does The Single Crochet Stitch Look Like?
A single crochet's front side looks like a 'v,' like the top of single crochet. The backside has a v and a line in the bottom left-hand corner. Each v counts as one stitch.
Handy Tips for Beginners
Keep your tension loose when you crochet the beginning chain. It's easier to insert your hook into the back bump of the chain stitch
Crochet hook feels uncomfortable? Try comfort crochet hooks
Wind hanks or skeins of yarn into a ball before crocheting. You'll have fewer tangles
Single Crochet In The Round
Crochet a flat circle or a tube. To make a flat circle, start with chain stitches and join them, creating a loop. Single crochet into the loop and join the round. Making a tube is similar.
FAQs About The Single Crochet Stitch
What Is The Difference Between Single And Double Crochet?
Single crochet is smaller than double crochet because you pull through loops fewer times than double crochet.
What Does SC Mean In Crochet Stitches?
SC means single crochet.
What Can I Make With Single Crochet?
Single crochet is dense and ideal for dishcloths and amigurumi.
What Is A Single Crochet Stitch In UK Terms?
Single crochet, in UK terms, is double crochet.
What Is The Easiest Crochet Stitch?
The easiest crochet stitch to learn for beginners is the single crochet.
Conclusion
I hope you found this guide to single stitch crochet helpful. An essential first step into the world of crocheting.
Pin For Later