Luxury yarns abound! Some types of yarn are more expensive than others but worth it. Several animal fibers go into making the most expensive yarn. Some you may have never heard of!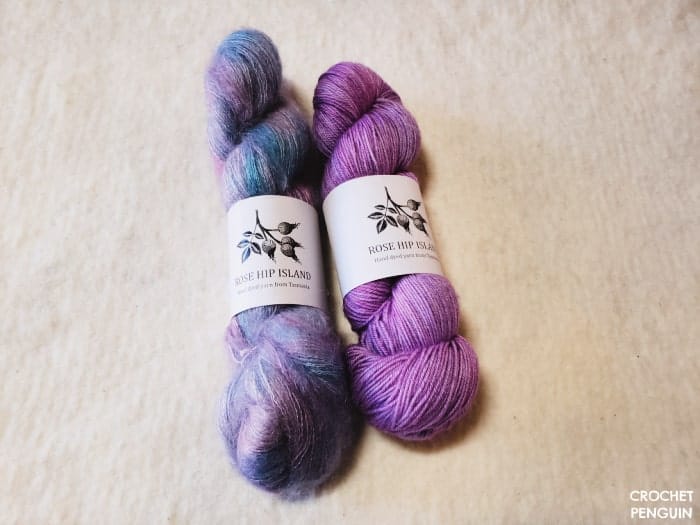 Interestingly, only animal fiber is super expensive, not plant fibers.
Table Of Contents
First – Vicuna Creates A Luxury Fabric
Vicuña costs around $300 USD for one ounce of lace weight yarn, making it the most expensive yarn in the world. Not something for the yarn stash, these wool fibers with super high prices are for something truly special!
Vicuña fiber is fine and rare animal hair wool. Light, soft, and warm. Processing the raw material is arduous work. Vicunas produce one pound of fleece a year, only half is used. This makes the fiber even rarer.
They take up to three years to grow back their coats!
Vicuñas are camelids and the wild ancestors of alpacas. They're smaller though, about half the height. At elevations between 12,000-18,000 feet, these animals live in herds on the slopes of the Andes Mountains in Peru.
They were almost driven to extinction in the 70s.
To protect the animals and promote sustainability, the Peruvian government strictly controls the production and use of wool using Vicuña coats.
Only small amounts are exported each year. Usually used by a luxury clothing brand.
In 1979, they established the National Reserve of Salinas & Aguada Blanca for the protection of the Vicuna population. Good news for the animals, and the earth!
Phillip II, history's most powerful king, slept with it. Stars from Hollywood and other celebrities wore it. Incas regarded the animal as sacred. To wear the fibers, you had to be royalty.
In micron count (each strand width), Vicuña wool measures 8 to 13 microns, finer than any other fiber.
Vicuna yarn has a beautiful cinnamon natural color. It's not chemically treated to dye it different colors.
Second – Guanaco Yarns
At around $155 USD for 1 oz of laceweight yarn, Guanaco fiber comes in at two. Guanaco are natives of South America. Breeders of this yarn must be certified since guanacos are on the endangered species list.
These South American animals live in the Andean Mountains. They're the cousin of llamas. In this most luxurious yarn, only soft undercoat hairs are used, like Vicuna fibers. These quality wool products are some of the more rare options.
Third – Qiviut (Muskox)
Inuit call the muskox's undercoat Qiviut (kiv-ee-ute), "down" or "underwool.". Compared to oxen, muskoxen are more closely related to goats and sheep.
This is approximately $150 USD per ounce for laceweight yarn.
With its natural grayish-brown color, Qiviut is a luxurious and warm fiber. A hypoallergenic and delicate alternative to cashmere, Qiviut doesn't shrink or felt.
Extremely rare, it's an opulent fiber. Qiviut is softer, less irritating, and more durable than wool. It's warm in the winter and cool in the summer.
Fourth – Bison
As a luxury yarn, bison fiber also comes with a price tag. It costs around $64 USD for 1 oz of laceweight yarn, which is more expensive than cashmere.
Other Contenders
Despite being luxurious and expensive, cashmere yarn isn't as pricey as the yarns mentioned above. (Around $80 per kilo)
Compared with rarer animal fibers, roving merino isn't so expensive
Silk is luxurious and more expensive than wool
Check out my recommendations for cashmere yarn, super bulky merino, and silk yarn if you want to save money.
One of the most unusual fibers is Lotus Silk, not used for crochet but rather it is used to create very expensive fabric used in clothing. Loro Piana is a fashion brand that offers these products. They also specialise in textile fabrics using Vicuna wool, Cashmere and Merino wool.
Considerations For Luxury Yarns
Here are key decision-making factors to consider when choosing the best, most expensive yarn fiber.
What Kind Of Care Does It Need?
An expensive yarn needs gentle treatment. Handwashing is best. Lay the garment out flat to dry.
What's It Made Out Of?
Vicunas, Guanacos, Muskoxen, and Bison only produce limited wool per year.
How Much Yardage?
When knitting with such expensive yarn, try smaller projects needing less yardage. If you're making sweaters, the price is astronomical!
What Yarn Weight Is Best?
This type of yarn is usually laceweight. Suitable for larger projects, such as shawls and wraps. One skein is sufficient for hats, cowls, and scarves.
What's Your Budget?
Even for small projects, you need substantial money when knitting with these expensive yarns.
Here are my recommendations for luxury yarns that won't break the bank if the most expensive yarns are out of your budget.
My Quick Recommendations
For more information, read my reviews below.
Luminance Hand Painted
Beautifully hand-painted 100% silk lace elevates your crocheting to a new level. Luminance features hand-dyed color combinations as well as superior sheen and drape. Shades have been carefully chosen to add interest without overpowering delicate designs.Good idea if you want drape and a silky texture in your crocheted projects.
How Does It Compare?
Care Instructions – Handwash / Dry flat
Made Of – 100% Mulberry Silk
Yardage – 439yds / 399m
Yarn Weight – Lace
Skein Weight – 1.8 oz (50g)
Suggested Hook – Steel hooks 1.6 to 1.4 mm or a regular hook 2.25 mm
Pros
Perfect for delicate lace designs, including shawls, wraps, and cardigans
Shiny
Soft
Creates shimmering fabrics
Smooth
Slips straight off the hook or knitting needle
Cons
Doesn't provide much warmth
Rowan Pure Cashmere
The 100% pure cashmere DK yarn is ideal for knitting lightweight summer cardigans or crocheting shawls that drape beautifully. Even better, it can be machine washed.
Gloss Merino/Silk Blend
Mulberry Silk and soft merino wool are blended to create Gloss DK. Due to the fiber blend's excellent dye-taking ability it offers a wide range of beautifully saturated colors. A soft, velvety yarn with a sheen and a velvety texture, It creates an elegant drape and shows off stitches. Suitabe for luxe pullovers, dressy cardigans, or stunning wraps.
FAQS About The Most Expensive Yarn
What Is The Most Expensive Wool In The World?
Yarn made from the fibers of the Vicuna is the most expensive wool in the world.
How Expensive Is Vicuna Wool?
Vicuna wool is around $300 USD.
What Is The Difference Between Vicuña And Alpaca?
A Vicuña is the wild ancestor of the Alpaca.
Which Wool Is More Expensive?
Vicuna wool is the most expensive.
Which Knit Is Expensive?
A sweater would cost a fortune in Vicuna yarn!
Is Expensive Yarn Worth It?
The incredibly soft and light fabric created by expensive fibers feels super warm while feeling airy and light. These garments and their softness can last for decades if they're correctly cared for.
Why Is Yarn So Expensive?
Yarn is so expensive due to the time-consuming processes it takes to create it.
How Much Does Vicuña Cost?
Several hundred USD.
What Sheep Has The Most Expensive Wool?
Merino sheep that have fibers of low micron count produce the most expensive sheep wool.
Some people don't know the most expensive yarns and luxurious fibers.
If you're looking for a type of fiber to buy for your next project, hope you found some suggestions worth splurging on. Enjoy the luxury goodness!
Pin Now to Save for Later