Mosaic crochet is a great technique used to make pretty, colorful fabrics with geometric designs. Learn the basics of this unique craft. Also, there are tips and tricks, so you master it!
Here is your complete guide to mosaic stitch crochet.
Table Of Contents
What Is Mosaic Crochet?
Mosaic crochet involves crocheting with two or more colors of yarn to create beautiful patterns. You work with one color per row.
The basic stitches for mosaic crochet include –
Single Crochet
Chains
Double Crochet
Mosaic Crochet Tutorial
This mosaic crochet tutorial is for those who want to learn how to make a beautiful piece of crocheted art! Below, you'll find the steps and materials needed.
You need:
A hook
Two balls of contrasting yarn (white & blue, yellow & purple, red & green, etc.)
How To Read Mosaic Crochet Chart
A mosaic crochet chart is a visual representation of how to do mosaic crochet.
These charts are made of little squares. Each square represents one stitch unless otherwise stated by the pattern author. In every chart, there's a stitch key, telling you which symbol means what.
A symbol represents a particular stitch.
Remember:
You read the chart from bottom to top and right to left.
Each row is worked in one color, even if that row has another color in it.
There are different ways of doing Mosaic Crochet. Some work on the right side and the wrong side with the same color. (So 2 rows are in the same color)
Another method is to work single rows, beginning with a yarn tail and ending with a tail, so you cut the yarn at the end of each row.
Overlay Mosaic Crochet
Mosaic Crochet Techniques
Most Mosaic Crochet projects use Chains, border stitches if using one color per row. And US Single Crochet and US Double Crochet stitches are most commonly used.
Chain Stitch
Chain stitches are used to create the foundation row.
First, make a slip knot on your hook.
Loop the working yarn over the hook from back to front.
Draw the yarn you placed on your through the slip knot.
You've created your first chain.
Continue to yarn over and pull through each loop to create enough chain stitches your pattern requires.
The Border Stitches
Each row begins on the right-hand side with a border stitch. To do the border stitch, insert your crochet hook through and under both loops.
Pull your yarn up and work one chain stitch leaving a 5 cm tail. Next, go into the same stitch and do one single crochet (SC).
At the end of the row, create another border stitch, insert your hook under both loops and work one single crochet.
Cut your yarn, leaving a 5cm tail, and do one chain and pull through the yarn tail entirely up, so it forms a little knot.
How To Do Single Crochet (US terms)
Insert your hook into the chain stitch, yarn over, and pull the yarn through. You have two loops up on your hook. Yarn over again and pull through both loops.
When working the single crochet stitches in the foundation row, you'll notice the foundation stitch you've worked a single crochet into is open.
This identifies the next stitch to work on because it doesn't look open.
Things to remember: It's essential to always work the single crochets into the back loop. This leaves the front loop available for the double crochets (DC).
How To Do A Double Crochet Stitch (US Terms)
Instructions for how to do a Double Crochet for the Apache Tears pattern.
This stitch forms the "tear."
Yarn over and insert your hook into the front loop of the row below the one you are working on. Pull through one, yarn over pull through two, yarn over pull through two. You now have one loop on your hook.
Things to remember: When doing a single crochet after a double crochet, be sure to leave the stitch behind the DC and work the next stitch. If you don't do this, you'll create an increase.
The video by Tinna Thórudóttir Thorvaldsdóttir below using the Apache Tears Mosaic Crochet stitch is an excellent tutorial for beginners to Mosaic Crochet.
The technique is based on the Apache Tears Stitch from the seventies. Tinna is one of the innovators who reintroduced this technique and used it in her modern mosaic designs.
Many of Tinna's patterns are charted, but the first tutorial in her Mosaic For Beginners series starts with doing a small swatch of the Apache Tears Stitch.
I found it easy to follow her instructions and paused or rewound the video when I needed to catch up.
After learning to make the Apache Tears in Tinna's first video, I progressed to the following video. That contained tips on how to read the charts.
Many of Tinna's patterns are charted, and she prefers working from charts to written patterns.
The video went through the first mosaic pattern she designed for her Indiana Afghan, which resembles a zig-zag. The charts are super easy to follow, and I completed 13 rows which created the swatch below.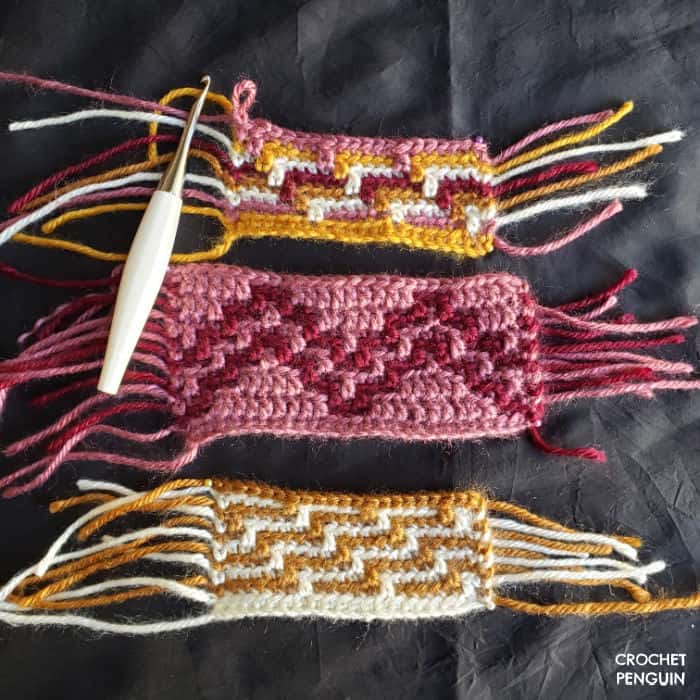 How To Create A Crochet Mosaic Pattern
Once you've gotten comfortable reading a chart and working from one, you can try making your own!
How to create a mosaic crochet pattern on Google Sheets/Excel from Fibre Fox Studios:
Mosaic Crochet In The Round
Sandra from Nomad Stitches shows you how to do Mosaic Crochet stitches in the round. She also guides you on how to read a chart.
Mosaic Crochet Patterns
Your Questions Answered
Tapestry Crochet Vs. Mosaic Crochet
Here's the difference between tapestry crochet and mosaic crochet.
Tapestry crochet uses more than one color of yarn in each row. Mosaic crochet only uses one color per row, even if there are other colors in that row.
How Do You Crochet A Mosaic For Beginners?
A good pattern is the Apache Tears pattern.
I've also created my own Apache Tears Pillow cover. All the steps are included in my post – Apache Tears Crochet Pillow Using Furls Wander Yarn.
What Is Overlay Mosaic Crochet?
Overlay mosaic crochet is a technique starting by working in the back loops only before dropping down to pick up stitches from lower rows.
Doing this creates a textured look to the stitches as they lie over previous rows, making beautiful and detailed patterns.
How Do You Crochet A Granny Square Mosaic?
Sirin Crochet shows you how to create a delightful multi-colored Mosaic Granny Square. This technique also uses Treble crochet.
How Do You Crochet A Mosaic Blanket?
Here is how to make a mosaic crochet blanket from The Crochet Crowd.
This is a lovely blanket using a range of colors with a simple Mosaic pattern.
How Do You Work A Mosaic Treble?
Follow the steps in Sirin Crochet's Video above go to timestamp 5.29
I have outlined the actions of a Treble crochet which is the basis of a Mosaic Treble.
Follow these tips for how to do a Treble Crochet Stitch
Make a yarn over twice.
Go into a stitch, pull up in the stitch.
That leaves 4 loops on the hook.
Yarn over and draw through 2 loops three times.
So yarn over and pull through 2 loops
Yarn over again and pull through 2 loops
Yarn over again and pull through 2 loops. You've completed a treble stitch!
Hope you found this post beneficial! Good luck on your journey of learning, and may you create many beautiful crocheted items.
Have you tried this technique? Do you have any tips others should know? Share your knowledge or questions in the comments.
Pin Now to Save for Later