Crochet vs knitting, the ultimate showdown between two of the most beloved fiber arts – crochet and knitting! It's the age-old debate that's been passed down from crafters for generations – which one is better?
Whether you're a hook-wielding crochet enthusiast or a needle-clicking knitter, we're going to explore the differences, similarities, and fierce rivalry between these two crafts. So, grab your yarn and needles (or hooks) and let's dive into the world of crochet vs knit!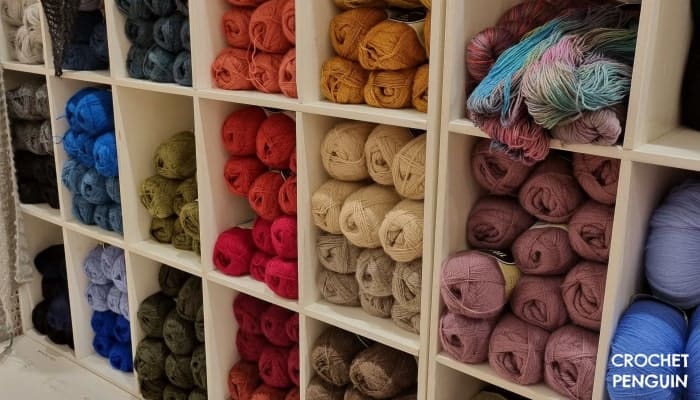 I reviewed, fact checked and updated this post on April 20, 2023
Table Of Contents
What Makes Crochet & Knitting Similar?
They use yarn! They're the most popular fiber arts.
Created years ago
You work from patterns, divided into steps using abbreviations.
Reading a knitting or crochet pattern is like knowing how to read a secret language!
You learn and develop excellent skills like hand-eye coordination, memory, color theory, logic, and improve your maths!
When you learn to knit or crochet, it challenges your brain and keeps it flexible.
Knitting & crochet have health benefits. Research shows your brain creates new neural pathways when knitting or crocheting
Needs a considerable amount of time to develop muscle memory
Create almost anything of any project size.
Before starting a creation, it's best to do a knitting or crochet swatch
They enhance your creativity and create a wonderful result
Explore a new hobby!
What's The Difference Between Crochet And Knit?
The Method Of The Craft
You need a crochet hook and work around in a rectangular or circular pattern to crochet. You have one working (live) stitch at a time. The finished stitches look like knots. There is one basic crochet stitch, the chain stitch. There are four others.
Single crochet
Half double crochet
Double crochet
Slip stitch crochet.
From the UK or Australia?
Single crochet = double crochet
Half double crochet = half treble
Double crochet = treble
To knit, you need two needles, and the stitches hang off one of the two needles like a shower curtain. They look like loops. Stitches move from one needle to the other as you go.
There are four main needles: circular needles (knitting in the round), straight needles, double-pointed needles, and interchangeable circular needles.
There are two basic stitches: purl stitch – has a bump and knit stitch – looks like little Vs. Knit and purl stitches make up many stitch patterns. Cast on with a slip knot or a slip stitch, and you half-knit the stitch.
Here are some basic tutorials so you get a feel. Enjoy the experience of the stages of learning!
The Way Crochet And Knitting Projects Turn Out
Crochet is bulkier and more hard-wearing. Knitting projects are textured, and knitted fabric is smoother.
Difference Between Knitting and Crochet Stitches
This is another big difference between knitting and crochet. Crochet has far more stitches. Most knitting is done with the knit and purl stitch, like the stockinette stitch.
Tools Used in Crochet Compared With Knitting
Crochet uses crochet hooks, and knitting uses knitting needles. Knitting needles have a pointy end, and crochet hooks have a handle with a curved end. People say crochet is easier because there's one tool. Crochet hooks are handy for fixing mistakes or adding tassels, so knitters use one hook too.
No one's made a crocheting machine! Every crocheted item is handmade. You can knit on looms and knitting machines. Here's a list of popular items used for each yarn craft. (These aren't everything you need, but they're enough to start.)
Crochet: a crochet hook, yarn or crochet thread, scissors, stitch counters, stitch holders, stitch Markers, and a yarn needle.
Knitting: needles, yarn, stitch counters/markers, measuring tape, stoppers, and yarn needles.
Crochet Projects & Knitted Projects crochet is generally easier than knittingBest Suited For
Crochet: For projects needing thicker, heavier fabric like afghans, a crochet blanket, amigurumi, baby blankets, bags, cowls, cozies, dishcloths, dog sweaters, flowers, gloves, hats, home decor, pouches, ponchos, shawls, slippers, and rugs.
Knitting: beanies, a baby blanket, cardigans, clothing, scrubbies, hand towels, potholders, wraps, scarves, socks, sweaters, and tote bags.
Common Motifs Of Each Craft
There are many techniques. Here are the most recognizable ones. Crochet: circular creations, granny squares, and lacework. Knitting: cables, fair isle, and ribbing.
Which Is Best For You?
Knitting
You're patient. Knitting takes time, dedication, and a lot of patience! The stitches are often more complicated, taking a lot longer than you might expect.
Want to be swamped in inspiration and ideas? It's a sign! There are many knitting patterns and places to be inspired!
You want to save money. "Knitting yarn" is more affordable.
You're logical. Reading and creating knitting patterns requires math.
Crochet
You make mistakes or have to redo your work, much easier to fix them in this craft.
You don't mind working in irregular or random ways.
Like quick crochet projects? Do bulkier items fast
Pros And Cons Of Crocheting Vs Knitting
Crocheting
Pros
Easy to go back and fix mistakes. Quick to unravel. Pull the knots loose until you reach the place where you made a mistake.
Fabric produced with this craft is lighter.
Easy to fix an uneven edge with a crochet border
Quicker than knitting, but speeds vary
Easier because there's only one tool.
Fun shapes and geometric patterns to try
You work with one stitch. Don't worry about multiple stitches at once!
Crochet is generally easier than knitting.
Cons
Not as well catered to as knitting for supplies, yarn, and notions,
Planning to make complicated, tiny, or delicate patterns or stitches? Knitting is better
Not as easy to do color changes.
Crocheted clothing is less flattering than knitwear.
Crochet uses more yarn than knitting
Knitting
Pros
Knitting is more popular. Knitwear has taken the fashion world by storm and is trendy.
If you knit, you're in good company
It's the most well-known fiber art.
High-end fashion uses knitting to create garments because they're suited to delicate stitchwork with fine details.
The best craft for complicated colorwork or lots of color changes.
Stretchy fabric
Creates wonderful drape.
Not so many stitches and techniques are needed in your repertoire
Knitting stitches are interlocking loops
Cons
Not as easy as crochet to fix mistakes. Pull out the stitches and transfer them to the other knitting needle. It's demanding and frustrating for a beginner.
More materials for learning how to use before you start.
You can't take the needles out halfway through a project
Not as fast as crocheting,
Confusing as there are many stitches to remember
Difficult to create household items, and they won't be as tough or long-lasting.
Not recommended for toys as you don't get the same feel and hard-wearing quality.
More risk of knitting needles being confiscated at airports from your carry-on luggage.
The fabric you create with hand knitting is heavier.
Crochet Myths – Busted!
Crochet Uses More Yarn Than Knitting
Sometimes this is true, but it depends. The nature of some crochet stitches types means it uses more yarn. The stitches are larger, they cover more surface area, using more yarns. Smaller stitches use less yarn.
You Shouldn't Crochet Sweaters
Another 'rule' in the crafting world is advice to avoid heartaches, confusion, or too much of a challenge. Yes, knit sweaters are easier and create a more flexible fabric. Crochet sweaters are lovely! They have different textures.
Combining The Two Crafts
Yes, it's possible! It's hard to distinguish between knitting and crochet when it's in a finished project. Even experts struggle. No one minds if you combine the two ways in one project.
Techniques in crochet like Tunisian crochet and "knooking" produce crochet like knitting stitches or cables. You crochet, but it looks like knitting. A common way to combine them in knitting is to complete a project with a crocheted edge and vice versa.
Whether you stand on the knitting vs crochet debate, melding the two together is rewarding.
FAQs About Knitting Vs Crocheting
Which Is Easier To Learn Knitting Or Crocheting?
Neither! Each is a fabulous craft with skill sets, challenges, techniques, and ideas. Learn how to knit and crochet! The more, the merrier. Mastery of the technique takes practice. See a detailed breakdown in this video on Youtube.
Is Knitting Better Than Crochet?
You decide! Prefer logical, mathematical thinking? Knitting might be better.
Is Crocheting Hard?
It depends. For some, it isn't easy. For others, it is! Some find crocheting easier because there's not as much fiddling with moving stitches from one needle to another. The smaller the loop, the trickier it is to deal with! If you decide to learn to crochet, have hope, it's one of the most rewarding yarn crafts. If you don't like it, try knitting instead.
Conclusion
Do you like one more? I'd love to hear your thoughts. Leave them in the comments.
Pin For Later