It's never been easier to find a great deal. You might be at a loss, but you don't want to miss out on any savings!
Find where to buy cheap yarn online and which stores and websites offer the best deals for crochet yarn.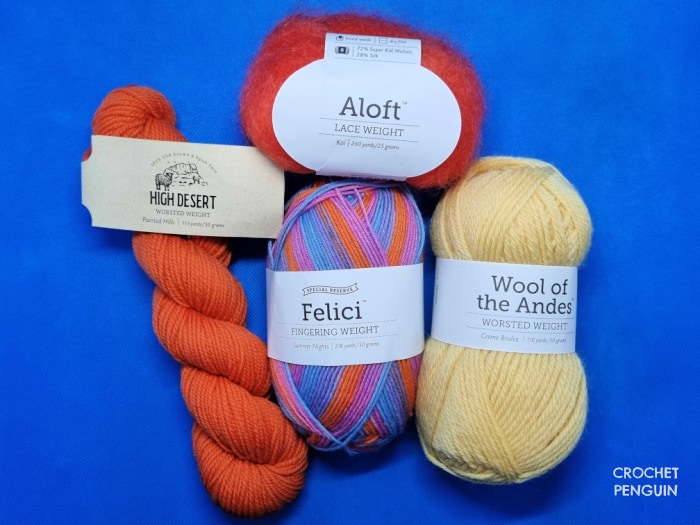 I'll update this page's content regularly, so bookmark it and check back.
Here are the recommendations and information I've found for you.
I reviewed and updated this post on May 25, 2022.
Table Of Contents
Yarn Deals
Add 4 skeins of Brava yarn to your cart and enter Promo code BRAVAB3G1. Enjoy the 4th free skein.
For All Your Dishcloth Needs!
Grab the savings now on all these gorgeous colors!
Yarn Subscription Boxes
Cratejoy has these excellent deals on now! Make sure to check the Home & Maker filter to find these.
Get 50% off your first shipment with a 3-month subscription! Use code HALFOFF from 1/1/22–5/31/22.
Get your first shipment free with a 6-month or 12-month subscription! Use code 1STBOXFREE on select boxes through 5/31/22.
Clearance Yarns
We Crochet
This business offers a wide variety of affordable yarns for every type of project.
For more knitting focuses items and yarn, see their sister company KnitPicks.
They have excellent customer service and ship to the US, Canada, the United Kingdom and Australia. They offer free shipping over $35 for your order. To top it off, they have great notions, from a crochet hook to a yarn winder.
Another reason for choosing this site, find an inspiring pattern and get the glorious yarn suggested.
Lion Brand
Lion Brand offers excellent deals on their clearance yarns. Enjoy up to 50% off selected yarns. Find yourself a bargain in their many categories. They have great acrylic yarn for beginners and experts alike.
The beauty of synthetic fibers is they can be washed many times without losing color.
Make something fun with the yarn using their free patterns for great results. They ship to almost every country. There's fiber for amigurumi too. Plenty of novelty yarns, cake yarns like Mandala with a unique design and effect.
One of their acrylic yarns; Heartland Thick & Quick is up to 40% off. Everyone loves a bargain.
Plenty of different yarn weights – Fingering, Worsted, aran, DK, Chunky and bulky.
If you get stuck choosing what to buy, contact their friendly team here with your email address, and they'll help you!
From time to time they offer excellent discounts on their yarns.
Jimmy Beans Wool
The fabulous range of yarns at the Jimmy Beans Wool website is often on sale. Brands such as Madelinetosh, Rowan, Manos Del Uruguay, Berocco, and more.
They have many special yarns with lovely colors. The easy-to-use interface makes adding yarn for your next project and other products to your cart a breeze.
Orders over $75 US receive free U.S shipping.
Furls Crochet
Two brands of yarns at an affordable price on this site. They also have great kits of yarn so you can save on multiple balls. The selections have beautiful color palettes!
Navigation through their site is effortless. Create an account and make the next purchase faster.
Discount Yarn
Love Crafts
Lots of yarn deals at LoveCrafts. They offer a range of yarns suitable for different projects, from sock yarn to cotton yarn.
They also have many exclusive brands you can't find at big box stores, like Lana Grossa. Make anything from winter woolies with merino wool to summer clothing. Try lighter yarns such as viscose, rayon and linen.
Try Premier Yarns 4ply antipilling everyday worsted. The thickness is great for blankets.
Etsy
Discover unique, handcrafted fibers for your dream crochet project. The range and color palette of what's on offer are incredible! There are plenty of specialty yarns for other crafts, like the spinning process or weaving a garment.
Save money when Etsy has site wide sales or a seller offers discounts.
You'll find any yarn weight, from fingering to DK and bulky.
They have a handy app if you're one who prefers to shop on their phone.
Cheap Yarn
Joann
This craft store offers a large selection of fibers and skeins at cheap prices. For anything from home decor to a new cardigan. Take a look at their vast inventory.
Other Places To Consider
WEBS Yarn store has great deals on things like Valley Yarns occasionally.
Yarnspiriations has brands like Red Heart, Bernat, Caron & Patons. Great for crocheters and knitters wanting to make baby projects.
Finished Deals
20% Sitewide Sale On All Your Favorites!
Stock up on your crocheting needs, gorgeous yarns, hooks and pattern books.
Brava Mini Pack Sale
Felici Yarn Sale – 30% off
Lovely self striping yarn perfect for socks and colorful projects. 75% superwash merino and 25% nylon.
Wool Of The Andes Flash Sale
Save 15-25% off over 250 Wool of the Andes yarns! Offer excludes Bare and 10 packs.
Annie's Kit Clubs 100% off first shipment
With March being National Craft Month, you can get up to your first shipment FREE*, all you have to do is pay shipping & handling. Use promo code NEWCRAFT.
Lion Brand Yarns On Sale
Lion Brand Yarn – Buy 3 skeins, get 1 free with promo code LIONB3G1. Offer includes Heartland, Hue + Me, Homespun, Thick & Quick, and Vanna's Choice. Limit 3 free skeins total per customer.
Wool Of The Andes Flash Sale!
Save 15-25% off over 250 Wool of the Andes yarns! Offer excludes Bare and 10 packs.
Check their website for Terms and conditions.
Whims Merino Sale
5 for $15 (70% off retail price) Whims Merino Yarn

Get a FREE Whims Tote when you purchase 5 skeins of Merino Yarn

No coupon code needed – yarn is already discounted on the site.
Thursday Feb 17-22, 2022 (or until supplies last)
Red, Pink & White Yarn Sale
Save up to 40% off on more than 300 Red, Pink, and White yarns! For all your sweet projects and perhaps some for Valentine's Day!
Caspian Hook Sale
Save 30% off Caspian Hooks! The sale includes Caspian Regular Crochet Set and all Caspian Regular Crochet Hooks.
See all special offer terms and conditions here.
25% Off Yarns & Kits
Get 25% Off All Yarns And Kits With Promo Code 25FEBEXTRA
*excludes AR Workshop, Silk City Fibers, and reduced price items
Value Yarn Packs
Save up to 25% on multiple balls of gorgeous fibers.
Yarns include Lace/Fingering, Sport & DK, Worsted/Aran and Bulky/Super Bulky. Fibers include 100% Peruvian Wool, 100% Fine Superwash Merino Wool, 100% Acrylic, Merino, Alpaca Donegal Tweed blend, Pima Cotton/Acrylic blend and more.
Check their website for Terms and conditions.
Snuggle Puff & Tuff Puff Flash Sale
Tuff Puff is a super bulky wool in bright colors and Snuggle Puff is a cotton and Nylon blend in Aran/Worsted.
Crocheting with these yarns is quick and the result is light, soft and smooth. These may become some of your favorites.
Use code FLASHPUFF22.
Ends 01/30/2022
Giant January Sale
All sorts of fantastic savings for many craft projects! Take a look at the great amount of deals happening throughout the month on LoveCrafts. All sorts of fibers including superwash wool.
Clearance Sale on Yarn, Books and Tools
Up to 50% off yarns and even bigger savings on Books and Tools at We Crochet.
Chroma Yarn
Gorgeous color transitioning yarn made of 70% superwash merino and 30% nylon. Available in Fingering, Worsted, Twist Worsted and Twist Bulky. Each ball has a yardage of 198 yards.
Make a beautiful crocheted item!
50% off Hooks
Supernova Seconds are hooks with swirl patterns that look slightly different from Supernova. Some may have the wrong sizing on them.

These "imperfections" do not impact the hook's performance.
We Crochet Luxury Yarn Sale
This sale has now ended.
Check out over 275 glorious fibers on offer with savings up to 50%! Choose from merino blends, alpaca blends, kid mohair, silk, and cashmere blends at WeCrochet. Ends on 31 Dec 2021.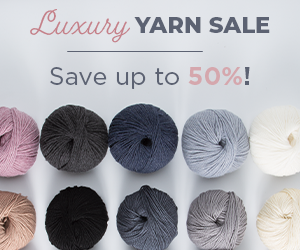 Yarn Deals & Free Gifts With Purchase
This deal has finished.
Save 20% off Furls Streamline & Swirl Hooks, and Wander Yarn. No code needed.
Each day there's a new gift with a minimum purchase. There'll be a code.
These deals finish 19 Dec 2021.
Q&A
Is Yarn Cheap?
Where you buy yarn makes a difference. In some stores, the cost of thread is high, while in others it's affordable.
How Cheap Is Yarn?
Prices for yarn start at around $2-5 per skein. There are many types and weights of yarn, so do your research before purchasing. You want fine yarn, not poor-quality!
How To Soften Cheap Yarn
Here's an excellent tutorial on how to soften cheap yarn.
What To Do With Cheap Yarn?
You have many options! You can make many things with yarn, such as scarves, hats, socks, mittens, and more.
Who Sells Yarn Cheap?
Companies like We Crochet, Lion Brand, Jimmy Beans Wool, Love Crafts, Amazon hobbii and Joann.
Here's a breakdown.
| Company | Yarns | US Shipping | International |
| --- | --- | --- | --- |
| We Crochet | Affordable/Luxury | Free over $35 | UK, CAN, AU |
| Lion Brand | Budget | Free over $75 | Yes |
| Jimmy Beans | Luxury/Artisan | Free over $75 | Yes |
| LoveCrafts | Economical | Free over $60 | Yes |
| Joann | Cheap | Not Free | Yes |
| Hobbii | Affordable | Free over $75 | Yes |
| Yarnspirations | Budget | Not Free | CA, UK, AUS, JP, NZ, Europe |
| WeAreKnitters | Luxury | Free over $90 | Yes |
| WEBS | Cheap/Premium | Not Free | Yes |
Where Can I Buy The Cheapest Yarn?
There are online options and in the discount section of your Local Yarn Store!
Where To Buy Cheap Good Quality Yarn
There are some excellent options to choose from at LoveCrafts. Plenty of well known yarn lines available.
Cheap Yarn Vs Expensive
Cheap yarn is made from synthetic materials, while expensive yarn is made from natural materials like wool, cotton, and silk.
Where Can You Buy Inexpensive Yarn?
Try somewhere like WeCrochet, Joann, or LoveCrafts.
Where Can You Get Free Yarn?
You can join online groups on Ravelry and Facebook. There are also garage sales and people cleaning out their stash! Yarn swaps are a great way to get free yarn. They're usually held in yarn shops or online.
I hope you got some serious savings on yarn if you were looking for the best deals! Now you can stock up on yarn without breaking the bank.
Come back again to see what other deals I find for you. Happy Crocheting!