The best feeling is having cashmere yarn through your fingers as you crochet. It's lightweight, super soft, and keeps you warm. This guide is for crocheters interested in why cashmere should be on your radar, where it comes from, and what it is.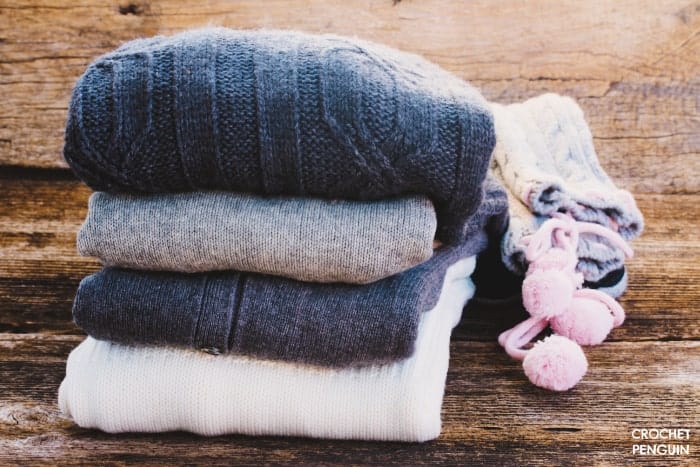 My Quick Recommendations
Table Of Contents
Cashmere Fiber-Factors To Consider
Here are some key decision-making factors to look for when choosing the best cashmere wool.
What Kind Of Care Does It Need?
This fiber costs money. Lots of it. It's essential to look after things you make! Dry cleaning is effective, but his cleaning method is costly. Handwashing is an excellent alternative. With the proper steps, you'll have your wool garment looking good as new in no time!
Fill up your tub with lukewarm water (and a small amount of wool detergent!)
Submerge it in soapy suds until bubbles are throughout it.
Rinse off any excess soap with another container of cool water
But don't wring out the clothing!
Instead, lay on a towel and press firmly before rolling it up
Place flat on a dry towel
Let it completely dry.
What's It Made Out Of?
Cashmere goats produce the fiber. It's obtained by combing the lower layer of hair from the goats.
How Much Yardage?
If you require lots of yarn, expect a hefty price tag!
What Yarn Weight Is Best?
Typically cashmere is lace/fingering weight. Light but incredibly warm.
Other yarn weights such as Sport and DK are available.
What's Your Budget?
Regarding price, cashmere yarn is high due to rarity and fleece processing.
Here's an excellent video by Yarn University giving you the facts about this incredibly softy wool yarn.
Best Cashmere Yarns For Crochet
Lotus Yarns Lace Weight
A comfortable and warm high-quality blend. Crocheters love its soft, smooth, and delicate texture. Use it for fine openwork textures.
How Does It Compare?
Care Instructions – Dry clean / Handwash
Made Of – 50% cashmere, 40% wool and 10% angora
Yardage – 365m/399 yards
Yarn Weight – Lace/Fingering
Skein Weight – 1.80 oz/50 g
Suggested Hook – 1.50mm-2.00mm
Pros
Beautiful and soft
Excellent range of colors
Perfect for baby items
Cons
Due to the angora, it may molt.
Check Price On Amazon
Rowan Pure
A light and lofty yarn, super soft and delightful to wear. A delight to knit with because it feels luxurious. Rowan offer a wonderful selection on super soft yarns. Check out their collection of luxury fibers.
How Does It Compare?
Care Instructions – Cold machine wash
Made Of – 100% cashmere
Yardage – 150yds (137m)
Yarn Weight – DK
Skein Weight – 1.8oz (50g)
Gauge – 4×4 inches (10cm) = 22 stitches, 30 rows
Suggested Hook – F (3.75mm)
Product Design
Rowan is well-known and produces excellent yarns for crocheting and knitting. This is pure luxury.
Pros
Delightfully soft
12 shades
Warm and light
Excellent for a sweater
It doesn't curl as much
Cons
Expensive
Bright colors are limited
Capretta Superwash Merino Wool Cashmere Blend
This cushiony soft fingering weight yarn is made with fine merino wool and cashmere and a touch of nylon for strength. Perfect for crocheting or knitting socks, mitts, scarves, and lightweight sweaters. Be sure to keep an eye out for a discount when the luxury yarn sales are on.
How Does It Compare?
Care Instructions – Machine Wash Gentle / Tumble Dry Low
Made Of – 80% Fine Superwash Merino Wool, 10% Cashmere, 10% Nylon
Yardage – 230
Yarn Weight – Fingering
Skein Weight – 1.76 oz / 50g
Crochet Gauge: 21 – 32 sc = 4" on B – E hooks (2.25mm-3.5mm)
Suggested Hook – B – E hooks (2.25mm-3.5mm)
Pros
Pleasant range of colors
Tumble dry and machine washable
Affordable blend
A lovely fabric for shawls or scarves
Cons
Not available in bright jewel tones
Lang Yarns Premium
Lang Yarns Cashmere Premium is wonderfully soft. Beautifully colored with natural dyes using weld, cochineal, logwood, rhubarb, and walnut.
The natural colors of taupe, gray, and cream are included in the 28 shades.
How Does It Compare?
Care Instructions – Handwash, dry flat.
Made Of – 100% Cashmere
Yardage – 126yds (115m)
Yarn Weight – DK
Skein Weight – 0.9oz (25g)
Gauge – 4×4 Inches = 22 stitches, 34 rows
Suggested Hook – 3.5mm – 4.5mm
Pros
Wonderful to crochet with
Super soft
Delightful range of colors
Cons
Lang Yarns Big
Are you looking for a super bulky yarn made of pure cashmere? Luxury is the thing with this yarn. It won't take long to make scarves, beanies, and snoods crochet patterns or knitting patterns
How Does It Compare?
Care Instructions – Handwash, dry flat
Made Of – 100% Cashmere
Yardage – 48yds (44m)
Yarn Weight – Super Bulky
Skein Weight – 1.8oz (50g)
Gauge – 4 x4 inches (10cmx10cm) = 11 stitches, 16 rows
Suggested Crochet Needle – 9mm-10mm
Pros
Projects are quick to complete
Warm and comfortable
Lightweight
Cons
Costly to make bigger projects such as a blanket
Which One Is Best For You?
Lotus Yarns Lace Weight – Good for wraps and shawls
Rowan Pure – Best for luxury garments
Capretta Superwash – Suitable for hats, scarves, and sweaters
Lang Yarns Premium – A good choice for luxury garments
Lang Yarns Big – Consider if you want to crochet something bulkier
Other brands to consider are Jade Sapphire and Artyarns . They're very popular.
FAQS About Cashmere
How Is Cashmere Yarn Made?
Cashmere yarn is made from the soft undercoat hair of cashmere goats. The hair is collected through combing or shearing, and then processed through cleaning, sorting, dehairing, spinning, and twisting to create the fine and luxurious cashmere yarn.
Are There Different Qualities Of Cashmere?
There are different qualities of cashmere. The de-hairing process of cashmere, will vary in quality. Fine hair Cashmere fibers create luxurious yarns with a micron count of 19.
What Is Recycled Cashmere Yarn?
Recycled Cashmere Yarn are fibers taken from scraps of fabrics that were previously made. The reclaimed fibers are sorted, shredded, and re-spun.
Why Is Cashmere So Expensive?
Cashmere Yarn is so expensive is because of the time-consuming processing. Also, the fibers can only be collected once a year. Any currency whether it be USD or EUR these yarns are an investment.
Cashmere Yarn Where Does It Come From?
Cashmere Yarn comes from a goat that produces fine undercoat hair.
What Yarn Weight Is Cashmere?
Cashmere Yarn Weight is usually lace or fingering.
Is Cashmere Yarn Soft?
Cashmere is one of the softest natural fibers in the world.
Why Choose Cashmere For Your Crochet Projects?
Cashmere is excellent for crochet projects if you're looking for a luxuriously soft garment.
What Yarn Is Similar To Cashmere?
Fine merino wool is similar to cashmere. It's very soft.
What Can I Crochet With Cashmere Yarn?
You might want to crochet smaller items such as hats, scarves, and cowls with cashmere yarn. If you have a bigger budget, sweaters, and cardigans.
What Is So Special About Cashmere?
Cashmere is unique because of its loftiness, and super soft texture
Is Cashmere A Natural Fiber?
Cashmere is a natural fiber as it's from goats.
Cashmere Wool Vs Cotton
Both are natural fibers
Cotton is much cheaper
Cashmere is more insulating
Garments made from cashmere retain their shape much more
Cashmere Vs Wool
Wool comes from a sheep.
Fine merino is not as fine
Cashmere is warmer and lighter. It has three times the insulating properties
Cashmere is softer
I hope you find a fiber yarn to suit your crocheting projects.
Machine washable yarns are good if you want an economical cashmere blend that doesn't require as much effort and care. Perfect for small items such as hats, scarves, and cowls.
If your budget permits, pure cashmere yarns are divine.
Pin Now to Save for Later