The Boye Yarn Winder was excellent for winding yarns into center pull yarn cakes. It was an electric ball winder and wound by itself. Unfortunately, they don't seem to manufacture this type anymore. I review the best alternatives for Boye.
Want a manual yarn winder? See my review of the best yarn ball spinner.
I reviewed, fact checked and updated this post on April 22, 2023
Table Of Contents
Simplicity Boye Electric Yarn Ball Winder
The Simplicity Boye Electric Yarn Ball Winder was a yarn winder created by the popular craft and yarn company Boye for Simplicity. A company also known for sewing tools and patterns. It ran on electricity and the motor did all the winding for you. Saving your wrists. I've done a lot of searching, but unfortunately, for some reason, they're no longer manufacturing it.
Many users found it convenient and were content with it, though others reported it to be unreliable, a not powerful enough engine, and tended to fall apart or break after prolonged use. While you can sometimes find it in stock on Amazon and there are second-hand versions available online for purchase, I wouldn't particularly recommend it.
Other Electric Yarn Winders
Unfortunately, there aren't many other options available in the market for electric yarn winders. Read more in my electric yarn ball winder post about premium items.
Which Is The Best Alternative?
Note: The following options are all manual, but they're the best ones we could find to suit people's needs. Don't mind cranking by hand? These make it easy and convenient.
Lacis 10oz
Check Price On Amazon
Made from durable metal, plastic, and nylon. It's a workhorse without being unaffordable and has the capacity of winding 10 ounces of yarn. Excellent for most people.
Features
Wind up to 10 oz of yarns at the time.
Made of solid plastic materials
Creates center pull balls
No tools required to set it up
Pros
Excellent capacity it's able to wind
Can withstand some serious cranking
Well made and designed to last for years
Great value for the price
Smooth base so it won't mark the surface
Quiet, continuous winding.
Cons
Can be a little bit noisy sometimes
Can wind the cakes a little too tightly.
Knit Picks Ball Winder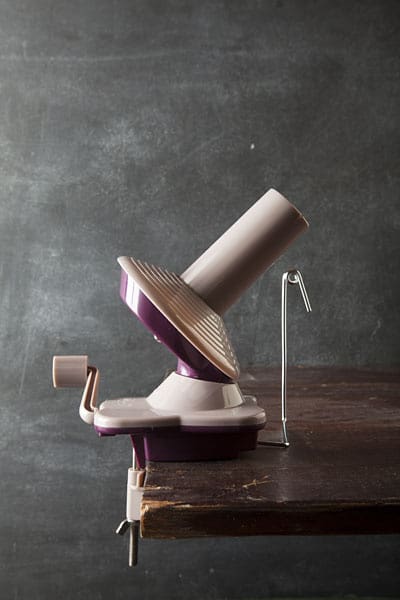 Knit Picks has nearly everything you need to further your fiber arts hobby, so it makes sense they sell a yarn winder. A budget choice without compromising on quality, for the price, it's a pleasant surprise on how well it works. Another excellent companion tool is their yarn swift. If you live in the US receive free shipping for orders over $65. They also offer regular deals.
Features
Able to wind up to 3 ounces or 100 grams at one time
Small, and doesn't take up too much space
Simple set up and disassembly
Instructions included
Pros
A perfect choice for those on a budget
High quality for the price
Helpful customer service if anything goes wrong
A great first option, though it doesn't compromise on quality.
Easy to assemble
Cons
Might be too small if you want to wind hanks over 3 ounces
You'll have to cut larger skeins into two or more pieces
FAQs About The Boye Winder
How Do You Use A Boye Yarn Winder?
If you find a second hand one – Here's a step by step guide on how to set up and use one:
To begin attach the strong suction cup at the bottom of the winder to any smooth surface.
Position the winder in a place you will find comfortable.
Lower the carrying handle and push down on the suction cup lever.
Postion the yarn guide bar over the ball holder tube.
As the yarn winds, the yarn guide bar will rise to accommodate the ball as it gets bigger.
To thread the machine, unwind your hank and connect the loose end of the yarn through the guide hook.
Then wrap the yarn through the Metal S tension guide in a zig zag pattern.
Slip the yarn through the notch on the guide bar.
Then insert the yarn in the notch at the end of the ball holder tube.
Place the end of the yarn inside the tube, this will be the end you will have in the center of your ball to make it center pull.
Insert the electrical cord into the back of the machine, then plug the cord into an electrical wall outlet.
Unwind the hank completely and place over your hands.
Switch the winder on, keep it at a low speed when first learning to use it.
Move your hands in a circular motion as the machine winds the yarn.
As you get comfortable with using the winder, increase the speed.
If you are using a skein, place it in a bowl and follow the same steps above to thread the winder, keeping the yarn moving through your fingers to keep tension.
When you have a good sized yarn cake, turn the dial to the off position.
Gently pull the yarn ball off the holder tube.
Why Do I Need A Boye Yarn Winder? Saves Your Hands & Wrists
Though the boye yarn winder is no longer widely available, there are many reasons as to why you might need or should consider a yarn winder.
You find winding by hand frustrating, tiring, time-consuming, or painful.
You want to spend more time crocheting.
You buy most of your yarn, or most of your yarn comes in hanks or skeins
You want to be able to wind it at home on your own time.
Conclusion
Unfortunately, though the boye yarn winder is no longer available, I've found what I hope are some good alternatives. Hopefully, these will serve as a functional, high-quality replacement.
Did you have a yarn winder from Boye? What did you like about it, were there any problems you encountered while using it? I'd be interested to hear your thoughts.
Pin For Later