Why use a boring crochet hook, when you can use a beautiful one? Here's my guide to the best lovely-looking and beautiful crochet hooks.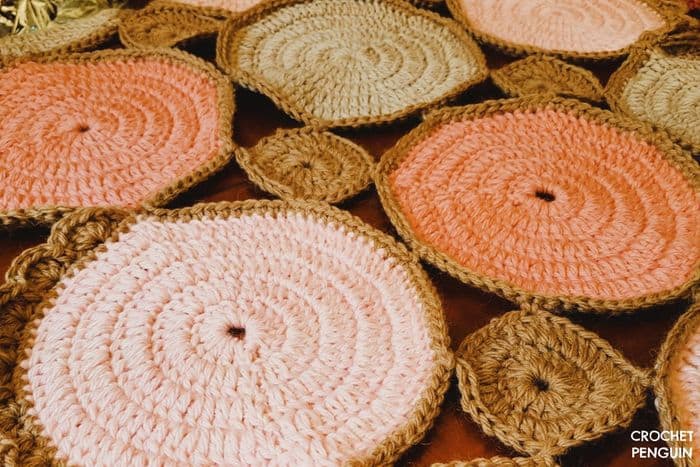 Table Of Contents
Cute Crochet Hooks
Adorable Garden Gnome Crochet Hooks by Clay Fiber and Co. Each is handmade and will vary slightly.
You can choose either a dark purple hat, a red hat, or a hot pink hat on your crochet hook brand and size choice. Brands offered are Clover, Susan Bates, and Boye.
Sizes available – B (2.25mm) Clover, C (2.75mm) Clover, D Clover & Susan Bates (3.25mm), D Boye (3.125mm) , E (3.5mm) Clover, Boye & Bates, F (3.75mm) Clover Boye & Bates, G (4mm) Bates & Clover G (4.25mm) Boye , H (5.0mm) Clover, Boye & Bates, I (5.5mm) Bates & Clover, I (5.25mm) Boye, J (6.0mm) Clover & Bates, J (5.75mm) Boye, K (6.5mm) Boye & Bates, L (8.0mm) Bates, M (9.0mm) Bates, N 10.0mm (Boye & Bates)
Pros:
Great range of sizes and brands.
So cute!
Attention to detail.
Comfortable to hold.
Cons:
The detailing is textured, so if you prefer a completely smooth handle, this won't suit you.
Furls Crochet Streamline Swirl Crochet Hook
These hooks are made of cosmetic-quality resin and resin-based pigments. They have a gorgeous, swirled pearl effect.
Colors: Cafe, Cream, Cherry on Top, Cookies n Cream, Swirl Galaxy in either Andromeda or Virgo, Aries, and Taurus.
Sizes they come in (These sizes are engraved on each hook) – 4.0mm (G), 4.5mm (G+), 5.0mm (H), 5.5mm (I), 6.0mm (J), 6.5mm (K), 7.0mm (L), 8.0mm (M), 9.0mm (N) & 10.0mm (P)
Pros
Unique
Gorgeous to look at
Comfortable
Ergonomic handle
Cons
A little on the pricey side but so worth it.
Wizard Crochet Hooks Set
Polymer clay decorated Boye crochet hooks, hand-sculpted by Hand Made Mom.
Features
Sizes Included – H, I, J
Style Of Hook – Tapered
Pros
Great for Wizarding fans
Adorable
Cons
Only the three sizes available
Lost Boy Inspired Ergonomic Crochet Hook
Hand sculpted from polymer clay. The hook is then sealed with a gloss to finish and protect. Each hook comes with its own stitch marker.
Each hook is designed, and hand made. You can order either a Boye or Susan Bates hook.
Features
Sizes Available – Susan Bates D (3.25mm), E (3.5mm), F (3.75mm), G (4.0mm), H (5.0mm), I (5.5mm), J (6.0mm), K (6.5mm) and Boye D (3.125mm), E (3.5mm), F (3.75mm), G (4.25mm), H (5.0mm), I (5.25mm), J (5.75mm), K (6.5mm)
Pros
A comfortable ergonomic style
Fans of Peter Pan will love these hooks
Lovely details
Cons
Jumbo Crochet Hook
The handle of the hook has been shaped to fit better in your hands! The head has been shaped into a point, so it's easy to fit in between stitches.
The hook has been sanded and buffed with a natural beeswax blend. Both hooks are 10″ long and are either 1″ or 25mm in diameter or 3/4″ or 20mm.
Pros
Suits bulky and chunky yarns
Comfortable to hold
Neon Water Ergonomic Crochet Hook
Made to order beautiful acrylic/resin hook. The handles are polished to a smooth, glossy finish. Choose which brand and size you would like.
You can have the hook thumb-rest left exposed or covered by the handle.
Susan Bates – F, G, H, I, J, K
Boye – D, E, F, G, H, I, J, K
Clover – B, C, D, E, F, G, I, J, 7mm
Pros
Gorgeous effect
Ergonomic
Good range of sizes
Cons
Furls Candy Shop Hooks
These 100% cosmetic-grade polyresin hooks are aptly named. Their colors are just like delicious candies with a shiny clear protective coat. Each size is a different vibrant color with a funky, decorative shaped handle.
Blueberry – E-3.5mm
Blue Raspberry – F-3.75mm
Grape – G-4.0mm
Cosmic Mint – G+-4.5mm
Strawberry – H-5.0mm
Blackberry – I – 5.5mm
Green Apple – J – 6.0mm
Mango – K – 6.5mm
Pineapple – M – 8.0mm
Plum – N- 9.0mm
Pros
Colorful
Unique designed handle
Smooth surface
Lightweight
Cons
An investment but so worth it!
Teddy Bear Hook
An adorable sculptured Teddy Bear Handle.
Choose from a range of sizes – 2mm, 2.5mm, 3.0mm, 3.5mm, 4.0mm, 4.5mm, 5.0mm, 5.5mm, 6.0mm, 7.0mm, 8.0mm, 9mm
Pros
Very cute
Unique design
Beautifully packaged
Cons
As it's custom made, you need to wait
Icecream Scoop Hook
You can choose Boye or Bates hooks with the super cute ice cream scoops handle.
Sizes: D, E, F, G, H. I, J, K, L, N, P
Susan Bates hooks are only available in F-K.
Pros
Attention to detail
Unique
Fun design
Cons
Comparable Products To Consider
For more unique tools, check out my novelty crochet hooks post.
I hope you find a beautiful crochet hook. If you have any suggestions, please let me know in the comments or get in touch.
Pin Now to Save for Later