I've always wanted to try out a Crochet Club or subscription box to improve my technique and learn new crochet skills. Here I share my review of Annie's Kit Club, and the boxes they offer. I made a color block basket for the month I tried of Annie's Hook & Needle Club with knitting and crochet options. I crocheted mine!
In this review, I'll be exploring the quality and variety of projects, the value for money, the level of customer service, and the overall crocheting experience. Whether you're a seasoned crafter or just starting out, I hope this review will help you decide whether Annie's Kit Clubs is the right choice for you. Are these subscription kits worth it? Let's find out!
Table Of Contents

Creating something new and meaningful is fulfilling. Annie's removes roadblocks so you can focus on creating.
Designed for every crafter and skill level. A Kit Club delivers ready-to-go craft kits to your home every month! Super convenient.
Annie's is a crafting kits company based in the United States.
My Annie's Hook & Needle Kit Club Review
Unboxing Annie's Hook & Needle Club Color-Block Basket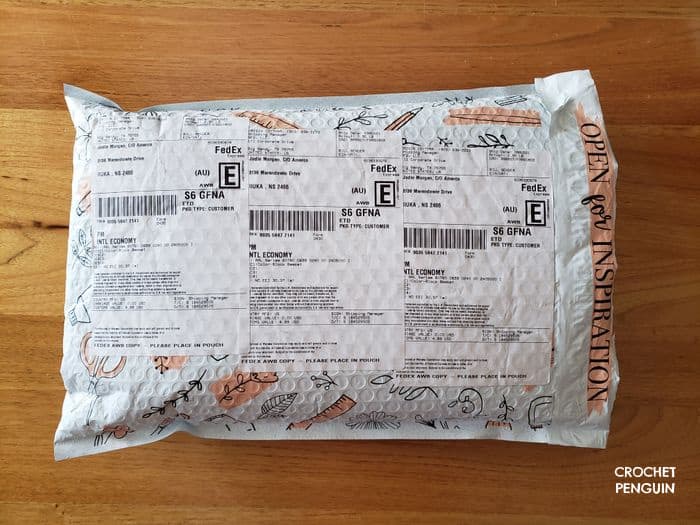 I received the Color-block basket by mail in a soft plastic parcel bag. Annie's have cleverly branded parcel bags.
The "open for inspiration" packaging is fun! You know who the parcel is from and I got excited, wondering what goodies were inside.
Once opened, it was easy to see the contents in the kit, as the outer bag was transparent.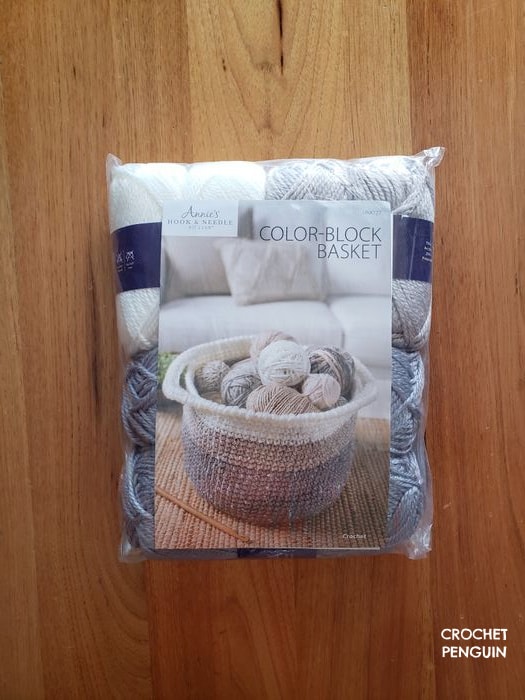 The Kit Included
Acrylic worsted weight yarn (Symbol 4)
Pattern book
Two larger skeins of cool grey – for the bottom and 1/2 of the entire basket
Two smaller skeins of warm grey – for the middle section
Two smaller skeins of marshmallow (white)- for the top and handles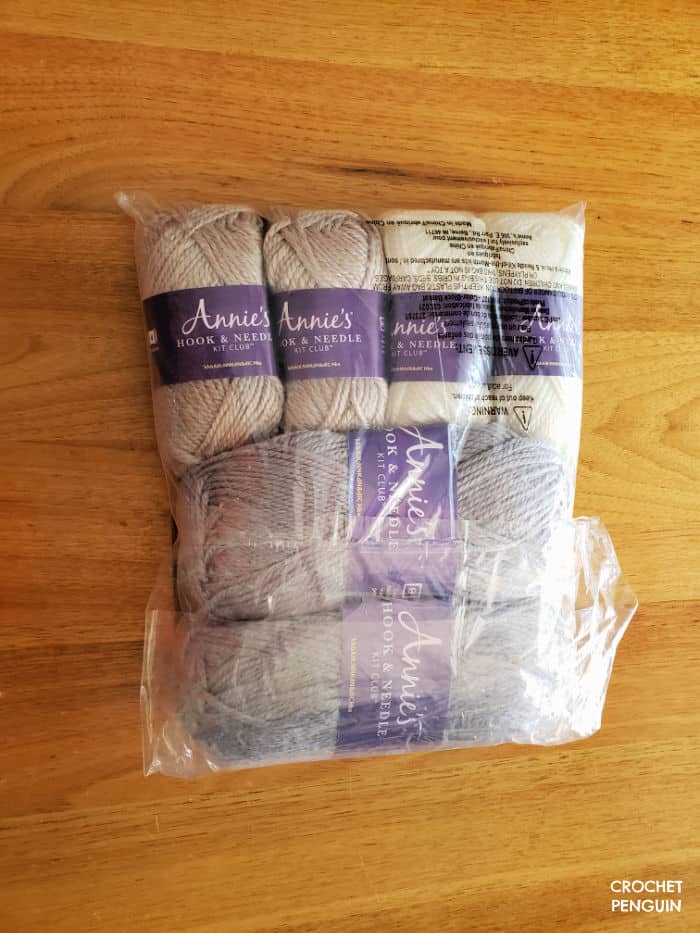 What I Already Had
K/6.5mm crochet hook
Tapestry needle
Stitch markers
I used my Furls Pisces J/6.0mm hook. It made my stitches smaller.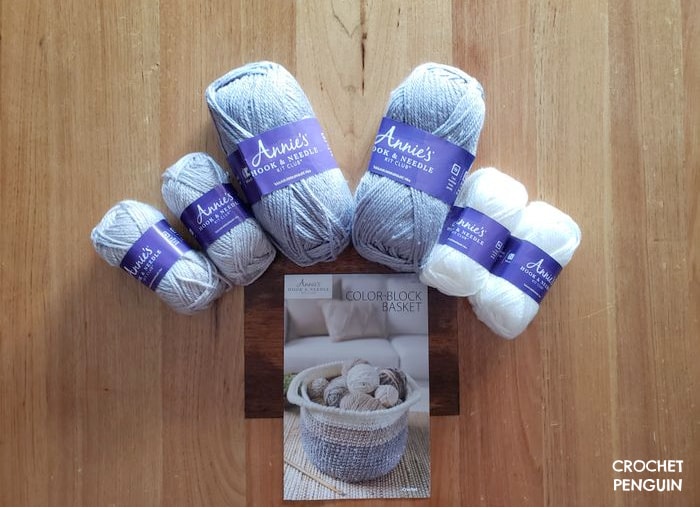 I love crocheting with my Furls Resin Streamline hooks. They feel comfortable in my hand, and they're beautiful too.
My Pisces hook is navy blue with swirls of silver.
Reading through the pattern booklet, I was confident I could follow the instructions and complete the basket easily.
The Crochet Color-Block Basket is great for beginners because it uses
Single Crochet
Single crochet in the back loop
Reverse single crochet
Annie's has an online stitch guide with helpful pictures and videos.
To create the basket, I held two strands of yarn together. This was easy, as the kit contained two balls of each color.
One thing that I couldn't do easily was starting with a slip ring (aka the magic loop) and working six single crochet stitches into the ring.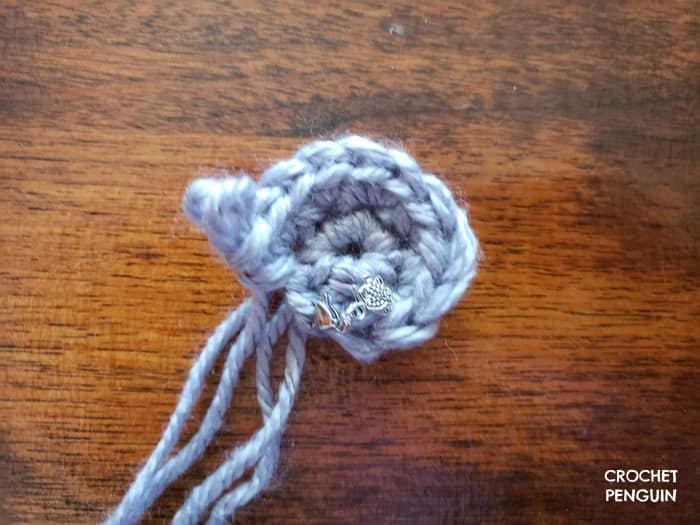 This took many attempts.
Though there was a picture of how to do this in the pattern booklet, I needed further help with Annie's video tutorial.
I'd not made the magic loop in crochet, so this was tricky.
I got it sorted, and created stitches to make rounds for the bottom of the basket. After the initial frustration, it was easy going for the rest of the basket walls and the handles section.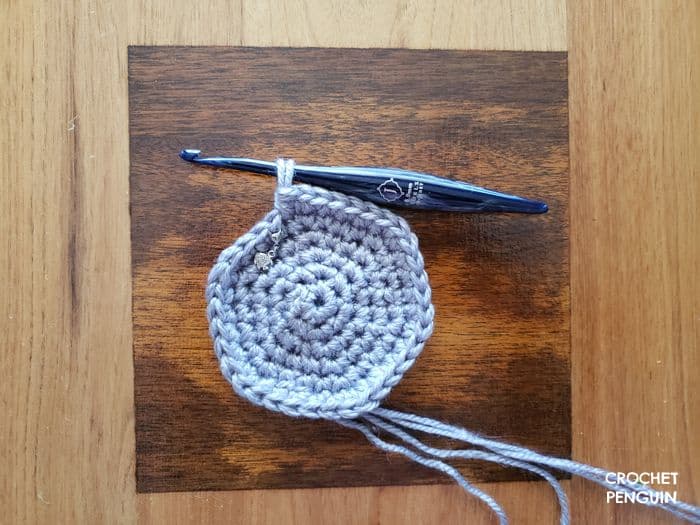 I enjoyed crocheting the handles. They were easy with single crochet stitches chain stitches. Using reverse crochet for the top edge of the basket was fun. It created a lovely finished edge.
What I Loved
The acrylic yarn was soft
I liked the flecks of white in the cool grey and warm grey
It added an interesting effect to the finished basket
The pattern was straightforward to follow
Clear step-by-step instructions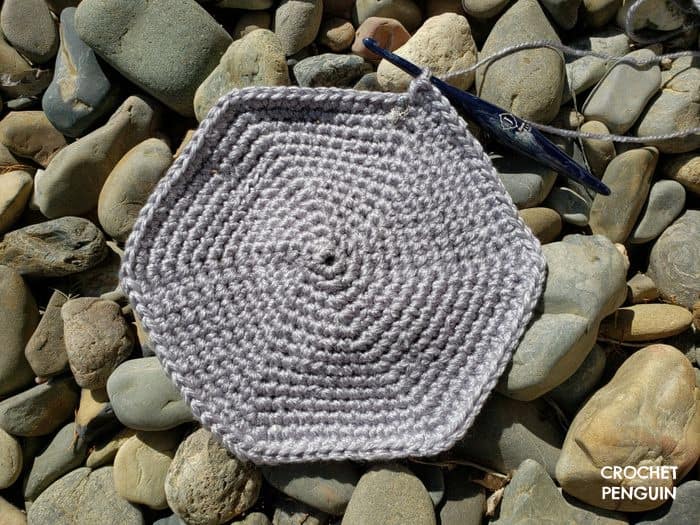 The digital stitch guide, picture tutorials and videos helped when I got stuck, like with the slip ring (magic loop) technique.
There was plenty of yarn, so I didn't run out.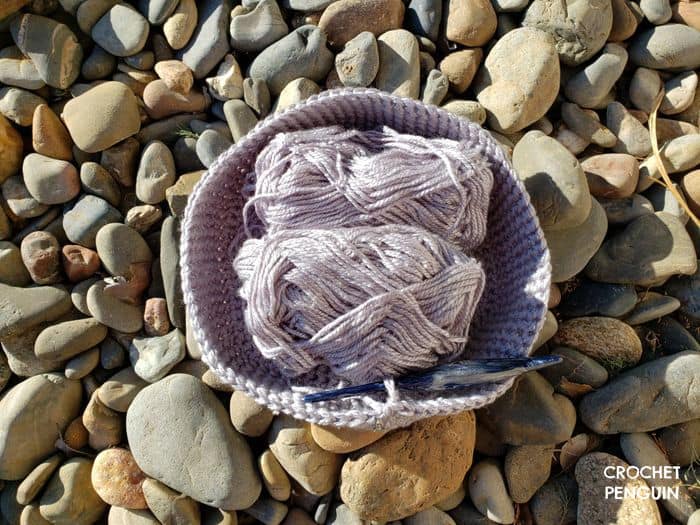 The basket looked great!
Holding two strands of the yarn together created a thick fabric.
The basket makes a
Versatile craft project container
Yarn holder
For storing items like hand towels rolled up for a bathroom display or toys
You could use the pattern again to knit the basket.
Instructions for crochet and knitting are included in the booklet.
This basket makes a lovely gift. You could choose colors matching the gift recipient's home decor.
What I Didn't Like
My frustration with the slip ring. Like anything new, it takes practice. I have to remember to breathe in these moments!
I was disappointed to find knots in the cool grey yarn and marshmallow yarn. One happened as I was doing the handle!
I redid the knot to make sure it was secure and trimmed it.
What Could Be Improved
There was no link in the pattern booklet for the Digital Stitch Guide.
I googled "Annie's Stitch Guide" and found this link.
This page has all the stitch guides produced by Annie's for different crafts. I clicked on the Crochet Stitch Guide at this link.
Is The Annie's Hook & Needle Kit Club Worth it?
I highly recommend the Annie Crochet Hook & Needle Kit Club, as it has good quality yarn and fun projects to try you may not have thought.
Think of all the time you'd save not having to scroll through Pinterest and patterns! Or choosing and buying the yarn.
This kit club is affordable at $19.99 per 4 weeks, and you aren't locked in for a set amount of months.
It's fun to see the different projects and yarn arrive each month like a gift! If you need help with the stitches, Annie's comprehensive tutorials are easy to understand. Why not join today?
A kit may have a more expensive price than buying the materials, but that's not the point. It's like a form of a gift arriving at the same time on your doorstep every month! Makes a great surprise.
Most customers love it for the variety of types of projects they can try. That's just one of the reasons why this product is popular!
Kits can be returned to the store and there's no minimum commitment.
Caring Crochet Kit Club
What if crocheting helped others? Sure! This monthly kit subscription includes all the instructions and yarn you need to make projects for a good cause.
You can donate your handmade gift to a good cause that'll give it to someone in need.
Crochet Block Afghan Block-Of-The-Month Crochet Club
This monthly subscription contains yarn, patterns, and online tutorials for making an afghan. You receive 11 kits. The first kit covers the basic stitches. As they progress, you learn more complicated stitch patterns.
Here are the color variations to choose from.
Lake House
Meadow Lane
Natural Pearl
Warm Sand
Coastal Gray
Crochet Mandala Afghan Club
Get all the yarn you need to make this gorgeous afghan. This 10-month series is guided by patterns, video tutorials, and instructions.
The first kit includes yarn, patterns, and a free digital stitch guide.
The only downside is the kit only features one color option.
Crochet Striped Afghan Club
You'll get all the yarn you need to crochet an afghan. Videos and instructions make them great for a year-long project.
First kit includes yarn and patterns for 3 stripes plus a free stitch guide. You'll make 30 stripes total. In the final kit, you'll learn how to add the border and finish your throw.
These are the pattern versions you choose from.
Cozy Cottage
Seaside
Natural Purl
Christmas Candy
Seaside
Moroccan Tile Crochet Afghan Club
Create a beautiful afghan inspired by the beautiful geometric artwork and architecture of Morocco. It makes a stunning home decor piece!
In a similar fashion to their other blanket kits, you make a tile each month. The final kit is for completing the border and putting all the squares together.
These are the color themes you select from.
Floating Lanterns
Natural Pearl
Midnight Mosaic
Casablanca
Other Annie's Kit Clubs
Here's a rundown of their other clubs, and what they're great for!
There's something for anyone, from painting, beading, cardmaking, to an idea for your next handmade home décor piece.
Making something is special, and that's why a grandmother knit sweater is more treasured than something you bought online.
For Kids (Children May Require Supervision From Adults)
These are a great opportunity to get your child excited about creativity. They'll have fun completing the activities every month.
Note: None of these are suitable for a kindergartner.
Creative Girls Club – Great for crafty kids aged 7-12. The only limit for these kids crafts like making drawings is their imagination!
Genius Box Club – STEM-inspired activity boxes for kids 7-12. A new way to get excited about learning science.
Young Woodworkers Kit Club – Get your kid excited about woodworking with these boxes for 7-12 year olds.
Annies General Crafting Clubs
Christmas Ornament Kit Club – Prepare your tree for Christmas all year by making a lovely decoration each month!
Creative Woman Kit Club – Learn new crafting skills like art prints and making a home sign or bracelet, and expand your comfort zone. Might make a fun event or craft kit for Girls Night
Farmhouse Style Kit Club – Create a world of lovely accessories, ornaments and décor items for your home for cozy results. Everything from tote bags to baskets and household items!
Note: None of the above include a selection of basics you need to start the project, like glue or scissors. You need to have them.
Something else to keep in mind is there's something for everyone in these, so only subscribe if you're not particular about what you make.
Quilting & Sewing
Papermaking – Cardmaker Kit Of The Month Club – Make a set of 8-10 cards and paper creations with each box of card stock and papers.
Jewelry Making – Simply Beads Kit Of The Month Club – Create a unique set of jewelry with all the pieces (like beads) included! Perfect things for your craft stash.
Knitting
Business Information
Pick up any of Annie's craft kits and you'll see how much time and patience crafting takes. But they do most of the work for you! Annie's Kit Club supplies quality materials for all crafts.
Makes for a more enjoyable experience.
Three generations of the Muselman family own and operate Annie's. In 1925, the company started a printing business in Indiana, and launched a craft supply line in 1975.
Socials
Contact
Shipping
Ships only to the US and Canada
Ships within a few days of ordering
Canadian shipment – 3–4 weeks to arrive
American orders – 6–10 business days
Subscriptions arrive around the same time every month
US delivery – free
Canadian delivery – $7
Refund Policy
Within 21 days, you can return any kit
The original packaging must be intact!
After inspecting and processing your return, Annie's Kit Club credit your original payment method
Mail it with your account number, name, address, and reason
Discounts & Promotions
They offer regular discounts and deals around the holiday season and Black Friday. Subscribe to their emails to stay informed.
Follow their social media, as they sometimes offer a discount or deal to their followers.
Which Is Best For You?
Here's a quick comparison of their products for crocheters to boost your creativity and decrease your stress!
Fiber Arts
Hook & Needle Kit Club – Great if you love knitting and crochet and making something with your hands
Annie's Crochet Club
Caring Crochet Kit Club – Choose this if you love making gifts
Crochet Block Afghan Block-Of-The-Month Club – Want a long project to keep you occupied? Try this one!
Crochet Mandala Afghan Club – Love mandalas? Try this
Crochet Striped Afghan Club – Make a striped blanket
Love To Crochet Kit Club – Take the guesswork out of your crocheting with projects chosen for you, from coasters to something for your next holiday
Moroccan Tile Crochet Afghan Club – For those who love making colorful blankets
FAQS About Annie's Kits
Is Annie's Kit Club for beginners?
Annie's Kit clubs are perfect for beginners. Instructions are easy to understand. Videos with step by step instructions are included.
How Do I Sign Up?
Visit Annie's Kit Club's website and follow these steps.
Decide which club you want to join
Press "Join Now"
Add the item to the Cart
Proceed to checkout
Enter your shipping information
Pay for the order
Wait for the shipments to arrive in the mail!
How Do I Cancel?
Cancel by following the instructions in your account. They'll send you a confirmation email.
Does My Subscription Auto Renew?
Yes, it does, so save the pricing details and make a reminder so you remember to cancel if you only want to do one month.
Anything To Be Aware Of?
They don't combine shipping costs on multiple kits, so it's more expensive, though your membership cost doesn't change
Your account is created when you order. Use your email address to access your digital materials in the members area
Want to change your subscription information? You need a password
Although it's pricey, you also get physical materials and a digital project guide
You can't track your order within their dashboard. Keep your tracking email!
Pricing is unclear. Interested in joining a club? Click "Join" to get the details
Read the reviews before purchasing, as always!
Getting started with your next project can be challenging, as there's so much choice! The Annie's Kit Club is the perfect, affordable solution for learning new techniques.
I'd love to see the projects you create. Get in touch with me.
Do you use subscription boxes? If so, which are your favorite brands, sites or companies? Or have questions? Tell me in the comments.
Pin Now to Save for Later